Rs. 2,43,243 raised at the "Let's fight Corona Together" online blitz
A total of 17 GMs and over 180 players took part in the "Let's fight Corona together" Fundraiser online blitz organized by ChessBase India on 9th of April 2020. India no.2 Vidit Gujrathi was the top seed. GM Nihal Sarin, GM Aravindh Chithambaram and GM Vidit Gujrathi ended at the top with 8.0/9, with the speed king Nihal taking the top spot on tiebreaks. The main aim of the event was to raise money for the PM CARES fund and we were successful in collecting Rs.2,43,243. GM Vidit Gujrathi not only played but also did live streaming of his games and his efforts resulted in a collection of Rs.37,028 in under two hours. ChessBase India thanks each of the contributors and participants for making it such a grand event.
More than 200 individuals contribute to raise Rs.243,243 for PM CARES fund
9th of April 2020 was a momentous day in the history of Indian chess. The entire Indian chess community came together led by some of the top players to show how chess can not just be used an ideal tool to overcome the mental fatigue during the lockdown, but also to raise funds for India's fight against the Corona virus. The tournament was announced on 4th of April 2020 and within five days we were able to collect a hefty amount of Rs.2,43,743. The idea was to bring together some of the best players of Indian chess to participate in the tournament. It would inspire other chess players to also contribute and play at the event. There was no entry fee, but you had to contribute minimum Rs.100 to participate. All the money that was collected was to be transferred to the PM CARES fund for the fight against Covid19.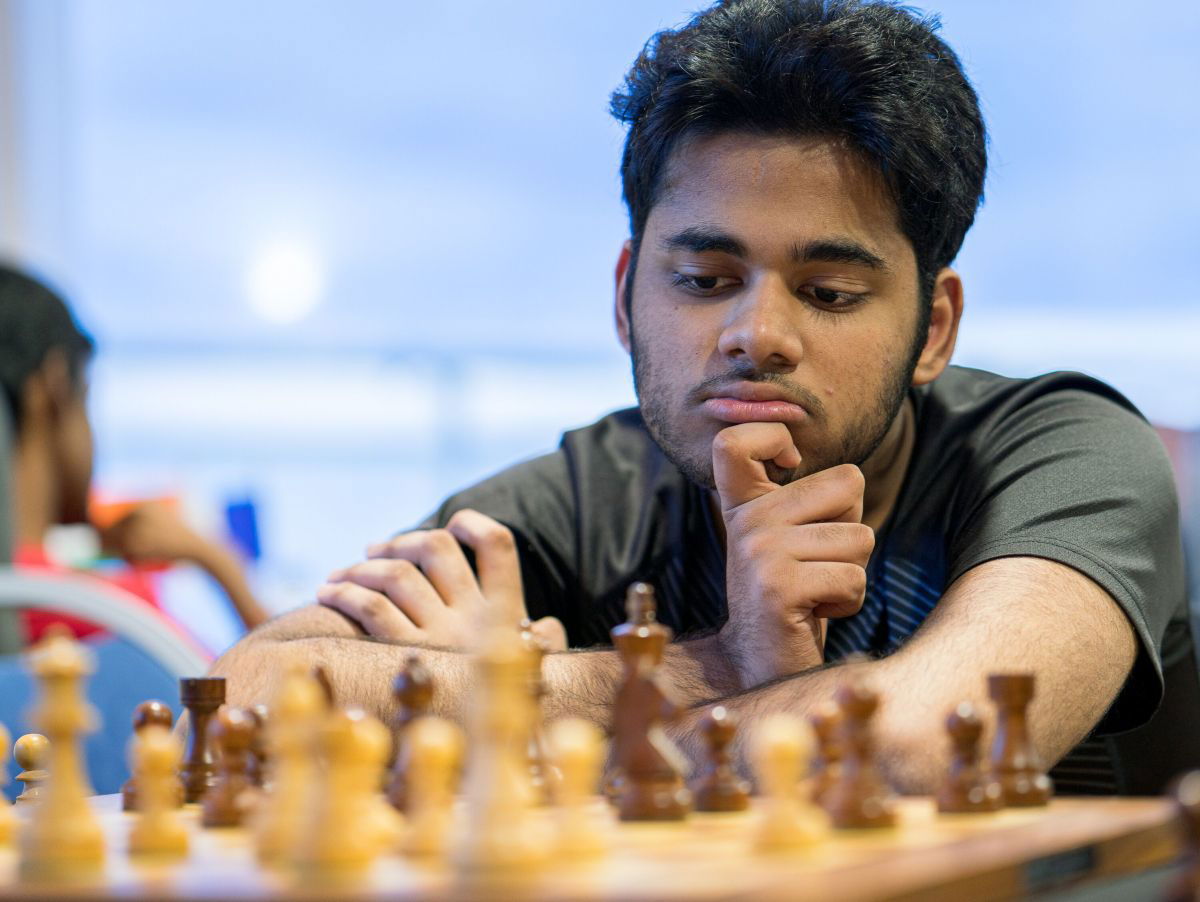 There were many titled players who contributed. The names are given in the list below. What I felt inspiring was that these champions showed what social responsibility is all about. They set an example for the youngsters of the country and it could be seen from the contributions made by the little champions.
Players who contributed and also played the tournament:
Donors who contributed and did not play the tournament:
| | |
| --- | --- |
| GM Krishnan Sasikiran | 20000 |
| GM Harika Dronavalli | 10000 |
| GM Arunprasad Subramanian | 5000 |
| GM Thejkumar MS | 5000 |
| GM Narayanan S L | 1000 |
| Abhinav Kumar | 100 |
| GM Sriram Jha | 7000 |
| IM S Vijayalakshmi | |
| WGM S Meenakshi | |
| GM Deep Sengupta | 1000 |
| Maralakshikari Sreeshwan | 1000 |
| Srinika Guin | 500 |
| Vijayakumar Reddy | 1000 |
| U B Singh | 1000 |
| Shardul Gagare | 1001 |
| Total | 53601 |
Amount raised by GM Vidit Gujrathi through his livestream
| | |
| --- | --- |
| Name | Amount |
| Vinith Chezhiyan | 25000 |
| Ashwin Subramanian | 3000 |
| Bidyut Bora | 2500 |
| Pathik Desai | 1000 |
| Pavan Srinivas | 1000 |
| Mayur Gondhalekar | 690 |
| Suman Chakrabarty | 501 |
| Aarun Sundaramoorthy | 500 |
| Shashank | 500 |
| Manigandan Kuppuswamy | 400 |
| Vinoth Kumar | 300 |
| Eeshwara Sai | 231 |
| Rishila Banerjee | 200 |
| Sagar | 100 |
| Arvind Ramnath | 100 |
| Sanskruti Sutar | 100 |
| Prashant Joshi | 100 |
| Aaryan Iyer | 100 |
| Aviral Shringi | 100 |
| Vignesh Sarkar | 100 |
| Mrinal Shah | 100 |
| Shubham Jagtap | 100 |
| Harish Kumar | 80 |
| Chesslovers4life | 76 |
| Munaqib Kosavi | 50 |
| Nupur Sancheti | 40 |
| Raj Programmer | 40 |
| Sumanth | 20 |
| | 37028 |
Total amount: Rs.2,43,243
Vidit Gujrathi's live stream raises Rs.37,028
For Vidit it was the first time he was streaming LIVE while playing blitz. What looked like a relaxed event at the start, soon started getting quite stressful as Vidit, playing with the nickname of Evilgenius, was paired against some really strong players like Nihal Sarin, Aryan Chopra, N. Srinath, D. Gukesh, Padmini Rout and others. But the India no.2 showed why he is one of the best players in the world. He scored 8.0/9, finished joint first (third on tiebreaks) and more importantly raised Rs.37,028 in under two hours!
Nihal Sarin grabs the tournament
Nihal Sarin made a last-minute entry into the tournament, but just like always does, he managed to play well under time pressure and come out on the top! Nihal scored 8.0/9 and was joined on the same score by GM Aravindh Chithambaram (hitter1999) as well as GM Vidit Gujrathi (Evilgenius), but finished first on tiebreak. The first important point in the event came for Nihal when he was paired against Vidit in round five. In the livestream Vidit said, "I will talk a little less now, as I am playing a very strong blitz player." And Vidit's focus began to show dividends as the Nashik lad was not just ahead on time, but also was completely winning. But what happened next shows why Nihal is an absolute blitz/bullet monster. While Vidit had close to 15 seconds and Nihal had around seven, the 15-year-old started playing so fast, that he was actually able to flag Vidit with still five seconds remaining on his clock!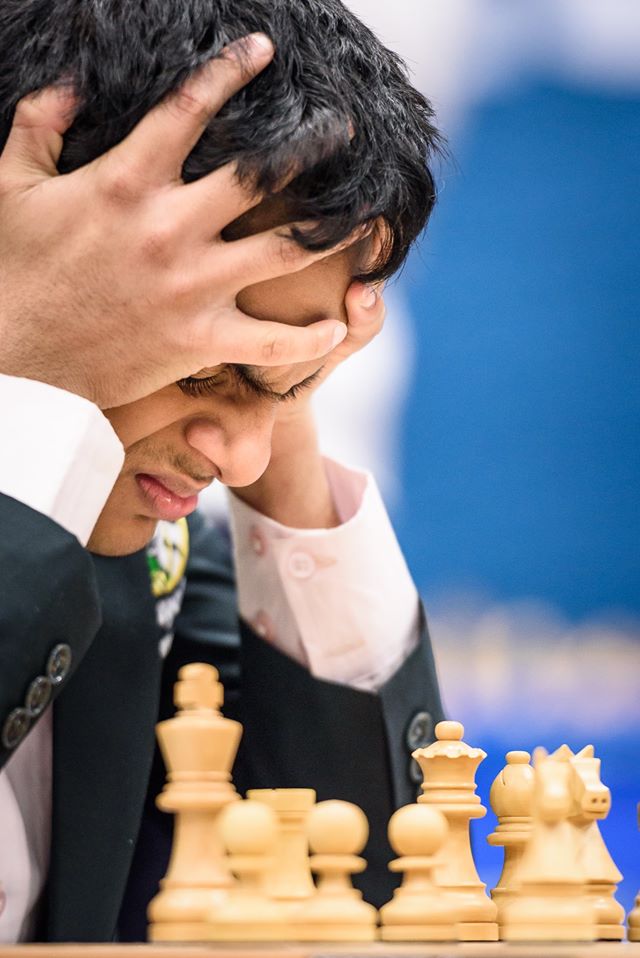 Next Nihal managed to get the better of GM Vishnu Prasanna (Fidodido) and in the seventh round he even beat Aravindh Chithambaram (Hitter1999).
Nihal vs Aravindh
Nihal found the powerful d5! exd5 e5! A typical pawn sacrifice in these Semi-Tarrasch structures. He managed to win the game in just 25 moves after Aravindh made a few errors.
With 7.0/7 it seemed as if Nihal was running away with the title. But it was Gukesh (Gk06) was stopped the dream run.
Gukesh had already lost round six to a blistering attack against Aravindh Chithambaram:
When the final round began, we had a four way tie at the top with 7.0/8. It was Gukesh, Nihal, Aravindh and Vidit all tied on the same score. Vidit and Gukesh were paired against each other. As Aravindh and Nihal had already played against each other, Aravindh was up against Vishnu Prasanna and Nihal was fighting it out against the talented youngster L.R. Srihari. Aravindh faced a tough time against Vishnu's piece sacrifice, but he beat back the attack and trapped his opponent's queen.
Nihal managed to positionally outplay his young opponent:
The game that caught everyone's attention was Gukesh against Vidit. Vidit built up a winning position after netting an exchange. However, very soon it seemed like Gukesh was trying to win on time just like Nihal had done against Vidit. The India no.2 was left with just 10 seconds when he very coolly found a mate in three.
Gukesh vs Vidit
Although there were no prizes, we did have a Magnus Carlsen signed DVD which goes to Nihal for his efforts.
Total amount raised:
The total amount raised through the tournament is Rs.2,43,243. However, this is not the only amount that ChessBase India is raising at the moment. We also have live training sessions by IM Sagar Shah and FI Niklesh Jain for each day of the lockdown and together they have already raised Rs.74,179. The total amount that has been collected by ChessBase India including the live training sessions and online tournament is Rs.3,13,921.
Download all the games of the Let's fight Corona together online blitz
---