Gukesh scores 6.0/6 in his blitz challenge on Playchess
by Sagar Shah - 15/08/2020
We have come up with a new concept called the blitz challenge. The idea is that the subscribers of ChessBase Premium Account get to play against some of the strongest chess players in the world. But the fun doesn't end there. The games will not just be played on Playchess, but they will also be broadcast LIVE on the ChessBase India YouTube channel with live commentary by IM Sagar Shah. The first guest was the young Indian talent GM D. Gukesh, the second guest will be World Junior Champion GM Evgeny Shtembuliak. In this article we analyze the six games that Gukesh played.
The Blitz Challenge is a concept by ChessBase India where a top chess player takes on the premium subscribers of ChessBase Account in 3 minutes + 2 seconds increment blitz. Not only are the games played by a top player, they are also broadcast live on the ChessBase India YouTube channel with commentary by IM Sagar Shah and after the game ends, he discusses the encounter with the top GM to know what he was thinking. It's a perfect chance of not only getting to play a strong grandmaster but also getting your games analyzed by them.
The most amazing thing about Gukesh is that he has reached an Elo of 2563 at the age of just 14, but he has never really used a chess engine! This is simply fascinating. In a world where most of the players thrive exclusively on engine analysis, Gukesh tries to steer away from the Silicon Monster and makes his brain do all the work. It was interesting to see his thought process and how he navigated through the labyrinth of strong opponents.
Game no.1: Padmaesh vs Gukesh
For a static player it is quite obvious that taking on d5 with the knight seems good, because then he gets to play against an Isolated Queen Pawn. But Gukesh, almost without thinking, took on d5 with the pawn. When I asked him, why he did that, he just felt it was the best move in the position, giving him a comfortable position. And he was absolutely right!
The pawn is pushed to c4 and it seems that dxc4 Bxc4 Rec8 seems to win material. But Gukesh had quickly seen that after Bxe6 Rxc1 Bxc8, the position was just equal! And so the right move in the above position is Rec8 and Black is winning at least a pawn.
Game 2: Gukesh vs Indrajeet4ever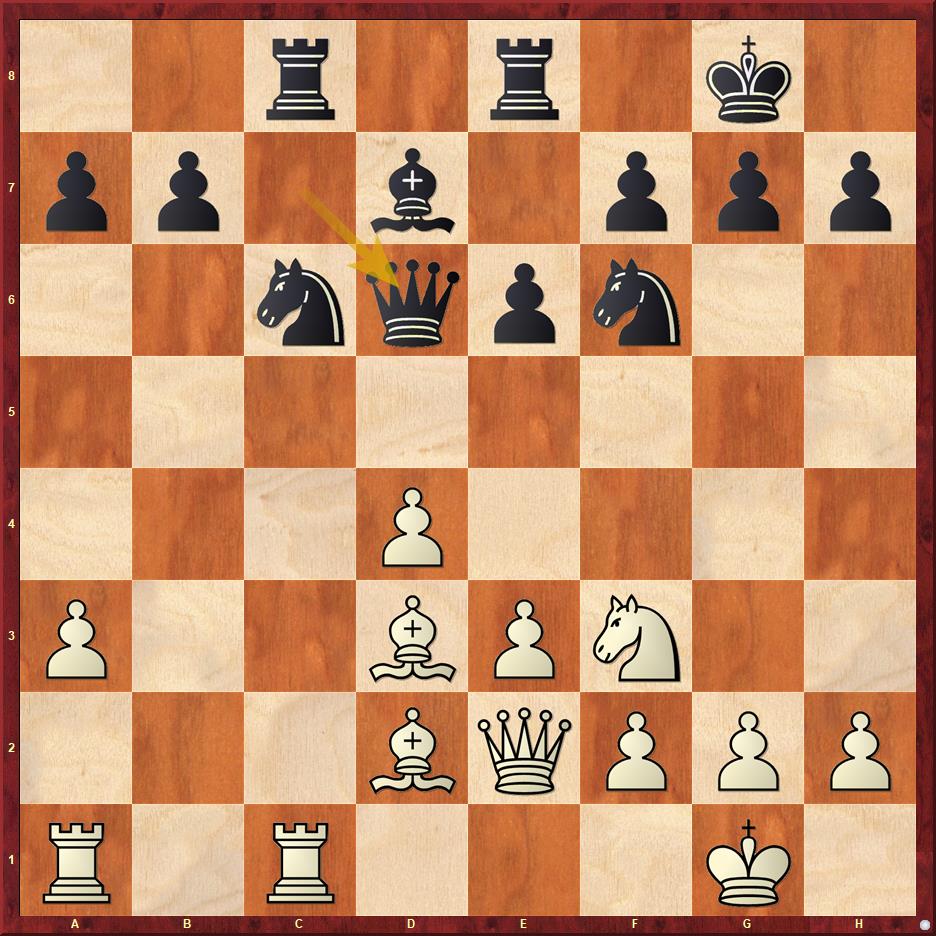 A very interesting moment in the game. Gukesh thought for some time and not finding anyway to improve his position went for h3!? Usually moves like h3 should be condemned, as they do nothing positive to your position. But in this case, it improved Gukesh's king position and proved important later in the game. It must however be mentioned that instead of h3, a move like Bc3 stopping e5 may have been even better.
Game 3: Surisai vs Gukesh
Game 4: Aryanatori vs Gukesh
This was the toughest game for Gukesh playing against Aryan Ranjan, a young talent from Delhi.
Game 5: Gukesh vs Vishvajeet Singh
Gukesh played Qc2 in the game and felt that it was a bit too slow. I felt it was the natural way to continue. But Gukesh was right. The best move for White is Nc4! White shouldn't fear Nxe4 because every time that pawn is taken White continues with Nfxe5 and picks up the knight on e4. Nc4 has the idea of Ne3 and plonking the knight on d5.
Game 6: Gukesh vs Aadi3110theking
Gukesh was dominating the game throughout and here finished it off in style with Rf8! A typical deflection.
2nd Blitz challenge with World Junior Champion Evgeny Shtembuliak
The 2nd Blitz Challenge will be held with GM Evgeny Shtembuliak, the World Junior Champion on the 15th of August 2020 at 4 p.m. IST. Evgeny won the World Junior Championship in Delhi in 2019 and has an Elo of 2620. He has a fantastic positional player and is quite strong when it comes to finishing off his opponents in style. This will be your chance to face one of the strongest young grandmasters in the world of chess and learn from him.
How to play against Shtembuliak?
First of all you need to be a ChessBase Account Premium Member. You can become either a 3-month premium member or a 12 month member.
You can also buy ChessBase 15 or ChessBase 15 + Mega Database 2020 which comes with three months of premium membership or Fritz 17, Komodo 14, Houdini 6 which come with six months of membership.
Shtembuliak will accept challenges from anyone who is a Premium Member in the Blitz Challenge Room
Where can you watch it LIVE?
IM Sagar Shah and Shtembuliak will be live on the ChessBase India channel. You can either watch the show from the embed given below, or if you would like to interact with them, then you can open the video from here, which takes you to YouTube and you can interact with them.
---
Related news
:
Raceking Harsha Bharathakoti finishes first in Capablanca Chess School 5th Anniversary Online Blitz Open

@ 09/04/2021 by Shahid Ahmed (en)
Last call to register for this Saturday's Capablanca Chess School 5th Anniversary Online Blitz Open

@ 31/03/2021 by Shahid Ahmed (en)
Praggnanandhaa dominates Yugam 2021 International Online Blitz Open

@ 26/03/2021 by Shahid Ahmed (en)
Capablanca Chess School 5th Anniversary Online Blitz Open on Saturday 3rd April

@ 24/03/2021 by Shahid Ahmed (en)
Last call to register for this Sunday's Yugam 2021 International Online Blitz Open

@ 17/03/2021 by Shahid Ahmed (en)
Yugam 2021 - International Online Blitz Open with ₹100000 prize fund

@ 07/03/2021 by Shahid Ahmed (en)
Blitz Challenge with India's latest GM Leon Mendonca

@ 08/01/2021 by Shahid Ahmed (en)
Mitrabha Guha dominates 16th Maheshwaranand Saraswati Memorial Online Blitz Open

@ 29/11/2020 by Shahid Ahmed (en)
Last call to register for this Sunday's 16th Maheshwaranand Saraswati Memorial Online Blitz Open

@ 20/11/2020 by Shahid Ahmed (en)
16th Maheshwaranand Saraswati Memorial Online Blitz Open with ₹60000 prize fund

@ 09/11/2020 by Shahid Ahmed (en)
Blitz Challenge with Iniyan

@ 06/11/2020 by Frederic Friedel (en)
Ilamparthi, Mounika and Arunava triumph in Make Your Move Fundraiser Below 2100 Blitz

@ 06/11/2020 by Shahid Ahmed (en)
Make Your Move Fundraiser Blitz Below 2100 Qualifier Schedule revealed

@ 23/10/2020 by Shahid Ahmed (en)
Would you like to fight it out against the German no.1 - Elisabeth Paehtz

@ 22/10/2020 by Sagar Shah (en)
Make Your Move and get a chance to play against Vishy Anand

@ 07/10/2020 by Shahid Ahmed (en)
Vugar Rasulov wins Play for Durgesh Fundraiser Open

@ 25/09/2020 by Shahid Ahmed (en)
Chess Community raises over 11 lacs for coach Durgesh

@ 20/09/2020 by Sagar Shah (en)
Rs.566583 raised for coach Durgesh, Play for him this Saturday

@ 16/09/2020 by Shahid Ahmed (en)
Rs.267,165 raised in two days for coach Durgesh; The fight continues

@ 10/09/2020 by Sagar Shah (en)
GoodEarth Online Blitz Open on 5th September with a total prize fund of ₹60000

@ 17/08/2020 by Shahid Ahmed (en)
Blitz Challenge with GM D.Gukesh

@ 07/08/2020 by Sagar Shah (en)
Jakhongir Vakhidov wins The Knighthood Online Blitz | A total of Rs.211226 raised

@ 06/08/2020 by Shahid Ahmed (en)
Last call for The Knighthood Online Blitz Open this Saturday 1st August

@ 30/07/2020 by Shahid Ahmed (en)
Girish Koushik Glorious in M D Bhagwat Memorial Chess960 Online Blitz Open

@ 24/07/2020 by Shahid Ahmed (en)
8 Reasons why you shouldn't miss the Chess960 event tonight on ChessBase India

@ 18/07/2020 by Sagar Shah (en)
Dhulipalla Bala Chandra Prasad wins 1st Leelavathi Memorial Open

@ 17/07/2020 by Shahid Ahmed (en)
Aravindh wins Letsup MCA GP Blitz 5

@ 13/07/2020 by Shahid Ahmed (en)
Late M D Bhagwat Memorial Chess960 Online Blitz Open with ₹50000 prize fund

@ 11/07/2020 by Shahid Ahmed (en)
Shardul Gagare wins Letsup MCA GP Blitz 4

@ 05/07/2020 by Shahid Ahmed (en)
Gukesh wins Late Shailesh Nerlikar Memorial Online Blitz Open

@ 04/07/2020 by Shahid Ahmed (en)
Letsup MCA GP Blitz 4 rescheduled to 1st July, Total Prize fund increased by 20%

@ 25/06/2020 by Shahid Ahmed (en)
Abdusattorov wins Letsup MCA GP Blitz again

@ 22/06/2020 by Shahid Ahmed (en)
Vaibhav Suri leads Letsup MCA GP, Blitz 4 on 24th June

@ 18/06/2020 by Shahid Ahmed (en)
Nodirbek Abdusattorov triumphs in Letsup presents MCA GP Blitz 2

@ 15/06/2020 by Shahid Ahmed (en)
Late Shailesh Nerlikar Memorial Online Blitz Open on 27th June

@ 11/06/2020 by Shahid Ahmed (en)
28 GMs, 30 IMs will be seen in action in Letsup MCA GP Blitz 3

@ 11/06/2020 by Shahid Ahmed (en)
Vugar Rasulov wins Letsup presents MCA GP Blitz 1

@ 08/06/2020 by Shahid Ahmed (en)
29 GMs, 26 IMs have confirmed for Letsup MCA GP Blitz 2

@ 04/06/2020 by Shahid Ahmed (en)
Mitrabha Guha wins Buddhibal Kreeda Trust Fischer Random Online Blitz Open

@ 28/05/2020 by Shahid Ahmed (en)
Maharashtra Chess Association organizes Letsup presents Blitz GP 2020

@ 28/05/2020 by Shahid Ahmed (en)
Rs.35,000 Fischer Random event by Buddhibal Kreeda Trust on 23rd of May 2020

@ 17/05/2020 by Shahid Ahmed (en)
Andrew Tang wins Sultan Khan Cup

@ 13/05/2020 by Shahid Ahmed (en)
Checkmate Covid-19 Online Blitz Open raises ₹451650

@ 07/05/2020 by Shahid Ahmed (en)
Have you registered for the biggest online ChessBase India event on 9th of May 2020?

@ 06/05/2020 by Sagar Shah (en)
Checkmate Covid-19 Fundraiser Online Blitz by Chess Kerala on 2nd May 2020

@ 24/04/2020 by V Saravanan (en)
Biggest ever online blitz on ChessBase India: Sultan Khan Cup 2020 with a prize fund of Rs.101,000

@ 23/04/2020 by ChessBase India (en)
Praggnanandhaa wins 5th Saturday Online Blitz Open 2020

@ 22/04/2020 by Shahid Ahmed (en)
Indian-Lion GM Arjun Erigaisi Roars again

@ 15/04/2020 by Shahid Ahmed (en)
Aravindh, Gukesh and Arjun are the top seeds in 5th Saturday Online Blitz Open 2020

@ 12/04/2020 by Shahid Ahmed (en)
Rs. 2,43,243 raised at the "Let's fight Corona Together" online blitz

@ 10/04/2020 by Sagar Shah (en)
Announcing the Buddhibal Kreeda Trust online blitz on 14th of April 2020

@ 08/04/2020 by Shahid Ahmed (en)
Indian chess community comes together to fight the Corona virus, raises Rs.1,68,000 in 72 hours

@ 08/04/2020 by Sagar Shah (en)
Diptayan dominates 3rd Saturday Online Blitz Open 2020

@ 07/04/2020 by Shahid Ahmed (en)
Aravindh, Narayanan and Gukesh are the top seeds in 4th Saturday Online Blitz Open 2020

@ 05/04/2020 by Shahid Ahmed (en)
"Let's fight Corona together" fundraiser online blitz on 9th of April 2020

@ 04/04/2020 by Shahid Ahmed (en)
Sunilduth Lyna Narayanan wins March Masters Online Blitz 2020

@ 02/04/2020 by Shahid Ahmed (en)
ChessBase for classroom chess instruction

@ 02/04/2020 by Alexey Root (en)
The Indian-Lion tames all in 2nd Saturday Online Blitz Open 2020

@ 01/04/2020 by Shahid Ahmed (en)
Organize your online events with the ChessBase India team on Playchess

@ 31/03/2020 by Sagar Shah (en)
How to start a training broadcast on Playchess.com

@ 30/03/2020 by ChessBase (en)
Adhiban, Jumbayev and Aravindh are the top seeds in 3rd Saturday Online Blitz 2020

@ 30/03/2020 by Shahid Ahmed (en)
Guseinov, Aravindh and Pragg star in strong 2nd Saturday Blitz Tournament 2020

@ 27/03/2020 by Shahid Ahmed (en)
Pragg stands on top of "Chessworld"

@ 24/03/2020 by Elshan Moradiabadi (en)
Donchenko, Sethuraman, Aravind and more in action in March Masters Online Blitz 2020

@ 24/03/2020 by Shahid Ahmed (en)
Guseinov, Pragg, Gukesh and more will fight in 2nd Saturday Online Blitz 2020

@ 22/03/2020 by Shahid Ahmed (en)
Nihal, Pragg and Andriasian headline the 1st Saturday Online Blitz tournament

@ 20/03/2020 by Shahid Ahmed (en)
Wanna battle with Gukesh, Visakh, Laxman and others in ChessBase Online Blitz Tournament?

@ 16/03/2020 by Shahid Ahmed (en)
ChessBase India presents five Saturday online Blitz events starting from 21st of March

@ 15/03/2020 by Shahid Ahmed (en)
How to improve your online chess strength

@ 10/03/2020 by GM Avetik Grigoryan (en)
Indian chess players raise Rs.33121 in 'Let's Rebuild Odisha' fundraiser tournament

@ 16/05/2019 by Shahid Ahmed (en)
92 Indian Chess players raise Rs.1,01,973 for Pulwama terror attack Martyrs

@ 25/02/2019 by Shahid Ahmed (en)
Diptayan, Aravindh and Rathnakaran are the winners of Vishy Anand 49 Online Blitz 2018

@ 07/01/2019 by Shahid Ahmed (en)
Your last chance to play with the best in Indian chess!

@ 25/12/2018 by Shahid Ahmed (en)
An explosive line-up for Vishy Anand 49 online blitz 2018

@ 23/12/2018 by Sagar Shah (en)
Online blitz tournament to celebrate Vishy Anand's 49th birthday

@ 12/12/2018 by Sagar Shah (en)
Amonatov, Martirosyan, Idani, Nihal, Pragg! What a mouth watering blitz event!

@ 24/11/2018 by Shahid Ahmed (en)
Diptayan Ghosh wins Gujarat-Goa Online Blitz 2018

@ 05/09/2018 by Shahid Ahmed (en)