Chess Community raises over 11 lacs for coach Durgesh
The entire chess universe has once again come together for a noble cause to help raise funds for a a well-known chess trainer from Bangalore, who suffered from brain haemorrhage. World no.10 and Dutch no.1 GM Anish Giri spent his valuable time and efforts to participate in this tournament and spread awareness for this noble cause. We have had 582 donors across the world and managed to raise Rs. 11,08,160. Durgesh's good friend Sushrutha Reddy sponsored Rs.50,000 as the prize fund for the tournament under the aegis of United Karnataka Chess Association. Sushrutha also brings an update about Durgesh's present health situation. GM Vugar Rasulov of Azerbaijan won the event with 8.0/9, three other players - IM Terry R, GM Harsha Bharathakoti and GM Vugar Asadli also finished at 8.0/9. They were placed second to fourth. Photo: Amruta Mokal and others
Chess Community all over the world come together for Durgesh
The chess community has rallied around Durgesh, a well-known chess trainer from Bangalore India and within 2 weeks we have been able to raise Rs.11,08,160!
GM Vugar Rasulov of Azerbaijan wins Play for Durgesh Fundraiser Online Blitz Open. Thanks to Anish Giri for playing and live streaming the event. We also must thank Sushrutha Reddy under the aegis of United Karnataka Chess Association (UKCA) for sponsoring the entire prize fund of ₹50000. Total over ₹11 lacs have been raised for Durgesh. People from various countries across the world has contributed to this noble cause.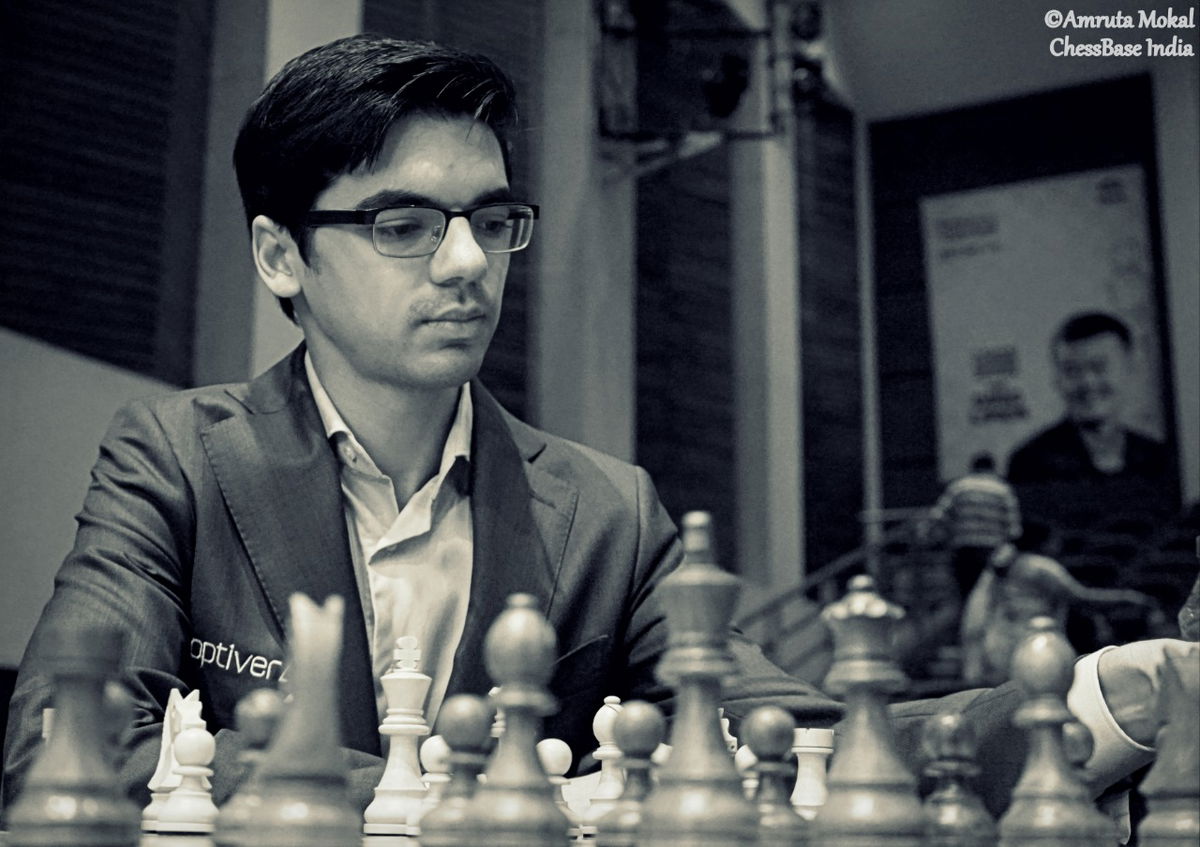 Update on Durgesh's health
By Sushrutha Reddy:
At Sakra, Durgesh is undergoing physiotherapy and 100 ml of assisted swallow therapy. He is showing signs of improvement on a week to week basis. He is gaining strength on his left hand. The only expression showed by him is anger - apart from that of a blank one.
Speech therapy will start after the tracheotomy tube is removed.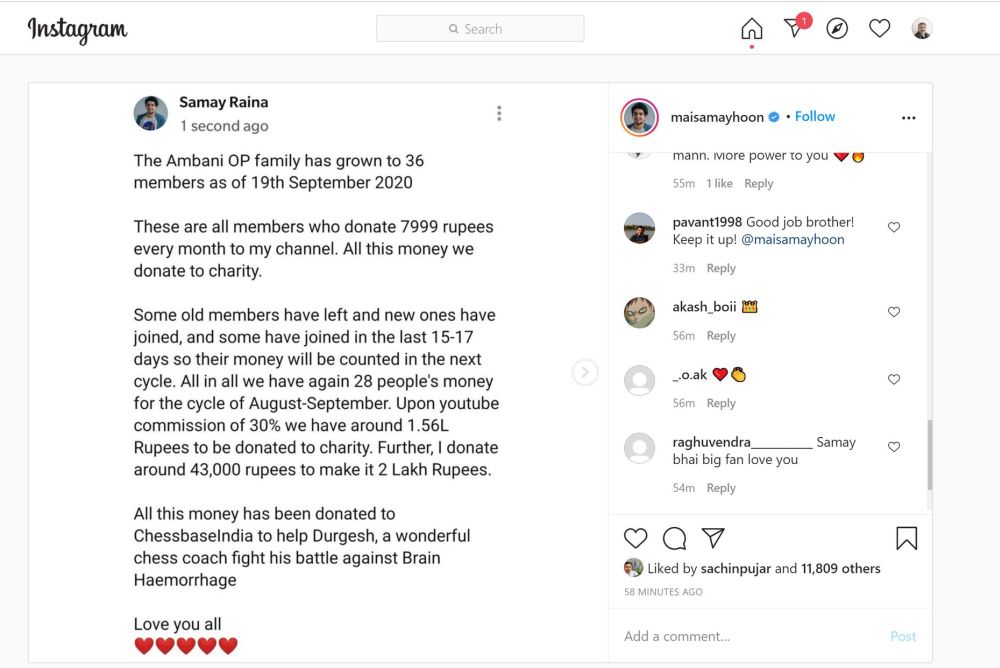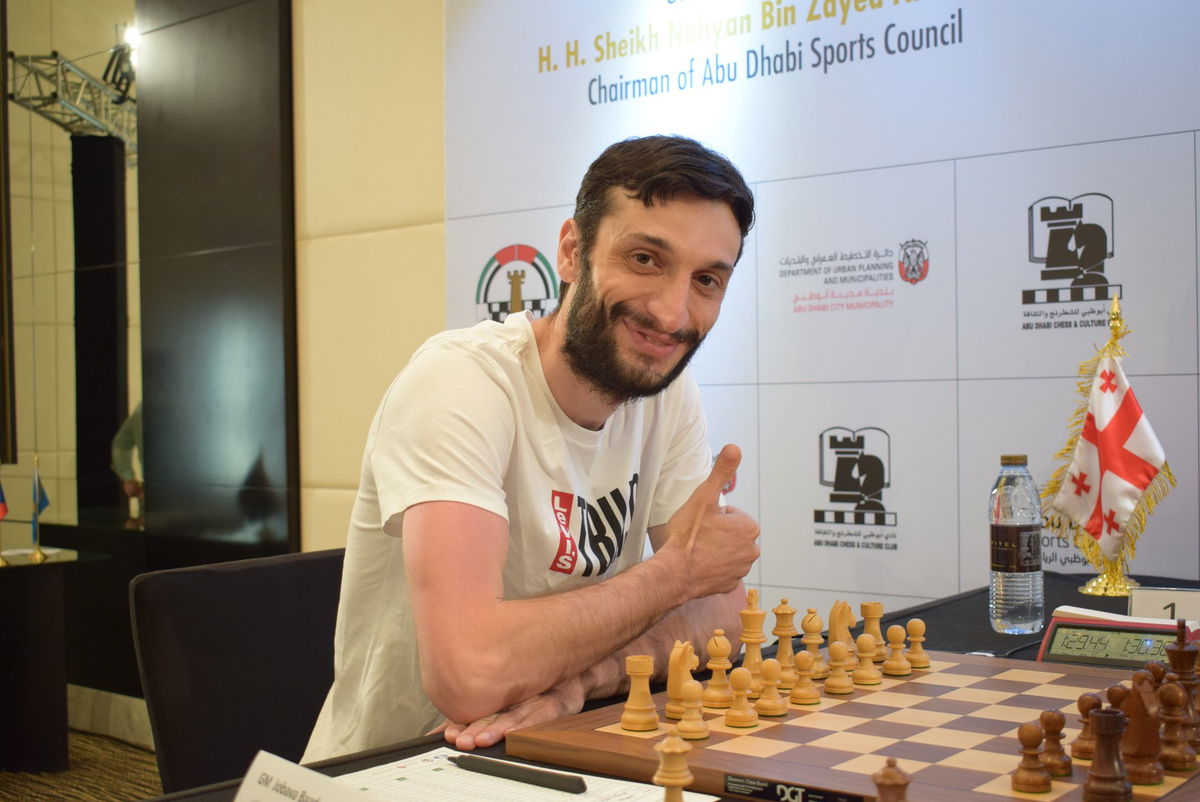 Four players - GM Vugar Rasulov (AZE), IM Terry Renato (PER), GM Harsha Bharathakoti (IND) and GM Vugar Asadli (AZE) scored 8.0/10 and they were placed first to fourth respectively according to their tie-break scores. Total 360 players including 9 GMs and 7 IMs participated from India, Azerbaijan, Bangladesh, Canada, England, Germany, Peru, Poland, Russia and USA. Due to some technical issues, we had to truncate the event by one round and conclude it after Round 9. Thus we have decided that the Lucky Prizes will be donated to the noble cause. Final standings will be published after we check the games for anti-cheating measures.
Provisional Standings
| | | |
| --- | --- | --- |
| Rank | Name | Points |
| 1 | GM Vugar Rasulov | 8 |
| 2 | IM Terry R | 8 |
| 3 | GM Harsha Bharathakoti | 8 |
| 4 | GM Vugar Asadli | 8 |
| 5 | Kanan Garayev | 7.5 |
| 6 | IM Aronyak Ghosh | 7.5 |
Donor's list
| | | |
| --- | --- | --- |
| Sl. No | Name | Donation |
| 1 | Samay Raina | 2,00,000 |
| 2 | Ajith | 50,000 |
| 3 | GM Arjun Erigaisi | 20,000 |
| 4 | Ansuman Das | 20,000 |
| 5 | Sugandhi Garg | 16,000 |
| 6 | Jayaram Ramanna | 15,000 |
| 7 | Vasudevan R R | 15,000 |
| 8 | Celestial Minds | USD 200 |
| 9 | Kishore Kumar | 10,500 |
| 10 | Vinod Kumar Sharma | 10,000 |
| 11 | Sudarsan T S | 10,000 |
| 12 | Kumar Shiralagi | 10,000 |
| 13 | Kumar Gaurav | 10,000 |
| 14 | Arjun N Bharadwaj | 10,000 |
| 15 | Ramaraju | 10,000 |
| 16 | Harsha Bellur | 10,000 |
| 17 | Chess Pathshala | 10,000 |
| 18 | Shravana Banagiri | 10,000 |
| 19 | Arunava Bhattacharjee | 10,000 |
| 20 | Manishika Srivastav | 10,000 |
| 21 | GM Stany G A | 10,000 |
| 22 | Chandan Rao | 10,000 |
| 23 | Aparna Iyer | 10,000 |
| 24 | Dhruv Kandhari | 10,000 |
| 25 | GM Koneru Humpy | 10,000 |
| 26 | Anonymous | 9,860 |
| | | 100 |
| 27 | GM Baadur Jobava | USD 100 |
| 28 | Janaksinh Jadeja | USD 100 |
| 29 | Sumana Gargi M | 5,000 |
| 30 | Poornachandra Thejas | 5,000 |
| 31 | Satyadeep Sharma | 5,000 |
| 32 | Vaishali Arora | 5,000 |
| 33 | Shashank Verma | 5,000 |
| 34 | Srividhya Sachin Ko | 5,000 |
| 35 | Mugdha Mishra | 5,000 |
| 36 | P Nirmala Devi | 5,000 |
| 37 | Saanvi | 5,000 |
| 38 | Viani | 5,000 |
| 39 | Soumya | 5,000 |
| 40 | R A Suresh | 5,000 |
| 41 | Anand Vaswani | 5,000 |
| 42 | Atul Bhalerao | 5,000 |
| 43 | Nagarajan R | 5,000 |
| 44 | Manasa K | 5,000 |
| 45 | Renganayaki V | 5,000 |
| 46 | Vishwas Jamadagni | 5,000 |
| 47 | U M Samarth Rao | 5,000 |
| 48 | Praveen | 5,000 |
| 49 | Varun B S | 5,000 |
| 50 | Rajiv Upadhyay | 5,000 |
| 51 | Sriramya Garakahalli | 5,000 |
| 52 | Sushil Behere | 5,000 |
| 53 | Pranav Vinayak Ramamurthy | 5,000 |
| 54 | Sobhana Desikan | 5,000 |
| 55 | Balaji Rangasamy | 5,000 |
| 56 | Baskaran Ss | 5,000 |
| 57 | Avi Bhardwaj | 5,000 |
| 58 | Pranjal Ranjan | 5,000 |
| 59 | Thej | 5,000 |
| 60 | Sathvik Adiga | 5,000 |
| 61 | Shreya And Avneesh | 5,000 |
| 62 | Ravi | 5,000 |
| 63 | Ashwin Kumar Subramanian | 5,000 |
| 64 | Annika Santhosh Mallya | 5,000 |
| 65 | Arnav Muralidhar | 5,000 |
| 66 | Tapan Krishna Ab | 5,000 |
| 67 | Konguvel P | 5,000 |
| 68 | G Sadananda Murthy | 5,000 |
| 69 | Aanchal Jitendra Cha | 4,000 |
| 70 | Rashmi S Shenoy | 3,000 |
| 71 | Jigando Balan | 3,000 |
| 72 | Medhvansh Madeti | 3,000 |
| 73 | Radhika Ramankutty N | 2,501 |
| 74 | Ritesh Sadashiv Acha | 2,500 |
| 75 | Vidya Moni | 2,500 |
| 76 | Gokul A | 2,500 |
| 77 | Yogesh | 2,500 |
| 78 | Shaun Sanal | 2,500 |
| 79 | Hrishikesh Rupesh Raghuvaran | 2,500 |
| 80 | Rahul Anil Bhagwat | 2,500 |
| 81 | Yash J Laddha | 2,500 |
| 82 | Shubh Laddha | 2,500 |
| 83 | Adya Premkumar | 2,500 |
| 84 | Aryam Bhowmik | 2,500 |
| 85 | Nishanth S Gowda | 2,300 |
| 86 | Chaitra | 2,050 |
| 87 | Shashikant M Nagthan | 2,000 |
| 88 | Pranav Shah | 2,000 |
| 89 | Rahul V Jain | 2,000 |
| 90 | Nihal Shashidhar Ban | 2,000 |
| 91 | Sudarshan Kali Mukun | 2,000 |
| 92 | Mrs Roopa Bk | 2,000 |
| 93 | Deepthi Ganugapenta | 2,000 |
| 94 | Harpreet Singh Syal | 2,000 |
| 95 | Abhisek Ghosh | 2,000 |
| 96 | Aanchal Agrawal | 2,000 |
| 97 | Fakrudeen S | 2,000 |
| 98 | Pranav Srikar | 2,000 |
| 99 | Thippesh Anilkumar | 2,000 |
| 100 | Swati Sengupta | 2,000 |
| 101 | Shyamnikhil | 2,000 |
| 102 | Ramya Prabhakar | 2,000 |
| 103 | Sudhakaran K | 2,000 |
| 104 | Shiva Prasad M | 2,000 |
| 105 | Sreenidhi Rajagopal | 2,000 |
| 106 | Nitin Senthilvel | 2,000 |
| 107 | Anuja Kalappa | 2,000 |
| 108 | Ashika | 2,000 |
| 109 | Meghna C H | 2,000 |
| 110 | Arhan Chethan Anand | 2,000 |
| 111 | Arati Rao | 2,000 |
| 112 | Abhijit R. Acharya | 2,000 |
| 113 | Manjistha | 2,000 |
| 114 | Adhip U Jadhav | 2,000 |
| 115 | Aaron Reeve Mendes | 2,000 |
| 116 | Abhimanyu Puranik | 2,000 |
| 117 | N R Anilkumar | 2,000 |
| 118 | Alok Kumar | 2,000 |
| 119 | Neha | 2,000 |
| 120 | Raju M | 2,000 |
| 121 | Ramya | 2,000 |
| 122 | Vikrant | 2,000 |
| 123 | Sarvad Senthil | 2,000 |
| 124 | Vipin | 2,000 |
| 125 | Varun Anant | 2,000 |
| 126 | Aniket Mohapatra | 2,000 |
| 127 | Nandan Patari | 2,000 |
| 128 | Abhijith Pran | 2,000 |
| 129 | Aneesha Pai | 2,000 |
| 130 | Liju James | 2,000 |
| 131 | Bharathi | 2,000 |
| 132 | Chetan Mehta | 2,000 |
| 133 | Mamtaa Siingh | 2,001 |
| 134 | Neil.J | 2,000 |
| 135 | Bruhathi Kondisetti | 2,000 |
| 136 | Girish Hippargi | 2,000 |
| 137 | Ramakrishnan | 2,000 |
| 138 | Siddharth Suri | 2,000 |
| 139 | Sri | 2,000 |
| 140 | Avani | 2,000 |
| 141 | André Buttkus | EUR 25 |
| 142 | Tushar Sawant | USD 25 |
| 143 | | 200 |
| 144 | C Prakash | 1,516 |
| 145 | Tanmay Srinath | 1,500 |
| 146 | Maruti Prabhakar Nai | 1,500 |
| 147 | Vaishnavi R Rao | 1,500 |
| 148 | Balaji Sunku | 1,500 |
| 149 | Sammer | 1,500 |
| 150 | Spar | 1,500 |
| 151 | Saloni Ratnam | USD 20 |
| 152 | Harsh Mota | USD 20 |
| 153 | Vadhavana R Manish | 1,300 |
| 154 | Abhijit Kumar | GBP 15 |
| 155 | Krishna | 1,100 |
| 156 | Rohit | 1,100 |
| 157 | Ganapathy Subramania | 1,008 |
| 158 | Uddhav Raj | 1,000 |
| 159 | Vinayak Krishna Shet | 1,000 |
| 160 | Vishal Loknath Kannu | 1,000 |
| 161 | Prashant Awasthi | 1,000 |
| 162 | Tarun Yadav | 1,000 |
| 163 | Sudhir Anand | 1,000 |
| 164 | Virendra Yadav | 1,000 |
| 165 | Srinidhi V | 1,000 |
| 166 | Punit Vanjani | 1,000 |
| 167 | Srijan Chakraborty | 1,000 |
| 168 | Sachin Mohan Gadag | 1,000 |
| 169 | Pranav Ramchandra Jo | 1,000 |
| 170 | Sarabjot Singh | 1,000 |
| 171 | Dhanasekar K | 1,000 |
| 172 | Mihir Prakash Jois | 1,000 |
| 173 | Akhil Kumar Sharma | 1,000 |
| 174 | Manjunath R | 1,000 |
| 175 | Amit Kumar | 1,000 |
| 176 | Aman Kumar Kapur | 1,000 |
| 177 | Hemant | 1,001 |
| 178 | Nirav Pithva | 1,000 |
| 179 | Vishruth Ajay Krishnan | 1,000 |
| 180 | Vijay | 1,000 |
| 181 | Neelash Saha | 1,000 |
| 182 | Nilay Kumar | 1,000 |
| 183 | Shilpa | 1,000 |
| 184 | Vaibahv Sharma | 1,000 |
| 185 | P Chandrasekhar | 1,000 |
| 186 | Sandeep Naidu | 1,000 |
| 187 | Peter Joseph | 1,000 |
| 188 | Sreeja | 1,000 |
| 189 | Niranjan Shenoy | 1,000 |
| 190 | Arnav | 1,000 |
| 191 | Mridula Mukund | 1,000 |
| 192 | Devendra Kumar Pandey | 1,000 |
| 193 | Drk | 1,000 |
| 194 | Lohith Tadiboyana | 1,000 |
| 195 | Aruna D | 1,000 |
| 196 | Anjan Samanta | 1,000 |
| 197 | Channa | 1,000 |
| 198 | Abhishek Kumar | 1,000 |
| 199 | Aniruddha Lakhnot | 1,000 |
| 200 | Bhabnish Kumar Bohidar | 1,000 |
| 201 | Aarya Satish Chikodi | 1,000 |
| 202 | Gaurav Kathuria | 1,000 |
| 203 | Deepakraj K M | 1,000 |
| 204 | Biswanath Dutta | 1,000 |
| 205 | Krishnakumar Govindarajan | 1,000 |
| 206 | Anmol Bhandari | 1,000 |
| 207 | Ganesh R | 1,000 |
| 208 | Aditya Mittal | 1,000 |
| 209 | Harshad Patil | 1,000 |
| 210 | Ananda K R | 1,000 |
| 211 | Mridul Swaroop | 1,000 |
| 212 | Kunalm | 1,000 |
| 213 | Dayanand Govind Naik | 1,000 |
| 214 | Lay Patel | 1,000 |
| 215 | Keerthikha Rajaganapathy | 1,000 |
| 216 | Adhiban M Kannan | 1,000 |
| 217 | Srivishva Barath | 1,003 |
| 218 | R Raman | 1,000 |
| 219 | Nageswar Reddy Manchala | 1,001 |
| 220 | Sangeeta G D | 1,000 |
| 221 | P V S Rao | 1,000 |
| 222 | Yutika Reddy Bheemavarapu | 1,000 |
| 223 | Pranay Singh | 1,000 |
| 224 | Roopa Komarla | 1,000 |
| 225 | Shreedhar Inamdar | 1,000 |
| 226 | Nirvana Laha | 1,000 |
| 227 | Ravi Anuganti | 1,000 |
| 228 | Santosh Sarikar | 1,000 |
| 229 | Pravin | 1,000 |
| 230 | Nisanth Nithin | 1,000 |
| 231 | Sathish Kunchiveedu | 1,000 |
| 232 | Rohan Yuttham | 1,000 |
| 233 | Aishwarjya Gogoi | 1,000 |
| 234 | Mayur Gondhalekar | 1,000 |
| 235 | Nanda | 1,000 |
| 236 | Mohammad Suleman | 1,000 |
| 237 | Arijit Chaudhury | 1,000 |
| 238 | Adireddy Arjun | 1,000 |
| 239 | Bhargavi N | 1,000 |
| 240 | Nandan Karthik | 1,000 |
| 241 | Abhijit Mirajkar | 1,000 |
| 242 | Avyaya | 1,000 |
| 243 | Madhavan Jayabalan | 1,000 |
| 244 | Debakanta Nayak | 1,000 |
| 245 | P Srinivasan | 1,000 |
| 246 | Navya Joe | 1,000 |
| 247 | Vidya | 1,000 |
| 248 | Nikhilesh Meshram | 1,000 |
| 249 | Shyam S Krishnan | 1,000 |
| 250 | Rithvek Aditya L.S | 1,000 |
| 251 | Dushyant Sharma | 1,000 |
| 252 | Aryamegha A | 1,000 |
| 253 | Koshinya Vikramaaditya Guddeti | 1,000 |
| 254 | Balasangameshwara Vollepore | 1,000 |
| 255 | Amogh Bisht | 1,000 |
| 256 | Chinmay Raman | 1,000 |
| 257 | Mukund H Agarwal | 1,000 |
| 258 | Mahi Doshi | 1,000 |
| 259 | Nandakumar D | 1,000 |
| 260 | Ashva Shanmugam | 1,000 |
| 261 | Deepak | 1,000 |
| 262 | Ajay Karthikeyan | 1,000 |
| 263 | Venugopal Mr | 1,000 |
| 264 | Sachin B Rathi | 1,000 |
| 265 | Shobhalatha B S | 1,000 |
| 266 | Rag Shah | 1,000 |
| 267 | Rishi Verma | 1,000 |
| 268 | Neeraj Pandey | 1,000 |
| 269 | Romi Jain | 1,000 |
| 270 | Rashmi | 1,000 |
| 271 | Anonomus | 1,000 |
| 272 | Avathanshu | 1,000 |
| 273 | Joshnaa | 1,000 |
| 274 | Niraj Kasar | 800 |
| 275 | Ashima Srivastava | 800 |
| 276 | Henrik Schlößner | EUR 10 |
| 277 | Anand Sivasankar | 550 |
| 278 | Vaibhav Kumar Jha | 501 |
| 279 | Rama Bhushan Kulkarn | 501 |
| 280 | E Anand Swaroop | 501 |
| 281 | Sachin Kumar So Sh | 500 |
| 282 | Ramesh S Callore | 500 |
| 283 | Suraj Revankar | 500 |
| 284 | Shreyansh Dubey | 500 |
| 285 | Ramanathan Tn | 500 |
| 286 | Piyush Sinha | 500 |
| 287 | Ravi K K | 500 |
| 288 | Suhit Sanjiv Bhoir | 500 |
| 289 | Venkatesha Gowda N N | 500 |
| 290 | Shrikrishna Madhukar | 500 |
| 291 | R Suraj Prabhu | 500 |
| 292 | Pruthvi P | 500 |
| 293 | Prashant Suhas Kamat | 500 |
| 294 | Nipen Das | 500 |
| 295 | Tejas Vilas Chitnis | 500 |
| 296 | Ashutosh Pandey | 500 |
| 297 | Anirudh P Gupta | 500 |
| 298 | Dipen Agarwal So Sun | 500 |
| 299 | D Akshay Kumar | 500 |
| 300 | David Gladson Bynaga | 500 |
| 301 | Lathish Kumar Naraya | 500 |
| 302 | Eshwar M K S | 500 |
| 303 | Lakshya Dhingra | 500 |
| 304 | Deepma Nayan Jadeja | 500 |
| 305 | Kulkarni Anay Chandr | 500 |
| 306 | Mr Adwait Anand Aray | 500 |
| 307 | Abhishek Kumar Roy | 500 |
| 308 | Adrija Ajeya | 500 |
| 309 | Keshavaram Mahadevan | 500 |
| 310 | Chintan Dedhia | 500 |
| 311 | Sidharth Sreekumar | 502 |
| 312 | Srikant | 501 |
| 313 | Vikram | 501 |
| 314 | Vishal Gayasen | 500 |
| 315 | Sandeep Tirukoti | 500 |
| 316 | Surucha Shanbhag | 500 |
| 317 | Sacinkumar Patel | 500 |
| 318 | Sanket Chakravarty | 500 |
| 319 | Sahil Dhar | 500 |
| 320 | Vishal Nitave | 500 |
| 321 | Riya | 500 |
| 322 | Suvidha Patil | 500 |
| 323 | Ramesh Kote | 500 |
| 324 | Pranav Prasanth | 500 |
| 325 | Rohan Bharat Joshi | 500 |
| 326 | Uddipan Roy | 500 |
| 327 | Siddharth Gupta | 500 |
| 328 | Umesh Dhangar | 500 |
| 329 | Pratham Ajay | 500 |
| 330 | Usama Mubeen Arab | 500 |
| 331 | Raghav Garg | 500 |
| 332 | Puvi Subramanian | 500 |
| 333 | Valsaraju V | 500 |
| 334 | Pranay Sawant | 500 |
| 335 | Srujan Keerthan | 500 |
| 336 | Sharad Rastogi | 500 |
| 337 | Monideep Banerjee | 500 |
| 338 | C Sai Pavan | 500 |
| 339 | Ankesh Vashishtha | 500 |
| 340 | Dhanush | 500 |
| 341 | Anupam A | 500 |
| 342 | Arpith S Bijoy | 500 |
| 343 | Nagaraj | 500 |
| 344 | Abhinav Sachhin | 500 |
| 345 | Kushall Jain | 500 |
| 346 | Anasuya Chiplunkar | 500 |
| 347 | Manisha | 500 |
| 348 | Aneshwara Nair | 500 |
| 349 | Anupam Raj | 500 |
| 350 | Jayashree | 500 |
| 351 | Chinmoy Roy | 500 |
| 352 | Karthik Hs | 500 |
| 353 | Adeep Kumar Dalai | 500 |
| 354 | Karthik Varada | 500 |
| 355 | Raghunatha Menon | 500 |
| 356 | Dhruv Haldankar | 500 |
| 357 | Amaey Advait | 501 |
| 358 | Tanish Agarwal | 501 |
| 359 | Bhavesh Vyas | 501 |
| 360 | Sindhu Rajesh | 500 |
| 361 | Snehal Bhosale | 500 |
| 362 | Sreeparna Chatterjee | 500 |
| 363 | Shubhra | 500 |
| 364 | Prakyath Kp | 500 |
| 365 | Soumabha Ray | 500 |
| 366 | Saumen Bhattacharjee | 500 |
| 367 | Sachin | 500 |
| 368 | Sreejith G S | 500 |
| 369 | Sankaran Ponnada Krishnaswamy | 500 |
| 370 | Aryan Malhotra | 500 |
| 371 | D V Ananthapadmanabh | 500 |
| 372 | Agentelectro | 500 |
| 373 | Kaavya G S | 500 |
| 374 | Daksh Jain | 500 |
| 375 | Shriyana S Mallya | 500 |
| 376 | Venkatraman Satyamurthy | 500 |
| 377 | Pavan Bnb | 500 |
| 378 | Palak Chaurasia | 500 |
| 379 | Riyan Amit Shah | 500 |
| 380 | Sushi | 500 |
| 381 | Ilamparthi A R | 500 |
| 382 | Advait Ratnakar Vibhute | 500 |
| 383 | Chinmay Kowshik | 500 |
| 384 | Amalraj | 500 |
| 385 | Nachiketh Vaasishta | 500 |
| 386 | Avyaya Bhat | 500 |
| 387 | Kamal Kumar Lakhera | 500 |
| 388 | Manish Minz | 500 |
| 389 | Jagdish S Nagraj | 500 |
| 390 | Saharsh | 500 |
| 391 | Sheba | 500 |
| 392 | Shubham Jain | 500 |
| 393 | Soham | 500 |
| 394 | Sriram | 500 |
| 395 | Vivaan Harjani | 500 |
| 396 | Prashanth Kalluraya | 500 |
| 397 | Sudarshan Raghunandan | 500 |
| 398 | Vashisht | 500 |
| 399 | Sudhir Tharayil | 500 |
| 400 | Muralikrishna | 500 |
| 401 | J Kumar | 500 |
| 402 | Ajay Negi | 500 |
| 403 | Arnav Krishna T | 500 |
| 404 | Ayush Sharma | 500 |
| 405 | Anand J S | 400 |
| 406 | Yash Hegde | 400 |
| 407 | Mohith T S | 400 |
| 408 | Harikrishnan Narayana | EUR 5 |
| 409 | Sanjeev Kumar | 300 |
| 410 | Viral H Upadhyaya | 300 |
| 411 | Surya Tribedy | 300 |
| 412 | Srihari L R | 300 |
| 413 | Sricharan Mutyala | 300 |
| 414 | Lavanya | 300 |
| 415 | Santhosh | 300 |
| 416 | Getwellsoon | 300 |
| 417 | Navnith Bharadwaj | 250 |
| 418 | Sumanth J Phatak | 250 |
| 419 | Bandaru Vivek | 250 |
| 420 | Saurabh Mehta | 251 |
| 421 | Jatin | 251 |
| 422 | Ruchir Nadikatla | 250 |
| 423 | Ruhika Nadikatla | 250 |
| 424 | Thiyagarajan P | 250 |
| 425 | Ameeth Hari Prasad | 250 |
| 426 | Amit Rajeshirke | 250 |
| 427 | Sukendar Reddy Guma | 200 |
| 428 | Shubham Debnath | 200 |
| 429 | Tushar Madan Kadam | 200 |
| 430 | Varad Nitin Kulkarni | 200 |
| 431 | Piyush Goel | 200 |
| 432 | Saurabh Sharma | 200 |
| 433 | Parul Agnihotri | 200 |
| 434 | Akshit Johry | 200 |
| 435 | Monica Rana | 200 |
| 436 | Aakarshit Srivastava | 200 |
| 437 | Midhun V Kunhiraman | 200 |
| 438 | Mr Shubam Narlawar | 200 |
| 439 | Bhavnesh Laxmikant D | 200 |
| 440 | Rohit Pandey | 200 |
| 441 | Srivathsan D | 200 |
| 442 | Sagar Kadam | 200 |
| 443 | Nirupam Das | 200 |
| 444 | Samriddhaa Ghosh | 200 |
| 445 | Sandeep Gopinath | 200 |
| 446 | Manish Baraskar | 200 |
| 447 | G Sanjay Pradnesh | 200 |
| 448 | Kunal Sharma | 200 |
| 449 | Ayush Rathi | 200 |
| 450 | Gokul | 200 |
| 451 | Murthy | 200 |
| 452 | K. Anukiruthika | 200 |
| 453 | Ayush Bhardwaj | 200 |
| 454 | Sonia | 201 |
| 455 | Manas Adhikari | 201 |
| 456 | Vaibhav Joshi | 200 |
| 457 | Neelav Barman | 200 |
| 458 | Anand Kadam | 200 |
| 459 | Pritam Modak | 200 |
| 460 | Harshini A | 200 |
| 461 | Vishnu Sharan Veerabomma | 200 |
| 462 | Siddharth Upamanyu | 200 |
| 463 | Vivaan | 200 |
| 464 | Spoorthi | 200 |
| 465 | Prasad Ravindra Sawa | 151 |
| 466 | Bhavey Grover | 151 |
| 467 | Smeet Kishor Vardam | 150 |
| 468 | Apoorv Bansal | 150 |
| 469 | Ashutosh Kumar | 151 |
| 470 | Virendra Sawant | 150 |
| 471 | Harshiv Thakkar | 150 |
| 472 | Ahaanmehta | 151 |
| 473 | Santosh | 150 |
| 474 | Sameer Badarinath | 150 |
| 475 | Tobias Lerchner | EUR 2 |
| 476 | Ravi Teja Latchubhuk | 116 |
| 477 | Clases De Ajedrez | USD 2 |
| 478 | Aakash M H | 102 |
| 479 | Sharang Chopra | 101 |
| 480 | Sujay Acharjee | 101 |
| 481 | Prakhar Dubey | 101 |
| 482 | Deepak Shankarrao Am | 101 |
| 483 | Akshay Tyagi | 101 |
| 484 | Vishal Sonawane | 101 |
| 485 | Shwetey Tanawade | 101 |
| 486 | Saarang Shyam Dixit | 101 |
| 487 | Vivek G | 100 |
| 488 | Rivu Das | 100 |
| 489 | Nishant Goyal | 100 |
| 490 | Vinit Kiran Mamania | 100 |
| 491 | Nihit Gupta | 100 |
| 492 | Shreyash Ratnakar | 100 |
| 493 | Shashwat Shaurya | 100 |
| 494 | Parag Sharad Pore | 100 |
| 495 | Geethanjali S | 100 |
| 496 | Bondili Karthik Sin | 100 |
| 497 | Manish Kumar Shakya | 100 |
| 498 | Kartik Arora | 100 |
| 499 | D S Abhishek | 100 |
| 500 | Kartike Bansal | 100 |
| 501 | Amandu Shiva Krishna | 100 |
| 502 | Ahmedali Enaiatalli | 100 |
| 503 | Mr Mithil Samir Ajga | 100 |
| 504 | Abhishek John Toppo | 100 |
| 505 | Eehshan Rajendra Gad | 100 |
| 506 | Champaneri Minaxi Ka | 100 |
| 507 | Iffatali Maulali Sha | 100 |
| 508 | Chandresh Sinha | 100 |
| 509 | Anil Shankar Gokhale | 100 |
| 510 | Deepak R | 100 |
| 511 | Davinder Singh | 100 |
| 512 | Archana Tiwary | 100 |
| 513 | Chaitanya Sanjay Mah | 100 |
| 514 | Shivam | 100 |
| 515 | Srijan Singh | 100 |
| 516 | Prathamesh Bhanuse | 100 |
| 517 | Rishabh Chauhan | 100 |
| 518 | Samhita | 100 |
| 519 | Vaibhav Savla | 100 |
| 520 | Vivek Garg | 100 |
| 521 | Shubham S. Sahoo | 100 |
| 522 | Venkatesh Hari | 100 |
| 523 | Saurabh Gurbhele | 100 |
| 524 | Sumit Amrut Pujari | 100 |
| 525 | Prabhat Sharma | 100 |
| 526 | Abhishek Kumar Singh | 100 |
| 527 | Atri Chattopadhyay | 100 |
| 528 | Akshay Thakur | 100 |
| 529 | Mohit Gaur | 100 |
| 530 | Anunad Singh | 100 |
| 531 | Kushal Jani | 100 |
| 532 | Ajit | 100 |
| 533 | Jyotinjai | 100 |
| 534 | Gooeyflamingo | 100 |
| 535 | Arun | 100 |
| 536 | Karthikeyan | 100 |
| 537 | M H Shivani Bai | 100 |
| 538 | Aryan | 100 |
| 539 | M.S.Nawin | 100 |
| 540 | Ashutosh Yadav | 100 |
| 541 | Chirag Khakkhar | 100 |
| 542 | Akshay Rajan | 100 |
| 543 | Vaibhav Kumar Singh | 101 |
| 544 | Swayham P Das | 101 |
| 545 | Supriy | 100 |
| 546 | Saimanivannan | 100 |
| 547 | Pranav A J | 100 |
| 548 | Rohan Sri Hari | 100 |
| 549 | Swetab | 100 |
| 550 | Seena | 100 |
| 551 | Ankur Singh | 100 |
| 552 | Saradhi S | 100 |
| 553 | Sarang Jagdish | 100 |
| 554 | Srinivas Bharath Nk | 100 |
| 555 | Computer Education Centre | 100 |
| 556 | Angshuman Roy | 100 |
| 557 | Aaryan Varshney | 100 |
| 558 | Ankit | 100 |
| 559 | Hrithik Vashishtha | 100 |
| 560 | Harsh Pargat | 100 |
| 561 | Karthik Raj | 100 |
| 562 | Prateek Singh | 51 |
| 563 | Neeru Bala Saxena W | 51 |
| 564 | Harsh Pandit | 51 |
| 565 | Sonawane S | 50 |
| 566 | Rakesh Bhuneshwar Si | 50 |
| 567 | T Sireesha Reddy | 50 |
| 568 | Uttam | 50 |
| 569 | Abhishek Prakash | 50 |
| 570 | Pankaj Mankar | 50 |
| 571 | Rahul Yadav | 50 |
| 572 | Yogesh V | 50 |
| 573 | S A Serock | 50 |
| 574 | Aditya Tulshibagwale | 50 |
| 575 | Arhum Ansari | 50 |
| 576 | Kaustubh | 50 |
| 577 | Ajeetkumar Ukande | 50 |
| 578 | Girish Sharma | 50 |
| 579 | Ahmad | 50 |
| 580 | Mithilesh R | 50 |
| 581 | Ken Kumar | 50 |
| 582 | Soumyabrata Pal | 50 |
| 583 | Raghav Singh | 50 |
| 584 | Aman Singh | 50 |
| 585 | Harshit Dawar | 50 |
| 586 | Potawad Anirudhha | 30 |
| 587 | Praloy Sahoo | 30 |
| 588 | Sandeep Singh Negi | 20 |
| 589 | Abhishek | 20 |
| 590 | Narendra Singh | 20 |
| 591 | Shreyash Karkare | 20 |
| 592 | Atharva Deshmane | 15 |
| 593 | Inturi Sai Bharadwaj | 10 |
| 594 | Debashish Swain | 10 |
| 595 | Pranay Sanjay Kripal | 5 |
| 596 | Mr Urvish Rajeshkuma | 2 |
| 597 | Mr Yashwant Kumar | 1 |
| | Total | 11,16,640 |
---