Diptayan Ghosh wins 21st Rochefort Chess Festival Masters 2023, Harsha Bharathakoti third
GM Diptayan Ghosh headed into the final round as the sole leader scoring 7/8 at 21st Rochefort Chess Festival Masters 2023. A last round loss against GM Momchil Nikolov allowed four more players to finish at 7/9 each. It did not affect Diptayan's championship chances as he had better tie-breaks. IM Kirk Ghazarian, GM Harsha Bharathakoti, Momchil and IM Peio Duboue were placed second to fifth respectively according to tie-breaks. The total prize fund of the tournament was €8000. Diptayan won €1500 and a trophy. The reigning World Under-14 Open Gold medalist, Ilamparthi A R became India's latest IM at this event. Photo: Susan Polgar
World Under-14 Open champion Ilamparthi A R becomes an IM
Apart from GM Diptayan Ghosh and GM Harsha Bharathakoti, FM Aniruddha Deshpande and GM K Sasikiran made top ten finish among Indians. Aniruddha scored an impressive 6/9 to finish ninth on tie-breaks and gained 59.4 Elo rating points. 13-year-old Ilamparthi A R became India's latest International Master after round 6. We will have a separate article about Ilamparthi's journey towards the IM title. Asian Continental 2022 Women's Silver medalist, WGM Priyanka Nutakki is the highest finisher among female players. She scored 6/9 and gained 21.6 Elo rating points.
GM Diptayan Ghosh (2553), GM Harsha Bharathakoti (2599) and IM Kirk Ghazarian (USA, 2471) were at 4/4 when Diptayan faced Harsha in the fifth round,
Diptayan - Harsha, Round 5
White traded the knights on e4 to create a center passed pawn 22.Nxe4 dxe4 23.d5 Qc5 24.Rc2 Qb5 25.Bxe4 Nxe5 26.Re2 f6 27.Bxe5 fxe5 28.Rc2 and White converted his isolated center passed pawn into a win eventually. This win earned Diptayan a sole lead which he maintained till the final round.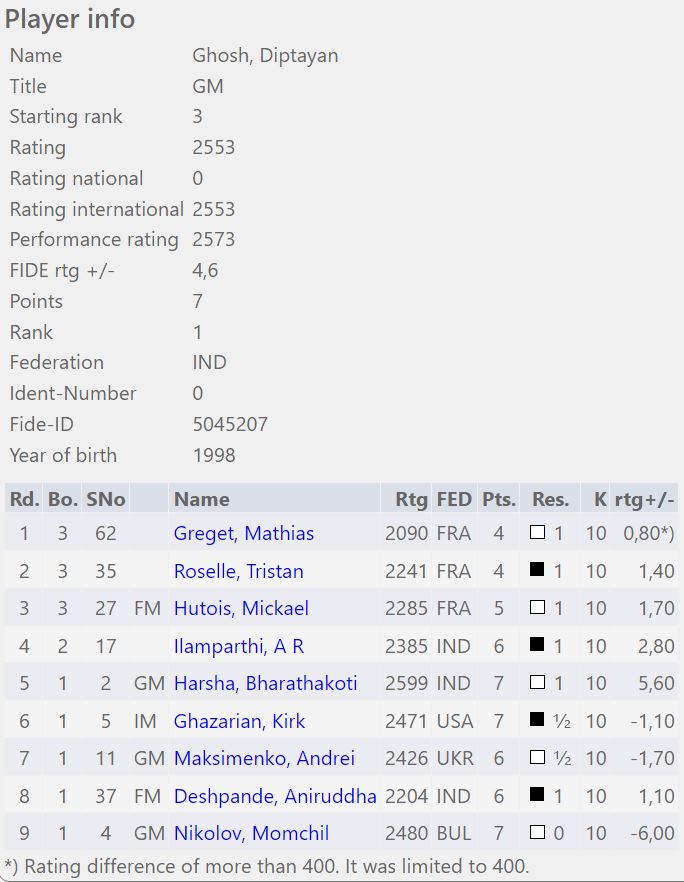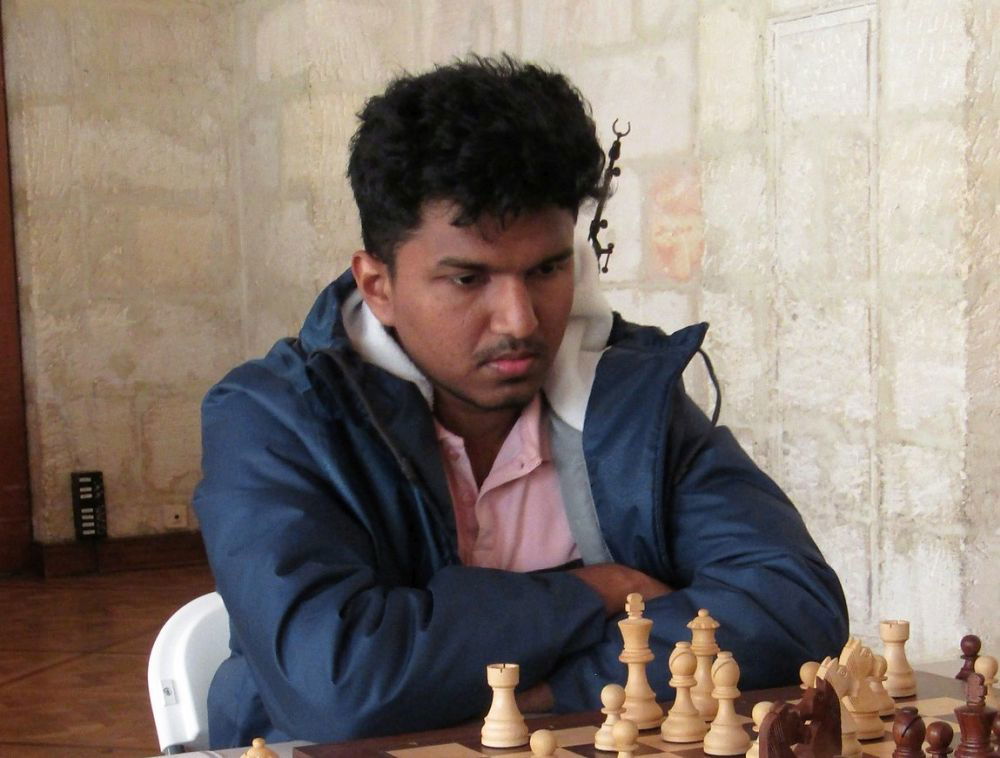 A total of 118 players including six GMs, 12 IMs, two WGMs and two WIMs took part from 13 countries all over the world in the Masters (>1900) section. The seven-day nine-round Swiss league Rating tournament was organized by Philippe Giambiasi at Palais des Congrès in Rochefort, France from 11th to 17th February 2023. The time control of the tournament was 40 moves in 90 minutes followed by 30 minutes with 30 seconds increment from move no.1.
Replay Diptayan's games
Final standings
| | | | | | | | | | | | | | |
| --- | --- | --- | --- | --- | --- | --- | --- | --- | --- | --- | --- | --- | --- |
| Rk. | SNo | | Name | Typ | sex | FED | Rtg | Pts. | TB1 | TB2 | Rp | K | rtg+/- |
| 1 | 3 | GM | Ghosh, Diptayan | | | IND | 2553 | 7 | 43,5 | 2573 | 2573 | 10 | 4,6 |
| 2 | 5 | IM | Ghazarian, Kirk | U18 | | USA | 2471 | 7 | 42,5 | 2609 | 2609 | 10 | 14,4 |
| 3 | 2 | GM | Harsha, Bharathakoti | | | IND | 2599 | 7 | 42 | 2591 | 2591 | 10 | 1,5 |
| 4 | 4 | GM | Nikolov, Momchil | | | BUL | 2480 | 7 | 41 | 2536 | 2536 | 10 | 7,1 |
| 5 | 8 | IM | Duboue, Peio | | | FRA | 2441 | 7 | 36 | 2510 | 2510 | 10 | 6,7 |
| 6 | 7 | GM | Sochacki, Christophe | | | FRA | 2444 | 6,5 | 39 | 2435 | 2435 | 10 | 0,7 |
| 7 | 11 | GM | Maksimenko, Andrei | S50 | | UKR | 2426 | 6 | 44 | 2510 | 2510 | 10 | 10 |
| 8 | 9 | IM | Larkin, Vladyslav | U20 | | UKR | 2441 | 6 | 44 | 2489 | 2489 | 10 | 6,7 |
| 9 | 37 | FM | Deshpande, Aniruddha | | | IND | 2204 | 6 | 42,5 | 2463 | 2463 | 20 | 59,4 |
| 10 | 1 | GM | Sasikiran, Krishnan | | | IND | 2619 | 6 | 42 | 2451 | 2451 | 10 | -14 |
| 11 | 17 | | Ilamparthi, A R | U14 | | IND | 2385 | 6 | 42 | 2444 | 2444 | 20 | 17,2 |
| 12 | 18 | IM | Viani, Antonio Dcunha | | | IND | 2377 | 6 | 41,5 | 2405 | 2405 | 10 | 5 |
| 13 | 26 | WGM | Priyanka, Nutakki | | w | IND | 2302 | 6 | 40 | 2380 | 2380 | 20 | 21,6 |
| 14 | 16 | IM | Girel, Joseph | U20 | | FRA | 2387 | 6 | 40 | 2349 | 2349 | 10 | -1,9 |
| 15 | 6 | IM | Sorensen, Hampus | U20 | | SWE | 2445 | 6 | 39 | 2396 | 2396 | 10 | -0,4 |
| 16 | 44 | | Pichon, Ewen | U16 | | FRA | 2160 | 6 | 38,5 | 2350 | 2350 | 40 | 86,8 |
| 17 | 13 | FM | Fecker, Noah | U20 | | SUI | 2402 | 6 | 38,5 | 2329 | 2329 | 10 | -7,1 |
| 18 | 22 | FM | Sharan, Rao | | | IND | 2347 | 6 | 38 | 2356 | 2356 | 20 | 5,4 |
| 19 | 10 | IM | Degraeve, Remy | U20 | | FRA | 2428 | 6 | 38 | 2302 | 2302 | 10 | -11,2 |
| 20 | 23 | FM | Dalaud, Dorian | U20 | | FRA | 2343 | 6 | 38 | 2262 | 2262 | 20 | -14,6 |
Links
---