Rajdeep wins his maiden State Senior Open title
Top seed of the tournament, IM Rajdeep Sarkar scored an unbeaten 8.0/9 to win 57th West Bengal State Open. Second seeded Kaustuv Kundu also scored 8.0/9, however due to a lower tie-break score, Kaustuv had to settle for the runner-up position. Four players finished at 7.5/9, out of them Anustoop Biswas secured the second runner-up position due to his highest tie-break among them. Total 251 players participated from various districts of West Bengal in this five-day nine-round tournament held between 9th and 13th October at Kolkata, organized by 64 squares. A pictorial report of this tournament by Shahid Ahmed.
Top seed Rajdeep becomes 57th WB State Open Champion
Former West Bengal State Junior champion, IM Rajdeep Sarkar scored an unbeaten 8.0/9 to win the 57th edition of West Bengal State Open championship. Immediately after receiving his prize, Rajdeep left for the ongoing World Junior championship.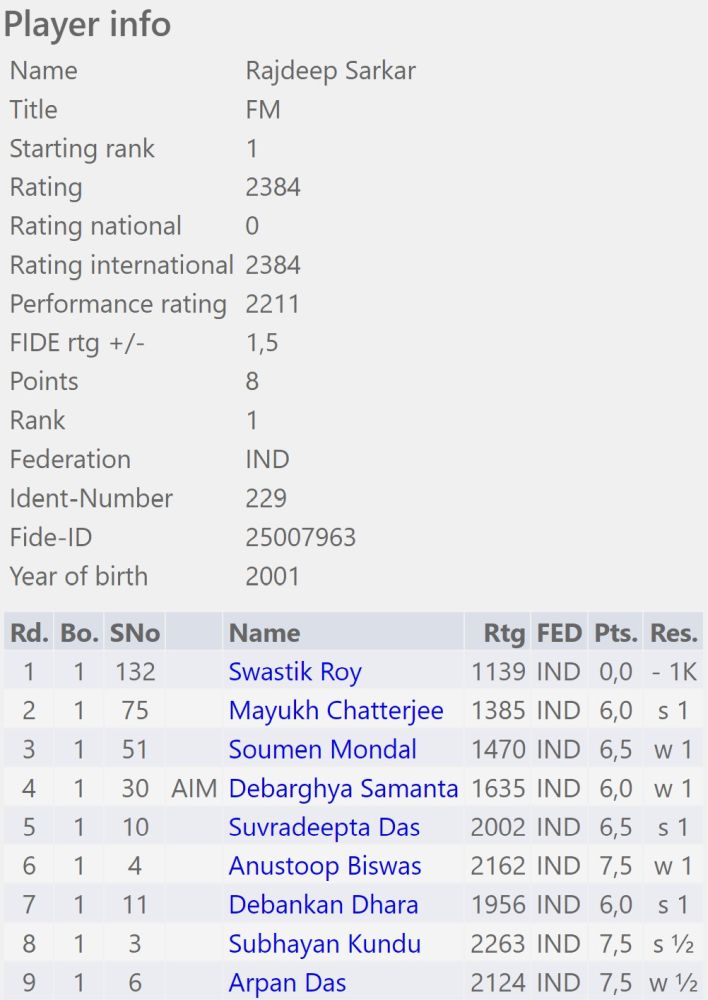 This is what Rajdeep had to say about winning the tournament - "It feels great to win this tournament as I have never won it before. It was almost an easy event for me as I was the top seed and everyone else were lower rated. First seven rounds went quite smooth for me. Evaluation changed a lot against Subhayan. Made a quick draw in the last round as I knew my Buchholz was the highest."
Here is an interview with Rajdeep after he became an IM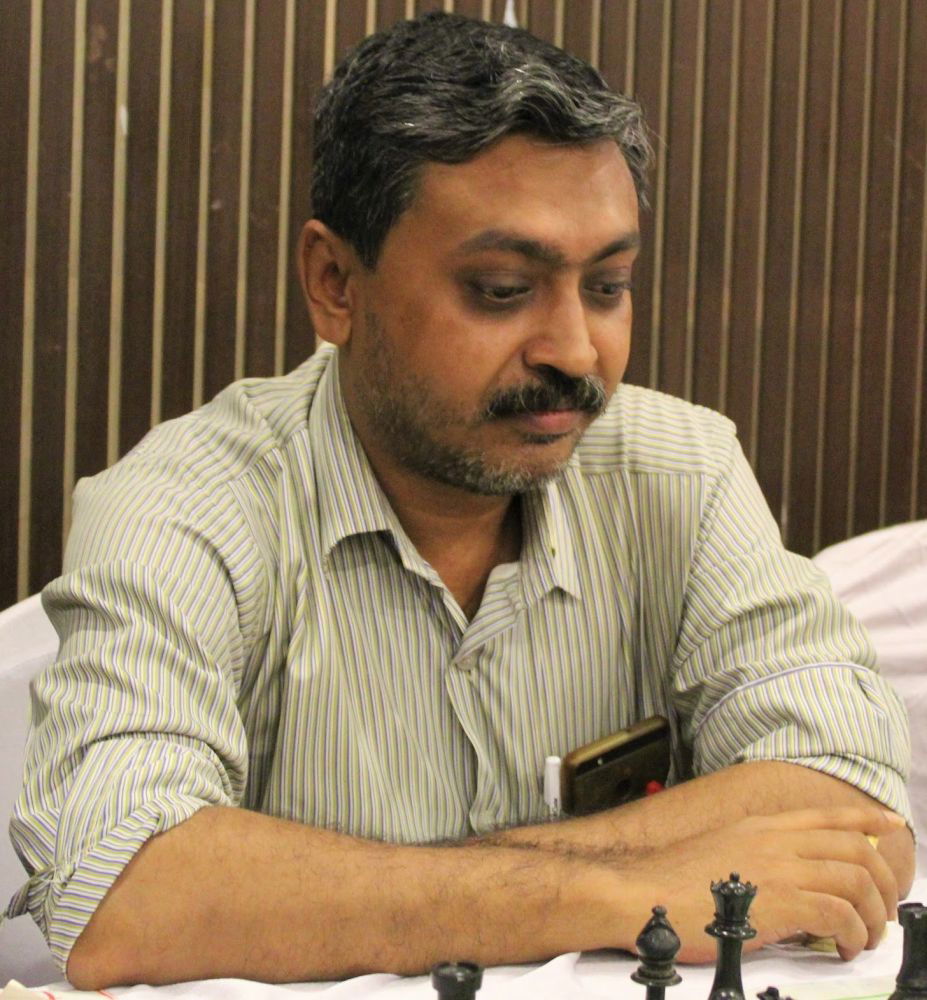 I caught up with Rajdeep's one of the former coaches Debasish Mukherjee who trained him and this is what he had to say - "Rajdeep Sarkar is my ex-student. I have taught him chess since his childhood. He was a bright kid, whatever was shown to him even once, he could remember it for a long time. During the classes also he used to work hard and always had various questions. Right now I am feeling very proud of him that he has become an IM and also he has become the State Open champion. I wish him all the best for his future."
Photo Gallery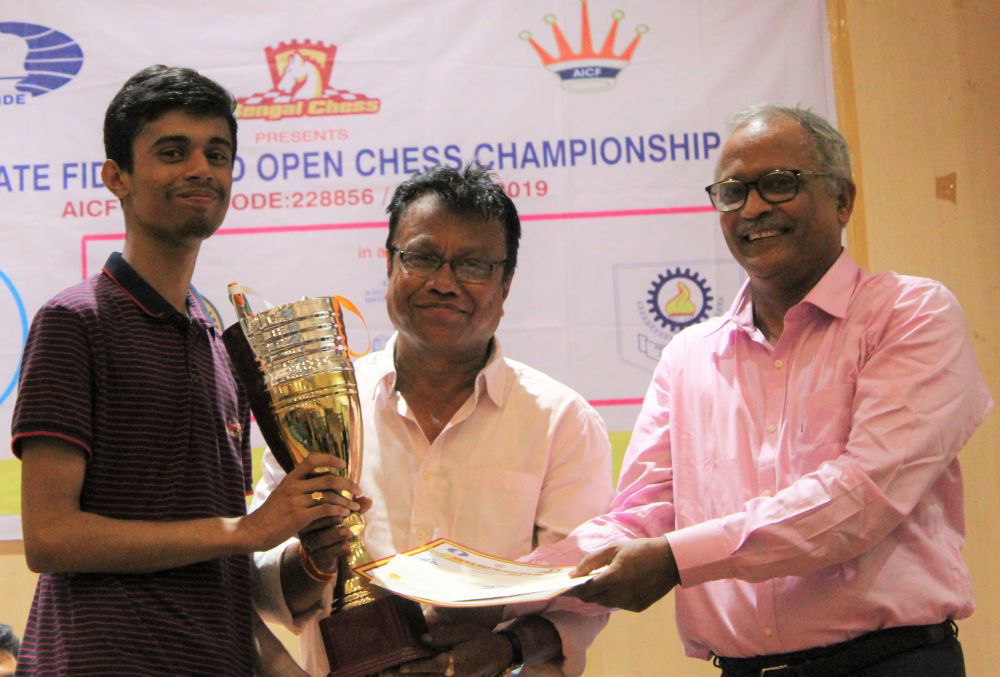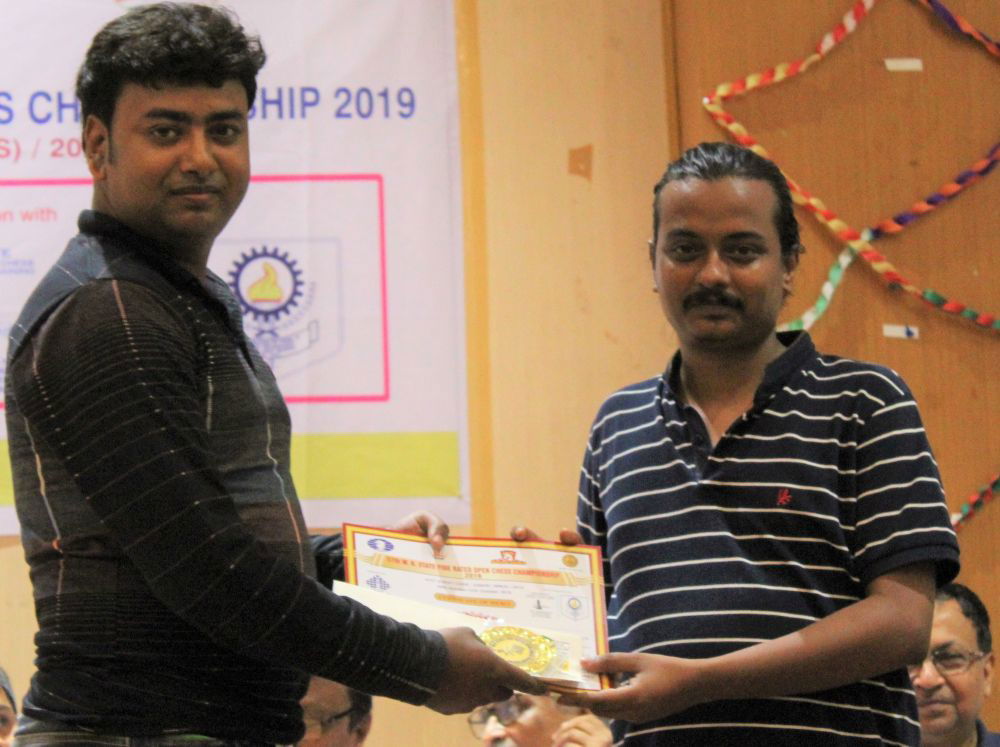 For more photos, visit here.
Video Gallery
The tournament witnessed a total participation of 251 players from various district across the state of West Bengal. It was organized by 64 Squares from 9th - 13th October 2019 at Government College of Engineering and Ceramic Technology.
Final Ranking after 9 Rounds
| | | | | | | | | | | | |
| --- | --- | --- | --- | --- | --- | --- | --- | --- | --- | --- | --- |
| Rk. | SNo | | Name | Typ | sex | FED | Rtg | Pts. | TB1 | TB2 | TB3 |
| 1 | 1 | FM | Rajdeep Sarkar | | | IND | 2384 | 8,0 | 0,0 | 57,5 | 53,5 |
| 2 | 2 | | Kaustuv Kundu | | | IND | 2318 | 8,0 | 0,0 | 55,0 | 51,0 |
| 3 | 4 | | Anustoop Biswas | | | IND | 2162 | 7,5 | 0,0 | 57,0 | 52,5 |
| 4 | 3 | | Subhayan Kundu | | | IND | 2263 | 7,5 | 0,0 | 56,5 | 52,0 |
| 5 | 16 | | Dilip Das | S60 | | IND | 1835 | 7,5 | 0,0 | 55,0 | 51,5 |
| 6 | 6 | | Arpan Das | | | IND | 2124 | 7,5 | 0,0 | 53,5 | 49,0 |
| 7 | 24 | | Pratyay Chowdhury | U15 | | IND | 1713 | 7,0 | 0,0 | 53,5 | 50,0 |
| 8 | 22 | | Avijit Ghosh | | | IND | 1724 | 7,0 | 0,0 | 51,5 | 47,0 |
| 9 | 17 | | Basak Bishal | | | IND | 1829 | 7,0 | 0,0 | 50,5 | 46,0 |
| 10 | 26 | | Rounak Guha Roy | U15 | | IND | 1682 | 7,0 | 0,0 | 49,0 | 44,0 |
| 11 | 46 | | Aritrya Pal | U13 | | IND | 1534 | 7,0 | 0,0 | 48,5 | 46,0 |
| 12 | 10 | | Suvradeepta Das | | | IND | 2002 | 6,5 | 0,0 | 55,0 | 50,0 |
| 13 | 7 | | Saptorshi Gupta | | | IND | 2114 | 6,5 | 0,0 | 54,0 | 50,0 |
| 14 | 27 | | Anish Rooj | U15 | | IND | 1672 | 6,5 | 0,0 | 53,0 | 48,5 |
| 15 | 5 | | Sanket Chakravarty | U15 | | IND | 2158 | 6,5 | 0,0 | 52,5 | 48,0 |
| 16 | 20 | | Shounak Mazumder | U13 | | IND | 1761 | 6,5 | 0,0 | 52,5 | 48,0 |
| 17 | 32 | | Soumyajit Das (Jr) | U15 | | IND | 1624 | 6,5 | 0,0 | 52,0 | 48,0 |
| 18 | 39 | | Tejash Jain | | | IND | 1579 | 6,5 | 0,0 | 51,0 | 47,0 |
| 19 | 9 | | Debasish Mukherjee | | | IND | 2054 | 6,5 | 0,0 | 49,5 | 46,5 |
| 20 | 36 | | Tushar Barua | | | IND | 1593 | 6,5 | 0,0 | 48,5 | 44,5 |
| 21 | 55 | | Soumalya Mondol | U13 | | IND | 1457 | 6,5 | 0,0 | 47,5 | 43,0 |
| 22 | 29 | | Satya Sekhar Mitra | | | IND | 1667 | 6,5 | 0,0 | 46,5 | 42,0 |
| 23 | 65 | | Prithwi Sinha | | | IND | 1424 | 6,5 | 0,0 | 46,0 | 43,0 |
| 24 | 54 | | Ujaan Bhattacharya | U15 | | IND | 1459 | 6,5 | 0,0 | 46,0 | 42,5 |
| 25 | 51 | | Soumen Mondal | | | IND | 1470 | 6,5 | 0,0 | 46,0 | 42,0 |
---