Subhayan Kundu dominates 3rd DD-DBCA Rating Open 2022
Top seed of the tournament, Subhayan Kundu scored an unbeaten 8.5/9 to win 3rd DD-DBCA Rating Open 2022. He finished a full point ahead of the competition. Kunal Chatterjee, Anurag Jaiswal and Ritabrata Chakraborty scored 7.5/9 each. They were placed second, third and fourth according to tie-breaks. Fifth place finisher Vivek Sharma was the only one to extract a half point from the eventual champion, Subhayan. The total cash prize fund of the tournament was ₹300000. The top three prizes were ₹40000 and a trophy, ₹30000 and ₹20000 each. Check out the champion's favorite game from the tournament analyzed by himself. Photo: Shahid Ahmed
Subhayan wins two in a row
Subhayan Kundu has been consistently doing well throughout the year. He won Third Saturday 239 Rapid in Serbia. Then he became champion in West Bengal State Rapid Rating and runner-up in State Blitz. He finished as the runner-up in Olympiad Curtain Raiser Rapid Rating Open while he was one of the volunteer for the 44th Chess Olympiad. Before winning this event, he won the West Bengal State Senior Open 2022 with a 100% score 8/8 for the first time in his career. Subhayan finished third in the previous edition of this event earlier this year.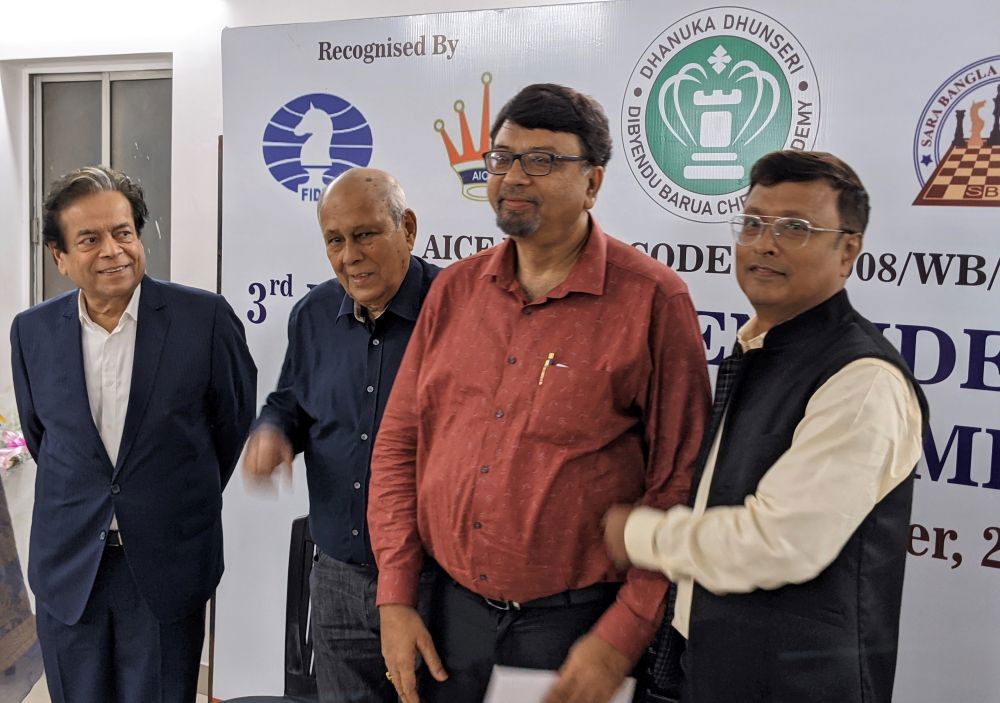 Subhayan chose his best game of the event as the draw in the penultimate round against Vivek Sharma (1813). Check out his analysis in the video above.
Kunal - Vivek, Round 9
White wants to roll the d-pawn down the board and promote a queen. Find out the best way to stop it. Black played 34...f5 which allowed 35.d6 and White won the game comfortably as Black did not put up enough resistance.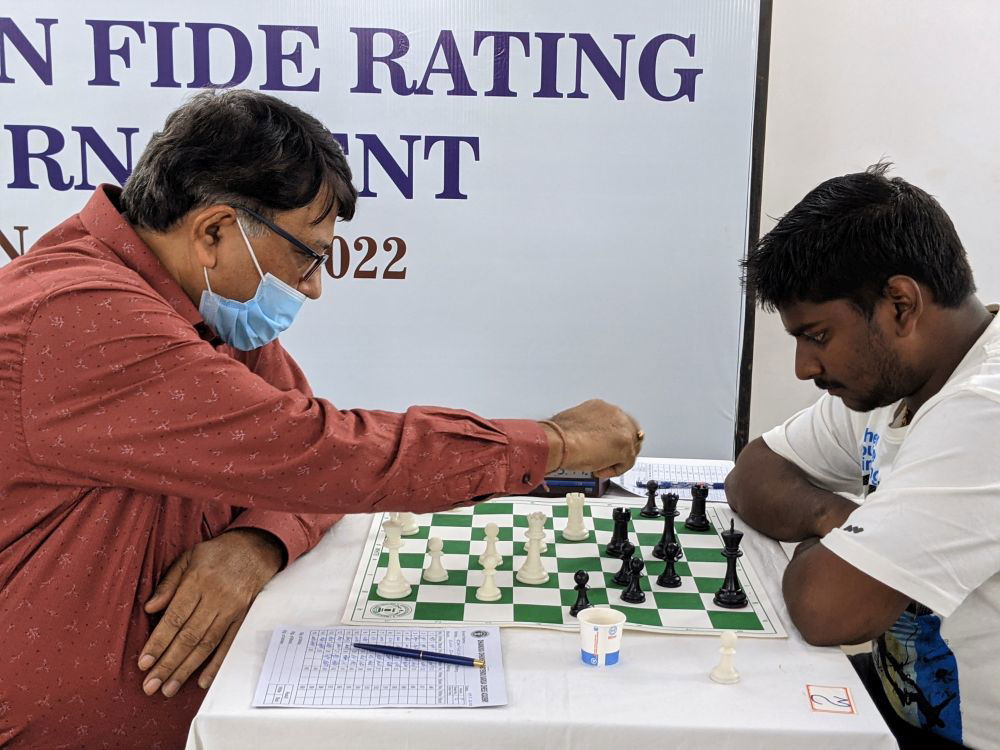 Photo Gallery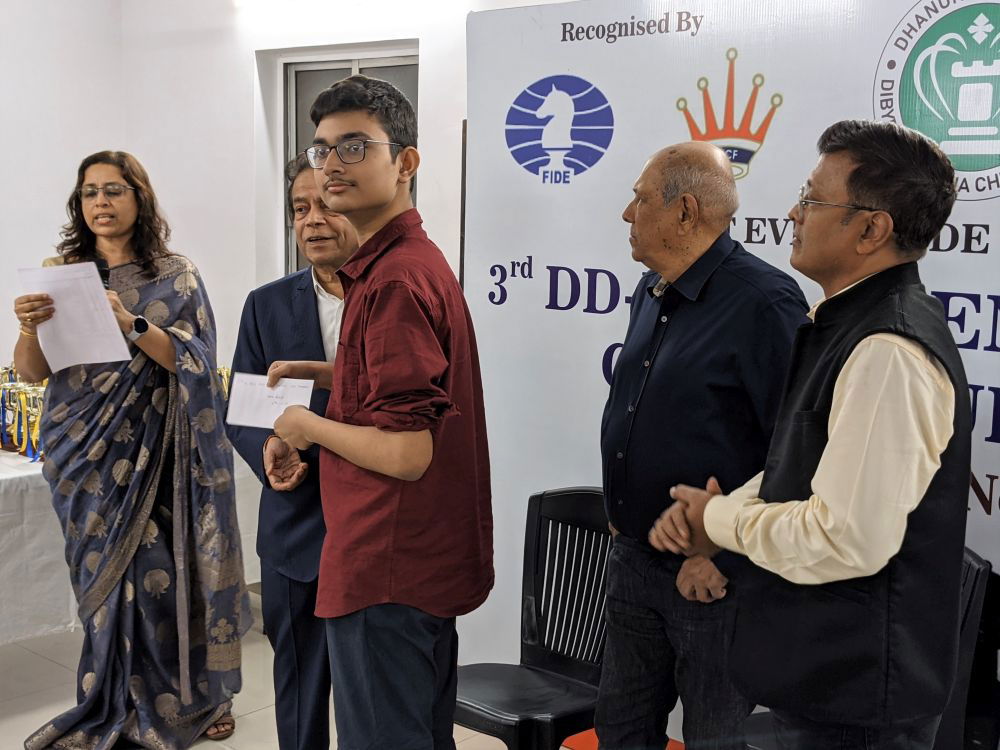 For more photos, please click here.
A total of 187 players took part from various parts of the country. The six-day nine-round Swiss league Rating tournament was organized by Dhanuka Dhunseri Dibyendu Barua Chess Academy at the academy premises in Kolkata, West Bengal from 4th to 9th November 2022. The time control of the tournament was 90 minutes + 30 seconds increment from move no.1.
Final standings
| | | | | | | | | | | | | |
| --- | --- | --- | --- | --- | --- | --- | --- | --- | --- | --- | --- | --- |
| Rk. | SNo | | Name | Typ | sex | FED | Rtg | Pts. | TB1 | TB2 | TB3 | TB4 |
| 1 | 1 | | Subhayan Kundu | | | IND | 2307 | 8,5 | 53,5 | 59 | 55,50 | 0 |
| 2 | 2 | | Chatterjee K.K. | S60 | | IND | 2162 | 7,5 | 51,5 | 56 | 45,75 | 0 |
| 3 | 12 | | Anurag Jaiswal | | | IND | 1812 | 7,5 | 48 | 52,5 | 41,75 | 0 |
| 4 | 13 | | Ritabrata Chakraborty | | | IND | 1771 | 7,5 | 47 | 51 | 39,25 | 0 |
| 5 | 11 | | Sharma Vivek | | | IND | 1813 | 7 | 53 | 56,5 | 42,25 | 0 |
| 6 | 14 | | Shankhodip De | | | IND | 1758 | 7 | 52 | 56 | 41,00 | 0 |
| 7 | 6 | | Shaon Chowdhury | | | IND | 1897 | 7 | 51 | 55 | 40,75 | 0 |
| 8 | 22 | | Arnab Debnath | | | IND | 1657 | 7 | 47 | 51,5 | 38,75 | 0 |
| 9 | 8 | | Sandip Dey | | | IND | 1842 | 6,5 | 51 | 55,5 | 36,50 | 0 |
| 10 | 23 | | Aritrya Pal | | | IND | 1627 | 6,5 | 47,5 | 51 | 33,00 | 0 |
| 11 | 30 | | Vishal Sharma | | | IND | 1504 | 6,5 | 47,5 | 50,5 | 31,75 | 0 |
| 12 | 9 | | Ghosh Samriddhaa | | w | IND | 1828 | 6,5 | 47 | 50,5 | 34,25 | 0 |
| 13 | 16 | | Sayantan Mukherjee | | | IND | 1735 | 6,5 | 47 | 50,5 | 32,25 | 0 |
| 14 | 5 | | Ashutosh Kumar | | | IND | 1906 | 6,5 | 46,5 | 50,5 | 34,50 | 0 |
| 15 | 29 | | Arijit Ghosh | | | IND | 1506 | 6,5 | 46,5 | 50,5 | 33,50 | 0 |
| 16 | 31 | | Chakrabarti Tamal | | | IND | 1502 | 6,5 | 45,5 | 49,5 | 33,75 | 0 |
| 17 | 24 | | Goutam De | S60 | | IND | 1599 | 6,5 | 42,5 | 47 | 33,75 | 0 |
| 18 | 28 | | Debapriya Manna | | w | IND | 1507 | 6,5 | 42 | 45,5 | 31,75 | 0 |
| 19 | 38 | | Ananya Bothra | | w | IND | 1446 | 6 | 48,5 | 52,5 | 29,00 | 0 |
| 20 | 21 | | Uddipan Roy | | | IND | 1684 | 6 | 48 | 52 | 28,00 | 0 |
---