Aronyak Ghosh wins 28th The Telegraph Schools' Chess 2019
IM Aronyak Ghosh scored 8.0/9, remained undefeated and won 28th The Telegraph Schools' Chess 2019. He finished a half point ahead of the competition. Nine players were in the lead with 7.0/8 before the final round. Aronyak was the only player to manage to win his last round game and finish first. Bangladesh's budding talent nine-year-old CM Manon Reja Neer scored 7.5/9 and he was placed second according to tie-break score. Former Telegraph champion IM Srijit Paul finished at 7.5/9 and he was placed third. Total 462 players participated from over 200 schools across India, Bangladesh and Nepal. South Point High School won the Best School prize for the second year in a row. Photo: Shahid Ahmed
Aronyak emerges as the clear champion
Starting out as the second seed, IM Aronyak Ghosh scored an unbeaten 8.0/9 to win 28th The Telegraph Schools' Chess 2019 and finish a half point ahead of the competition. Nine players were leading at 7.0/8 going into the final round. Only Aronyak scored a victory and rest of them drew their ninth round game. Nine-year-old CM Manon Reja Neer and former champion IM Srijit Paul scored 7.5/9 each and they were placed second and third respectively.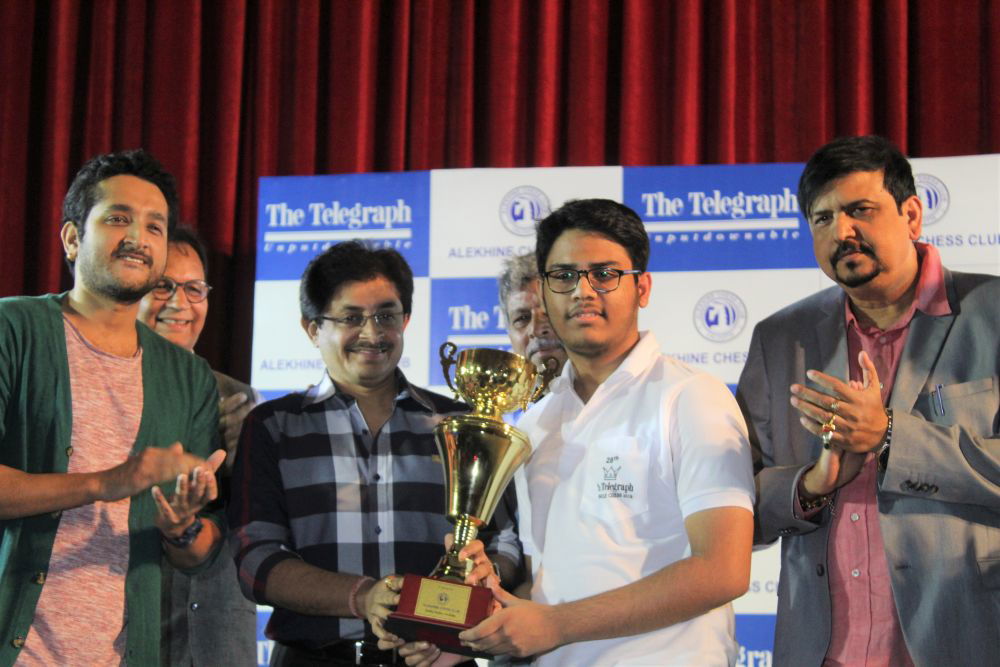 In the final round, Aronyak defeated former State under-11 champion Alekhya Mukhopadhyay.
Aronyak not only became the overall champion, but he made sure the Best School trophy is retained with South Point. South Point High School scored 28.5/6 to win the Best School prize.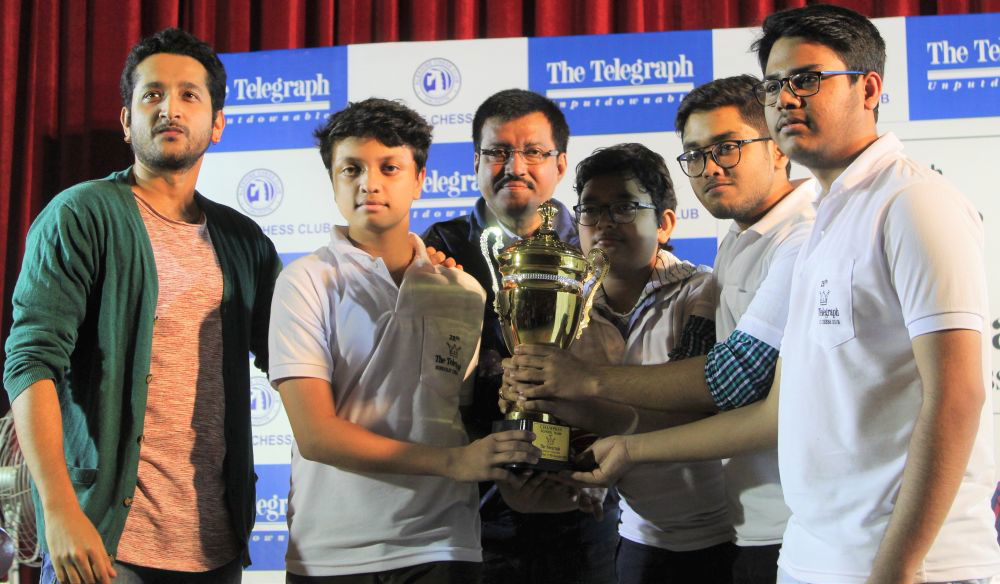 Bangladesh's budding talent made a podium finish with a last round victory over Pratyay Chowdhury.
IM Srijit Paul was held to a draw by Soham Dey in the final round.
Prize distribution ceremony photos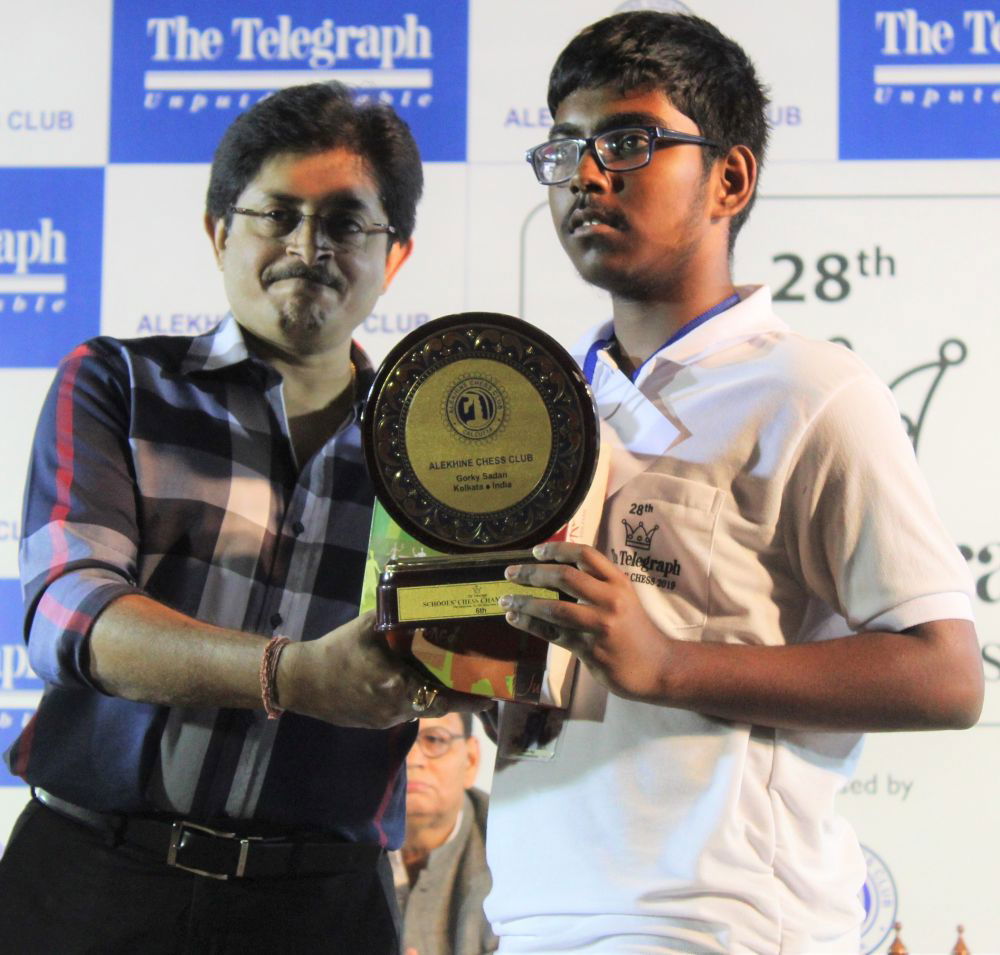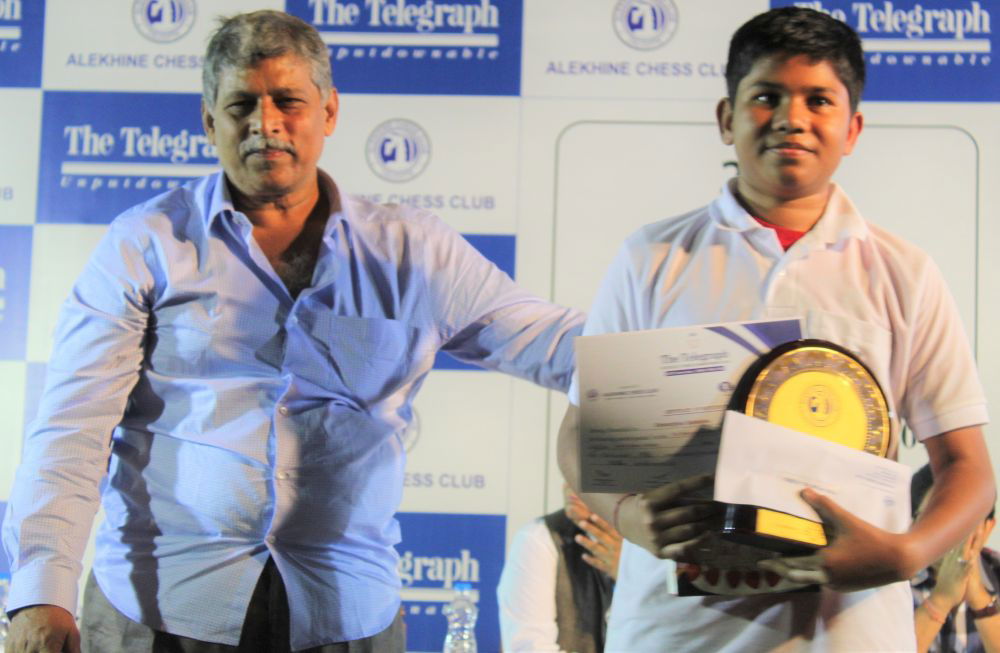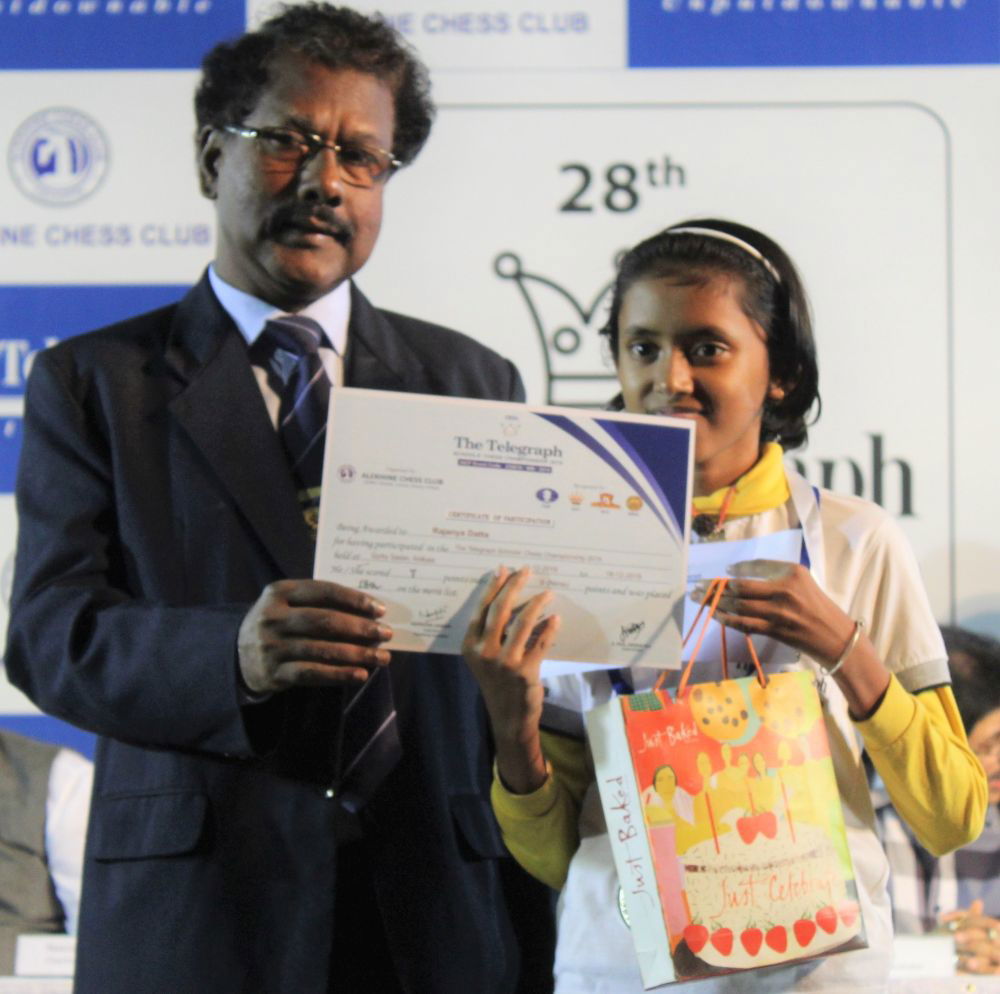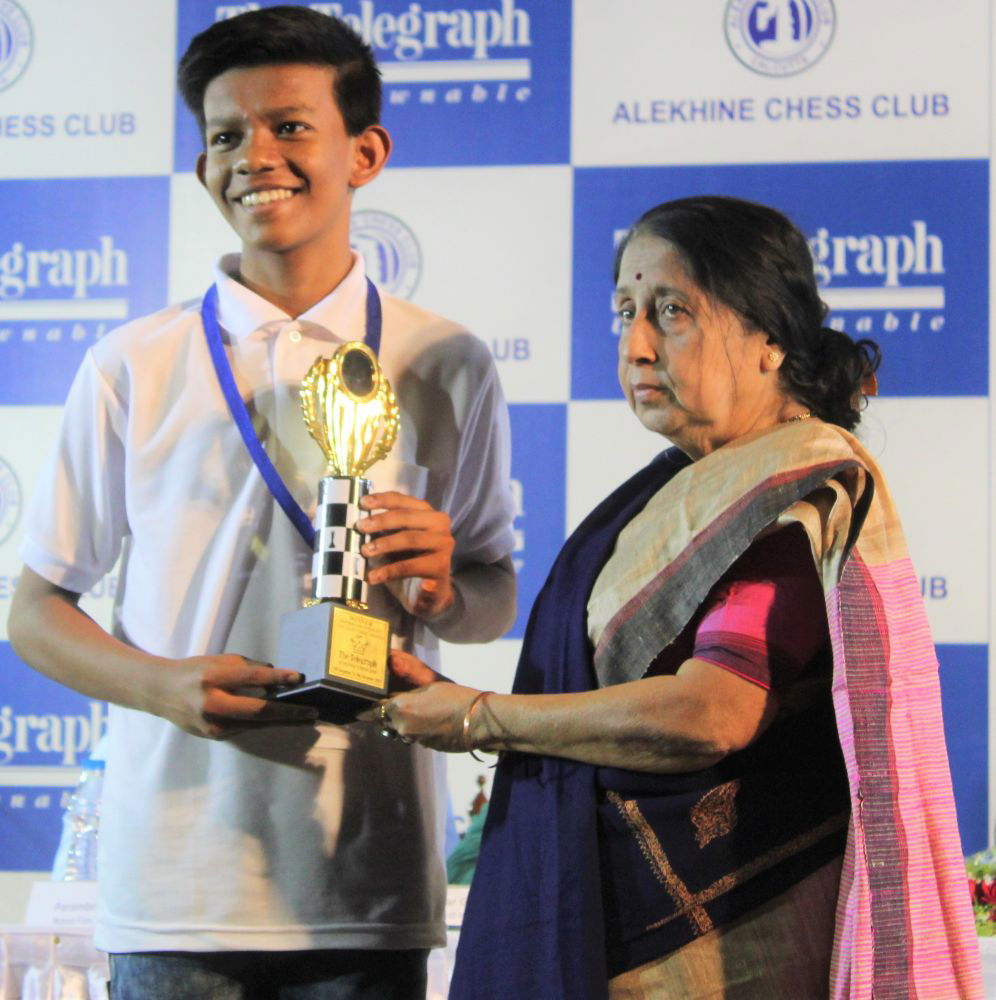 For more Prize Distribution Ceremony photos, click here.
For more players' photos, click here.
The 28th edition of The Telegraph Schools' Chess 2019 witnessed a total participation of 462 players from over 200 schools representing from India, Bangladesh and Nepal. The tournament was organized by Alekhine Chess Club at Gorky Sadan, Kolkata from 13th to 18th December 2019.
Final Standings
| | | | | | | | | | | | | |
| --- | --- | --- | --- | --- | --- | --- | --- | --- | --- | --- | --- | --- |
| Rk. | SNo | | Name | Typ | sex | FED | Rtg | Club/City | Pts. | TB1 | TB2 | TB3 |
| 1 | 2 | CM | Aronyak Ghosh | | | IND | 2433 | South Point High School | 8,0 | 0,0 | 55,5 | 59,0 |
| 2 | 4 | CM | Manon Reja Neer | U10 | | BAN | 2157 | Philosophia School, Dhaka | 7,5 | 0,0 | 54,5 | 57,5 |
| 3 | 3 | IM | Srijit Paul | | | IND | 2318 | D P S North Kolkata | 7,5 | 0,0 | 54,5 | 57,5 |
| 4 | 8 | WCM | Bristy Mukherjee | | w | IND | 1872 | Memari Rasiklal Smriti Balika Vidya | 7,5 | 0,0 | 54,0 | 58,0 |
| 5 | 1 | IM | Koustav Chatterjee | | | IND | 2447 | Garden High School | 7,5 | 0,0 | 54,0 | 58,0 |
| 6 | 10 | | Ayan Pal | | | IND | 1851 | Don Bosco Park Circus | 7,5 | 0,0 | 54,0 | 57,5 |
| 7 | 7 | | Sparsh Khandelwal | | | IND | 1905 | Fravashi International Academy | 7,5 | 0,0 | 54,0 | 57,0 |
| 8 | 5 | | Praloy Sahoo | | | IND | 2007 | Santagachi Kedernath Institution(H. | 7,5 | 0,0 | 51,0 | 54,5 |
| 9 | 6 | | Soham Dey | | | IND | 1929 | Aditya Academy Senior Secondary | 7,5 | 0,0 | 50,5 | 55,5 |
| 10 | 25 | AIM | Debarghya Samanta | | | IND | 1637 | Calcutta Boys' School | 7,5 | 0,0 | 49,5 | 52,0 |
| 11 | 29 | | Aryan Bandyopadhyay | | | IND | 1598 | K V S Fortwilliam | 7,5 | 0,0 | 48,5 | 52,5 |
| 12 | 22 | | Rounak Pathak | | | IND | 1659 | South Point High School | 7,0 | 0,0 | 54,5 | 57,5 |
| 13 | 11 | | Alekhya Mukhopadhyay | U12 | | IND | 1810 | Sri Aurobindo Institute Of Educatio | 7,0 | 0,0 | 51,5 | 56,5 |
| 14 | 24 | | Soumyajit Das (Jr) | | | IND | 1643 | Aditya Academy Senior Secondary | 7,0 | 0,0 | 50,0 | 52,0 |
| 15 | 14 | | Aritrya Pal | U12 | | IND | 1726 | Don Bosco Park Circus | 7,0 | 0,0 | 49,5 | 53,5 |
| 16 | 33 | | Marium Fatima | | w | IND | 1579 | St Xavier's Kindergarten | 7,0 | 0,0 | 49,0 | 53,0 |
| 17 | 16 | | Kazi Zarin Tasnim | | w | BAN | 1708 | Viqarunnisa Noon School & College, | 7,0 | 0,0 | 48,5 | 49,5 |
| 18 | 70 | | Rajanya Datta | F12 | w | IND | 1339 | Kendriya Vidyalaya No 1 Salt Lake K | 7,0 | 0,0 | 48,0 | 51,0 |
| 19 | 67 | | Soham Bhattacharyya | | | IND | 1353 | South Point High School | 7,0 | 0,0 | 48,0 | 50,5 |
| 20 | 30 | | Soumalya Mondol | | | IND | 1596 | Jadavpur Vidyapith | 7,0 | 0,0 | 47,5 | 51,5 |
| 21 | 9 | WFM | Noshin Anjum | | w | BAN | 1858 | Viqarunnisa Noon School & College, | 7,0 | 0,0 | 47,5 | 50,0 |
| 22 | 27 | | Tejash Jain | | | IND | 1624 | South City International School | 7,0 | 0,0 | 47,0 | 50,5 |
| 23 | 34 | | Mrittika Mallick | F12 | w | IND | 1542 | Binodini Girl's High School | 7,0 | 0,0 | 47,0 | 49,0 |
| 24 | 41 | | Priyanshu Barua | | | IND | 1489 | Jadavpur Vidyapith | 7,0 | 0,0 | 46,5 | 49,5 |
| 25 | 44 | | Ankit Ray | U10 | | IND | 1466 | Little Angle Convents,Barasat | 7,0 | 0,0 | 45,5 | 49,5 |
---