Bangladesh Premier League R3: Gukesh's Godzilla attack
Bangladesh Police took sole lead 6.0/6 at the conclusion of Round 3 in Mujib Borso SAIF Powertec Premier Division Chess League. Uttara Central Chess Club went down by 1-3 against the sole leader. Bangladesh Navy jumped to the shared second position by beating Titas Club. They joined SAIF Sporting Club who had a rest day. GM Gukesh D scored an important victory for his Bangladesh Biman as he decimated his opponent CM Sohel Chowdhury with a brilliant display of attack. Bangladesh Biman was held to a 2-2 draw by Shahin Chess Club. Photo: Bangladesh Chess Federation
Bangladesh Police takes sole lead
Bangladesh Police scored their third consecutive win to take the sole lead with 6.0/6. Uttara Central Chess Club lost to Bangladesh Police by 1-3, however IM Mitrabha Guha and IM Koustav Chatterjee held GM Raunak Sadhwani and GM Ziaur Rahman to draws. The game of the day undoubtedly goes to GM Gukesh D as he scored a fantastic victory over CM Sohel Chowdhury. Bangladesh Navy jumped to the shared second spot with 4.0/6 along with SAIF Sporting Club.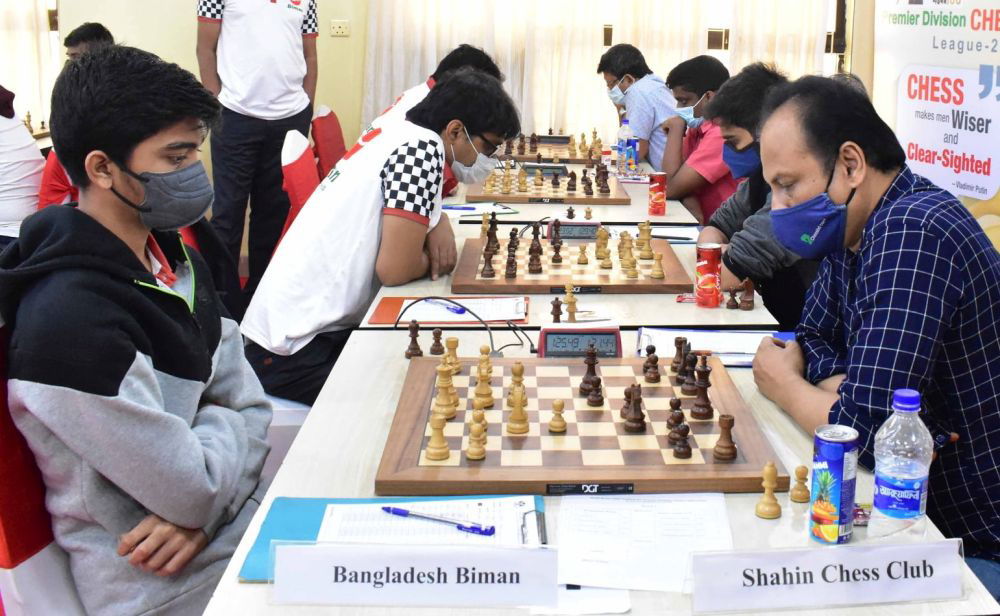 Bangladesh Biman - Shahin Chess Club: 2-2
After winning Vidit Chess Tour two weeks ago, Gukesh continues his fantastic form as he annihilated Sohel Chowdhury in just 26 moves.
Gukesh - Sohel
It is evident from the above diagram that things have gone terribly wrong for black as black's queenside pieces are caught napping. However it does not mean white has won already. Think like Gukesh and find out what should white do here to unleash his wrath on black's pieces.
One of the most exciting draw of the round was between GM Abhimanyu Puranik and GM Neelotpal Das.
Abhimanyu - Neelotpal
Just when it seemed like things are getting interesting, both players had no choice but to repeat moves and accept a draw.
GM Narayanan S L scored a fine victory as his opponent GM Enamul Hossain made a tactical error which he capitalized on.
Enamul - Narayanan
22.Bf1 actually does not prevent what white wanted to prevent. Find out why.
Uttara Central Chess Club - Bangladesh Police: 1-3
Md. Monjur Alam put up a good fight but it was no match for his opponent IM Mohammad Fahad Rahman's positional understanding.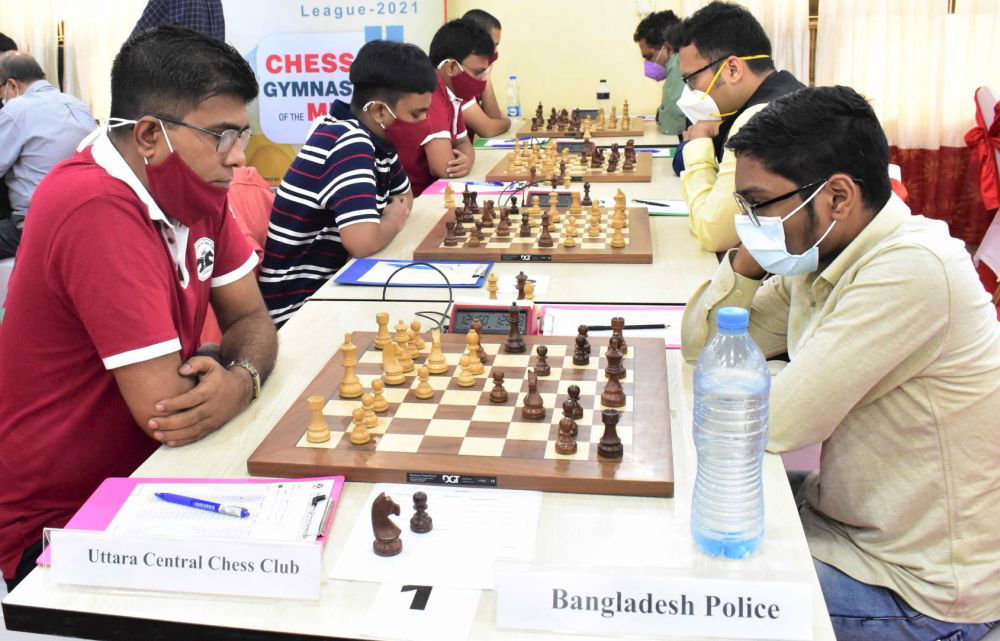 GM Surya Sekhar Ganguly scored a comfortable victory in French Defence over CM Tahsin Tajwar Zia.
IM Mitrabha Guha held GM Raunak Sadhwani to a draw.
IM Koustav Chatterjee had a good position against GM Ziaur Rahman but eventually the game ended up in a draw.
Ziaur - Koustav
Black was in firm control in the above position. However 26...Nc5 immediately was unnecessary as white gets to rid of off one good black knight for his less active bishop. The advantage dwindled away for black and the game liquidated into a drawn Rook endgame.

Titas Club - Bangladesh Navy: 1.5-2.5
GM Arjun Erigaisi showcased fantastic technique on how to win a won Queen endgame against IM Abu Sufian Shakil. Arjun scored the sole victory for his team.
Bangladesh Navy jumped to the second position with 4.0/6
Photo Gallery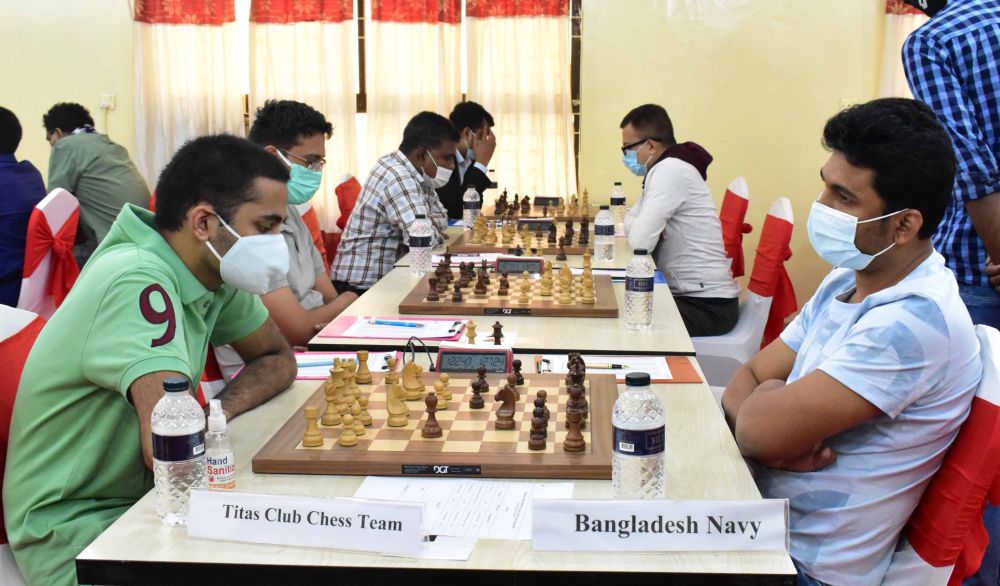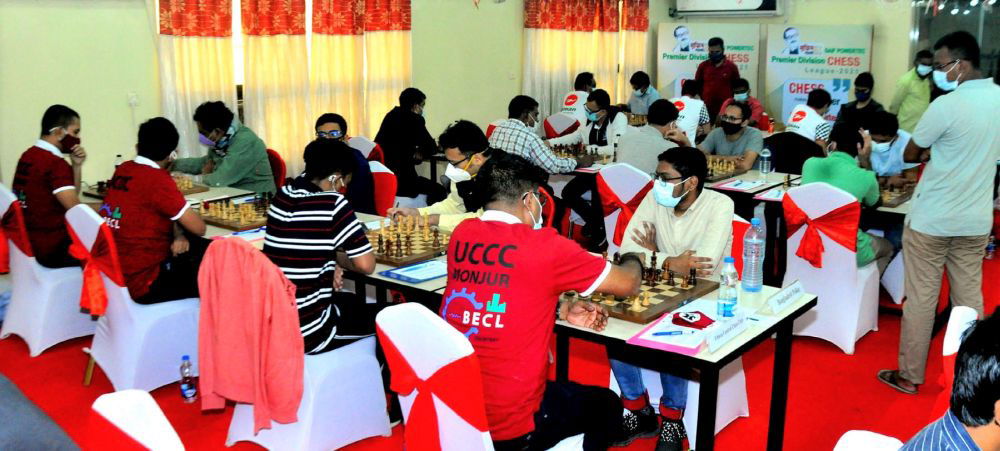 Replay games from Round 3
There is one round every day starting at 3 p.m. BST (2:30 p.m. IST) from 19th to 28th March 2021. On 29th March the final round starts at 2 p.m. BST (1:30 p.m. IST). A total of 63 players including 13 GMs, 9 IMs, 2 WIMs, 10 FMs and 8 CMs are slated to take part. A staggering 66.67% players are titled, 20.6% are GMs and 14.3% are IMs.
Round 3 results
Round 3 on 2021/03/21 at 3:00 PM
No.
Team
Team
Res.
:
Res.
1
Sheikh Russel Chess Club
Janata Bank Officer Welfare Society
1½
:
2½
2
Leonin Chess Club
Sonali Bank Sports & Recreation Club
2
:
2
3
Uttara Central Chess Club
Bangladesh Police
1
:
3
4
Titas Club
Bangladesh Navy
1½
:
2½
5
Bangladesh Biman
Shahin Chess Club
2
:
2
6
SAIF Sporting Club
bye
:
Links
---