Bangladesh Premier League R2: Ganguly held to a draw by Aronyak
IM Aronyak Ghosh of Leonin Chess Club scored the sole half point for his team as he held GM Surya Sekhar Ganguly of Bangladesh Police to a draw in Round 2 of Mujib Borso SAIF Powertec Premier Division Chess League. SAIF Sporting Club scored 0-4 whitewash victory over Janata Bank Officer Welfare Society. Both Bangladesh Police and SAIF Sporting Club are in shared lead with 4.0/4 at the conclusion of Round 2. Among other upsets, WIM Rani Hamid of Sheikh Russel Chess Club held IM Sekhar Chandra Sahu of Sonali Bank Sports & Recreation Club to a draw. Photo: Shahid Ahmed
Bangladesh Police and SAIF Sporting Club in the lead
Bangladesh Police defeated Leonin Chess Club by 3.5-0.5 in Round 2. The only half they conceded was GM Surya Sekhar Ganguly being held to a draw by his compatriot IM Aronyak Ghosh. Meanwhile SAIF Sporting Club scored a 0-4 whitewash victory over Janata Bank Officer Welfare Society. Both Bangladesh Police and SAIF Sporting Club are in the shared lead of 4.0/4.
Janata Bank Officer Welfare Society - SAIF Sporting Club: 0-4
Adhiban once again displayed his fantastic positional play which eventually resulted in a combination.
Hasan - Adhiban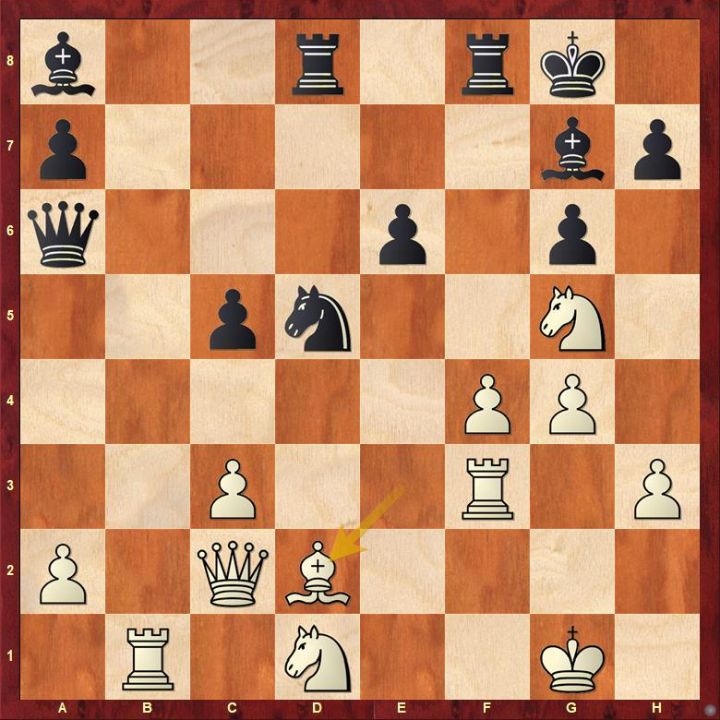 Black has the majority of his pieces looking towards the kingside. Find out the best continuation after 28.Bd2.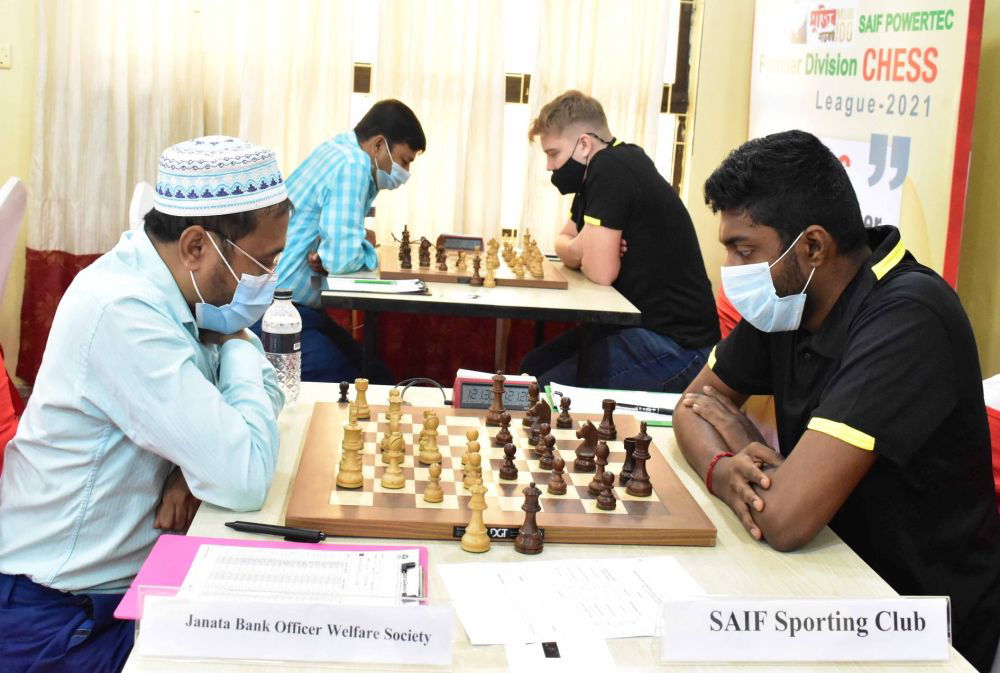 GM Vladislav Kovalev scored a 14-miniature victory over Syed Mahfuzur Rahman.
Sanket fell into a Boden's mate by doing a long castling against GM Reefat Bin Sattar in just 18 moves.
Sanket - Reefat
18.0-0-0 ends the game immediately with a checkmate combination. However white had an interesting continuation with 18.cxb7. Although the position remains volatile for white after 18...0-0 but still better than getting checkmated.
FM Mehdi Hasan Parag scored an academic victory over Mihir Lal Das.

Bangladesh Police - Leonin Chess Club: 3.5-0.5
IM Aronyak Ghosh of Leonin Chess Club held GM Surya Sekhar Ganguly of Bangladesh Police to a draw. He scored the sole half point for the team in a 3.5-0.5 defeat.
GM Raunak Sadhwani launched a devastating attack on the kingside against Subhayan Kundu who generated no counter attack on the other side of the board.
Raunak - Subhayan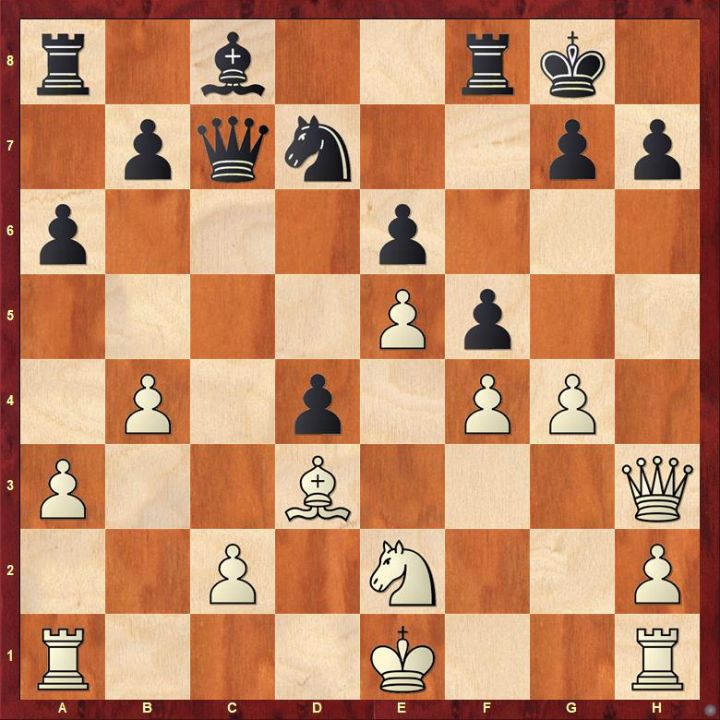 Black needed to generate some kind of counter play with 19...a5 as the position is already worse.
Here black has an opportunity to make a comeback in the game after 29.Qh3. Find out how. Black missed the opportunity and continued with 29...Rdf7 and lost the game in another eight moves.
Bangladesh no.3 GM Ziaur Rahman scored a fine victory against CM Osman Shaon.
GM Arjun Erigaisi of Titas Club scored a comfortable victory applying Ruy Lopez Schliemann Defence over CM Sohel Chowdhury of Shahin Chess Club.
IM Dhulipalla Bala Chandra Prasad of Titas Club lost a prolonged battle against GM Abhimanyu Puranik of Shahin Chess Club.
Bala Chandra - Abhimanyu
Is there a way for white to save the d4-pawn after 23...Nb6 ?
IM Mitrabha Guha of Uttara Central Chess Club scored a comfortable victory over IM Minhaz Uddin of Bangladesh Navy.
Photo Gallery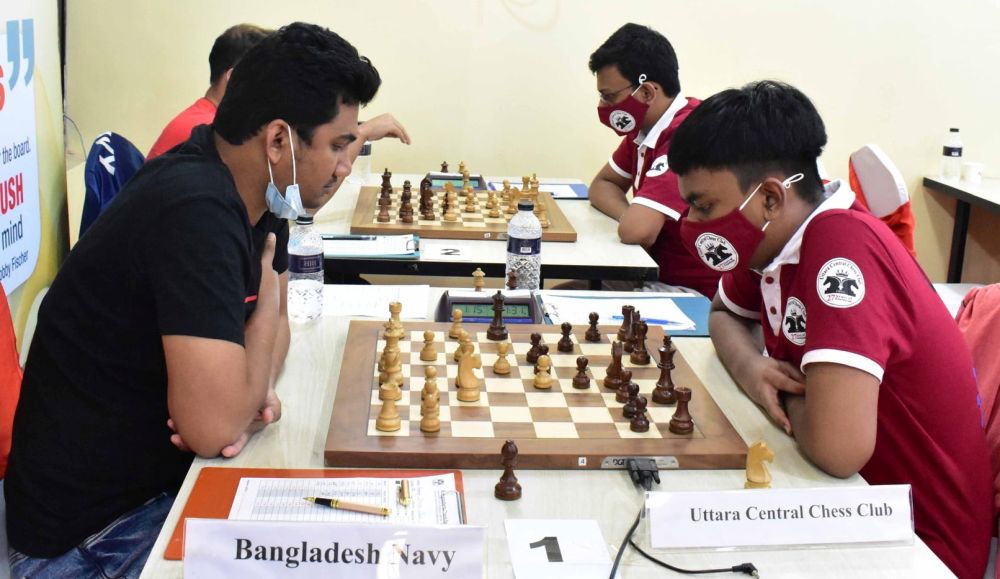 Replay games from Round 2
There is one round every day starting at 3 p.m. BST (2:30 p.m. IST) from 19th to 28th March 2021. On 29th March the final round starts at 2 p.m. BST (1:30 p.m. IST). A total of 63 players including 13 GMs, 9 IMs, 2 WIMs, 10 FMs and 8 CMs are slated to take part. A staggering 66.67% players are titled, 20.6% are GMs and 14.3% are IMs.
Round 2 results
No.
Team
Team
Res.
:
Res.
1
Shahin Chess Club
Titas Club
2
:
2
2
Bangladesh Navy
Uttara Central Chess Club
1
:
3
3
Bangladesh Police
Leonin Chess Club
3½
:
½
4
Sonali Bank Sports & Recreation Club
Sheikh Russel Chess Club
1½
:
2½
5
Janata Bank Officer Welfare Society
SAIF Sporting Club
0
:
4
6
Bangladesh Biman
bye
:
Links
---