Bangladesh Premier League R7: Bangladesh Police score another whitewash
Bangladesh Police shows no sign of slowing down as they scored their second whitewash in Round 7 of Mujib Borso SAIF Powertec Premier Division Chess League. Bangladesh Navy suffered their third consecutive loss and fourth overall loss of the event. SAIF Sporting Club maintained their second position 10.0/12 as they beat Titas Club. Uttara Central regained their third position 8.0/14 with a victory over Sheikh Russel Chess Club. Round 8 is a rest day for Bangladesh Police. Photo: Bangladesh Chess Federation
Bangladesh Police maintain their sole lead
Bangladesh Police scored their second whitewash of the event, this time against Bangladesh Navy. They are now at 14.0/14. SAIF Sporting Club got back to winning ways as they beat Titas Club. SAIF Sporting is now at second position with 10.0/12. Uttara Central Chess Club returned to third position with 8.0/14 after winning against Sheikh Russel Chess Club by 2.5-1.5.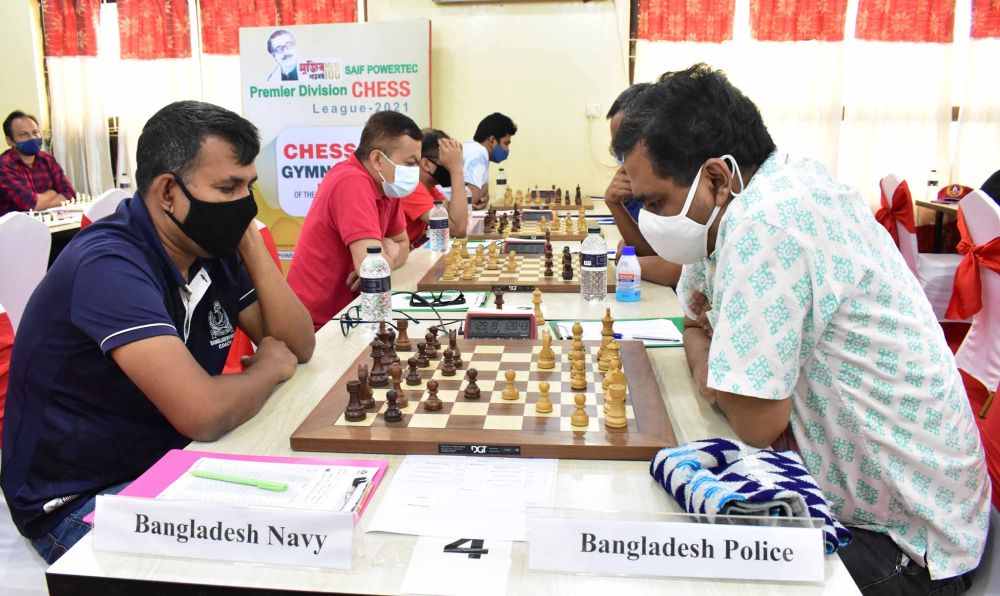 Bangladesh Navy - Bangladesh Police: 0-4
GM Surya Sekhar Ganguly scored a fine victory with a fantastic display of attack over GM Abu Sufian Shakil.
Abu Sufian - Ganguly
25.Bxa6 is a mistake. Find out the correct continuation for black.
IM Minhaz Uddin got some good chances against GM Raunak Sadhwani but he was unable to seize it.
Raunak - Minhaz
White was forced to play 28.Kh1. What should black do now?
Black needed to continue the attack with 33...f5 instead he chose to play 33...b5 and allowed white to get back in the game with 34.axb5 axb5 35.Bc5. White won the game in another ten moves.
FM Sheikh Nasir Ahmed and FM Khandaker Aminul Islam lost to their stronger opponents GM Mollah Abdullah Al Rakib and GM Ziaur Rahman respectively.
Titas Club - SAIF Sporting Club: 0.5-3.5
GM Adhiban checkmated his opponent in 36 moves after his opponent Jabed Al Azad self-destructed.
Jabed - Adhiban
19.g4 was uncalled for. White should have simply continued with 19.axb5 instead.
GM Vladislav Kovalev had a quiet draw with GM Arjun Erigaisi. IM Dhulipalla Bala Chandra Prasad had a fantastic position against GM Reefat Bin Sattar.
Bala Chandra - Reefat
White has a complete advantage in the above diagram. The game went on with 27.Red1 although 27.Nf4 was better. Black managed to equalize but the final position was also in favor of white.
FM Mehdi Hasan Parag picked up his second victory of the event against Md. Masum Hossain in just 23 moves.
Uttara Central Chess Club - Sheikh Russel Chess Club: 2.5-1.5
CM Tahsin Tajwar Zia lost to CM Nayem Haque after the latter was allowed a relentless attack.
Sumit Kumar lost to IM Mitrabha Guha after the former misjudged his opponent's attack.
Sumit - Mitrabha
24.Qd3 is the final mistake. Find out the correct continuation for black.
IM Koustav Chatterjee won against Kaustuv Kundu. Kaustuv got into a terrible position out of the opening and could not manage to get back in the game.
Photo Gallery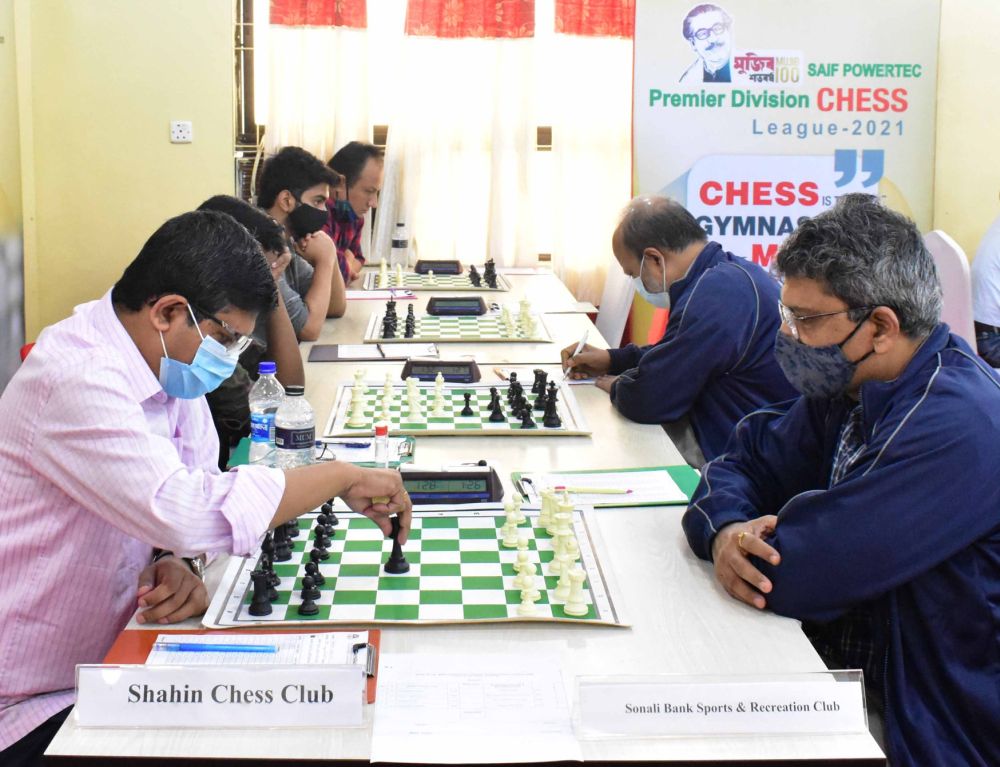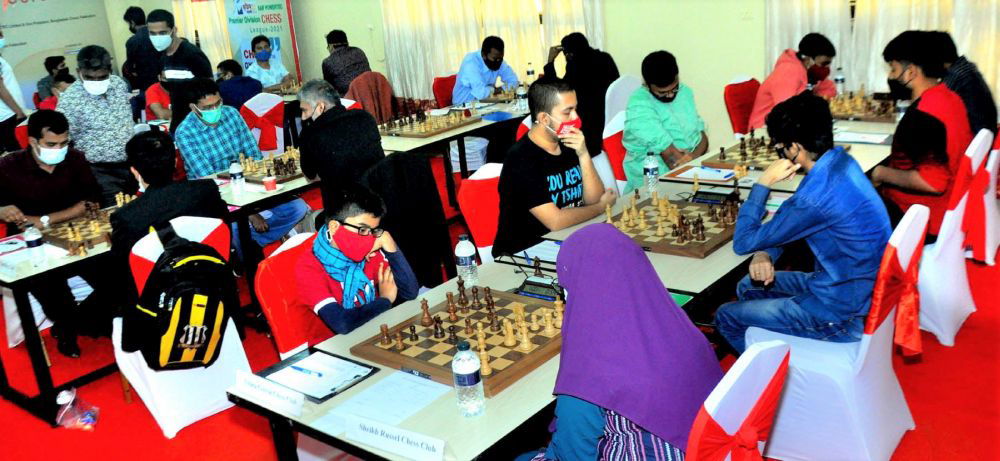 Replay games from Round 7
There is one round every day starting at 3 p.m. BST (2:30 p.m. IST) from 19th to 28th March 2021. On 29th March the final round starts at 2 p.m. BST (1:30 p.m. IST). A total of 63 players including 13 GMs, 9 IMs, 2 WIMs, 10 FMs and 8 CMs are slated to take part. A staggering 66.67% players are titled, 20.6% are GMs and 14.3% are IMs.
Round 7 results
No.
Team
Team
Res.
:
Res.
1
Uttara Central Chess Club
Sheikh Russel Chess Club
2½
:
1½
2
Titas Club
SAIF Sporting Club
½
:
3½
3
Bangladesh Biman
Janata Bank Officer Welfare Society
2½
:
1½
4
Shahin Chess Club
Sonali Bank Sports & Recreation Club
4
:
0
5
Bangladesh Navy
Bangladesh Police
0
:
4
6
Leonin Chess Club
bye
:
Links
---