Bangladesh Premier League R6: Uttara Central holds SAIF Sporting to a draw
SAIF Sporting Club was once again held to 2-2 draw in Round 6 of Mujib Borso SAIF Powertec Premier Division Chess League. This time it was Uttara Central Chess Club who caused the upset. While Adhiban and Kovalev scored victories for SAIF Sporting, Mitrabha and Koustav scored important wins for Uttara Central to split the match point. Bangladesh Police continued their lead 12.0/12 at the top as they beat Shahin Chess Club 2.5-1.5. Titas Club moved up to the third position with a victory over Janata Bank Officer Welfare Society. They will face SAIF Sporting in Round 7. Photo: Bangladesh Chess Federation
Bangladesh Police extend their sole lead
Bangladesh Police once again asserted their dominance, this time over Shahin Chess Club by 2.5-1.5. The sole leaders are now at 12.0/12, four point ahead of SAIF Sporting Club who conceded another draw in Round 6 against Uttara Central Chess Club. SAIF Sporting Club maintains their second place at 8.0/10. Janata Bank Officer Welfare Society lost to Titas Club by 1.5-2.5 which allowed Titas Club to jump to third position with 7.0/12.
Bangladesh Police - Shahin Chess Club: 2.5-1.5
GM Surya Sekhar Ganguly positionally outplayed his opponent CM Sohel Chowdhury.
Ganguly - Sohel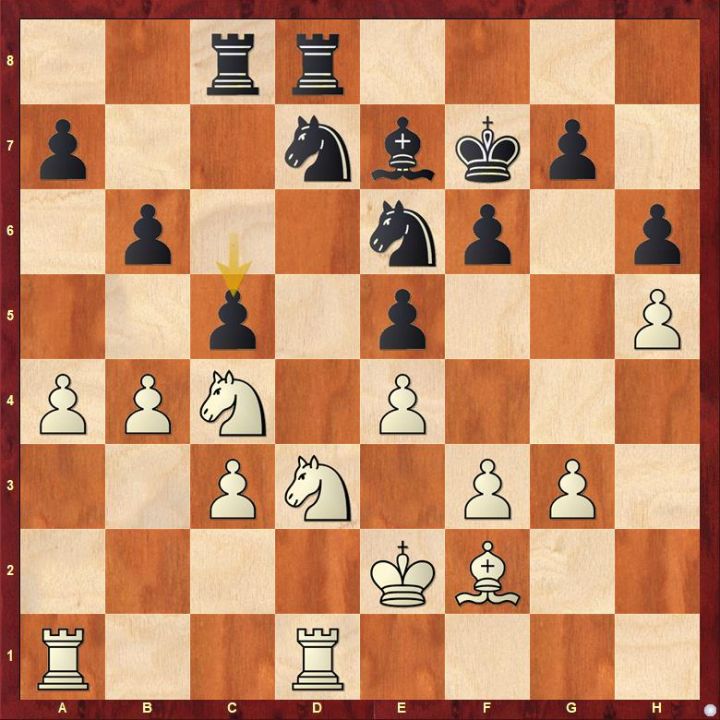 How should white continue after 21...c5 ? Find out the correct plan.
GM Abhimanyu Puranik made a short work of GM Raunak Sadhwani in just 27 moves after the latter made an incorrect exchange which weakened his position.
Abhimanyu - Raunak
The game continued with 20...fxe6 and after 21.g3 Nd5 22.Nd4 things just spiraled out of control for black.
The game between GM Mollah Abdullah Al Rakib and GM Narayanan S L turned out to be a draw.
FM Debaraj Chatterjee lost to his much stronger opponent GM Ziaur Rahman.
SAIF Sporting Club - Uttara Central Chess Club: 2-2
GM Adhiban showcased his fantastic positional understanding and converted his advantage comfortably to a victory against Md. Monjur Alam.
Adhiban - Monjur
Find out the correct plan for white after 28...Re7.
CM Tahsin Tajwar Zia's pawn sacrifice went in vain as he was unable to gain enough compensation against GM Vladislav Kovalev.
Tahsin - Kovalev
Find out a plan to make 26.d5 work after 26...Nxd5.
IM Mitrabha Guha continues his impressive run as he beat GM Reefat Bin Sattar.
Reefat - Mitrabha
21.Bc2 completely ignores the fact that white's queen has a limited mobility. The game went on with 21...0-0. While there was no way for black to gain the queen but it was possible to keep it trapped a while longer. How?
IM Koustav Chatterjee scored a comfortable win over FM Mehdi Hasan Parag.

Sonali Bank Sports & Recreation Club - Bangladesh Biman: 1-3
GM Gukesh D scored a comfortable victory after his opponent Sabya Sachi blundered a piece in an already difficult position.
GM Neelotpal Das was held to a draw by Md. Matiur Rahman.
IM Sekhar Chandra Sahu lost to GM Enamul Hossain.
FM Md. Taibur Rahman had a queen for IM Anup Deshmukh's rook and knight. He was better for the majority of the game but Deshmukh managed to survive a difficult position and salvage a draw.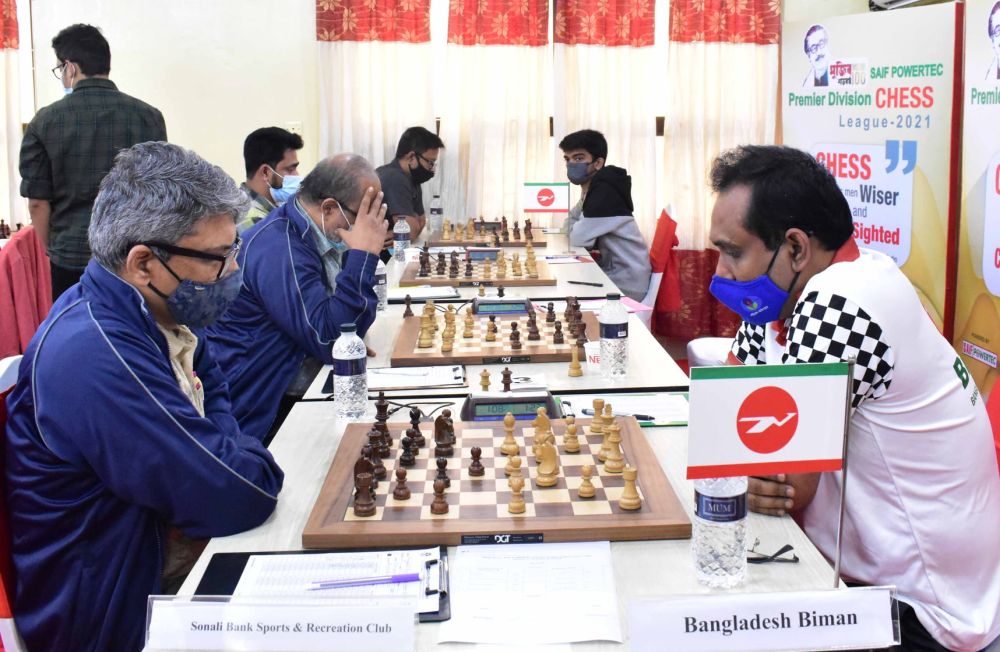 Photo Gallery
Replay games from Round 6
There is one round every day starting at 3 p.m. BST (2:30 p.m. IST) from 19th to 28th March 2021. On 29th March the final round starts at 2 p.m. BST (1:30 p.m. IST). A total of 63 players including 13 GMs, 9 IMs, 2 WIMs, 10 FMs and 8 CMs are slated to take part. A staggering 66.67% players are titled, 20.6% are GMs and 14.3% are IMs.
Round 6 results
No.
Team
Team
Res.
:
Res.
1
Bangladesh Police
Shahin Chess Club
2½
:
1½
2
Sonali Bank Sports & Recreation Club
Bangladesh Biman
1
:
3
3
Janata Bank Officer Welfare Society
Titas Club
1½
:
2½
4
SAIF Sporting Club
Uttara Central Chess Club
2
:
2
5
Sheikh Russel Chess Club
Leonin Chess Club
2
:
2
6
Bangladesh Navy
bye
:
Links
---