Bangladesh Premier League R4: Raunak's Rook rampage
There is no change at the top of the table as Bangladesh Police maintained their sole lead with 8.0/8 at the conclusion of Round 4 in Mujib Borso SAIF Powertec Premier Division Chess League. They beat Titas Club by 3.5-0.5. GM Raunak Sadhwani scored a fantastic victory over IM Dhulipalla Bala Chandra Prasad. SAIF Chess Club picked up a 3-1 victory to regain their second place at the table with 6.0/6. Bangladesh Biman scored their first victory of the event as they beat Bangladesh Navy who slipped to the third position with 4.0/8. Photo: Bangladesh Chess Federation
Bangladesh Police still in the sole lead
Bangladesh Police scored their fourth consecutive win to maintain their sole lead with 8.0/8. The only half point was conceded by GM Surya Sekhar Ganguly who had a wild game against GM Arjun Erigaisi of Titas Club. SAIF Sporting Club defeated Sheikh Russel Chess Club by 3-1 to maintain their 100% score of 6.0/6. Kaustuv Kundu scored the sole victory for Sheikh Russel Chess Club. Bangladesh Navy lost to Bangladesh Biman by 1-3. They slipped to third position with 4.0/8.
Bangladesh Navy - Bangladesh Biman: 1-3
GM Gukesh scored a comfortable victory after his opponent IM Minhaz Uddin made simple tactical error.
Minhaz - Gukesh
29.Bc2 is a blunder as it allows black to gain decisive advantage. How?
GM Neelotpal Das was held to a draw by FM Sheikh Nasir Ahmed.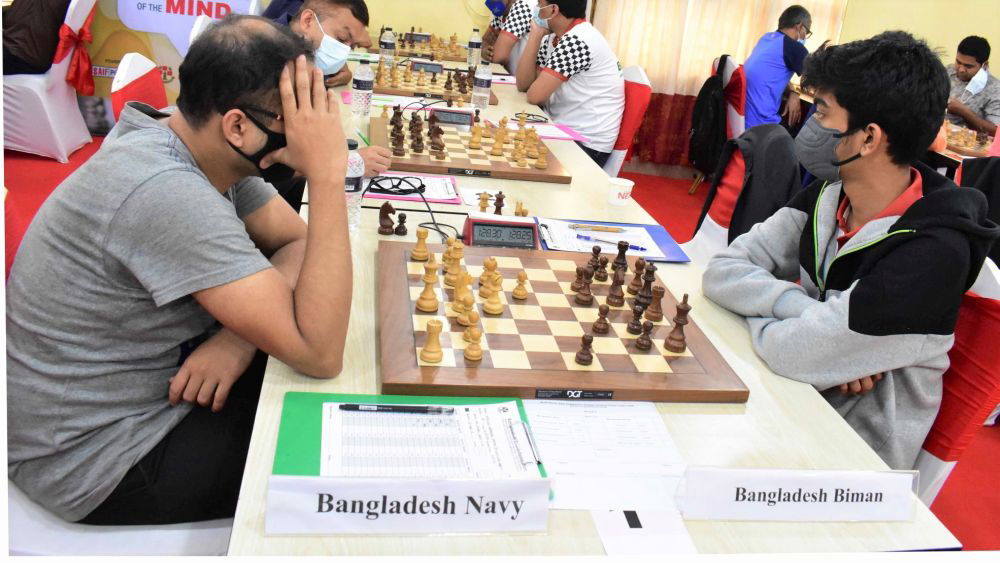 Bangladesh Police - Titas Club: 3.5-0.5
IM Mohammad Fahad Rahman gained a huge positional advantage which he converted into a win without any difficulty against Jabed Al Azad.
Fahad - Jabed
If anyone has an advantage in the above position, it is obvious that that is white. Find out the correct plan for white after 19...b5.
The wildest game of the day was definitely between GMs Arjun Erigaisi and Surya Sekhar Ganguly as both of them are pushing their pawns and developing their rooks on the opposite side of the board in an unconventional way.
Arjun - Ganguly
If you check the game with a computer then you will see that evaluation is changing after every move. Thus games like these have to be seen from human perspective where it's not about playing the best move, it's all about what you think works according to your plan. No significant mistakes were made and the game ended up in a draw after 30th move.
GM Raunak Sadhwani completely destructed his opponent IM Dhulipalla Bala Chandra Prasad's position after he made a dubious pawn push at the center of the board.
Raunak - Bala Chandra
12...d4 does not look like a good idea because black loses control of the center and eventually the game which is what happened.
Find out the finish for white after 24...Qb4.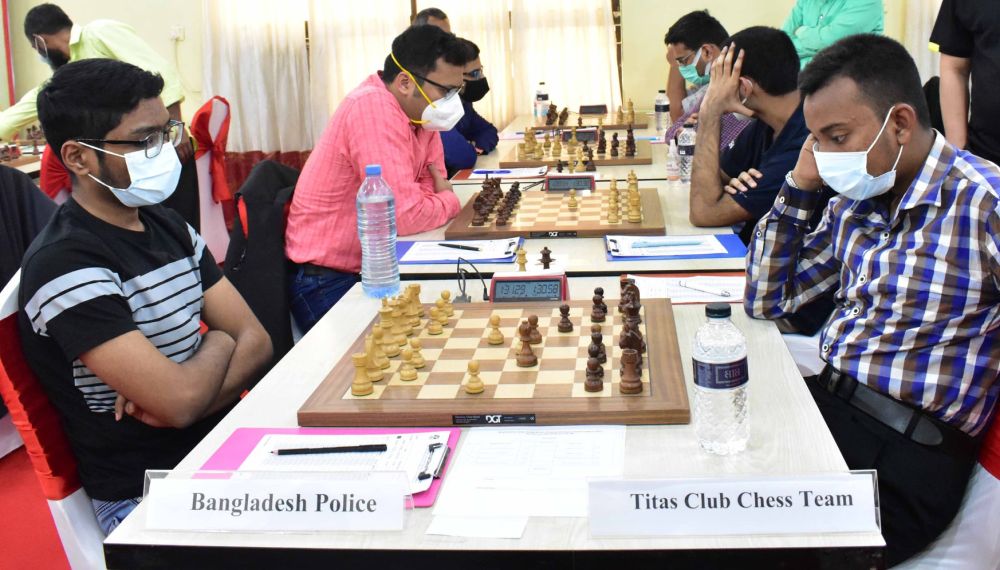 SAIF Sporting Club - Sheikh Russel Chess Club: 3-1
Adhiban scored a fine victory over WIM Rani Hamid.
CM Nayem Haque lost to Belarus no.1 GM Vladislav Kovalev.
GM Reefat Bin Sattar scored a clinical victory over Sumit Kumar.
Kaustuv Kundu scored the sole victory for Sheikh Russel Chess Club against FM Mehdi Hasan Parag.
Photo Gallery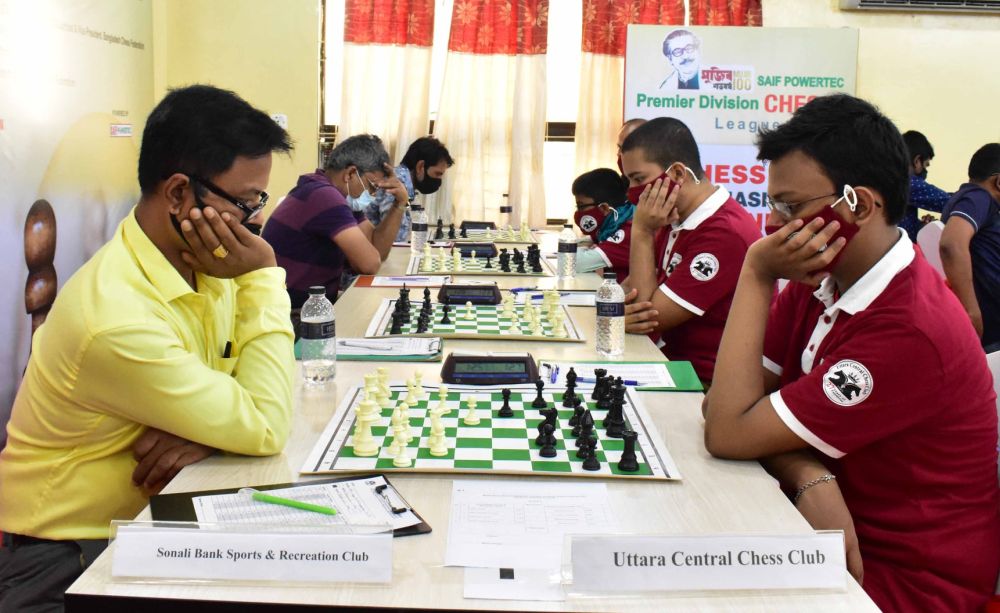 Replay games from Round 4
There is one round every day starting at 3 p.m. BST (2:30 p.m. IST) from 19th to 28th March 2021. On 29th March the final round starts at 2 p.m. BST (1:30 p.m. IST). A total of 63 players including 13 GMs, 9 IMs, 2 WIMs, 10 FMs and 8 CMs are slated to take part. A staggering 66.67% players are titled, 20.6% are GMs and 14.3% are IMs.
Round 4 results
No.
Team
Team
Res.
:
Res.
1
Bangladesh Navy
Bangladesh Biman
1
:
3
2
Bangladesh Police
Titas Club
3½
:
½
3
Sonali Bank Sports & Recreation Club
Uttara Central Chess Club
2½
:
1½
4
Janata Bank Officer Welfare Society
Leonin Chess Club
2
:
2
5
SAIF Sporting Club
Sheikh Russel Chess Club
3
:
1
6
Shahin Chess Club
bye
:
Links
---