New Delhi GP Round 8: Harika beats Nino
GM Harika Dronavalli scored her first win of New Delhi GP 2023 in Round 8. She defeated GM Nino Batsiashvili who was also in search of her first victory of the event. The latter misjudged her opponent Harika's intensity of attack on the kingside. It cost her a pawn and allowed the rooks to be invaded via the seventh rank. IM Polina Shuvalova got a better position out of the opening, IM Vaishali made incorrect decisions at critical junctures and lost her game. GM Kateryna Lagno mysteriously repeated moves in a winning position against GM Aleksandra Goryachkina. WGM Zhu Jiner mantained her sole lead 5.5/8 as she drew with IM Bibisara Assaubayeva. Round 9 starts today at 3 p.m. IST. Humpy has a Bye. Photo: Abhyudaya Ram
Kateryna makes a bizarre repetition
It is quite difficult to fathom, how GM Kateryna Lagno could not beat GM Aleksandra Goryachkina after finding the excellent 38.Nxf6+! which threw her opponent's kingside wide open.
Harika - Nino: 1-0
GM Harika Dronavalli (2511) registered her first win of the event against GM Nino Batsiashvili (GEO, 2489). Both were in search of their first win and it was Harika who emerged the victor.
The best way for Black to defend the e5-pawn was to play 37...Qd6. Instead, she opted for 38...Re8? After 39.Ra2 Black made another mistake Ra5? which cost her the c7-pawn. Kg7 was required to be played to prevent Qh6 entry. 40.Qh6 Qf6 41.Rac2 not only the c7-pawn falls, but the rook's placement on c7 certainly makes it incredibly difficult for Black to defend. Black lost the queen in another six moves and the game too.
Kateryna - Goryachkina: 0.5-0.5
GM Kateryna Lagno (2560) found a tactical shot against GM Aleksandra Goryachkina (2576). It should have been enough for the former World Rapid and three-time World Blitz Womens' champion. However, she could not find a follow through and repeated moves instead.
38.Nxf6+ was not that difficult to find. It was possible to play in the previous move too. 38...gxf6 39.Rxe8+ Bxe8 40.Re4 Qd5 41.Rxd4 Qxc5 42.Qg3+ Kf8 43.Ng6+ Kf7 44.Nh8+ Kf8 45.Ng6+ and the game surprisingly ends in an anti-climactic way, a draw via threefold repetition. Try to find out what White should have played to win the game.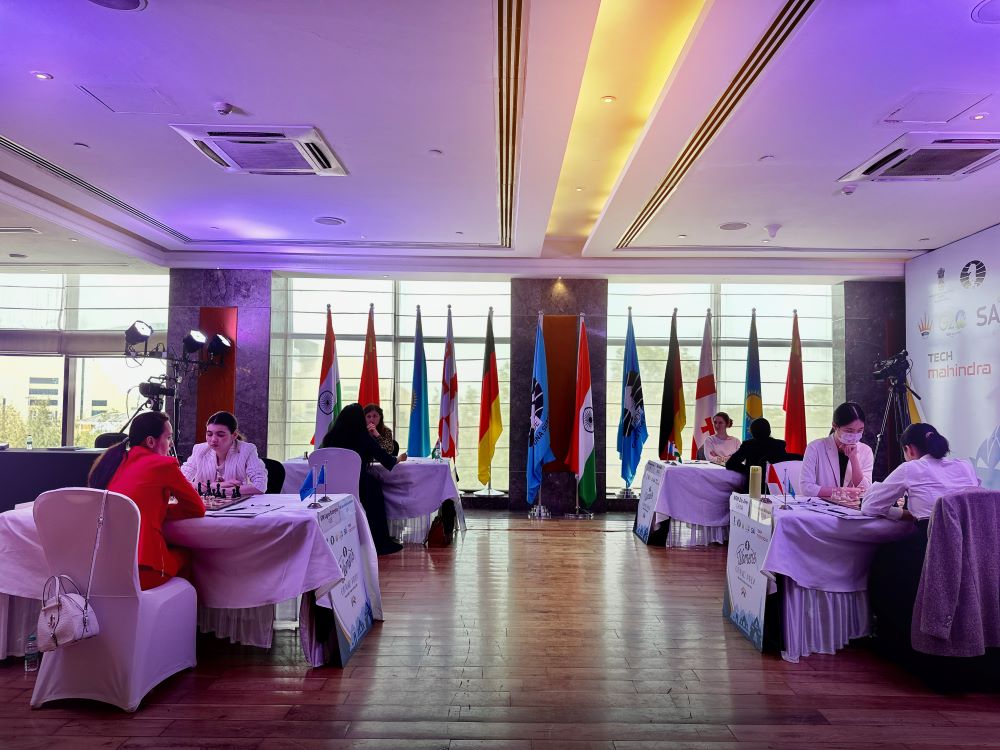 Replay the live stream
Replay all Round 8 games
Round 8 Results
Bo.
No.
Rtg
Name
Result
Name
Rtg
No.
PGN
1
11
2560
GM
Lagno, Kateryna
½ - ½
GM
Goryachkina, Aleksandra
2576
9
PGN
2
10
2511
GM
Harika, Dronavalli
1 - 0
GM
Batsiashvili, Nino
2489
8
PGN
3
1
2484
IM
Shuvalova, Polina
1 - 0
IM
Vaishali, Rameshbabu
2433
7
PGN
4
3
2489
WGM
Zhu, Jiner
½ - ½
IM
Assaubayeva, Bibisara
2440
6
PGN
5
4
2525
GM
Dzagnidze, Nana
+ - -
GM
Paehtz, Elisabeth
2474
5
6
2
2576
GM
Koneru, Humpy
0
bye
0
-1
Standings after Round 8
| | | | | | | | | | | | | |
| --- | --- | --- | --- | --- | --- | --- | --- | --- | --- | --- | --- | --- |
| Rk. | SNo | | | Name | FED | Rtg | Pts. | TB1 | TB2 | TB3 | TB4 | TB5 |
| 1 | 3 | | WGM | Zhu, Jiner | CHN | 2489 | 5,5 | 2 | 18,75 | 2 | 0 | 0 |
| 2 | 6 | | IM | Assaubayeva, Bibisara | KAZ | 2440 | 5 | 4 | 18,25 | 4 | 0 | 0 |
| 3 | 9 | | GM | Goryachkina, Aleksandra | FID | 2576 | 5 | 3 | 15,00 | 2 | 0 | 0 |
| 4 | 1 | | IM | Shuvalova, Polina | FID | 2484 | 4,5 | 1 | 12,25 | 2 | 0 | 0 |
| 5 | 11 | | GM | Lagno, Kateryna | FID | 2560 | 4 | 4 | 13,50 | 2 | 0 | 0 |
| 6 | 10 | | GM | Harika, Dronavalli | IND | 2511 | 4 | 4 | 10,00 | 1 | 0 | 0 |
| 7 | 2 | | GM | Koneru, Humpy | IND | 2576 | 4 | 3 | 11,75 | 1 | 0 | 0 |
| 8 | 4 | | GM | Dzagnidze, Nana | GEO | 2525 | 3 | 3 | 8,50 | 0 | 0 | 0 |
| 9 | 8 | | GM | Batsiashvili, Nino | GEO | 2489 | 2,5 | 5 | 4,75 | 0 | 0 | 0 |
| 10 | 7 | | IM | Vaishali, Rameshbabu | IND | 2433 | 2,5 | 3 | 5,75 | 0 | 0 | 0 |
| 11 | 5 | | GM | Paehtz, Elisabeth | GER | 2474 | 0 | 0 | 0,00 | 0 | 0 | 0 |
Round 9 pairings
Bo.
No.
Rtg
Name
Result
Name
Rtg
No.
PGN
1
5
2474
GM
Paehtz, Elisabeth
GM
Lagno, Kateryna
2560
11
2
6
2440
IM
Assaubayeva, Bibisara
GM
Dzagnidze, Nana
2525
4
3
7
2433
IM
Vaishali, Rameshbabu
GM
Koneru, Humpy
2576
2
4
8
2489
GM
Batsiashvili, Nino
IM
Shuvalova, Polina
2484
1
5
9
2576
GM
Goryachkina, Aleksandra
GM
Harika, Dronavalli
2511
10
6
3
2489
WGM
Zhu, Jiner
0
bye
0
-1
Links
---