New Delhi GP Round 1: Elisabeth withdraws, two exciting endgames
The first round of FIDE New Delhi GP 2023 witnessed four games. IM Vaishali got a walkover as the Germany no.1 Elisabeth Paehtz decided to withdraw from the event. Thus, the total withdraw count from this event is now four. First the Muzychuk sisters - Anna and Mariya, then Zhansaya Abdumalik and now Paehtz. The games between Humpy and Harika, Polina and Lagno, were relatively quiet draws. WGM Zhu Jiner had a great opportunity to beat GM Aleksandraw Goryachkina. The All-Georgian battle between GM Nana Dzagnidze and GM Nino Batsiashvili was an exciting back and forth battle where the latter repeated moves in a winning endgame. It will be Vaishali vs Assaubayeva, Harika vs Zhu Jiner and Shuvalova vs Humpy in Round 2 which starts today at 3 p.m. IST. Photo: FIDE/Ismael Nieto
Four draws
New Delhi GP might have had four draws in the first round. However, two of them had quite exciting endgames in it.
Zhu Jiner - Goryachkina: 0.5-0.5
WGM Zhu Jiner (CHN, 2489) got a winning same color bishop endgame against GM Aleksandra Goryachkina (2576). The Ruy Lopez Berlin brought a balanced endgame until Goryachkina made a mistake.
38...Ke6 invites 39.Rxf7 which is fine as long as Black takes the e5-pawn 39...Bxe5. Instead, Black decided to trade the rooks 39...Kxf7 40.Bxh6 Bxe5 White is now virtually ahead by a pawn as Black has her pawns doubled on the c-file. The endgame is lost for Black theoretically but there are some intricacies. White needed to be precise to score a victory.
The idea for White to win the endgame is to sacrifice the g-pawn and push the black king away to g8, so that the white king can gain enough time to invade on the queenside and munch the pawns. Only problem is, it is not easy to execute in a practical game. The first step towards that would be to play 50.Bh6 having the idea of g5 in the next move. Black would not have been able to prevent the white king's entry.
White has one last opportunity to push for a win. The idea as mentioned above remains the same. However, White needs to be a bit more careful this time as the pawn has reached g6 which means only the bishop can protect it until the time is right to sacrifice. Find out what was the last chance for White in the above diagram after 59...Bg1.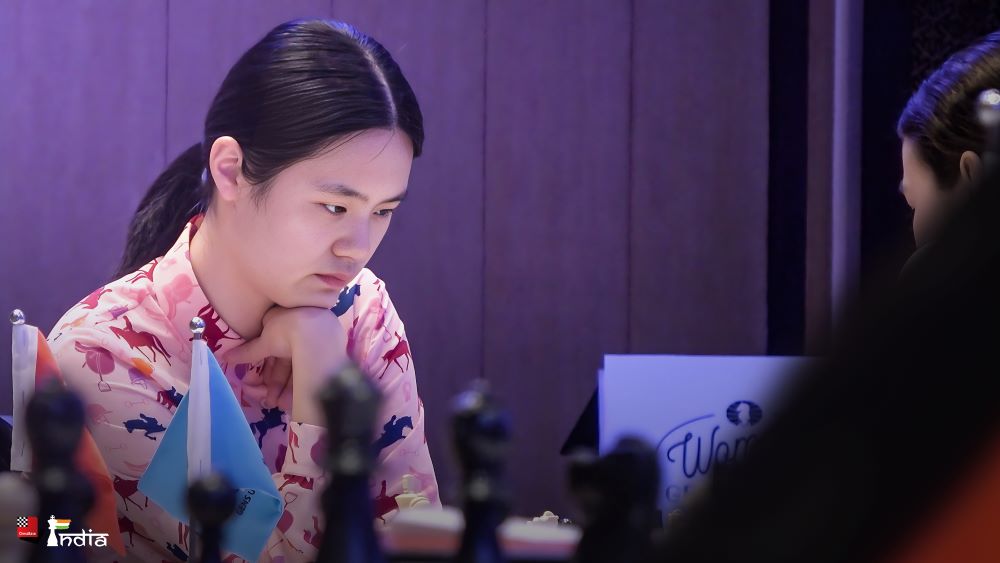 Dzagnidze - Batsiashvili: 0.5-0.5
The battle of the Georgian GMs between Nana Dzagnidze (2525) and Nino Batsiashvili (2489) was a back and forth one. First, Nino made a mistake which cost her queen for a rook and bishop.
30...Rb5 allowed the skewer 31.Rd2 Qxd2 32.Bxd2 Rxd2 now White needed to go 33.Re7 use the combined powers of queen and rook to attack the king. Instead, 33.Rxc5 alleviated the pressure after 33...Rxc5 34.Qxc5 Rxe2+ 35.Kf1 Rxb2. It is safe to say Black is no longer losing the game and now White needs to play carefully to avoid a loss.
Among the chances Black had in the end 51...Re7+ 52.Kd2 Rd7+ perpetual check just squandered it. Try to find out what Black could have done to win it.
In case anyone is wondering, why a replacement wasn't found, or pairing wasn't changed, this is what the tournament regulations says: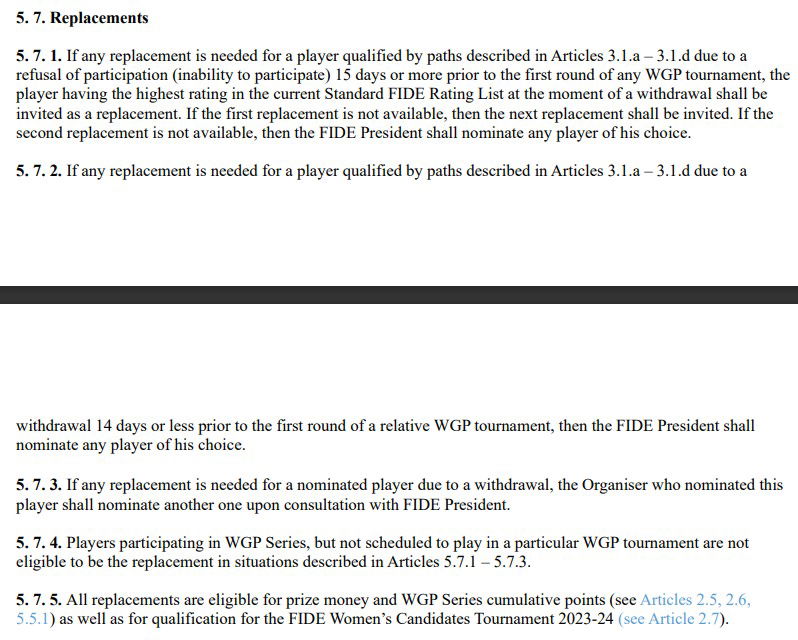 Replay the live stream
Replay all Round 1 games
Round 1 Results
Bo.
No.
Rtg
Name
Result
Name
Rtg
No.
PGN
1
1
2484
IM
Shuvalova, Polina
½ - ½
GM
Lagno, Kateryna
2560
11
PGN
2
2
2576
GM
Koneru, Humpy
½ - ½
GM
Harika, Dronavalli
2511
10
PGN
3
3
2489
WGM
Zhu, Jiner
½ - ½
GM
Goryachkina, Aleksandra
2576
9
PGN
4
4
2525
GM
Dzagnidze, Nana
½ - ½
GM
Batsiashvili, Nino
2489
8
PGN
5
5
2474
GM
Paehtz, Elisabeth
- - +
IM
Vaishali, Rameshbabu
2433
7
6
6
2440
IM
Assaubayeva, Bibisara
0
bye
0
-1
Round 2 pairings
Bo.
No.
Rtg
Name
Result
Name
Rtg
No.
PGN
1
7
2433
IM
Vaishali, Rameshbabu
IM
Assaubayeva, Bibisara
2440
6
2
8
2489
GM
Batsiashvili, Nino
GM
Paehtz, Elisabeth
2474
5
3
9
2576
GM
Goryachkina, Aleksandra
GM
Dzagnidze, Nana
2525
4
4
10
2511
GM
Harika, Dronavalli
WGM
Zhu, Jiner
2489
3
5
1
2484
IM
Shuvalova, Polina
GM
Koneru, Humpy
2576
2
6
11
2560
GM
Lagno, Kateryna
0
bye
0
-1
Links
---