New Delhi GP Round 6: Vaishali draws with Goryachkina
IM Vaishali drew with the former Women's World Championship Challenger, GM Aleksandra Goryachkina in the sixth round of New Delhi GP 2023. IM Bibisara Assaubayeva scored the sole win of the round against IM Polina Shuvalova. The latter's ambitious play almost worked out, until she could not manage to gain control and maintain her advantage. It was virtually a rest day for the legend GM Koneru Humpy. Her birthday was celebrated with the organizing team and GM Harika Dronavalli who also had a similar rest day. Humpy will face one of the tournament leaders - Assaubayeva in the seventh round. Harika will be up against Vaishali in Round 7 which starts today at 3 p.m. IST. Photo: Abhyudaya Ram
Humpy celebrates her birthday
India no.1 and World no.2 GM Koneru Humpy has a huge list of accolades. The records and benchmark she has set will be very difficult to reach, let alone set a new one. When you are in presence of her, she will enlighten you with her humble nature and soft-spoken voice. A legend of the sport in every possible way one can fathom. She is an inspiration to everyone all over the world.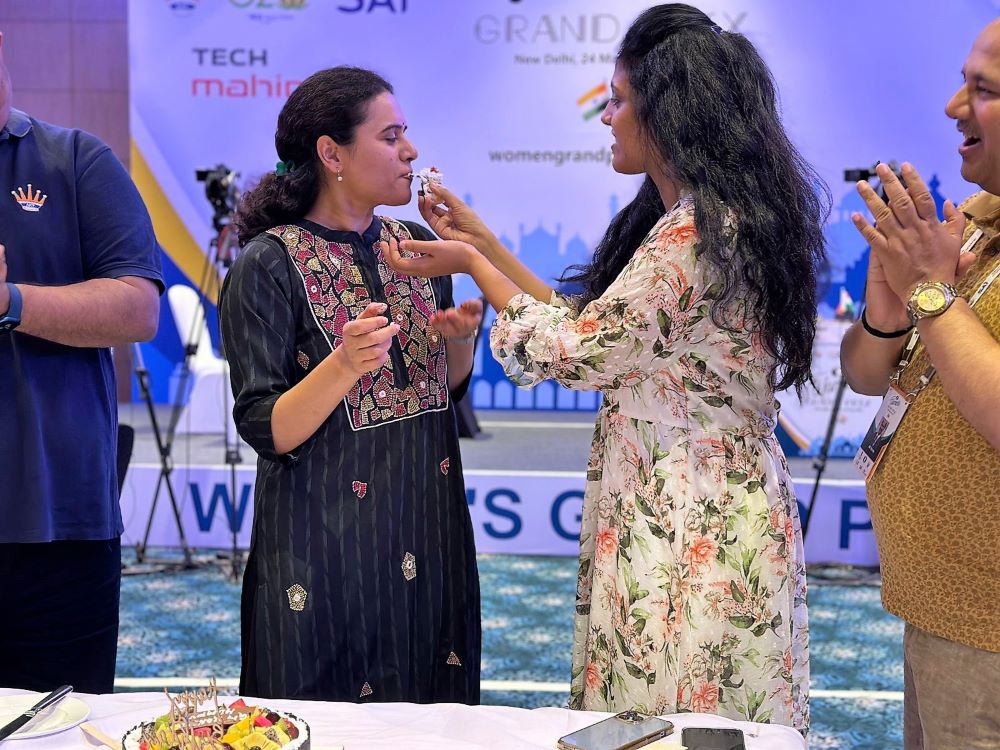 Polina - Bibisara: 0-1
IM Polina Shuvalova (2484) played ambitiously against IM Bibisara Assaubayeva (KAZ, 2440). She opted for the four pawns' attack in the KID against the reigning two-time World Blitz Women's champion. It was clear that the former World Junior and Under-18 Girls champion was playing for only one result. She even got substantial advantage in the early middle game. However, she could not seize her opportunity.
Although White's king is in the middle of the board, it is far from being vulnerable. Sure Black can get one check from e8 but that's it, there is not much more. 16.Qd2 would have pushed the knight back Ng8 17.0-0-0 would have consolidated White's position and the flow of play would not have disturbed. However, 16.f6? disrupted White's own position as there were no immediate g5 fork. Maybe White had a momentary blind spot. 16...Qxf6 17.Qd2 Re8+ 18.Kf2 Ng8 19.Rae1 Qd8 20.Ng5 Rf8 21.Qd5 White kept pressing but she never got a favorable position as she had earlier.
Replay the live stream
Replay all Round 6 games
Round 6 Results
Bo.
No.
Rtg
Name
Result
Name
Rtg
No.
PGN
1
11
2560
GM
Lagno, Kateryna
½ - ½
GM
Batsiashvili, Nino
2489
8
PGN
2
9
2576
GM
Goryachkina, Aleksandra
½ - ½
IM
Vaishali, Rameshbabu
2433
7
PGN
3
1
2484
IM
Shuvalova, Polina
0 - 1
IM
Assaubayeva, Bibisara
2440
6
PGN
4
2
2576
GM
Koneru, Humpy
+ - -
GM
Paehtz, Elisabeth
2474
5
5
3
2489
WGM
Zhu, Jiner
½ - ½
GM
Dzagnidze, Nana
2525
4
PGN
6
10
2511
GM
Harika, Dronavalli
0
bye
0
-1
Standings after Round 6
| | | | | | | | | | | | | |
| --- | --- | --- | --- | --- | --- | --- | --- | --- | --- | --- | --- | --- |
| Rk. | SNo | | | Name | FED | Rtg | Pts. | TB1 | TB2 | TB3 | TB4 | TB5 |
| 1 | 6 | | IM | Assaubayeva, Bibisara | KAZ | 2440 | 4 | 3 | 10,50 | 4 | 0 | 0 |
| 2 | 3 | | WGM | Zhu, Jiner | CHN | 2489 | 4 | 2 | 11,75 | 2 | 0 | 0 |
| 3 | 2 | | GM | Koneru, Humpy | IND | 2576 | 3,5 | 2 | 6,25 | 1 | 0 | 0 |
| 4 | 9 | | GM | Goryachkina, Aleksandra | FID | 2576 | 3,5 | 1 | 8,00 | 1 | 0 | 0 |
| 5 | 1 | | IM | Shuvalova, Polina | FID | 2484 | 3,5 | 1 | 7,00 | 1 | 0 | 0 |
| 6 | 8 | | GM | Batsiashvili, Nino | GEO | 2489 | 2,5 | 4 | 3,25 | 0 | 0 | 0 |
| 7 | 11 | | GM | Lagno, Kateryna | FID | 2560 | 2,5 | 3 | 6,75 | 1 | 0 | 0 |
| 8 | 10 | | GM | Harika, Dronavalli | IND | 2511 | 2,5 | 3 | 4,75 | 0 | 0 | 0 |
| 9 | 4 | | GM | Dzagnidze, Nana | GEO | 2525 | 2 | 3 | 6,25 | 0 | 0 | 0 |
| 10 | 7 | | IM | Vaishali, Rameshbabu | IND | 2433 | 2 | 2 | 3,00 | 0 | 0 | 0 |
| 11 | 5 | | GM | Paehtz, Elisabeth | GER | 2474 | 0 | 0 | 0,00 | 0 | 0 | 0 |
Round 7 pairings
Bo.
No.
Rtg
Name
Result
Name
Rtg
No.
PGN
1
4
2525
GM
Dzagnidze, Nana
GM
Lagno, Kateryna
2560
11
2
5
2474
GM
Paehtz, Elisabeth
WGM
Zhu, Jiner
2489
3
3
6
2440
IM
Assaubayeva, Bibisara
GM
Koneru, Humpy
2576
2
4
7
2433
IM
Vaishali, Rameshbabu
GM
Harika, Dronavalli
2511
10
5
8
2489
GM
Batsiashvili, Nino
GM
Goryachkina, Aleksandra
2576
9
6
1
2484
IM
Shuvalova, Polina
0
bye
0
-1
Links
---