Munich GP Round 8: Humpy wins and moves to second place
GM Koneru Humpy defeated IM Alina Kashlinskaya to move to the sole second place. This was the Poland no.1's second consecutive loss at Munich GP 2023. Humpy seized her opportunity when her opponent did not provide correct resistance in the same color bishop endgame. GM Anna Muzychuk also erred in the rook and opposite color bishop endgame which seemed to have headed towards a draw. Thus, GM Alexandra Kosteniuk has once again increased her lead by 1.5 points to 6.5/8. Humpy is the only one at 5/8, followed by GM Elisabeth Paehtz and GM Nana Dzagnidze at 4.5/8 each. Round 9 starts today at 3 p.m. local time, 7:30 p.m. IST. Photo: FIDE/Mark Livshitz
Four decisive games
As the tournament draws to a close, games are becoming more exciting and more decisive results are observed. For the second time in this event since the first round, four games ended decisively with two wins for each color.
Kashlinskaya - Humpy: 0-1
GM Koneru Humpy (2572) opted to trade the queens early in the opening. After an initial resistance, her opponent, IM Alina Kashlinskayaa (POL, 2491) could not avoid the trade. The pieces got exchanged rapidly and the game liquidated into a same color bishop endgame after 23 moves.
What White needed to do here is to make sure the black king cannot gain an entry. 34.f3 or Kd2, both are okay for White. 34.a4 just unnecessarily creates a future target. 34...Bb2 35.f3 a6 36.h4?? turned out to be the decisive mistake Kd4-+ and it's over for White as she cannot prevent the invasion of the king. 36.Kd2 is what White needed to play to draw the game.
Kosteniuk - Anna: 1-0
The game between - GM Alexandra Kosteniuk (2519) and GM Anna Muzychuk (UKR, 2522) seemed to have headed towards a draw in the rook and opposite color bishop endgame.
Black needed to exchange the pawns 38...fxg5 39.Rxg5 and now putting the last pawn on g6 would have been enough to draw the game. Instead, 38...Rc4 allowed 39.g6+. The pawn wedge eventually turned out to be crucial for White to win the game.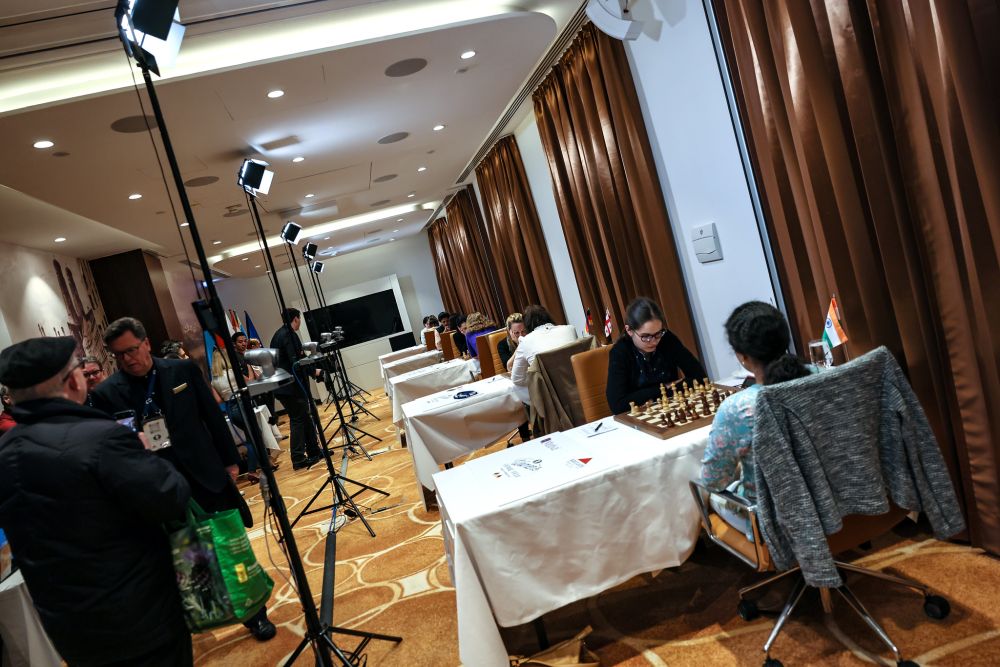 Replay the live stream
Replay all Round 8 games
Round 8 Results
Standings after Round 8
Round 9 pairings
Links
---