Astana GP Round 6: Vaishali scores a win against Paehtz
by Shahid Ahmed - 24/09/2022
IM Vaishali R scored her first win of FIDE Astana GP against IM Elisabeth Paehtz in Round 6. The number one woman of Germany for almost two decades went wrong in the balanced rook endgame. She allowed the invasion of rook which proved to be costly. Speaking of firsts, Kazakhstan no.1 woman, GM Zhansaya Abdumalik also registered her first victory of the event. She defeated IM Polina Shuvalova. GM Kateryna Lagno and IM Alina Kashlinskaya (POL) are the other two victors of the round against GM Tan Zhongyi (CHN) and IM Bibisara Assaubayeva (KAZ). Today is a rest day. Round 7 starts tomorrow Sunday 25th September at 2:30 p.m. IST. Photo: FIDE/Anna Shtourman
Four decisive games again
Just like the previous round, the sixth round also had four decisive games. This is the third time it happened in this event. WGM Zhu Jiner (CHN) and GM Aleksandra Goryachkina maintain their shared lead 4.5/6. They drew their respective games against GM Alexandra Kosteniuk and WGM Dinara Wagner (GER) respectively.
Vaishali - Paehtz: 1-0
In a relatively balanced endgame, IM Elisabeth Paehtz (GER, 2477) allowed IM Vaishali R's (2449) rook to gain entry.
Black needed to prevent the invasion of rook 40...Kg7. Instead, she opted for 40...Ke7 which allowed White to gain a pawn 41.Kd4 first to prevent Rc3+ followed by Rc2/f3. 41... Rc1 42.Rh7+ Kd6 43.Ra7 Rc6 44.Rg7 and it's over for Black.
Shuvalova - Zhansaya: 0-1
GM Zhansaya Abdumalik (KAZ, 2503) scored her first win of the event. She seized her chance when her opponent IM Polina Shuvalova (2510) miscalculated in an advantageous position.
White played 26.Ng5 with a threat on f7 which actually does no good. 26...h5 27.Bxf7+ Qxf7 28.Nxf7 hxg4 29.Nxd8 Rxd8 30.hxg4 and the resultant position is better for Black despite losing an exchange. The reason behind that is Black's pieces are much better placed and making some deadly threats on White's kingside. Although Zhansaya took some time to convert her advantage.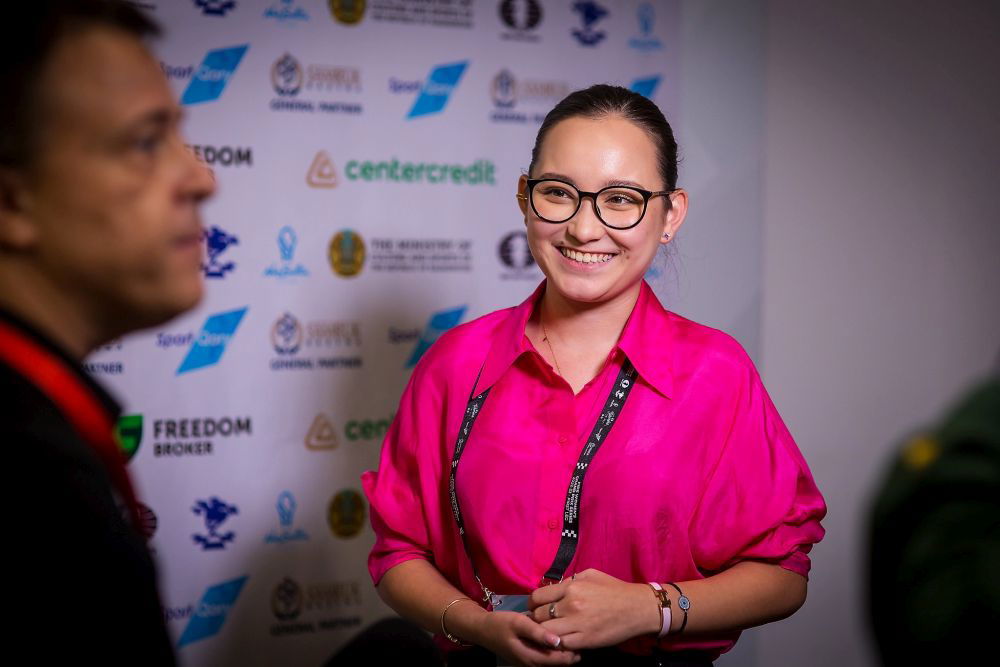 Replay the live stream
Replay all Round 6 games
Round 6 Results
Bo.
No.
Rtg
Name
Result
Name
Rtg
No.
1
12
2510
IM
Shuvalova Polina
0 - 1
GM
Abdumalik Zhansaya
2503
9
2
10
2521
GM
Kosteniuk Alexandra
½ - ½
WGM
Zhu Jiner
2464
8
3
11
2449
IM
Vaishali R
1 - 0
IM
Paehtz Elisabeth
2477
7
4
1
2579
GM
Goryachkina Aleksandra
½ - ½
WGM
Wagner Dinara
2358
6
5
2
2547
GM
Lagno Kateryna
1 - 0
GM
Tan Zhongyi
2525
5
6
3
2491
IM
Kashlinskaya Alina
1 - 0
IM
Assaubayeva Bibisara
2443
4
Round 7 pairings
Bo.
No.
Rtg
Name
Result
Name
Rtg
No.
1
4
2443
IM
Assaubayeva Bibisara
IM
Shuvalova Polina
2510
12
2
5
2525
GM
Tan Zhongyi
IM
Kashlinskaya Alina
2491
3
3
6
2358
WGM
Wagner Dinara
GM
Lagno Kateryna
2547
2
4
7
2477
IM
Paehtz Elisabeth
GM
Goryachkina Aleksandra
2579
1
5
8
2464
WGM
Zhu Jiner
IM
Vaishali R
2449
11
6
9
2503
GM
Abdumalik Zhansaya
GM
Kosteniuk Alexandra
2521
10
Links
---