Munich GP Round 2: Tenacious Humpy shows incredible resilience
The true sign of a strong player is not just how easily they can win. It lies in the fact that how they deal with it after landing themselves in danger. Both GM Koneru Humpy and GM Anna Muzychuk found themselves in lost positions in the second round of Munich GP 2023. While Humpy blundered an exchange, Anna found herself positionally lost. The India no.1 and World no.3 fought tooth and nail to salvage a half point as she had two pawns for a rook in the endgame eventually, both sides had a minor piece each. WGM Dinara Wagner missed her chances and Anna not only survived but turned things around and went on to win the game. Round 3 starts today at 7:30 p.m. IST. Photo: FIDE/David Llada
Blunders, missed opportunities and great saves
The second round might have had only two decisive games. However, it was full of exciting games. GM Zhansaya Abumalik (KAZ) was unable to find a way to win after her opponent blundered an exchange. WGM Zhu Jiner (CHN) missed a tiny window of opportunity in the endgame against GM Harika Dronavalli. GM Elisabeth Paehtz (GER) had a momentary blindspot and blundered her bishop in one move, thinking it is tactically defended as her opponent's back-rank is unprotected. That was not the case and her opponent gobbled up the bishop which prompted a resignation.
Humpy - Zhansaya: 0.5-0.5
GM Koneru Humpy (2572) blundered an exchange against GM Zhansaya Abdumalik (KAZ, 2496) few moves after she had a substantial advantage.
White should have gone 24.Bxf6 gxf6 25.Rc7 to maintain the upper hand. After the trade of queens, White misplaced her rook at b6 in response to 27...Bd7. The rook got trapped after 28.Rb6 Nd5 29.Rb7 Bc8 and the rook had no safe squares left.
White had to give up the bishop to prevent the h-pawn promotion 50.Bxh2 Rxh2. At this point, one would think a GM should resign when she is playing against another strong GM right? Well, that's not what Humpy had in mind. She knew that she can save the game using the two pawns against a rook.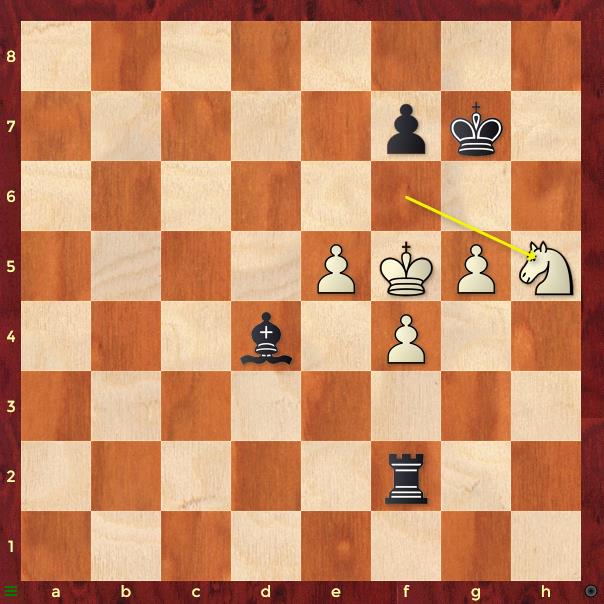 White has got a fantastic stronghold with her pawns on e5, f4 and g5 along with the knight on h5. 56.Nh5+ Kf8 57.g6 fxg6+ 58.Kxg6 computer still says that Black is winning, however it is certainly not easy for a human to figure out how. The game ended in a draw after 17 more moves when Black was unable to find a way to win the game.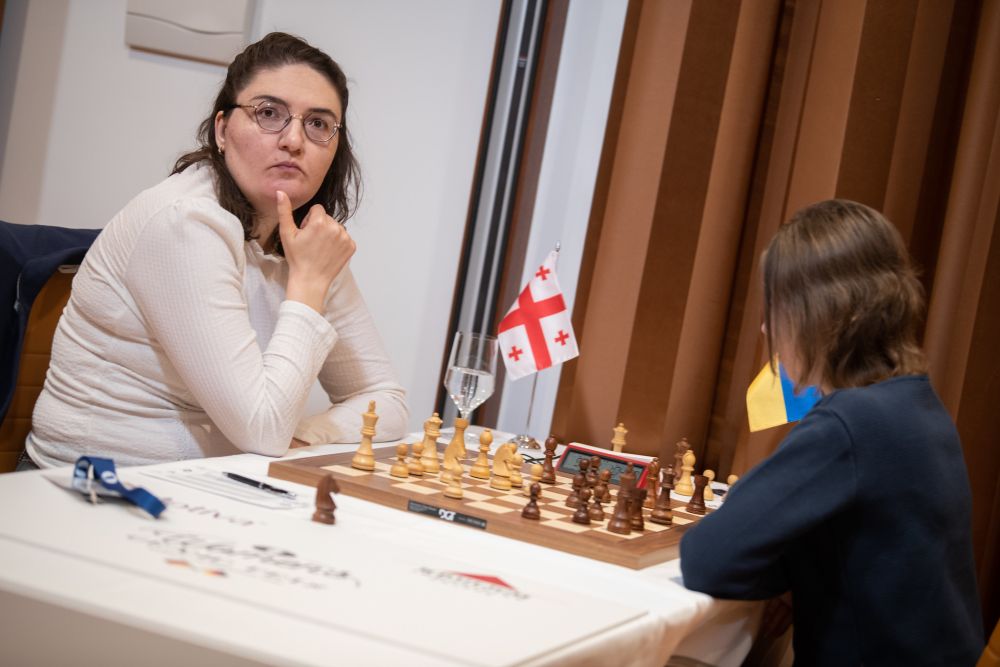 Dinara - Anna: 0-1
WGM Dinara Wagner (GER, 2414) got a decisive advantage against GM Anna Muzychuk (UKR, 2522). However, she was unable to capitalize on it.
Black did not have a lot of choices. 25...f5 had to be done as White was threatening Qh4 followed by Rh3. 26.exf5 Rxf5? 27.Rxf5+- gxf5 28.Qxf5 put White in a comfortable position to push for a win. 26...b5 is suggested by the computer to be a better continuation. Having low time on the clock and a difficult position, made it not so easy to figure things out. 28...Bxh2+ 29.Kh1 b6 Black is running out of moves. 30.a4 Be5 and now White made the mistake of trading the bishop 31.Bf4, violating the golden rule of 'do not trade pieces when you are the one attacking'. 31.a5 would have made things difficult for Black to continue which Anna mentioned in the post-game analysis interview. 31...Bxf4 32.Rxf4 Qe7 33.Kg2 Qe8 now 34.Qe6+ was winning for White too as the king is now advanced to g2. 34.d6? Qc6+ and Black is back in the game. The rooks got exchanged and White made a series of mistakes in the resultant queen endgame to lose the game.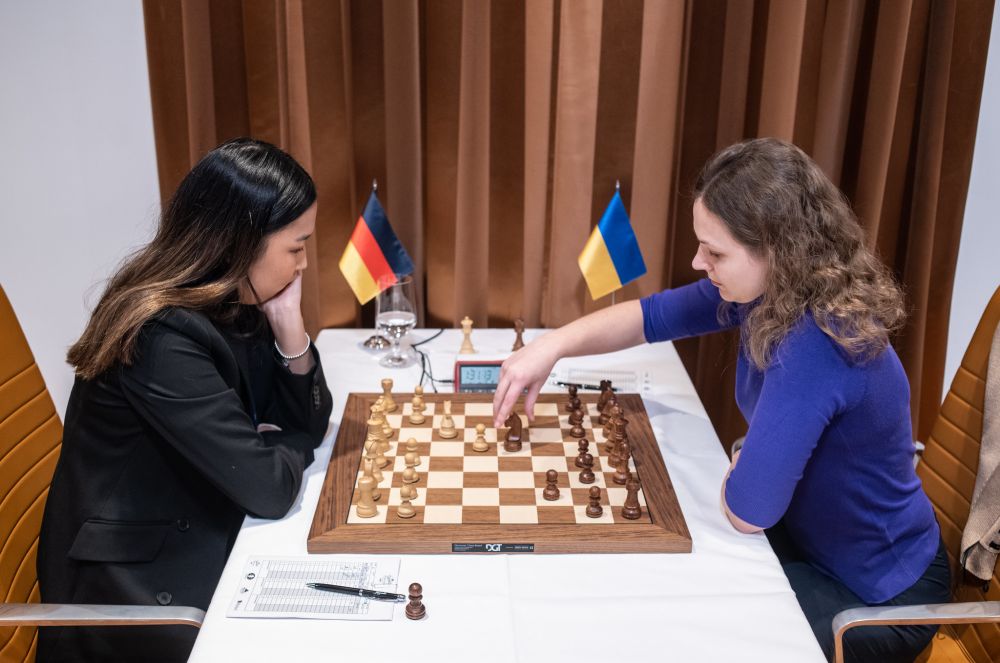 Replay the live stream
Replay all Round 2 games
Round 2 Results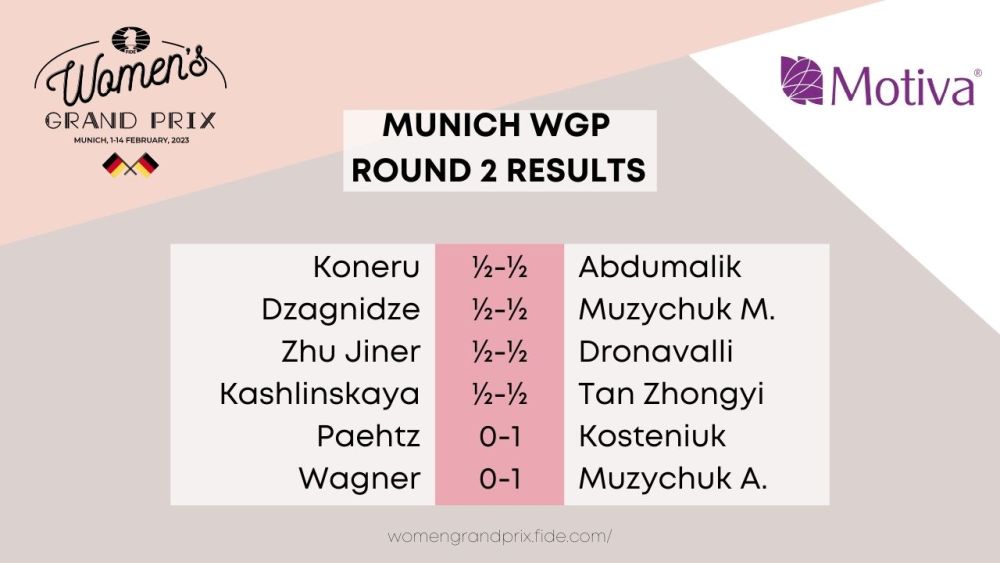 Round 3 pairings
Links
---