Munich GP Round 7: Nana Dzagnidze reduces the gap
by Shahid Ahmed - 10/02/2023
GM Nana Dzagnidze scored the sole win of Round 7 against IM Alina Kashlinskaya. The Georgian scored a fine victory in the King's Indian Defence where she outplayed her opponent. The remaining five games ended in draws. Thus, Dzagnidze moved to sole second position 4.5/7, one full point behind the tournament leader, GM Alexandra Kosteniuk 5.5/7. GM Koneru Humpy is in sole third position 4/7 after her draw with WGM Zhu Jiner. Five players including GM Harika Dronavalli are at shared fourth place with a 50% score 3.5/7. Round 8 starts today at 3 p.m. local time, 7:30 p.m. IST. Photo: FIDE/Mark Livshitz
Humpy misses, Kosteniuk escapes
Dzagnidze - Kashlinskaya: 1-0
GM Nana Dzagnidze (GEO, 2517) got a pleasant position out of the King's Indian Defence against IM Alina Kashlinskaya (POL, 2491).
18.g5 completely shut the queen down. It was left without anywhere to go. 18...f4 19.Bxc5 Bf5 20.Bd3 Bxd3 21.Qxd3 dxc5 22.Nde4 Ra5 23.Qf3 Nd6 24.Nxd6 cxd6 25.Qg4 Qxg4 26.hxg4 and White went on to win the game eventually.
Mariya - Kosteniuk: 0.5-0.5
GM Mariya Muzychuk (UKR, 2523) had a great opportunity against GM Alexandra Kosteniuk (2519).
Find out the correct continuation for White after 23...Bd5.
Humpy - Jiner: 0.5-0.5
GM Koneru Humpy (2572) created a good opportunity for herself against WGM Zhu Jiner (CHN, 2486).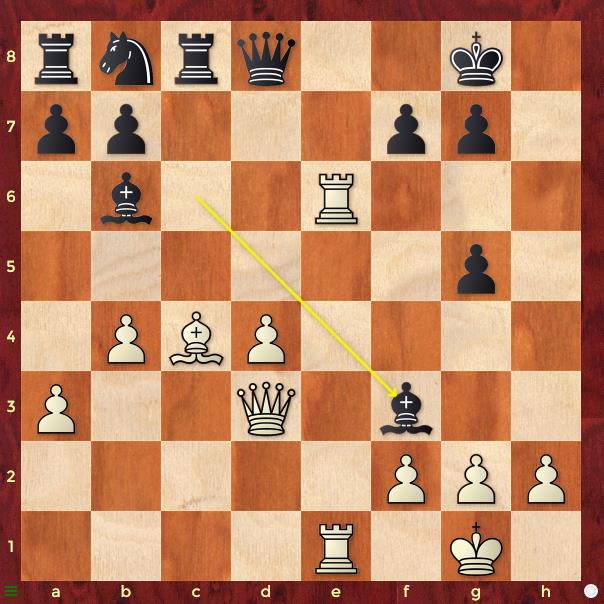 Computer says there is a mate in 20 moves for White. How?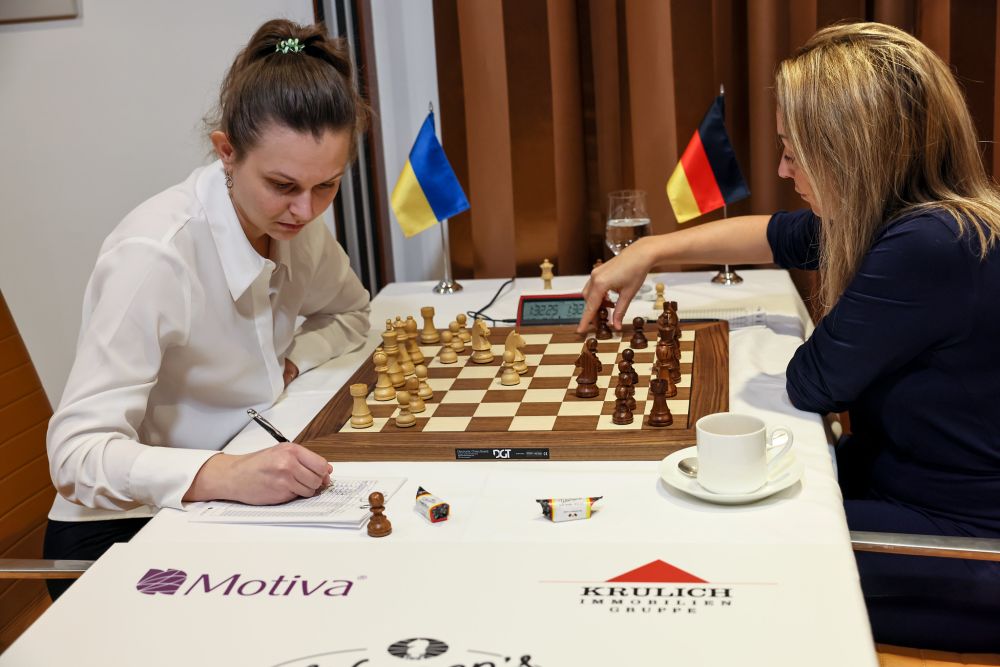 Replay the live stream
Replay all Round 7 games
Round 7 Results
Standings after Round 7
Round 8 pairings
Links
---