Munich GP Round 3: Kosteniuk scores a hat-trick
Alexandra Kosteniuk registered her third consecutive victory at Munich GP 2023. She got a pleasant position out of the opening against WGM Dinara Wagner and had no trouble converting into a win. WGM Zhu Jiner scored the only other win of the round against GM Zhansaya Abdumalik. Zhansaya probably had difficulty of shaking cobwebs after missing out a great opportunity against Humpy in the previous round. GM Humpy and GM Harika drew their respective games against GM Mariya Muzychuk and IM Alina Kashlinskaya. German no.1, GM Elisabeth Paehtz missed a chance in the endgame against GM Tan Zhongyi. Round 4 starts today at 7:30 p.m. IST. Photo: FIDE/David Llada
Zhansaya's woes continue
It is not to easy to shake the thought of missing out on a win against the World no.3. After a loss in the first round, missed win in the second, Zhansaya suffered her second loss of the event against WGM Zhu Jiner where Zhansaya did not seem to regain control from the middlegame.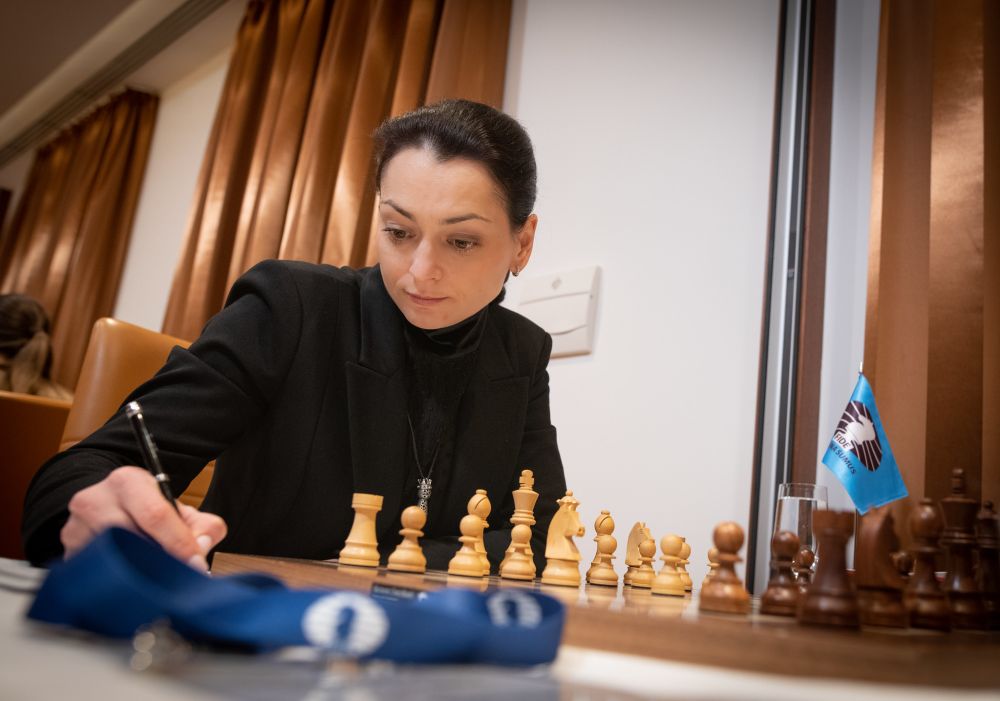 Kosteniuk - Dinara: 1-0
GM Alexandra Kosteniuk (2519) got a pleasant position out of the Sicilian Moscow variation against WGM Dinara Wagner (GER, 2414).
17...d5 allowed White to go 18.b5 axb5 19.exd5 exd5 20.cxd5 Be8 21.Bb2 and White's position is much easier to play than Black's. White maneuvered her knight to c6 and the e8-bishop never got an opportunity to actively participate in the game before it got exchanged in an already lost endgame.
Tan Zhongyi - Elisabeth: 0.5-0.5
Germany's no.1 woman, GM Elisabeth Paehtz (2464) got a great opportunity in the endgame against the reigning World Rapid Women's champion, GM Tan Zhongyi (2530).
Once both rooks got trade in consecutive moves after 27th move, Black's bishop pair seemed quite strong. It only became stronger once White went 28.f3 and allowed Black to get the a2-pawn by Bb1. In the above diagram, after 33.Ke2 Black was faced with a dilemma, in which diagonal to put the bishop - c1-h6 or g1-a7? The answer is - g1-a7 diagonal. g1 or b6 both good for Black. The key difference is controlling the d4-square. If White gets to bring her knight to d4, Black won't be able to play a3 as the b3-bishop would be left unprotected. The game continued 33...Bc1 34.Nb5 Bb2 35.Ke3 a4 36.Nd4 White found the correct idea to stop the momentum of the passed a-pawn. Black still had a few more small chances left which were missed and the game ended in a draw.
Zhansaya - Jiner: 0-1
GM Zhansaya Abdumalik (KAZ, 2496) did not get much out of the Pelikan/Sveshnikov variation in the Sicilian against WGM Zhu Jiner (CHN, 2486).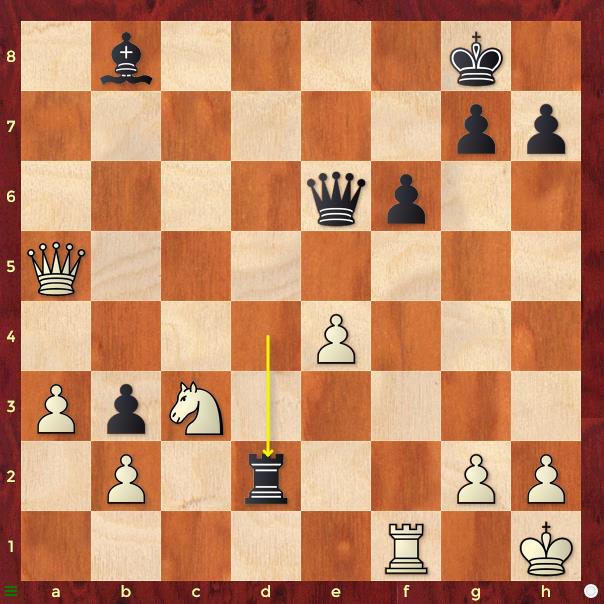 White is already in a precarious situation. It was not easy to find a counter-intuitive 37.Rd1 is the only way to stay in the game. 37.Qh5 Rxb2 38.Rd1 delayed did not have the same effect Bd6 39.Nb5 Qxe4 40.Qf7+ one last trick Kh8! 41.Rg1 Bc5 42.h3 h6 43.Nc3 Qa8 44.Nd5 Bxg1 45.Kxg1 Rxg2+ and it's over.
Replay the live stream
Replay all Round 3 games
Round 3 Results
Standings after Round 3
Round 4 pairings
Links
---