Astana GP Round 9: Kateryna Lagno wins four in-a-row, emerges sole leader
GM Kateryna Lagno has won four games in a row to emerge sole leader at FIDE Astana GP 2022. She defeated WGM Zhu Jiner (CHN) in a dicey game where she could have probably lost at some point. IM Polina Shuvalova also averted disaster as her opponent GM Tan Zhongyi (CHN) missed an opportunity to trap her opponent's queen. IM Vaishali suffered her second loss of the event, against the FIDE Women's World Cup 2021 winner, GM Alexandra Kosteniuk. Vaishali will face IM Polina Shuvalova in the penultimate round 10 which starts today at 2:30 p.m. IST. Photo: FIDE/Anna Shtourman
Exciting games
The ninth round had 50% decisive games including a Berlin draw. Nevertheless, the remaining five games were quite exciting. At least two decisive games could have gone their opponent's way, if they had spotted their opportunities at the right time.
Zhongyi - Shuvalova: 1-0
GM Tan Zhongyi (CHN, 2525) could have won her game against IM Polina Shuvalova (2510). The former Women's World Champion needed to spot her opponent's queen getting trapped.
Position after 32...b6
Black had a good position until she played 32...b6. White needed to go 33.f3 Bh5 34.g4 Bg6 35.Bf1 Qd5 36.Bc4 and the queen gets trapped. Well Black would have been forced to give up her bishop to prevent the queen from getting trapped. Eventually, White went for an incorrect exchange of pieces which gave her opponent a decisive advantage.
Jiner - Lagno: 0.5-0.5
WGM Zhu Jiner (CHN, 2464) had one good opportunity against GM Kateryna Lagno (2547).
There was nothing to worry about the c5-knight. White just needed to launch an attack of her own on the kingside. 25.f5 exf5 26.a4 Qa5 27.Nxd7 was certainly the best course of action. Instead, 25.Rc4 helped Black Bxc5 26.Bxc5 Rfc8 27.f5 f6 28.exf6 and now Black can simply take the bishop Rxc5. After 28...Nxf6 29.fxe6 Black got another opportunity Rxc5 this time she did not let it go, won the game in another three moves.
Kosteniuk - Vaishali: 1-0
IM Vaishali R (2449) had the difficult task to find a safe square for her queen against GM Alexandra Kosteniuk (2521).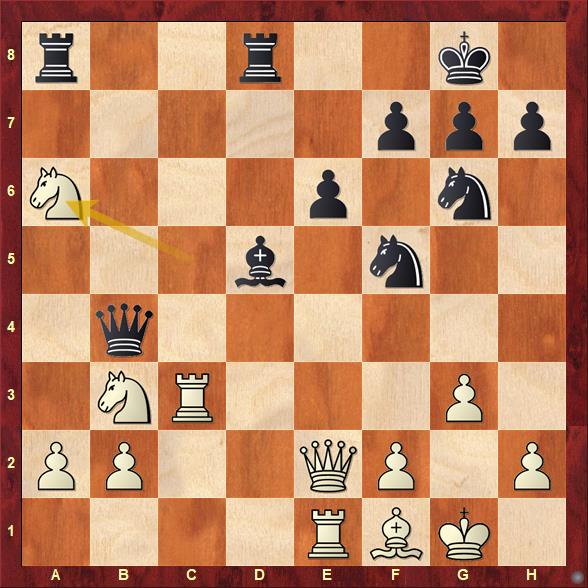 26...Qb6 or Qe7 would have been better than the a4-square. Perhaps Vaishali wanted to remove the a2-pawn, for which she had to pay a heavy price as the position disintegrated.
Replay the live stream
Replay all Round 9 games
Round 9 Results
Bo.
No.
Rtg
Name
Result
Name
Rtg
No.
1
5
2525
GM
Tan Zhongyi
0 - 1
IM
Shuvalova Polina
2510
12
2
6
2358
WGM
Wagner Dinara
½ - ½
IM
Assaubayeva Bibisara
2443
4
3
7
2477
IM
Paehtz Elisabeth
½ - ½
IM
Kashlinskaya Alina
2491
3
4
8
2464
WGM
Zhu Jiner
0 - 1
GM
Lagno Kateryna
2547
2
5
9
2503
GM
Abdumalik Zhansaya
½ - ½
GM
Goryachkina Aleksandra
2579
1
6
10
2521
GM
Kosteniuk Alexandra
1 - 0
IM
Vaishali R
2449
11
Round 10 pairings
Bo.
No.
Rtg
Name
Result
Name
Rtg
No.
1
12
2510
IM
Shuvalova Polina
IM
Vaishali R
2449
11
2
1
2579
GM
Goryachkina Aleksandra
GM
Kosteniuk Alexandra
2521
10
3
2
2547
GM
Lagno Kateryna
GM
Abdumalik Zhansaya
2503
9
4
3
2491
IM
Kashlinskaya Alina
WGM
Zhu Jiner
2464
8
5
4
2443
IM
Assaubayeva Bibisara
IM
Paehtz Elisabeth
2477
7
6
5
2525
GM
Tan Zhongyi
WGM
Wagner Dinara
2358
6
Links
---