Humpy and Harika set to battle at FIDE Women's GP in Munich
The second leg of the FIDE Women's Grand Prix 2022-23 will start in Munich, Germany from Thursday 2nd February 2023. GM Koneru Humpy and GM Harika Dronavalli will be the Indian participants in the fray. Humpy is also the highest rated player in the event. The 12-player round-robin tournament will feature GM Tan Zhongyi, GM Mariya Muzychuk, GM Anna Muzychuk, GM Alexandra Kosteniuk, GM Nana Dzagnidze, GM Zhansaya Abdumalik, IM Alina Kashlinskaya, WGM Zhu Jiner, GM Elisabeth Paehtz and WGM Dinara Wagner along with the previously mentioned Humpy and Harika. In the first round, same federation players are paired against each other which means Humpy will face Harika. Round 1 starts today from 3 p.m. local time, 7:30 p.m. IST. Photo: FIDE/David Llada
Munich GP starts today
The second event of the FIDE Women's Grand Prix 2022-23 series starts today in Munich, Germany. Twelve top women of the world will fight for the first prize €15000 and valuable GP points which adds up to the direct qualification to FIDE Women's Candidates 2023-24. The total prize fund of the tournament is €80000. The current top three leaders of the GP 2022-23 are not playing in this event as each player can play in three out of the four GP events.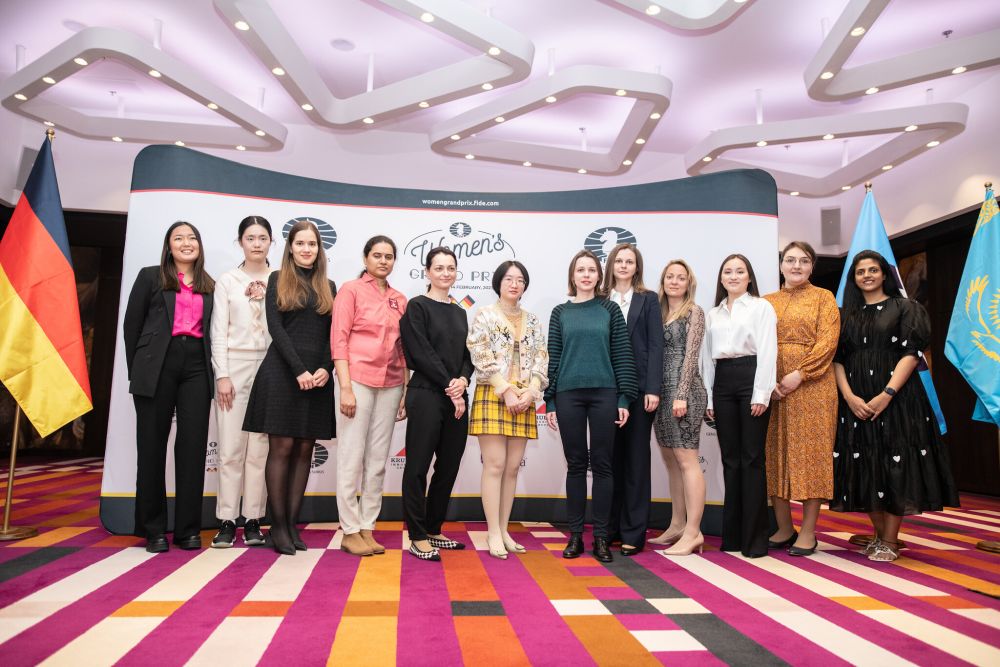 Participants:
1. GM Koneru Humpy (2572)
2. GM Tan Zhongyi (CHN, 2530)
3. GM Mariya Muzychuk (UKR, 2523)
4. GM Anna Muzychuk (UKR, 2522)
5. GM Alexandra Kosteniuk (2519)
6. GM Nana Dzagnidze (GEO, 2517)
7. GM Harika Dronavalli (2507)
8. GM Zhansaya Abdumalik (KAZ, 2496)
9. IM Alina Kashlinskaya (POL, 2491)
10. WGM Zhu Jiner (CHN, 2486)
11. GM Elisabeth Paehtz (GER, 2464)
12. WGM Dinara Wagner (GER, 2413)
The tournament's principal sponsor is the Krulich Immobilien Group, a real estate company based in Munich with branches in Berlin, Dresden, Leipzig and Zwickau. Roman Krulich, a former Munich Youth Champion, has been a long-time supporter and sponsor of chess events. A strong 2200+ club player in his own right, he represented Monaco in the 2008 Dresden Chess Olympiad. As the founder of the Munich Chess Academie and the Munich Chess Foundation, he supports the development of chess in schools, chess for refugees and chess for the elderly.
Pairings
Round 1 starts today at 3 p.m. local time, 7:30 p.m. IST. The tournament will go on till 13th February 2023. Every day the game starts at 3 p.m., except the last round which starts at 1 p.m. local time. Tuesday 7th February is a rest day.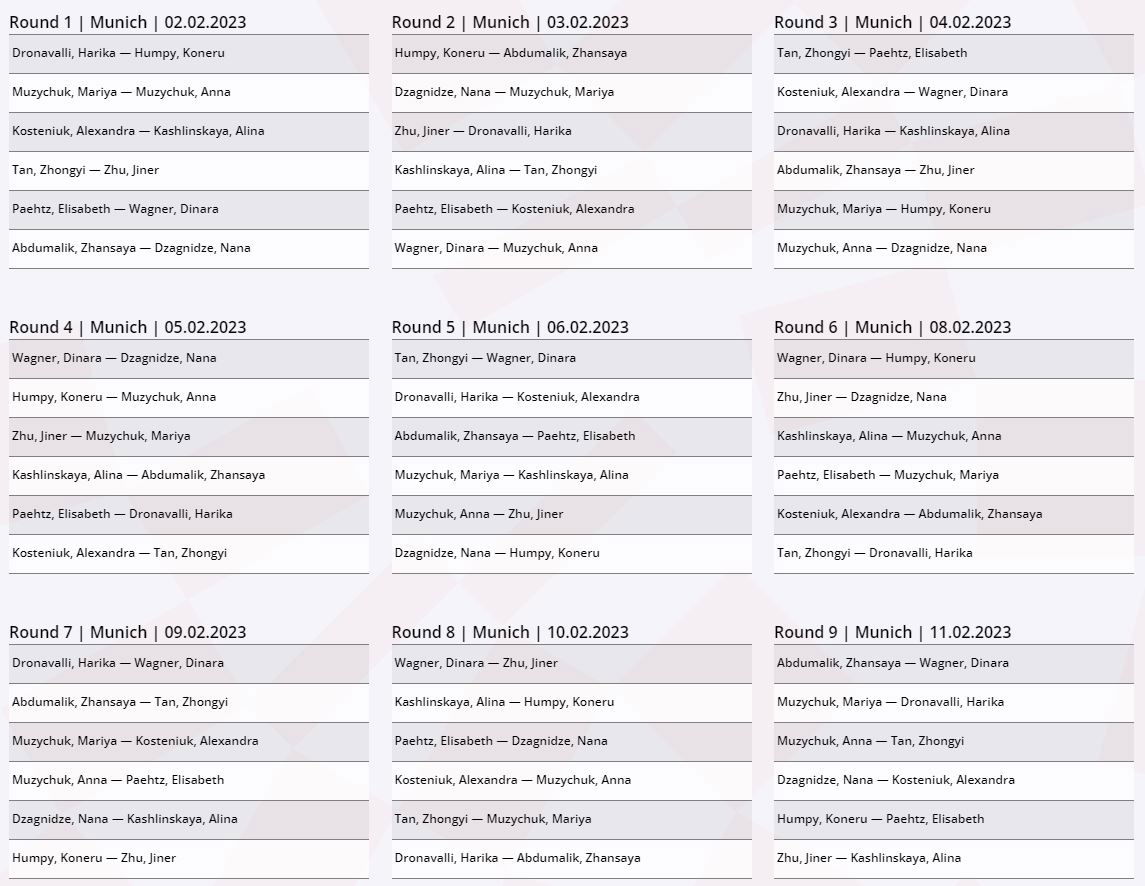 GP standings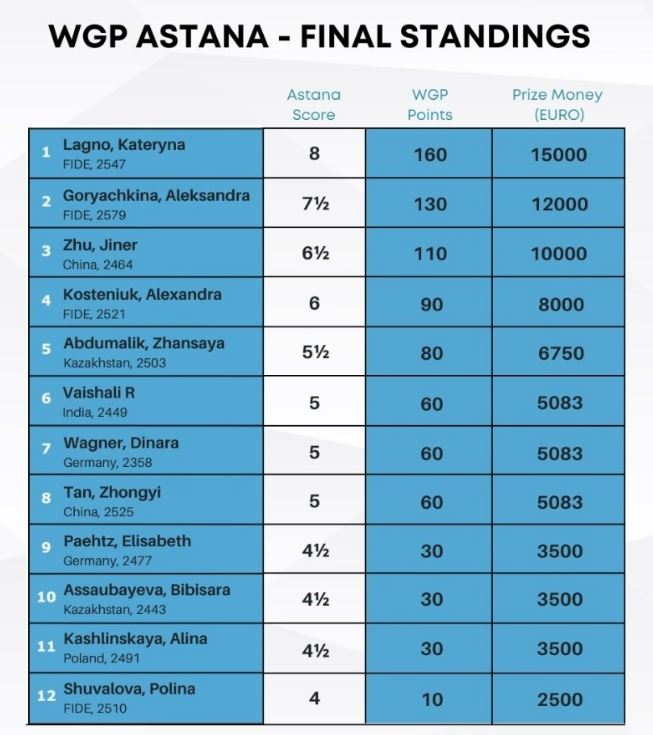 Links
---