Astana GP Round 2: Four decisive games
by Shahid Ahmed - 20/09/2022
The second round of FIDE Astana GP 2022 had four decisive games. IM Polina Shuvalova, WGM Zhu Jiner (CHN), IM Bibisara Assaubayeva (KAZ), IM Alina Kashlinskaya (POL) scored wins over IM Elisabeth Paehtz (GER), WGM Dinara Wagner (GER), GM Alexandra Kosteniuk and IM Vaishali R. Vaishali had a complex game against the Poland no.1 woman. She need to take some chances before going on full defense mode. Eventually her defense succumbed to her opponent's onslaught. She will face the reigning World Blitz 2021 Women champion, IM Bibisara Assaubayeva in Round 3. It starts today at 2:30 p.m. IST. Photo: FIDE/Anna Shtourman
Reigning World Rapid champion loses to World Blitz champion
Out of the four decisive games, the biggest win was certainly scored by the 18-year-old World Blitz Women 2021 champion, IM Bibisara Assaubayeva over the reigning World Rapid Women 2021 champion, GM Alexandra Kosteniuk. The latter refused a threefold repetition, which resulted her in a loss, shortly after.
Kosteniuk - Bibisara: 0-1
World Rapid 2021 Women's champion, GM Alexandra Kosteniuk (2521) lost to World Blitz 2021 Women's champion, IM Bibisara Assaubayeva (KAZ, 2443) after she declined to repeat moves and accept a draw.
Sometimes taking a draw by repeating moves is the best choice. An overambitious approach might prove to be a costly one. White could have played 31.Qc8+ and Black would have no choice but accept the threefold repetition. Instead, she opted for 31.Qg3 Qd2 32.Qf2 Qc3 and suddenly White's king is in grave danger. There is no perpetual check left for White. 33.Nd6 Ng4 34.Ne4 Qc7 threatening Qxh2+ as well as exploiting White's back rank weakness. 35.Qb6 Qxb6+ and White resigned.
Vaishali - Kashlinskaya: 0-1
Poland no.1 woman, IM Alina Kashlinskaya's (2491) almost backfired against IM Vaishali R (2449).
White had to go for 20.gxf7 Rxf7 21.Qxg4 Qxd2 22.f4 to expose the king. 20.f3 Kxg6 21.fxg4 e4 kept White in the game. However, she had to put up a staunch defense to survive. It was certainly difficult, eventually White's defense fell apart and Black won the game.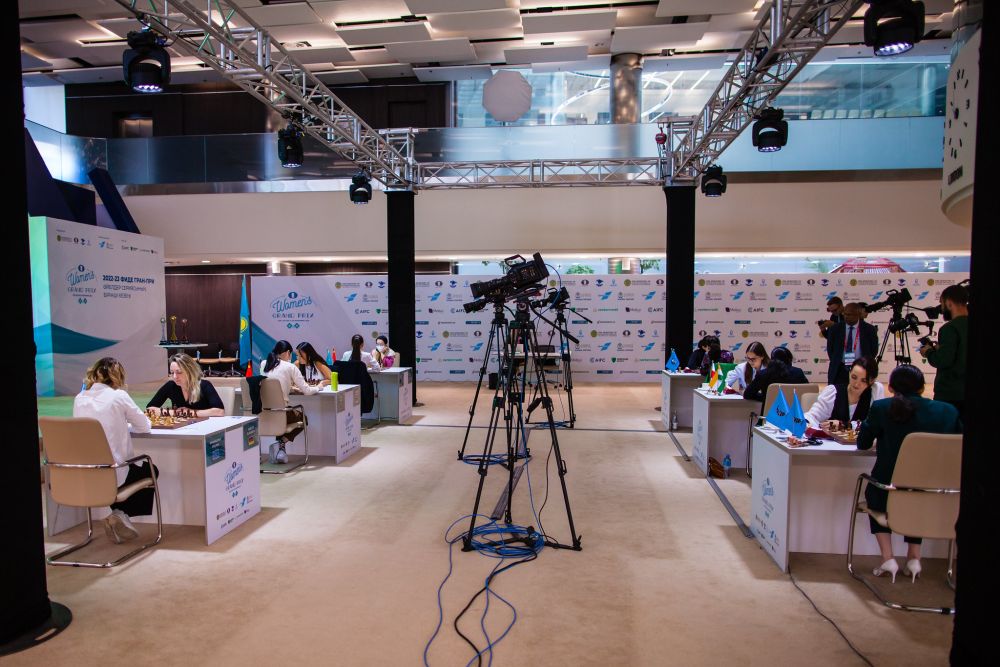 Replay the live stream
Replay all Round 2 games
Round 2 Results
Bo.
No.
Rtg
Name
Result
Name
Rtg
No.
1
12
2510
IM
Shuvalova Polina
1 - 0
IM
Paehtz Elisabeth
2477
7
2
8
2464
WGM
Zhu Jiner
1 - 0
WGM
Wagner Dinara
2358
6
3
9
2503
GM
Abdumalik Zhansaya
½ - ½
GM
Tan Zhongyi
2525
5
4
10
2521
GM
Kosteniuk Alexandra
0 - 1
IM
Assaubayeva Bibisara
2443
4
5
11
2449
IM
Vaishali R
0 - 1
IM
Kashlinskaya Alina
2491
3
6
1
2579
GM
Goryachkina Aleksandra
½ - ½
GM
Lagno Kateryna
2547
2
Round 3 pairings
Bo.
No.
Rtg
Name
Result
Name
Rtg
No.
1
2
2547
GM
Lagno Kateryna
IM
Shuvalova Polina
2510
12
2
3
2491
IM
Kashlinskaya Alina
GM
Goryachkina Aleksandra
2579
1
3
4
2443
IM
Assaubayeva Bibisara
IM
Vaishali R
2449
11
4
5
2525
GM
Tan Zhongyi
GM
Kosteniuk Alexandra
2521
10
5
6
2358
WGM
Wagner Dinara
GM
Abdumalik Zhansaya
2503
9
6
7
2477
IM
Paehtz Elisabeth
WGM
Zhu Jiner
2464
8
Links
---