Munich GP Round 4: Humpy wins, Kosteniuk increases her lead
Koneru Humpy scored her first win of Monaco GP 2023 in the fourth round against Anna Muzychuk. The World no.3 sacrificed a pawn as part of her preparation. Anna took it correctly. However, later she had to spot a difficult tactic to keep things in balance. She didn't and the India no.1 ended up seizing her advantage. Alexandra Kosteniuk won an interesting battle against Tan Zhongyi. With this win, she moved to 4/4. GM Mariya Muzychuk also scored her first victory of the event, against WGM Zhu Jiner. Mariya, GM Nana Dzagnidze and Humpy are trailing the leader by 1.5 points at 2.5/4 each. Round 5 starts today at 7:30 p.m. IST. Photo: FIDE/David Llada
50% decisive games
Humpy - Anna: 1-0
GM Koneru Humpy (2572) offered her b2-pawn early in the game which her opponent GM Anna Muzychuk (UKR, 2522) took 13...Nxb2. It was part of her preparation and according to her, Black should have traded the queens and gone a5 instead of 15...Nc4.
After 16.Nxc4 dxc4 17.Bxc4 Qxb3 18.axb3 Be6 19.Nb5 Nd5 20.Nxa7 we arrive at the above position. Here Black needed to find the precise tactical continuation to keep things in balance. The correct way was 20...Rxc4! 21.Rxc4 Nxf4 22.Rc7 Nd3 and things are balanced. 21.bxc4 Nxf4 22.exf4 Bxd4 and Black is doing okay. However, a direct 20...Rxa7 makes a lot of difference 21.Rxa7 Nxf4 22.Rca1 and Humpy felt this position is significantly better for White which is certainly true. Despite Black having two minor pieces for a rook, defending the position practically is not an easy task.
Kosteniuk - Tan Zhongyi: 1-0
GM Alexandra Kosteniuk (2519) described her game to be 'played creatively from the opening' against GM Tan Zhongyi (2530). She played a lot of games in the 3.c3 d5 line and did not want to repeat them. The Women's World Cup winner decided to go for something she didn't analyze before. The game turned volatile and exciting in a hurry. Black seemed better for the most of the game, yet there were always some threats lingering on the board.
23...Bxd2 would have been good for Black. However, 23...a5 completely shifted things in White's favor 24.Na3 and now Black is losing some critical pawns on the queenside and there is no way to prevent it. 24...Ka6 a desperate attempt to find some semblance 25.Rxb5 anyway crashes through Rxc3 26.dxc3 Bc1 27.Rxc4 Qxc4 28.Rxa5+! Kxa5 29.Nxc4 Kb5 30.a4+ Kc5 31.Na5 and White won the game in the next few moves.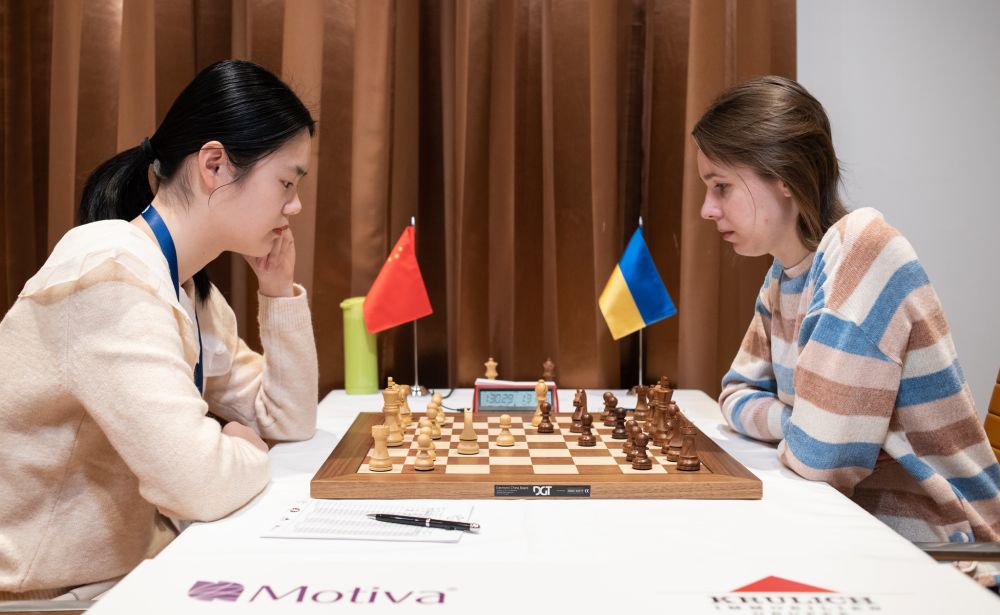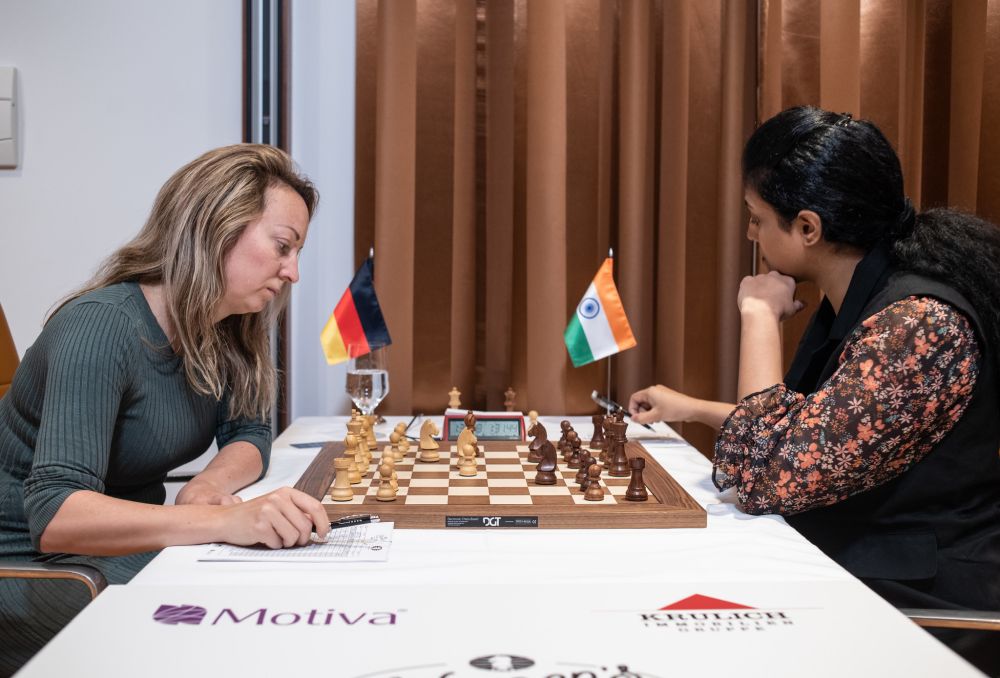 Replay the live stream
Replay all Round 4 games
Round 4 Results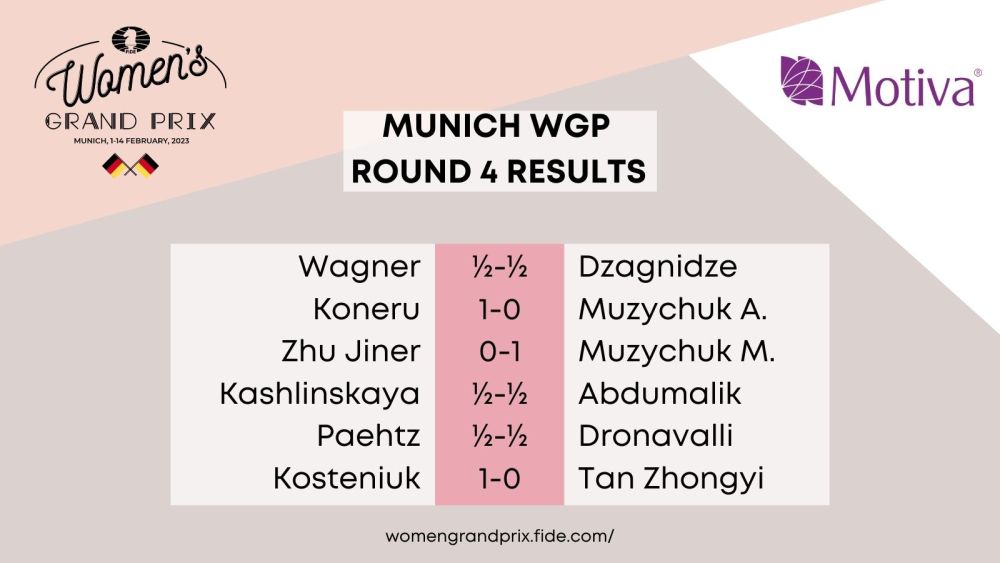 Standings after Round 4
Round 5 pairings
Links
---