World Cup 2019 pairings revealed, Vishy Anand gives the event a miss
The pairings for the World Cup 2019 have been revealed. The 128 player knock out event provides nearly a month of action packed chess which will result in two finalists reaching the Candidates tournament in 2020. Surprisingly Vishy Anand has refrained from taking part in the event. We ask Vishy about this decision. As for other ten Indians, three of them - Harikrishna, Vidit and Adhiban will be facing lower rated opponents in round one, while Ganguly, Sethuraman, S.L. Narayanan, Abhijeet Gupta, Karthikeyan Murali, Nihal Sarin and Aravindh Chithambaram will all face opponents rated higher than them. Interesting pairings for Indians include Aravindh taking on English legend Michael Adams, Ganguly up against Russian upcoming talent Fedoseev and Nihal Sarin making his debut against Peruvian no.1 Cori Jorge. In this article we let you know about not just the first round pairings but also the future opponents of these ten Indians, if they progress to the second round and beyond.
The pairings of World Cup 2019 have been revealed. Vishy Anand has decided to give the event a miss. Speaking to ChessBase India, Anand said, "I just thought I would play the Swiss instead." The FIDE Grand Swiss begins just a few days after the World Cup 2019 and Vishy deems it important to conserve his energy for the second event. Although there are two spots for the Candidates from the World Cup 2019 and just one from the FIDE Grand Swiss, the swiss format is slightly less unpredictable than the knock format of the World Cup and Vishy wants to be completely energized for that one.
In the first quarter (left top) we see we have three players Harikrishna, Ganguly and Karthikeyan. For Harikrishna World Cup 2019, seems a lot like World Cup 2017! He played the same opponent Yuri Gonzalez Vidal in round 1 in Tbilisi and will play the same guy in Khanty Mansiysk. While Sethuraman right below him playing Ponomariov in 2017, this time it is Ganguly who is playing Fedoseev! Not the best pairings for Hari and Ganguly who are friends, but for Harikrishna this is overall a fine opportunity to reach the Candidates. Let's assume he beats Gonzalez and Ganguly/Fedoseev, he will be facing most probably Wojtaszek followed by Ding Liren! Not at all an easy quarter to be in. For Karthikeyan Murali who faced Vallejo Pons in 2017, this year too he has a higher rated opponent in the form of Inarkiev. If he wins this he will most probably face Bu Xiangzhi before taking on Grischuk.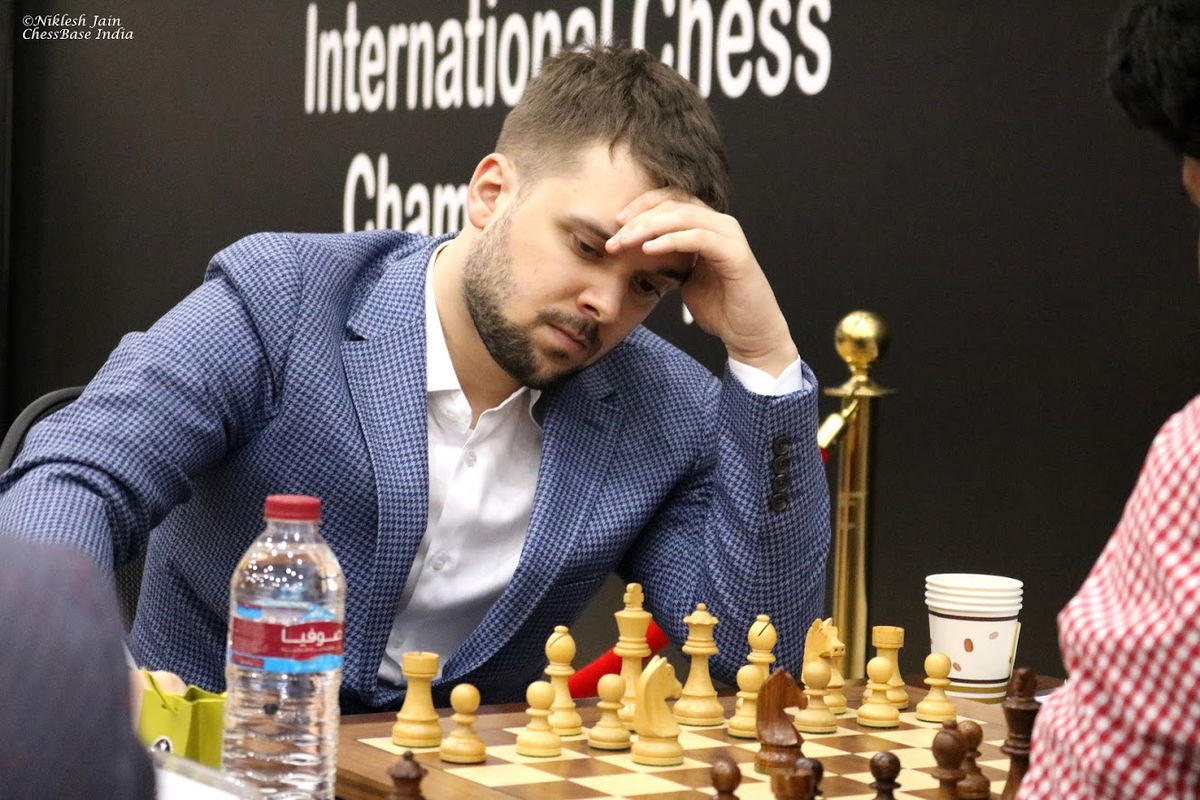 Moving on top the top right quarter, we have Sethuraman who takes on Tamir Nabaty. Sethuraman who dismantled strong opponents like Ponomariov and Harikrishna in rounds 1 and 2 in 2017 surely has his chances agains the higher rated Nabaty. However, his next opponent is by no means an easy one - the young Polish no.1 Jan Krzysztof Duda. If he manages to beat him then he would faced Andreikin before taking on Anish Giri once again, the top seeded player in his quarter.
15-year-old Nihal Sarin, who is making his World Cup debut has Cori Jorge as his opponent. If Nihal manages to beat the Peruvian no. 1 he will face the winner of Shankland versus Safarli. Although all opponents are higher rated than Nihal, the fact that he recently played a rapid match against Ivanchuk in Leon will surely help him to fight it out at the World Cup 2019.
Vidit Gujrathi takes on Alan Pichot and Vidit is surely the favourite here. If Vidit manages to win this he will face the winner of Rakhmanov and Grandelius Nils. A victory against them would mean a third round encounter with the fourth seed of the event Wesley So. This one will be the real test for the Indian GM. If he manages to pull through this then he reaches the Quarter Finals. Not at all easy!
S.L. Narayanan will take on Anton Guijarro. This is a well balanced match-up and the winner of it will most probably be up against the top Chinese GM Wei Yi. If Narayanan does win two matches and so does Adhiban, then they would clash in the third round.
While the left quarter is filled with four Indian players, the right quarter has just one Indian - Abhijeet Gupta. Abhijeet is a resourceful GM and thrives under pressure situations. The World cup format is quite an ideal one for him. He will be facing the strong Ukrainian GM Anton Korobov in round one and if he does manage to win it, he will most likely be up against Le Quang Liem. For Abhijeet the Artemiev test awaits in round three if he wins the first two!
| | | | |
| --- | --- | --- | --- |
| Round 1 pairings | | | |
| Harikrishna | 2738 | Yuri Gonzalez | 2560 |
| Vidit Gujrathi | 2705 | Alan Pichot | 2596 |
| Adhiban | 2665 | Eduardo Iturrizaga | 2635 |
| Surya Ganguly | 2630 | Vladimir Fedoseev | 2671 |
| Sethuraman | 2630 | Tamir Nabaty | 2673 |
| S.L. Narayanan | 2618 | Anton Guijarro | 2678 |
| Abhijeet Gupta | 2616 | Anton Korobov | 2679 |
| Karthikeyan Murali | 2612 | Ernesto Inarkiev | 2682 |
| Nihal Sarin | 2610 | Cori Jorge | 2686 |
| Aravindh Chithambaram | 2607 | Michael Adams | 2690 |
How many Indians do you think will make it to round two of the World cup 2019? Let us know your thoughts in the comments section below.
Number of players from different countries at World Cup 2019
| | |
| --- | --- |
| Russia | 28 |
| India | 10 |
| China | 7 |
| USA | 6 |
| Azerbaijan | 5 |
| Armenia | 4 |
| Iran | 4 |
| Poland | 4 |
Format
The tournament is a 7-round knock-out event. The matches from round 1 to round 6 consist of two classical games with time control of 90 minutes per 40 moves plus 30 minutes for the rest of the game, with an increment of 30 seconds per move. The finals will consist of four classical games. If the score is tied after the classical games, rapid and, if necessary, blitz tie breaks are played the next day. Two games are played with time control of 25 minutes per game plus 10 seconds increment. In the case of a tie, they are followed by two games with time control of 10 minutes per game plus 10 seconds increment. If the score is still tied, two blitz games follow (5 minutes plus 3 seconds increment). Finally, a sudden death game is played. The player who wins the drawing of lots may choose the colour. White has 5 minutes per game and Black has 4 minutes, with an increment of 2 seconds per move starting from move 61. White needs a win to advance to the next round. The two top finishers who have not secured a qualification for the Candidates Tournament get a spot in that tournament.
Schedule
Round 1: September 10th – September 12th
Round 2: September 13th – September 15th
Round 3: September 16th – September 18th
Rest day: September 19th
Round 4: September 20th – September 22nd
Round 5: September 23rd – September 25th
Round 6: September 26th – September 28th
Rest day: September 29th
Final and play-off for third place: September 30th – October 4th
Prize money (in US $):
Round 1
64 × 6,000
384,000
Round 2
32 × 10,000
320,000
Round 3
16 × 16,000
256,000
Round 4
8 × 25,000
200,000
Round 5
4 × 35,000
140,000
4-th place
50,000
50,000
3-rd place
60,000
60,000
Runner-up
80,000
80,000
Winner
110,000
110,000
Total US$ - 1,600,000
---