World Cup 2019 Rd.4.3: The epic clash between two future greats - Xiong and Duda
The fourth round of the World Cup 2019 saw most of the favourites progress to the fifth round. Radjabov beating Mamedyarov was a small upset, but apart from that Ding Liren, Aronian, Grischuk all advanced to the quarter finals. The most exciting duel was between 18-year-old Jeffery Xiong and 21-year-old Polish GM Jan Krzsyztof Duda. It lasted for eight games and could have been just anybody's match. In the end it was Duda who had to go back home. Xiong held his nerves and won the most important match of his chess career. This entire match has been analyzed in this article In the quarter finals Xiong meets Radjabov, MVL vs Aronian, Ding Liren vs Grischuk and Yu Yangyi takes on Vitiuigov. Round 4.3 report.
Jeffery Xiong from USA is born in 2000 and is just 18 years old. Jan Krzysztof Duda from Poland is born in 1998 and is 21 years old. Xiong has already climbed to an Elo of 2716 and is currently world no.32, while Duda is closing in on the absolute elite with an Elo of 2747. There is absolutely no doubt that both of them will be fighting for the highest title in the world of chess in the years to come. At the World Cup 2019, we got a glimpse of this when in round four Xiong and Duda were paired against each other. It was a match filled with tremendous amount of fight, just one draw in eight games. In the end it was the younger Xiong who came out on top!

Classical time control:
In the first classical game of the match, Duda sacrificed an exchange and the game was quite balanced. At some point Xiong went wrong with the move ...g5
Duda vs Xiong, classical game 1
Duda was alert for his chance and made the move e5!! A powerful strike which creates a passed d-pawn. Combined with the knight on e6 and the queen swooping in on a7, it was all over. Duda took a 1-0 lead in the match.
In game two Duda just needed a draw to advance to the fifth round, but Xiong had some other intentions. He played 1.e4 e5 2.Bc4 to avoid the Petroff and after a few moves of the opening, Xiong already had a close to winning position:
Xiong vs Duda, Classical game two
25' + 10" Tiebreaks
In the first game of the 25 minutes + 10 sec increment match Xiong had the white pieces. Duda played the Petroff and played it quite passively.
Xiong vs Duda, 25+10 game 1
The onus was now on Duda. He had to win his white game. When the situation is dire, what you need are out of the box solutions. Guess what Duda played?
Duda vs Xiong, 25+10 game 2
You might remember Tony Miles beating World Champion Anatoly Karpov with 1.e4 a6!? Well if 1...a6 is fine, then definitely 1.a3 should be playable! Duda managed to get the position he likes - a complex game with unlimited possibilities and managed to outplay Xiong convincingly.
10' + 10" Tiebreaks
Duda vs Xiong, 25+10 Game 1
This time it was Xiong who was in a must win situation. But he had the solace of white pieces. In the match White players had not lost a single game until now, and this trend continued.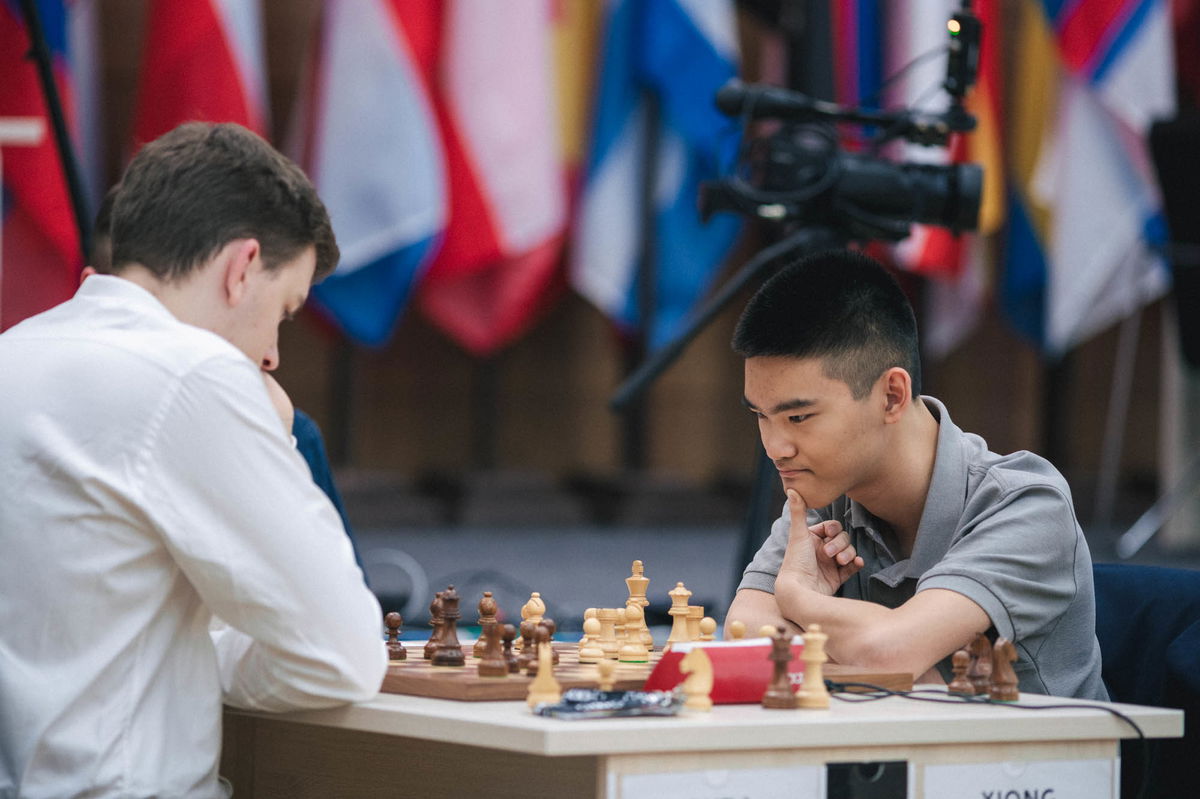 5'+3" Tiebreaks
The first game of 5+3 blitz broke the trend of the entire match when Duda with the white pieces was unable to win his game. He settled for a draw in a slightly inferior position.
After seven rounds of heavy duty chess, Xiong got his opening!
Xiong vs Duda, 5+3 game two
Here Black can go Qc5+ and after Be3 Rd1 Kf2 Qf8+ and save himself. Instead Duda played directly Rd1+. After Kf2 he was already lost!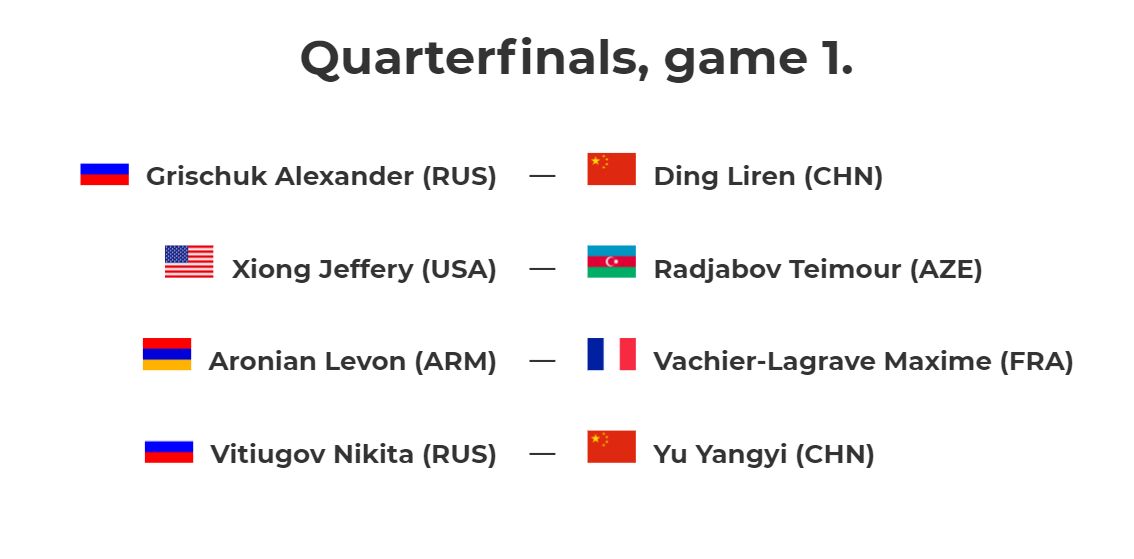 ---