World Cup Final - An epic battle between Ding and Radjabov
The finals of the ongoing World Cup 2019 in Khanty-Mansiysk has culminated into an epic battle between the current World no.3 Ding Liren and the Azerbaijani phenom Teimour Radjabov. Their first encounter ended in a draw but in the second round the Chinese prodigy dealt the first blow with the white pieces and clinched the edge in their four games match up. It was evidently an uphill task for Radjabov to overcome a setback like this in such a high pressure situation but the 32-year-old Azerbaijani surprised the chess world by defying all odds and leveling the score with an emphatic victory in the very next round. The fate of the match thus hangs on the fourth and final encounter and as it stands, only a win can determine the champion!
Game 1: A solid start by Ding Liren
The unique thing about this encounter was the fact that upto move 26 both players exactly repeated their game from the 6th Gashimov Memorial in Shamkir that took place during April this year. An equal rook-pawn ending was reached out of the Marshall Opening of the Ruy Lopez and the players agreed to split the point after thirty-third move.
Game 2: The Chinese dashes ahead!
The game started off with the English Opening and the chinese took control of the game right from the word go. A double-edged position was reached by move 16 when both players castled opposite sides but it was Ding Liren who initiated the faster flank attack. Teimour missed his footing defending the position and the game was finished off in a mere 40 moves.
Game 3: The Azerbaijani strikes back!
Teimour Radjabov took the thrill of the World Cup finals to the next level as he made a stupendous come back in the third game to beat Ding Liren. With this victory the Azerbaijani star has also entered the top ten of the live rating list overtaking India's Vishy Anand. The game opened with the Marshall variation of the Ruy Lopez just as in game 1 and repeated two of Ding's own recent games before hitting the uncharted territory. The chinese made a slip on move 29 which allowed Radjabov to enter a superior ending with an extra pawn. The Azerbaijani showed some impeccable technique from here on to bring home the full point.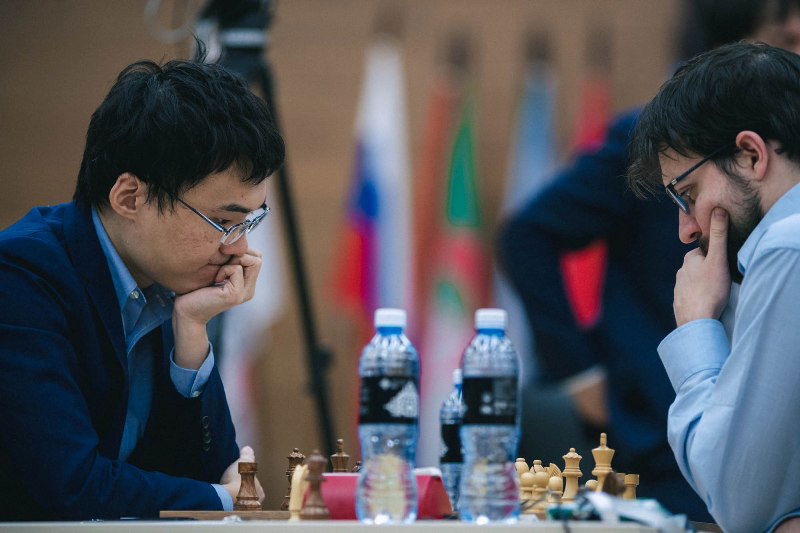 ---