World Cup 2019 Rd.4.1: Can Wesley So script a comeback?
by Sagar Shah - 21/09/2019
Even if all of the ten Indian players are eliminated, the World Cup 2019 remains to be one of the most exciting events with 16 players in the fray going into round four. The reason? Well, you usually see guys like Ding Liren, MVL, Svilder, Wesley So, Nepo, Aronian, Mamedyarov, Grischuk in super tournaments fighting it out against each other. But here you also have players like Alekseenko, Duda, Xiong, Vitiugov, Le Quang Liem, who are quite strong, but do not get a chance to fight against these elite players in normal super tournaments. In round four we saw quite a few interesting match-ups and some of them didn't go as expected. Wesley So lost to Vitiugov and young Alekseenko managed to hold Ding Liren to a draw with black!
e5! That's the right way! fxe5 is not possible. And after dxe5 White queen swooped in with Qa7 and it was all over! The knight, queen and the d-pawn form a deadly trio.
MVL vs Svidler
You can stop the rook from coming to g6 by playing Bd6. But that simply loses the game to Qg6+. Hence MVL had the very strong f5! and after Qxf5, he went Bd6. The point being that the bishop can now sit back safely on g3.
Grischuk vs Dominguez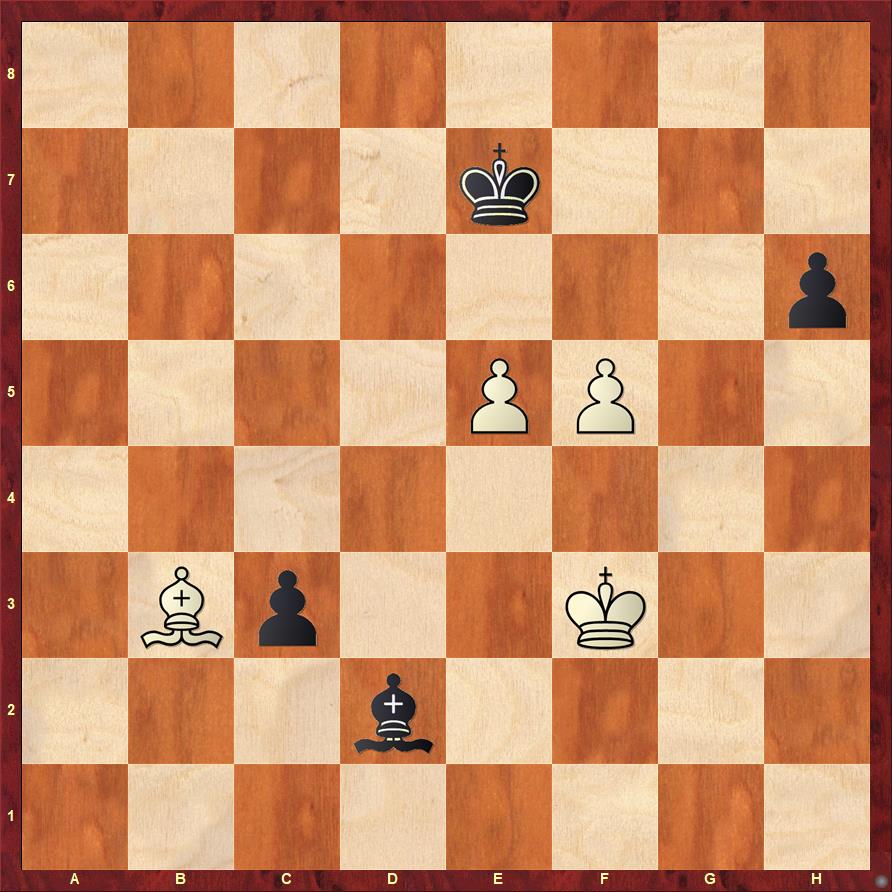 ---
Related news
:
तैमूर रादजाबोव बने विश्व कप विजेता ,डिंग उपविजेता

@ 05/10/2019 by Niklesh Jain (hi)
कौन बनेगा विश्व कप विजेता ? फैसला अब टाईब्रेक से !

@ 03/10/2019 by Niklesh Jain (hi)
World Cup Final - An epic battle between Ding and Radjabov

@ 03/10/2019 by Satanick Mukhuty (en)
विश्व कप फ़ाइनल M3: तैमूर का पलटवार:हिसाब बराबर

@ 02/10/2019 by Niklesh Jain (hi)
विश्व कप फ़ाइनल M2 :डिंग लीरेन की बड़ी जीत, बनाई बढ़त

@ 01/10/2019 by Niklesh Jain (hi)
फीडे विश्व कप फ़ाइनल M1:ड्रॉ से हुई शुरुआत

@ 30/09/2019 by Niklesh Jain (hi)
डिंग लीरेन का जलवा कायम :पहुंचे विश्व कप फ़ाइनल

@ 28/09/2019 by Niklesh Jain (hi)
जोरदार जीत के साथ रादजाबोव विश्व कप फ़ाइनल में

@ 27/09/2019 by Niklesh Jain (hi)
So near yet so far - Nikita Vitiugov at the World Cup 2019

@ 27/09/2019 by Sagar Shah (en)
विश्व कप सेमीफ़ाइनल : पहला दिन : नहीं आया परिणाम

@ 26/09/2019 by Niklesh Jain (hi)
फीडे विश्व कप :अरोनियन की विदाई , मेक्सिम - यू यांगी पहुंचे सेमीफ़ाइनल

@ 25/09/2019 by Niklesh Jain (hi)
तैमूर और डिंग ने बनाई विश्व कप सेमी फ़ाइनल में जगह

@ 24/09/2019 by Niklesh Jain (hi)
Have the engines led us to lose our respect for the elite GMs?

@ 24/09/2019 by Sagar Shah (en)
World Cup 2019 Rd.4.3: The epic clash between two future greats - Xiong and Duda

@ 23/09/2019 by Sagar Shah (en)
World Cup 2019 Rd.4.2: Vitiugov, Yangyi and MVL advance to the Quarter-finals

@ 22/09/2019 by Shahid Ahmed (en)
World Cup 2019 Rd.3.2: The end of India's journey at Khanty Mansiysk

@ 18/09/2019 by Sagar Shah (en)
फीडे विश्व कप - भारतीय चुनौती खत्म, हौसला बाकी है !

@ 17/09/2019 by Niklesh Jain (hi)
World Cup 2019 Round 3.1: Harikrishna and Vidit both lose their games

@ 17/09/2019 by Sagar Shah (en)
फीडे विश्व कप : विदित-हरि हारे,अब जीतना ही उपाय

@ 16/09/2019 by Niklesh Jain (hi)
फीडे विश्व कप - भारत को झटका :निहाल अधिबन बाहर

@ 15/09/2019 by Niklesh Jain (hi)
World Cup 2019 Rd.2 tiebreaks: Nihal Sarin's dream run comes to an end

@ 15/09/2019 by Sagar Shah (en)
World Cup 2019 Rd. 2.2: Harikrishna and Vidit advance, Nihal's blackout

@ 15/09/2019 by Sagar Shah (en)
विश्व कप : विदित हरि आगे बढ़े , निहाल-अधिबन के सामने अब टाईब्रेक की बाधा ,अरविंद हुए बाहर

@ 14/09/2019 by Niklesh Jain (hi)
World Cup 2019 Rd.2.1: Nihal and Harikrishna score sparkling wins

@ 13/09/2019 by Sagar Shah (en)
फीडे विश्व कप : निहाल - हरि नें लगाई जीत की हेट्रिक

@ 13/09/2019 by Niklesh Jain (hi)
The Human AlphaZero!

@ 13/09/2019 by Ashwin Subramanian (en)
World Cup 2019 Rd.1 tiebreaks: Aravindh beats Michael Adams

@ 13/09/2019 by Sagar Shah (en)
विश्व कप राउंड 1 टाईब्रेकर - बस अरविंद बचे अकेले

@ 12/09/2019 by Niklesh Jain (hi)
World Cup 2019 Rd 1.2: The fighters who never give up!

@ 12/09/2019 by Sagar Shah (en)
विश्व कप - निहाल, हरि, विदित अधिबन दूसरे राउंड में

@ 11/09/2019 by Niklesh Jain (hi)
World Cup 2019 Rd 1.1: Nihal Sarin makes a grand debut

@ 11/09/2019 by Sagar Shah (en)
विश्व कप - हरिकृष्णा,अधिबन, निहाल का जीत से आगाज

@ 10/09/2019 by Niklesh Jain (hi)
Live Games of World Cup 2019

@ 10/09/2019 by ChessBase India (en)
फीडे विश्व कप - महासंग्राम हो गया शुरू : देखे LIVE

@ 10/09/2019 by Niklesh Jain (hi)
Predict the results of Indians at World Cup 2019 and win an autographed DVD by Vladimir Kramnik

@ 10/09/2019 by Sagar Shah (en)
World Cup 2019 pairings revealed, Vishy Anand gives the event a miss

@ 11/08/2019 by Sagar Shah (en)
फीडे विश्व कप में दिखेगा भारत के 11 मास्टर्स का दम

@ 10/08/2019 by Niklesh Jain (hi)
11 Indians have qualified for the World Cup 2019

@ 07/08/2019 by Sagar Shah (en)