World Cup 2019 Rd.1 tiebreaks: Aravindh beats Michael Adams
The round one tiebreaks at the World Cup 2019 was an intense one. Due to the shorter format of the games, there were quite a few errors. Sethuraman and S.L. Narayanan were the first ones to get knocked out as they lost in the 25'+10" section against Nabaty and David Anton respectively. Ganguly and Abhijeet Gupta gave a tough fight to their opponents, but when the 10'+10" section had ended both of them had to bite the dust against Fedoseev and Korobov respectively. There was only one Indian who managed to hang in there right until the very end - Aravindh Chithambaram. He played a marathon 8-game match with world class GM Michael Adams and came out on top with a score of 4.5-3.5. Check out the match with the key moments in our report.
I first saw Aravindh in 2008. The youngster was just 9 years old. Over the years I have seen him grow from a young talent rated around 2000 to a world class grandmaster, now solidly rated over 2600. There are many qualities of Aravindh that I could mention here, but let me quote the most recent one. I went to the Commonwealth Championships in July 2019 as a journalist. When I met Aravindh, I asked him if he would like to give me an interview about how his tournament had gone until that point. "Bhaiya (brother), we will do the interview after the last round," said Aravindh. I smiled and wished him luck. I knew that on the last day he would simply run away! Aravindh just didn't like facing the camera. But on the last day after he had won the silver medal, Aravindh came to the press room before the closing ceremony. "Bhaiya, let's do the interview!" I was extremely surprised. I quickly got hold of my camera and microphone before Aravindh would change his mind. This is how it went:
As Aravindh went away I realized why he had come on his own for the interview. Of course, he wanted to keep his word, but there was one more reason. In the past, whenever Aravindh faced the camera he would be very nervous. Well, giving the interview was not something he would have liked, but he realized that the only way to face his demons was by actually facing the camera! After the interview ended we rushed to the prize ceremony and I told Aravindh we should be doing this at the end of every event he plays! "We will see!" was his reply. This is the thing about Aravindh - he tries to learn on the go and and he tries to fix his weaknesses. Let's have a look at how he applied this at the World Cup 2019.
In the first game of the match Aravindh decided to go all out against his opponent. He went for the f3 line in the Nimzo Indian and tried to play in the most aggressive manner. Michael Adams, being Michael Adams, a world class positional player, tackled Aravindh's premature attack in a precise way. Before you knew it, Aravindh was totally lost.
Aravindh vs Michael Adams, Game 1
This was a big escape for Aravindh. He had just snatched the draw from the jaws of defeat! But it is one thing to get a rude awakening and quite another to change yourself, so that you don't get another! Many players are unable to adjust themselves so quickly, but for Aravindh is not a problem. He quickly realized that these premature attacks are not going to work against an experienced player like Michael Adams. He had to be patient. He had to wait for his chance. And from there the long siege began. The second classical game witnessed the Italian and was a quick draw.
25' + 10" rapid
The rapid tiebreaks began with the Open Ruy Lopez. Aravindh with the black pieces was well versed with theory and drew the game with absolute ease.
In the second game we saw the Queen's Gambit Declined line which looks aggressive on the surface, but Adams has spent years upholding Black's position in it.
Aravindh vs Adams, 25'+10" game 2
10'+10" Rapid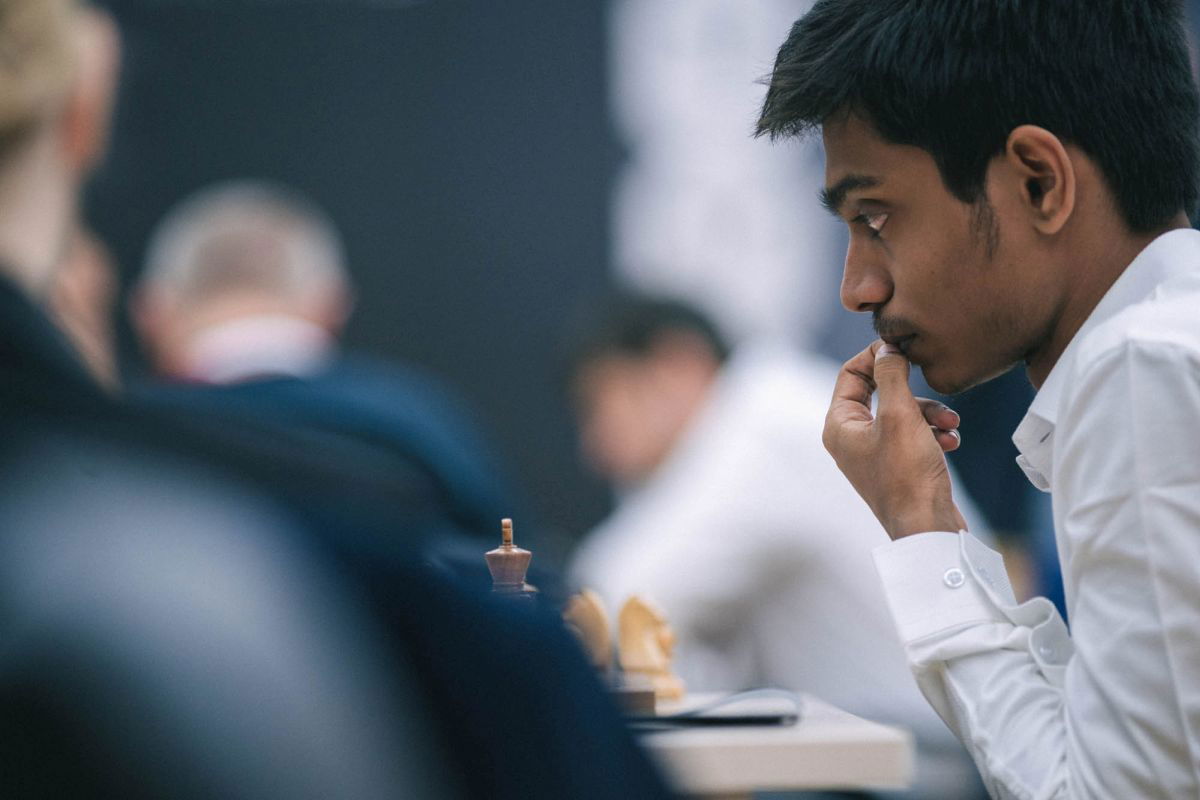 It was once again the same line in the QGD. But this time Aravindh was slightly more aggressive. He got some chances on the queenside, but they weren't anything special. Adams won a pawn in the rook endgame, but his king was cut off on the a-file. With no way to make progress, the players agreed to a draw.
The second 10'+10" game and overall the sixth game of the match was the most exciting. Adams started to play a little more aggressively. and after 34 moves had already won a pawn.
Adams vs Aravindh, 10'+10" game 2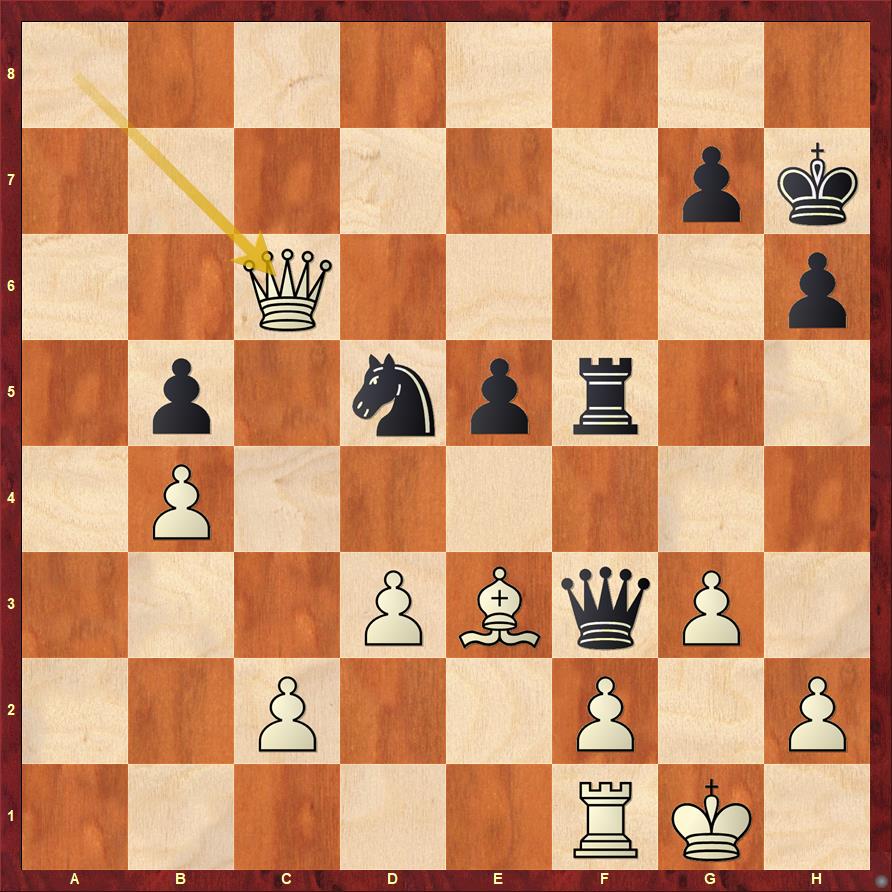 Aravindh was running low on time and was a pawn down. But look at his resourcefulness. First he played ...e4! now the threat is to take on e3. Adams played the move Qc5 defending his bishop. Aravindh now went ...Rh5, threatening Nf4! You can see how the Indian youngster was constantly posing problems to Adams. At the age of 47 you cannot really continue to keep playing at a high level for a long duration (unless your name is Vishy Anand!). This game finally ended in a draw.
5'+3" Blitz
When it comes to blitz mistakes are inevitable. In the first game, Aravindh with the black pieces was holding the position pretty well until he gave up a pawn to go into a 4 vs 3 rook endgame.
This endgame is a well known draw, but since Kasparov had lost in it against Piket, people have been careful about the same. The point is that you should keep your rook on the b-file so that you can use it laterally to give checks from b5 or stop the e-pawn from advancing by being on b6. If you instead put your rook to e3 here, you would lose the game. Aravindh somehow knew all the intricacies of this position and drew the game with just a few seconds on the clock. Check out this end:
It was time for the second blitz game now and it once again seemed like we were going for another draw, when Adams blundered.
Surya Sekhar Ganguly (2658) vs Vladimir Fedoseev (2664)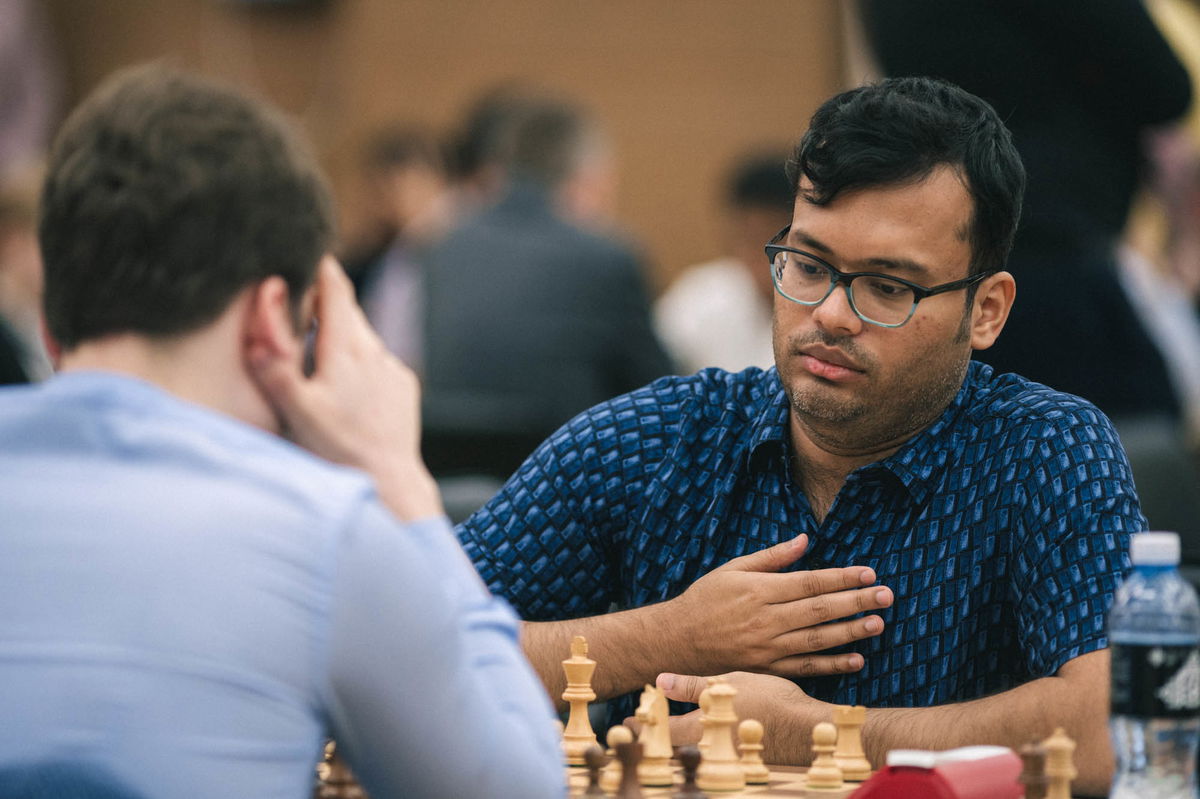 Both the games in the 25+10 section ended in draws. Fedoseev won both 10+10 games and eliminated Ganguly.
Tiebreak Game 1 - 25+10
Tiebreak Game 2 - 25+10
Tiebreak Game 3 - 10+10
Tiebreak Game 4 - 10+10
Abhijeet Gupta (2609) vs Anton Korobov (2679)
Tiebreak 25+10 Game 1
Tiebreak 25+10 Game 2
Tiebreak 10+10 Game 3
Tiebreak 10+10 Game 4
Sethuraman (2624) vs Tamir Nabaty (2658)
Tiebreak 25+10 Game 1
Tiebreak 25+10 Game 2
S L Narayanan (2611) vs Anton David Guijarro (2674)
Tiebreak 25+10 Game 1
Tiebreak 25+ 10 Game 2
---