Chessable Masters: Giri advances to the Semi-Finals on his birthday
Just like the previous day, the second mini-match between Giri-Grischuk and Nakamura-Ding started with draw each respectively. However Nakamura and Giri both picked up the first victory of the day respectively. Giri showed some brilliant technique in the endgame. They all drew their next game. Giri won the final game of his mini-match against Grischuk with a beautiful combination to secure a place in the Semi-Finals, while Nakamura had to chain up two consecutive victories after suffering two grueling losses due to blunder to force the third mini-match. Giri-Nepomniachtchi is confirmed in the second Semi-Finals but who will face Carlsen, Nakamura or Ding Liren? We will find out today.
Nakamura makes a fierce comeback
On his 26th birthday, Anish Giri played some fine chess to advance to the Semi-Finals. Even his frenemy Magnus Carlsen appreciated the technique he showed against Grischuk in the endgame before he defeated the World Blitz Champion Alexander Grischuk again in 29 moves with a beautiful combination to get one step closer to the Finals. Meanwhile, Nakamura suffered two consecutive losses and he was in a difficult position. He won the next two games consecutively to force the third mini-match which will be played today to determine who will go into the Semi-Finals and face the World no.1 Magnus Carlsen.
King shuffle kerfuffle?
It is well-known that Ding Liren often shuffles his King from one side to the another. The World Champion predicted the King shuffle correctly on the previous day where Ding Liren won. Unfortunately for him, this time it didn't work.
Ding Liren - Nakamura, Quarter-Final Game 5
White decided to transfer his king from f2 to c3 which certainly does not look like a good idea. After 41.Ke1 Bxc5 42.Rxc5, the rook got immobilized momentarily after the king made its way to c3.
Technical Marvel by Giri
Giri on his 26th birthday converted an advantage into a full point using beautiful technique.
Giri - Grischuk, Quarter-Final Game 10
Find out how black should continue after 31.b6.
Even Carlsen appreciated Giri's technique and wished him Happy birthday too.
A determined Ding
After losing Game 5 and making a draw in Game 6, Ding Liren was determined to win Game 7. He made his intentions very clear early in the game.
Ding Liren - Nakamura, Quarter-final Game 7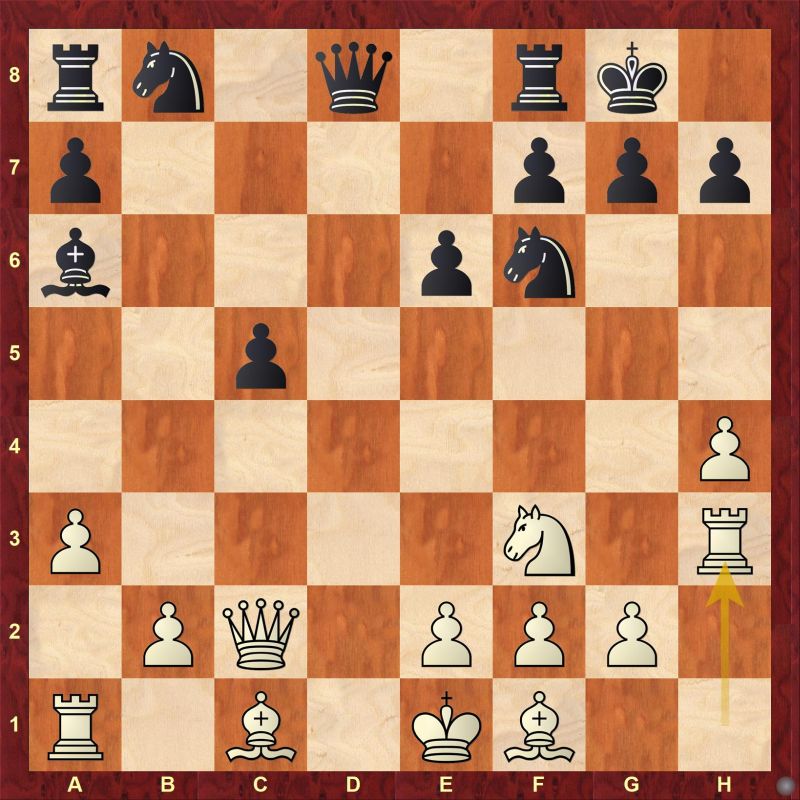 The game eventually liquidated into a drawn Rook endgame but much to the chagrin of Nakamura, he blundered in the end.
Black should still be able to the save the game thanks to the h3-pawn. Nakamura probably had a mouse slip and played 60...Rh1, instead of 60...Rg1, although that would have equally cost black the game too.
Giri's brilliant attack
It was Giri's 26th birthday and he was as focused as he can be. He defeated Grischuk by doing a beautiful combination.
Grischuk - Giri, Quarter-Final Game 12
Position after 22.Qc2
Can you think like Giri? Find out black's best continuation after 22.Qc2. It didn't take long as Giri managed to finish the game in the next seven moves. With this 29-move win, Giri cruised to the Semi-Finals and gave himself a perfect birthday present.
Nakamura blunders again
It is not everyday that you see Nakamura blundering in consecutive games that also in online speed chess.
Ding Liren - Nakamura, Quarter-Final Game 8
Find out why 38.c4 is a blunder and what white should have played instead.
Nakamura avenges his loss
When Nakamura is backed against a wall, you can definitely expect him to be absolutely fierce on the next game.
Ding Liren - Nakamura, Quarter-Final Game 9
Although 20...Nd3 didn't give any shred of advantage to Nakamura, but his choice of opening Dutch Defence and the way he played the game was evident that he was desperately looking to win to keep his Semi-Final hopes alive.
Nakamura wins again
If one wants to learn how to win in a must-win scenario then it wouldn't be an understatement to say to watch his games when he is in a must-win situation.
Nakamura - Ding Liren, Quarter-Final Game 10
Nakamura called Ding's bluff, took the pawn at d5 and got substantial advantage which eventually became surmountable for Ding Liren and he had to resign after 29 moves. Ding and Nakamura will play their third and final mini-match of the Quarter-Finals today 29th June.
Replay all Quarter-Final games on Day 8
Schedule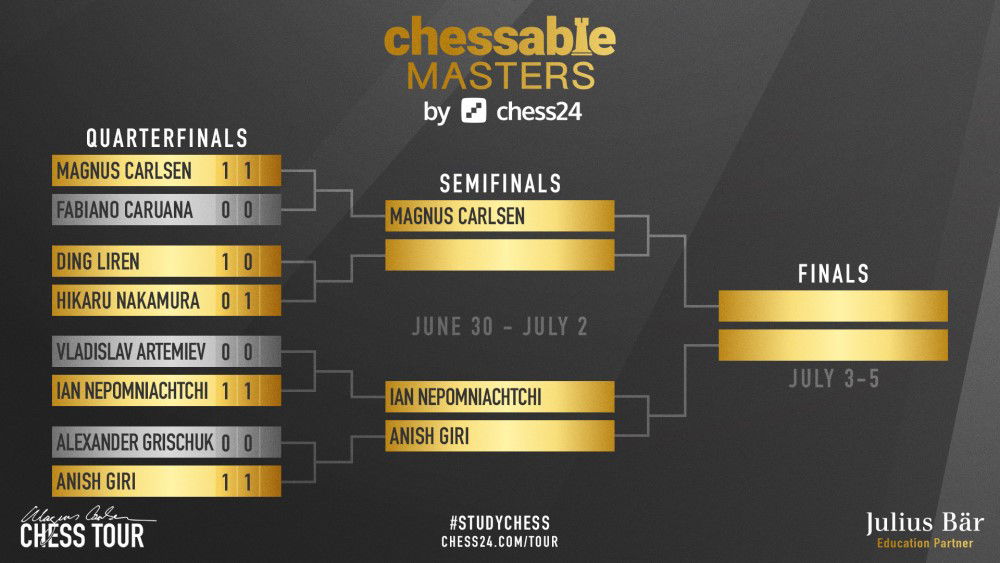 Tournament Rules
Replay the Live Stream
Links
---