Vignesh N R wins 11th Pontevedra Masters 2023, Sarayu Velpula scores IM, WGM and WIM-norm, finishes second
GM Vignesh N R scored an unbeaten 7/9 to win 11th Cidade de Pontevedra Masters 2023. He finished a half point ahead of the field. Starting out as the last seed, Sarayu Velpula completely astonished everyone with her splendid performance. She scored 6.5/9, secured second place and earned her maiden IM, WGM and WIM-norm. It is difficult to recall when was the last an Indian earned three norms at a single event. Seven more players also scored the same points 6.5/9. Out of them, GM Visakh N R is the only other Indian to make a top ten finish. He was placed fifth according to tie-breaks. The top three prizes were €2000, €1200 and €800 along with a trophy each. Photos: Cristian Arcas and Escola Xadrez Pontevedra EXP
From last seed to second place
Former National Under-13 Girls champion and current National Under-17 Girls 2023 runner-up, Sarayu Velpula had the tournament of her life. She got a Bye in the first round as she was the last seed, the lowest rated player of the event. However, she started the event by a win over GM David Larino Nieto (ESP, 2390). Then she drew against IM Lennis Martinez Ramirez (CUB, 2426). In the fifth round, she drew against IM Roberto Carlos Gomez Ledo (CUB, 2432), then she defeated IM Vyom Vidyarthi (USA, 2429). The teenager suffered her first and only loss of the event against GM Vignesh N R (2495), before a draw against GM Salvador G Del Rio De Angelis (ESP, 2434) and win against IM Andre Ventura Sousa (POR, 2455) to finish second overall. What a fantastic event for Sarayu!
GM Vignesh N R had a sole lead heading into the final round 6.5/8. He drew against GM Ermes Espinosa Veloz (CUB, 2498) in Round 9. The remaining pursuers at 6/8 also drew their respective games. Thus, Vignesh became a clear champion 7/9.
Vignesh - Valsechhi, Round 4
GM Alessio Valsecchi (ITA, 2498) made a positional mistake 25...Nb4. After 26.Bb1 the knight was completely misplaced, it got out of action c5 27.d5 now White got a protected center passed pawn. 27...Na6 28.Nh2 White is aiming for Ng4-f6 h5 29.gxh6 Nc7 30.Kh1 Rxe1 31.Rxe1 b5 attempting to weaken White's queenside pawns 32.cxb5 f5 Black could not take on d5 due to Rd1. 33.Rg1+ Kh8 34.Rg6 and White won the game in another dozen moves.
Sarayu - Vyom, Round 6
Sarayu Velpula (1845) decided against capturing the knight at d4. Instead, she continued her attack on the kingside 16.f6! Qd8 17.Qxd4 slowed down the attack a bit. 17.Rhf1 is what the computer recommends for a quicker finish. 17...Nxf6 18.exf6 Qxf6 19.Qxf6 gxf6 20.g4 b4 21.axb4 and White went on to win the game.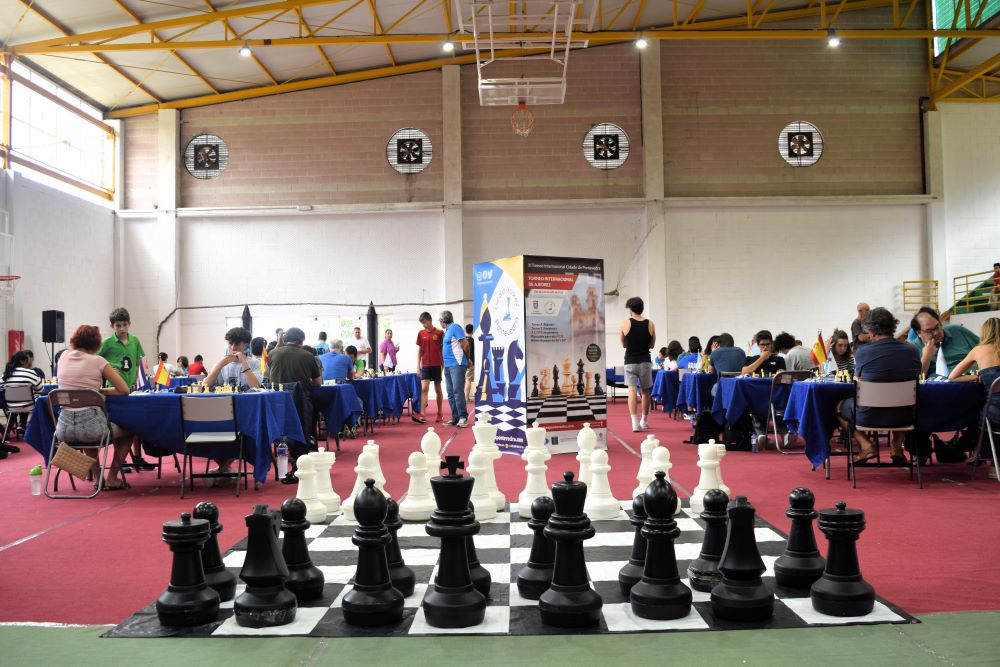 A total of 69 players including 7 GMs, 13 IMs and 3 WIMs took part from 9 countries across the world in the Masters section of this seven-day nine round Rating Open tournament. It was organized by Escola Xadrez de Pontevedra at Colegio Los Sauces in Pontevedra, Spain from 24th to 30th July 2023. The time control of the event was 90 minutes + 30 seconds increment from move no.1.
Replay all available games
Final standings
Rk.
SNo
sex
Gr
RtgI
Pts.
TB1
TB2
TB3
1
5
Vignesh, N R
IND
2495
7
2318
45,5
37
2
79
Velpula, Sarayu
w
IND
1845
6,5
2434
46,5
35
3
2
Ruck, Robert
HUN
2531
6,5
2375
44
33,5
4
6
Plazuelo Pascual, Juan
ESP
2465
6,5
2342
41,5
33
5
1
Visakh, N R
IND
2536
6,5
2307
42
30,5
6
19
Barria Santos, Jose Guilherme
POR
2386
6,5
2280
44,5
32,5
7
3
Espinosa Veloz, Ermes
CUB
2498
6,5
2278
42
31
8
9
Gomez Ledo, Roberto Carlos
CUB
2432
6,5
2260
45,5
35,5
9
8
Del Rio De Angelis, Salvador G.
ESP
2434
6,5
2234
41,5
34
10
4
Valsecchi, Alessio
ITA
2498
6
2341
44
31
Links
Escola Xadrez Pontevedra: fb, twitter, instagram and youtube
---