Arvinder Preet Singh clinches XIX Calvia Amateur Open 2022
Arvinder Preet Singh scored an unbeaten 7.5/9 to win XIX Calvia Amateur Open 2022. He finished a half point ahead of the competition. The former World Amateur champion drew with the eventual runner-up Paul A Hutchinson (ENG) 7/9 and defeated the second runner-up, FM Juan David Becerra (COL) 7/9. This is his first tournament triumph since November 2018 when he won the National Amateur championship. The total prize fund of the tournament was €5720. The top three prizes were €1300, €800 and €600 along with a trophy each. Arvinder was the sole Indian participating in this event and he surely made his presence felt. Photo: Calvia Chess Festival
Arvinder's first tournament triumph since 2018
Five days before FM Arvinder Preet Singh starts his quest to regain the World Amateur title, Arvinder Preet Singh got into tournament shape in a perfect manner by winning the XIX Calvia Amateur Open 2022. He played solid games without giving any chances to his opponent and scored an unbeaten 7.5/9 to win the tournament. He also gained a valuable 73.2 Elo rating points. One thing is for sure, Arvinder is going to be a strong contender to win the World Amateur title again.
Arvinder - Juan David, Round 4
FM Arvinder Preet Singh (2022) defeated the top seed of the tournament, FM Juan David Becerra (COL, 2296) by showing a very nice positional understanding. 20...Bf6 was played to put the king into safety at g7 square. There is no immediate win for White, yet he can gain decisive advantage. Try to think like Arvinder and figure out what he played here and the reasoning behind it.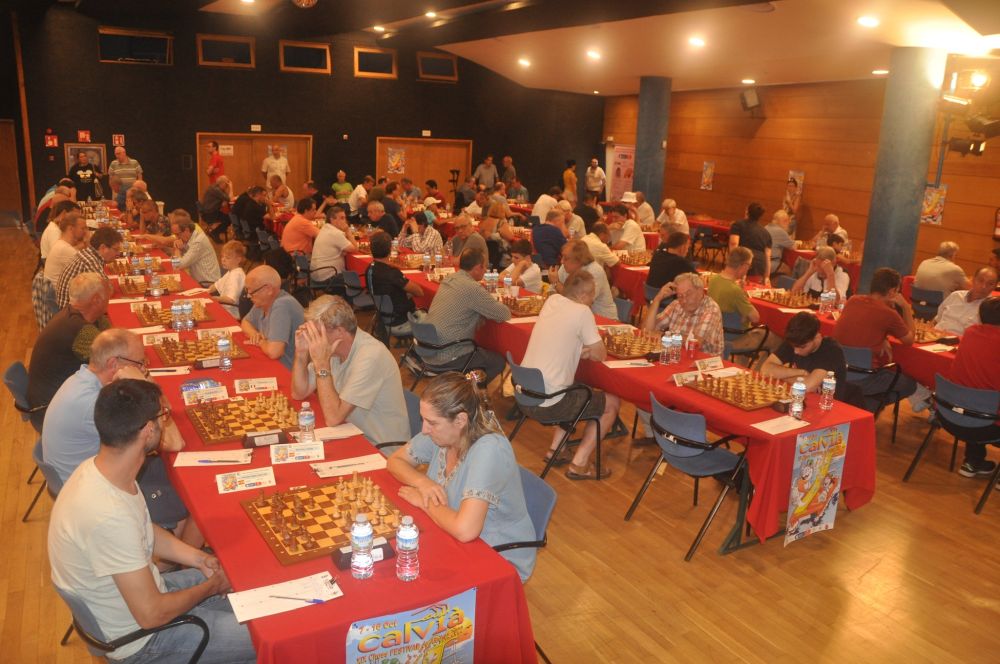 A total of 149 players rated below 2350 took part from 29 countries across the world. The tournament took place at Sala Palmanova in Calvia, Spain from 8th to 16th October 2022. It was organized by IO IM FT Sergio Estremera Panos. The time control of the tournament was 90 mins for 40 minutes + 15 minutes + 30 seconds each from move no.1.
Replay all games
Final standings
| | | | | | | | | | |
| --- | --- | --- | --- | --- | --- | --- | --- | --- | --- |
| Rk. | SNo | | Name | FED | Rtg | Pts. | TB1 | TB2 | TB3 |
| 1 | 42 | FM | Singh Arvinder Preet | IND | 2022 | 7,5 | 48,5 | 41,5 | 52 |
| 2 | 32 | | Hutchinson Paul A | ENG | 2097 | 7 | 50 | 42,5 | 54 |
| 3 | 1 | FM | Becerra Juan David | COL | 2296 | 7 | 49 | 41,5 | 53,5 |
| 4 | 17 | FM | Voiteanu Gabriel | ROU | 2154 | 7 | 48 | 40,5 | 52,5 |
| 5 | 16 | | Garcia Fernandez Victor | ESP | 2157 | 7 | 44,5 | 37 | 47,5 |
| 6 | 13 | | De Boer Bas | NED | 2165 | 7 | 43 | 36,5 | 47,5 |
| 7 | 31 | | Hoffmann Max | GER | 2098 | 6,5 | 50,5 | 43,5 | 54,5 |
| 8 | 5 | | Schnabel Ralf | GER | 2224 | 6,5 | 49,5 | 42 | 53,5 |
| 9 | 11 | | Aguado Doncel Pablo Luis | ESP | 2174 | 6,5 | 46,5 | 39,5 | 51 |
| 10 | 2 | FM | Martinez Pla Xavier | ESP | 2292 | 6,5 | 44,5 | 38 | 48 |
| 11 | 19 | FM | Viskelis Darius | LTU | 2137 | 6,5 | 44 | 37,5 | 48 |
| 12 | 24 | | Tscharotschkin Michael | GER | 2123 | 6,5 | 43 | 36 | 47 |
| 13 | 20 | | Asensio Ramos Enrique Fernando | ESP | 2137 | 6,5 | 40,5 | 35 | 44,5 |
| 14 | 21 | | Thakoerdien Jerrel | NED | 2135 | 6 | 45,5 | 39 | 50 |
| 15 | 4 | | Ventura Bolet Alexandre | ESP | 2229 | 6 | 45,5 | 38,5 | 49,5 |
Links
---