Kushal dominates 19th Gran Hotel Bali Aficionados B, Aditya Varun Gampa second in Group A and Blitz
17-year-old Kushal O scored an unbeaten 8/9 to win 19th Gran Hotel Bali Aficionados B group. He finished a half point ahead of the field. Aditya Varun Gampa finished second in both Group A and Blitz Nocturno. He scored 7/9 and 7/8 in those two events respectively. CM Md. Imran won the Blitz event scoring 7/8. The top three prizes in the Aficionados B group were €3100, €1400 and €1200 each. For Group A the prizes were, €1300, €1100 and €1000 each. For Blitz, it was €90, €60 and €50. All podium winners won a trophy along with their respective cash prizes. This was Kushal's first overseas triumph of his career and first Blitz tournament victory of the year for Imran. Photo: Organizer
Md. Imran wins Blitz Nocturno
Indian players continue their domination in Spain. The city of Benidorm in Alicante, Spain had two parallel events running from 3rd to 10/11th December 2022. While Indians missed a championship at Benidorm Open 2022, that changed at 19th Gran Hotel Bali Open 2022. Kushal O won the Aficionados B group, Aditya Varun Gampa secured second place in both Group A and Blitz, and Md. Imran clinched the Blitz event.
17-year-old Kushal O made a blazing start by scoring seven consecutive wins to gain a full point lead 7/7, heading into the penultimate round. His fantastic start allowed him the cushion to draw the last two rounds and still finish ahead of the field by a half point.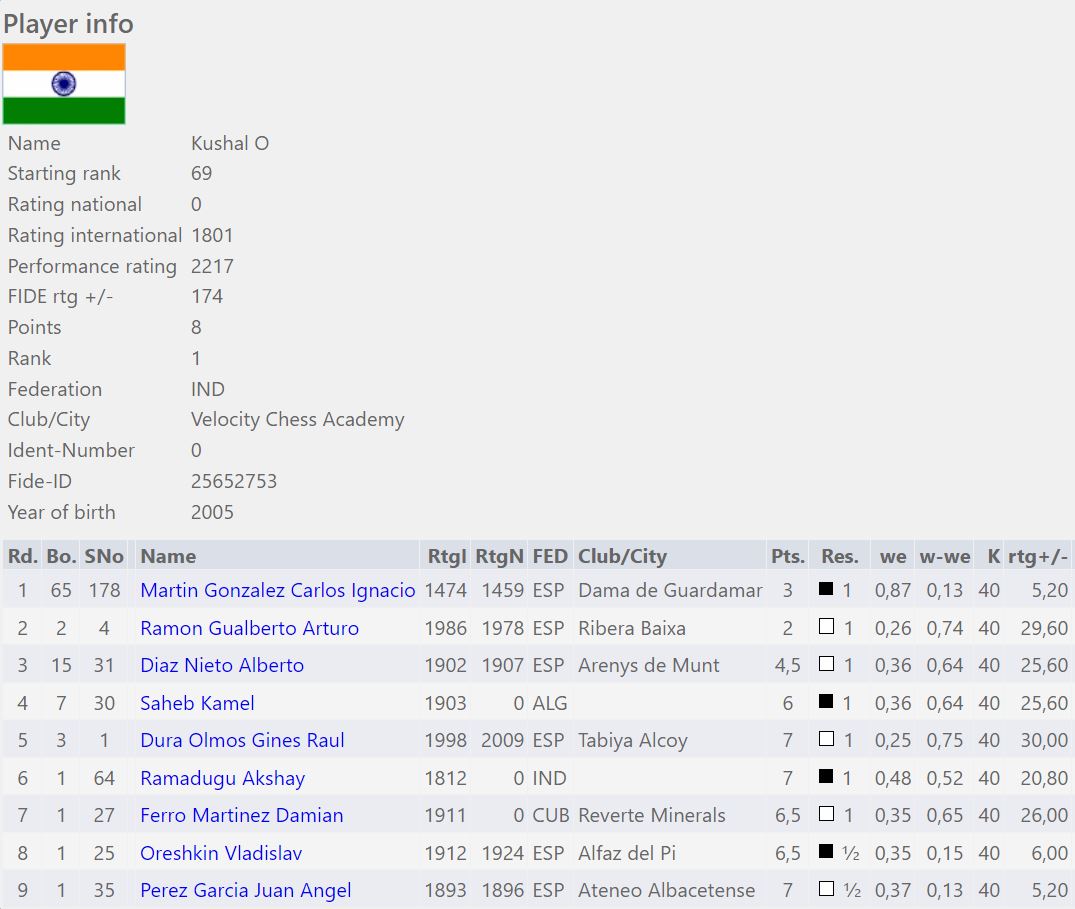 Aditya - Sos Andreu, Round 7
Black's king is stranded in the center with nowhere to go. White is well-prepared to launch an attack. Find out the best way to take advantage of it.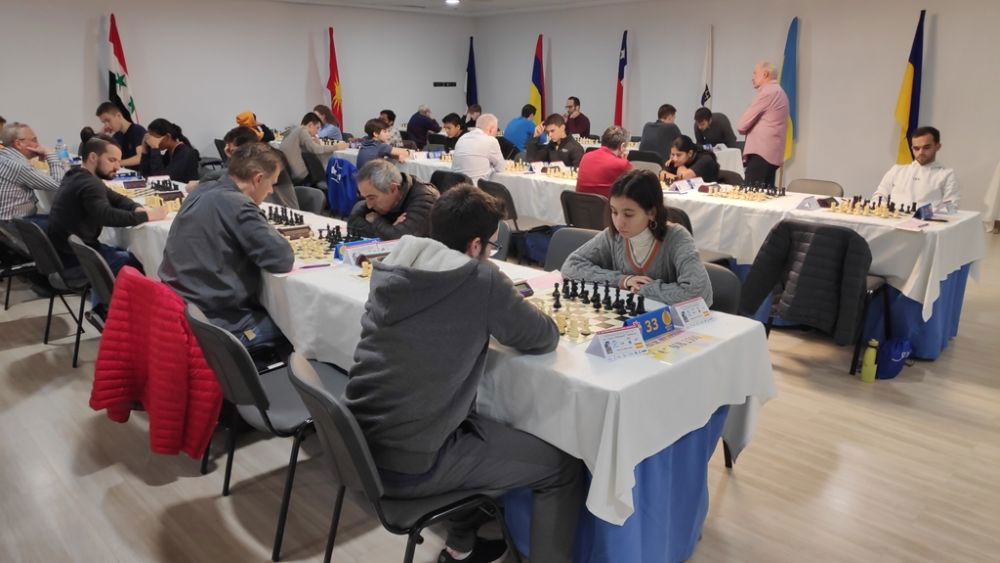 Replay all available Group A games
Replay all available Aficionados B games
The tournaments were organized by IO Alfonso Pedraza Mancilla from 3rd to 10th December 2022 at Hotel Bali in Benidorm, Spain. A total of 101 players including two GMs and five IMs in Group A and 219 players in Aficionados B group from 25 countries across the world, took part in the nine-round Swiss league event. The Blitz events took place on 8th and 9th December 2022. The time control for the Classical event was 90 minutes + 30 seconds increment from move no.1, for Blitz it was 3 minutes + 2 seconds increment.
Final standings in Group A
| | | | | | | | | | | | | | | | | | | | | | | |
| --- | --- | --- | --- | --- | --- | --- | --- | --- | --- | --- | --- | --- | --- | --- | --- | --- | --- | --- | --- | --- | --- | --- |
| Rk. | SNo | | | Name | Typ | sex | Gr | FED | RtgI | RtgN | Club/City | Pts. | TB1 | TB2 | TB3 | Rp | n | w | we | w-we | K | rtg+/- |
| 1 | 6 | | FM | Davtyan David Arm. | | | __C | ARM | 2329 | 2333 | Basilio | 7,5 | 41 | 50 | 39,5 | 2425 | 9 | 7,5 | 6,48 | 1,02 | 20 | 20,4 |
| 2 | 11 | | | Aditya Varun Gampa | U16 | | _S_* | IND | 2249 | 0 | | 7 | 38,5 | 47 | 34,5 | 2377 | 9 | 7 | 5,53 | 1,47 | 40 | 58,8 |
| 3 | 9 | | FM | Luque Saiz Andres | | | __C* | ESP | 2286 | 2292 | Alaquas | 7 | 38 | 47 | 34 | 2341 | 9 | 7 | 6,41 | 0,59 | 20 | 11,8 |
| 4 | 1 | | GM | Korneev Oleg | | | ___* | ESP | 2481 | 2575 | Solvay | 7 | 38 | 47 | 33,5 | 2489 | 7 | 6 | 5,84 | 0,16 | 10 | 1,6 |
| 5 | 5 | | FM | Mingarro Carceller Sergi | | | __C* | ESP | 2330 | 2328 | Vila-real | 6,5 | 42 | 50,5 | 35 | 2346 | 9 | 6,5 | 6,22 | 0,28 | 20 | 5,6 |
| 6 | 16 | | IM | Rodriguez Lopez Rafael | | | ___* | ESP | 2189 | 2171 | Individual | 6,5 | 35 | 43 | 29,5 | 2166 | 9 | 6,5 | 6,70 | -0,20 | 10 | -2 |
| 7 | 18 | | | Aguilera Lopez Alejandro | | | ___* | ESP | 2184 | 2185 | Diagonal Alcorcón | 6 | 45 | 53,5 | 36,5 | 2395 | 9 | 6 | 3,51 | 2,49 | 20 | 49,8 |
| 8 | 10 | | CM | Md Imran | U14 | | _S_* | IND | 2279 | 0 | | 6 | 43,5 | 51,5 | 35,5 | 2311 | 9 | 6 | 5,51 | 0,49 | 40 | 19,6 |
| 9 | 14 | | IM | Kovacevic Slobodan | S60 | | _VC* | SRB | 2224 | 2224 | Benimodo | 6 | 40 | 49 | 31 | 2235 | 9 | 6 | 5,82 | 0,18 | 10 | 1,8 |
| 10 | 73 | | | Chia Yu Zhe Ashton | U14 | | HS_* | SGP | 1970 | 0 | | 6 | 40 | 49 | 30,5 | 2335 | 9 | 6 | 2,00 | 4,00 | 40 | 160 |
| 11 | 21 | | | Tabuenca Mendataurigoitia Daniel | U14 | | HS_* | ESP | 2171 | 2236 | Torres Blancas | 6 | 39 | 46 | 31 | 2300 | 9 | 6 | 4,44 | 1,56 | 40 | 62,4 |
| 12 | 7 | | FM | Remolar Gallen Jose | | | H_C* | ESP | 2305 | 2301 | Monteolivete | 6 | 39 | 45 | 33,5 | 2221 | 9 | 6 | 6,75 | -0,75 | 20 | -15 |
| 13 | 8 | | CM | Shaik Sumer Arsh | U14 | | _S_* | IND | 2290 | 0 | | 6 | 38 | 47 | 30 | 2194 | 9 | 6 | 6,97 | -0,97 | 40 | -38,8 |
| 14 | 3 | | IM | Sos Andreu Eric | | | __C* | ESP | 2364 | 2351 | Andreu Paterna | 6 | 38 | 46 | 32 | 2247 | 9 | 6 | 7,16 | -1,16 | 10 | -11,6 |
| 15 | 4 | | IM | Granero Roca Antonio | | | __C* | ESP | 2345 | 2344 | Silla | 6 | 37,5 | 45 | 31 | 2245 | 9 | 6 | 7,01 | -1,01 | 10 | -10,1 |
Final standings in Aficionados B
| | | | | | | | | | | | | | | | | | | | | | | |
| --- | --- | --- | --- | --- | --- | --- | --- | --- | --- | --- | --- | --- | --- | --- | --- | --- | --- | --- | --- | --- | --- | --- |
| Rk. | SNo | | | Name | Typ | sex | Gr | FED | RtgI | RtgN | Club/City | Pts. | TB1 | TB2 | TB3 | Rp | n | w | we | w-we | K | rtg+/- |
| 1 | 69 | | | Kushal O | | | ___* | IND | 1801 | 0 | Velocity Chess Academy | 8 | 45 | 52,5 | 43,5 | 2217 | 9 | 8 | 3,65 | 4,35 | 40 | 174 |
| 2 | 12 | | | Aledo Yanguas David | | | __C* | ESP | 1953 | 1956 | ASSSA Enric Valor | 7,5 | 45,5 | 56,5 | 37,5 | 2088 | 9 | 7,5 | 6,12 | 1,38 | 20 | 27,6 |
| 3 | 48 | | | Lorenzo Calvo Damian Angel | U16 | | HS_* | ESP | 1859 | 1861 | Alzheimer Bierzo | 7,5 | 44 | 51,5 | 38 | 2124 | 9 | 7,5 | 4,50 | 3,00 | 40 | 120 |
| 4 | 64 | | | Ramadugu Akshay | | | ___* | IND | 1812 | 0 | | 7 | 46,5 | 53,5 | 39 | 2031 | 9 | 7 | 4,36 | 2,64 | 40 | 105,6 |
| 5 | 59 | | | Amoros Moran Jose Joaquin | S60 | | _VC* | ESP | 1830 | 1842 | Ibi | 7 | 45,5 | 52,5 | 39 | 2088 | 8 | 6,5 | 3,78 | 2,72 | 20 | 54,4 |
| 6 | 1 | | | Dura Olmos Gines Raul | | | __C* | ESP | 1998 | 2009 | Tabiya Alcoy | 7 | 44,5 | 53,5 | 36,5 | 2042 | 9 | 7 | 6,52 | 0,48 | 20 | 9,6 |
| 7 | 35 | | | Perez Garcia Juan Angel | | | ___* | ESP | 1893 | 1896 | Ateneo Albacetense | 7 | 43,5 | 51,5 | 39 | 2042 | 8 | 6,5 | 5,03 | 1,47 | 20 | 29,4 |
| 8 | 6 | | | Vladut Matei | | | H__* | ROU | 1979 | 0 | | 7 | 42 | 49,5 | 33 | 2024 | 9 | 7 | 6,51 | 0,49 | 20 | 9,8 |
| 9 | 90 | | | Perez Tomas Juan Manuel | | | ___* | ESP | 1736 | 1775 | Marcos Frechín | 7 | 39,5 | 46,5 | 32 | 2042 | 9 | 7 | 3,44 | 3,56 | 20 | 71,2 |
| 10 | 18 | | | Hernando Santiago Alberto | | | ___* | ESP | 1936 | 1949 | Promesas | 7 | 36,5 | 43 | 31 | 1958 | 9 | 7 | 6,75 | 0,25 | 20 | 5 |
| 11 | 27 | | | Ferro Martinez Damian | | | ___* | CUB | 1911 | 0 | Reverte Minerals | 6,5 | 45,5 | 54,5 | 37 | 1969 | 9 | 6,5 | 5,73 | 0,77 | 20 | 15,4 |
| 12 | 25 | | | Oreshkin Vladislav | | | __C* | ESP | 1912 | 1924 | Alfaz del Pi | 6,5 | 45 | 54 | 36 | 1948 | 9 | 6,5 | 6,02 | 0,48 | 20 | 9,6 |
| 13 | 44 | | | Romera Carrion Ruben | | | H__* | ESP | 1870 | 1890 | Ciudad Real | 6,5 | 43,5 | 52 | 36,5 | 2027 | 9 | 6,5 | 4,51 | 1,99 | 20 | 39,8 |
| 14 | 91 | | | Prudhvi Kumar V | | | ___* | IND | 1733 | 0 | | 6,5 | 43 | 51,5 | 33 | 2026 | 9 | 6,5 | 2,95 | 3,55 | 20 | 71 |
| 15 | 14 | | | Gutierrez Marco Dario | | | __C* | ESP | 1949 | 1964 | Monteolivete | 6,5 | 42,5 | 52,5 | 37 | 1978 | 9 | 6,5 | 6,11 | 0,39 | 20 | 7,8 |
Final standings in Blitz Nocturno
| | | | | | | | | | | | | | | |
| --- | --- | --- | --- | --- | --- | --- | --- | --- | --- | --- | --- | --- | --- | --- |
| Rk. | SNo | | | Name | Typ | sex | Gr | FED | RtgI | RtgN | Pts. | TB1 | TB2 | TB3 |
| 1 | 11 | | CM | Md Imran | U14 | | | IND | 2279 | 2179 | 7 | 35 | 43,5 | 33 |
| 2 | 14 | | | Aditya Varun Gampa | U16 | | | IND | 2249 | 2149 | 7 | 34 | 42 | 35 |
| 3 | 97 | | | Iravedra Ainkov Francisco | U14 | | | ESP | 1803 | 1651 | 7 | 33,5 | 40,5 | 30,5 |
| 4 | 20 | | | Valdepenas Octavio Javier | | | | ESP | 2216 | 2203 | 7 | 32,5 | 38,5 | 30 |
| 5 | 22 | | CM | Horcajuelo Rocamora Martin | U14 | | | ESP | 2184 | 2094 | 7 | 32 | 39 | 30 |
| 6 | 12 | | FM | Castellanos Gomez Alejandro | | | | ESP | 2277 | 2168 | 7 | 31 | 39 | 30 |
| 7 | 6 | | FM | Remolar Gallen Jose | | | | ESP | 2305 | 2223 | 6,5 | 34,5 | 41 | 30,5 |
| 8 | 7 | | CM | Shaik Sumer Arsh | U14 | | | IND | 2290 | 2190 | 6 | 36 | 46 | 31 |
| 9 | 3 | | FM | Ortega Ruiz Jose Miguel | | | | ESP | 2354 | 2212 | 6 | 35,5 | 44 | 30 |
| 10 | 19 | | IM | Kovacevic Slobodan | S60 | | | SRB | 2224 | 2225 | 6 | 35 | 42,5 | 33 |
Links
---