Raunak and Arjun Erigaisi shine at Portuguese 1st Division 2020-21
GM Raunak Sadhwani continues his strong momentum as this time he scored an unbeaten 7.5/9 to secure a Silver medal for his team AX GAIA at the Portuguese 1st Division 2020-21. He performed at 2614 and gained 11 Elo rating points. GM Arjun Erigaisi was the only other Indian at the event. He scored a valuable 5.5/8 for his team EPGAIA Chess Club A to secure a Bronze medal. Arjun performed at 2635 and gained 8 rating points. A XAT Montemor-o-Novo won the event 27 points. Spanish commentator GM Jose Fernando Cuenca Jimenez famously known as 'Pepe' scored a 100% 8.0/8 to propel his team to the championship.
Raunak splendid for the top team AX GAIA A
GM Raunak Sadhwani played fantastic for the top seed AX GAIA A in Portuguese 1st Division. His teammates were - Pavel Eljanov (UKR), Yuriy Kuzubov (UKR), Lubomir Ftacnik (SVK), Oleg Korneev (ESP). It was the only team which had only grandmasters participating in this tournament. Arjun Erigaisi was the highest rated player for his team, EPGAIA Chess Club A.
"I am glad that I helped my team to win Silver medal. I learnt so much from my experienced teammates. It was really an honour to represent such a strong team. I really want to thank the president of AX Gaia Club for inviting me for such a prestigious league, great hospitality and for having faith in me. I am happy that I did not disappoint them and played as per their expectations.
With this performance they already invited me for the 2022 edition of Portuguese League which itself is a big motivation for me. I want to stay focused and continue my performance like this in my European Tour." - Raunak Sadhwani on winning Silver for his team AX GAIA A.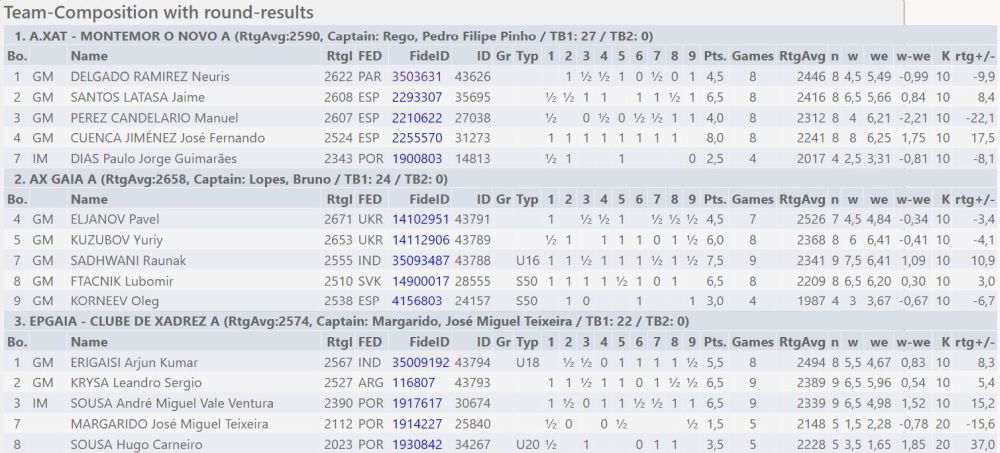 Replay all Raunak's games
Replay all Arjun's games
Photo Gallery:
Replay all games
Final Standings
| | | | | | | | | | | | |
| --- | --- | --- | --- | --- | --- | --- | --- | --- | --- | --- | --- |
| Rk. | SNo | Team | Games | + | = | - | TB1 | TB2 | TB3 | TB4 | TB5 |
| 1 | 2 | A.XAT - MONTEMOR O NOVO A | 9 | 9 | 0 | 0 | 27 | 0 | 25,5 | 429,8 | 2272 |
| 2 | 1 | AX GAIA A | 9 | 7 | 1 | 1 | 24 | 0 | 27,5 | 423,3 | 2469 |
| 3 | 4 | EPGAIA - CLUBE DE XADREZ A | 9 | 5 | 3 | 1 | 22 | 0 | 23,5 | 377,8 | 2133 |
| 4 | 3 | GD DIAS FERREIRA A | 9 | 4 | 2 | 3 | 19 | 0 | 19,5 | 300,8 | 1767 |
| 5 | 6 | CX MONTEMOR-O-VELHO/CTGA A | 9 | 3 | 3 | 3 | 18 | 0 | 18,5 | 275,8 | 1666 |
| 6 | 7 | ESTRELAS S. JOÃO DE BRITO A | 9 | 3 | 2 | 4 | 17 | 2 | 18,0 | 291,8 | 1616 |
| 7 | 5 | ASSEMBLEIA FIGUEIRENSE A | 9 | 3 | 2 | 4 | 17 | 0 | 19,5 | 284,3 | 1758 |
| 8 | 9 | O AMANHÃ DA CRIANÇA A | 9 | 2 | 1 | 6 | 14 | 0 | 12,0 | 182,3 | 1109 |
| 9 | 8 | CX A2D A | 9 | 2 | 0 | 7 | 13 | 0 | 9,0 | 136,8 | 801 |
| 10 | 10 | CCD CORVOS DO LIS A | 9 | 0 | 0 | 9 | 9 | 0 | 7,0 | 118,3 | 609 |
Links
Portuguese Chess Federation fb
---