Raunak Sadhwani clinches 5th Innsbruck Open and crosses 2600
GM Raunak Sadhwani won 5th Innsbruck International Open with an unbeaten 8.0/9. He performed at 2692, gained 10 Elo rating points, crossed 2600, taking his live rating to 2604.8. Raunak scored seven victories and two draws, including a draw against the Austria no.1 Markus Ragger. He finished a full point ahead of the competition. FM Fulvio Zamengo (ITA) 7.0/9 and FM Mike Ivanov (CAN) 6.5/9 were placed second and third. That's not all. He also finished second in the Blitz event scoring 7.0/9. GM Nikita Meshkovs won the Blitz 9.5/11, FM Magnus Arndt (GER) was placed third according to tie-breaks. Check out Raunak's exciting games from this event. Photo: Karsten Wieland
Raunak wins his third event in 51 days
GM Raunak Sadhwani has played eight consecutive tournaments in five countries (Serbia, Austria, Portugal, Italy and Switzerland) in 80 days, played 80 rated games including 69 classical and 11 blitz games.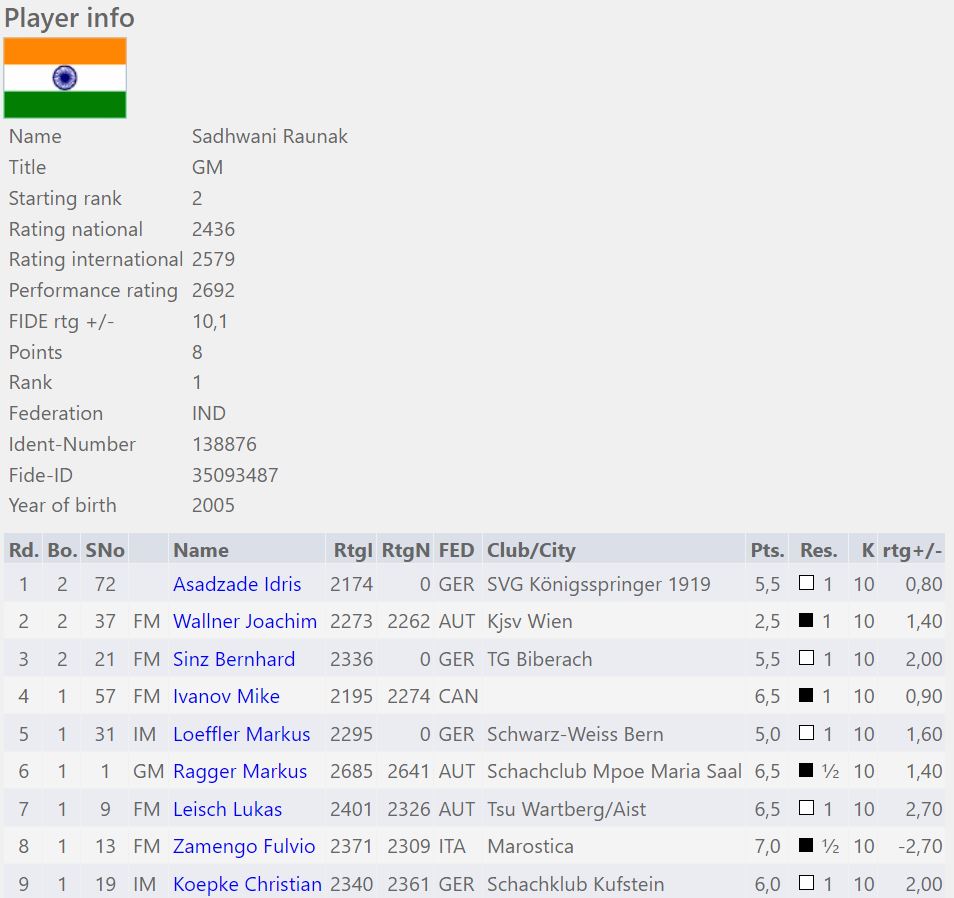 Raunak scored a nice win with a tactical short IM Markus Loeffler (GER) in the fifth round to gain sole lead 5.0/5
Raunak - Loeffler, Round 5
Black should have played 25...Qd6. The position would have still remained in White's favor. However, 25...Qxb2 immediately finishes the game for Black. Find out how.
After making a draw with Austria no.1 GM Markus Ragger in the sixth round, Raunak scored a victory over FM Lukas Leisch (AUT) with a sharp play.
Raunak - Leisch, Round 7
White has a huge advantage in the above position. Find out the winning continuation.
Photo Gallery
Raunak would like to thank his parents for this performance, his sponsors Microsense and his trainers Surya Sekhar Ganguly and the Westbridge Anand Chess Academy. His next event is 4th Sharjah Masters International 2021, next month.
Replay all Raunak's games
Replay all games
Final Standings
| | | | | | | | | | | | | | | | | | | |
| --- | --- | --- | --- | --- | --- | --- | --- | --- | --- | --- | --- | --- | --- | --- | --- | --- | --- | --- |
| Rk. | SNo | | | Name | Typ | sex | FED | RtgI | RtgN | Club/City | Pts. | TB1 | TB2 | TB3 | TB4 | Rp | K | rtg+/- |
| 1 | 2 | | GM | Sadhwani Raunak | U18 | | IND | 2579 | 2436 | | 8,0 | 53,0 | 41,5 | 46,25 | 7 | 2692 | 10 | 10,1 |
| 2 | 13 | | FM | Zamengo Fulvio | | | ITA | 2371 | 2309 | Marostica | 7,0 | 49,0 | 37,5 | 36,00 | 5 | 2465 | 20 | 22,0 |
| 3 | 57 | | FM | Ivanov Mike | | | CAN | 2195 | 2274 | | 6,5 | 54,0 | 43,0 | 36,50 | 5 | 2507 | 20 | 72,2 |
| 4 | 1 | | GM | Ragger Markus | | | AUT | 2685 | 2641 | Schachclub Mpoe Maria Saal | 6,5 | 51,0 | 39,5 | 35,25 | 4 | 2486 | 10 | -13,2 |
| 5 | 23 | | FM | Fecker Noah | U18 | | SUI | 2325 | 2340 | Hohenems | 6,5 | 49,5 | 39,5 | 34,25 | 4 | 2466 | 20 | 32,8 |
| 6 | 3 | | IM | Abel Dennes | | | GER | 2448 | 0 | Ej. Gleisdorf | 6,5 | 48,0 | 37,5 | 32,75 | 4 | 2452 | 10 | 2,5 |
| 7 | 9 | | FM | Leisch Lukas | | | AUT | 2401 | 2326 | Tsu Wartberg/Aist | 6,5 | 48,0 | 36,5 | 31,75 | 6 | 2430 | 10 | 4,0 |
| 8 | 5 | | IM | Schwabeneder Florian | | | AUT | 2440 | 2438 | Sv Grieskirchen | 6,5 | 47,0 | 37,0 | 32,25 | 5 | 2429 | 10 | -0,5 |
| 9 | 15 | | FM | Tisaj Domen | | | SLO | 2356 | 2237 | | 6,5 | 46,5 | 36,0 | 32,25 | 6 | 2354 | 20 | 1,0 |
| 10 | 16 | | FM | Malek Daniel | | | GER | 2348 | 0 | SK Zehlendorf | 6,5 | 44,0 | 34,5 | 30,75 | 5 | 2414 | 10 | 8,1 |
| 11 | 22 | | FM | Fuchs Florian | | | GER | 2328 | 2286 | SV Eiche Reichenbrand | 6,5 | 44,0 | 34,0 | 30,75 | 5 | 2357 | 20 | 7,6 |
| 12 | 19 | | IM | Koepke Christian | | | GER | 2340 | 2361 | Schachklub Kufstein | 6,0 | 52,5 | 40,5 | 32,50 | 4 | 2404 | 10 | 7,8 |
| 13 | 66 | | FM | Nielsen Andre | | | NOR | 2183 | 2160 | Alta | 6,0 | 50,5 | 40,5 | 31,00 | 5 | 2470 | 20 | 64,0 |
| 14 | 46 | | | Svana Peter | | | SVK | 2251 | 0 | Mkss-Sk Kysucke Nove Mesto | 6,0 | 50,0 | 39,5 | 31,50 | 4 | 2423 | 20 | 33,8 |
| 15 | 44 | | FM | Sreyas Payyappat | U14 | | IND | 2259 | 2148 | HSK Lister Turm | 6,0 | 46,0 | 35,5 | 29,25 | 3 | 2339 | 20 | 21,4 |
Final Standings in Blitz
| | | | | | | | | | | | | | | | | | |
| --- | --- | --- | --- | --- | --- | --- | --- | --- | --- | --- | --- | --- | --- | --- | --- | --- | --- |
| Rk. | SNo | | | Name | Typ | sex | Gr | FED | RtgI | Pts. | TB1 | TB2 | TB3 | TB4 | Rp | K | rtg+/- |
| 1 | 4 | | GM | Meshkovs Nikita | | | | LAT | 2465 | 9,5 | 84,0 | 69,0 | 71,25 | 8 | 2590 | 20 | 39,0 |
| 2 | 2 | | GM | Sadhwani Raunak | U18 | | | IND | 2514 | 9,0 | 81,5 | 66,0 | 63,00 | 9 | 2494 | 20 | 3,4 |
| 3 | 12 | | FM | Arndt Magnus | | | | GER | 2338 | 9,0 | 79,0 | 64,0 | 63,50 | 7 | 2466 | 20 | 40,4 |
| 4 | 10 | | IM | Schwabeneder Florian | | | | AUT | 2352 | 8,5 | 77,0 | 63,0 | 54,00 | 8 | 2416 | 20 | 26,4 |
| 5 | 3 | | IM | Abel Dennes | | | | GER | 2500 | 8,5 | 76,0 | 61,5 | 56,25 | 8 | 2372 | 20 | -14,8 |
| 6 | 1 | | GM | Ragger Markus | | | | AUT | 2573 | 8,0 | 77,5 | 62,5 | 54,75 | 7 | 2382 | 20 | -32,2 |
| 7 | 113 | | FM | Sreyas Payyappat | U14 | | | IND | 1530 | 8,0 | 76,5 | 63,0 | 53,00 | 8 | 2435 | 20 | 157,0 |
| 8 | 6 | | FM | Peyrer Konstantin | U18 | | | AUT | 2453 | 8,0 | 76,0 | 62,5 | 52,00 | 8 | 2219 | 20 | -28,6 |
| 9 | 5 | | GM | Marcelin Cyril | | | | FRA | 2461 | 8,0 | 73,5 | 60,0 | 49,75 | 7 | 2269 | 20 | -25,4 |
| 10 | 29 | | FM | Kruckenhauser Arthur | U18 | | | AUT | 2170 | 8,0 | 70,5 | 58,0 | 45,50 | 8 | 2314 | 20 | 45,2 |
| 11 | 9 | | IM | Platzgummer Fabian | | | | AUT | 2370 | 8,0 | 68,5 | 57,0 | 48,00 | 8 | 2220 | 20 | -24,6 |
| 12 | 7 | | | Petkidis Anthony | | | | GER | 2439 | 8,0 | 67,5 | 55,0 | 49,00 | 7 | 2160 | 20 | -40,6 |
| 13 | 22 | | FM | Tisaj Domen | | | | SLO | 2243 | 7,5 | 81,0 | 67,5 | 52,50 | 6 | 2293 | 20 | 29,2 |
| 14 | 31 | | FM | Gedajlovic Max | | | | CAN | 2137 | 7,5 | 73,5 | 60,0 | 46,00 | 6 | 2249 | 20 | 29,4 |
| 15 | 14 | | FM | Morgunov Marc | U18 | | | AUT | 2304 | 7,5 | 69,5 | 56,5 | 45,00 | 6 | 2017 | 20 | -39,6 |
Links
---