Raunak Sadhwani wins 40th St. Veiter Lemans Open 2021
15-year-old GM Raunak Sadhwani started as the top seed of the 40th International St.Veiter Jacques Lemans Open 2021. He won it convincingly by scoring eight wins, only one draw, performed at 2703 to win the tournament. This is his best performance in his ongoing Europe tour since he finished second at the Silver Lake Open last month. Raunak received €1200 cash prize, a trophy and a Jacques Leman watch. The icing on the cake was Actor-Director-Singer, Farhan Akhtar congratulating him in a tweet for winning the event after Raunak celebrated his triumph by watching his latest movie, Toofan.
Top seed Raunak dominates the field
GM Raunak Sadhwani scored an unbeaten 8.5/9 to win 40th International St. Veiter Jacques Lemans Open. He completely dominated the field with a 2700+ performance, gained 12 Elo rating points and earned €1200 cash prize for his efforts along with a beautiful trophy and a Jacques Leman watch.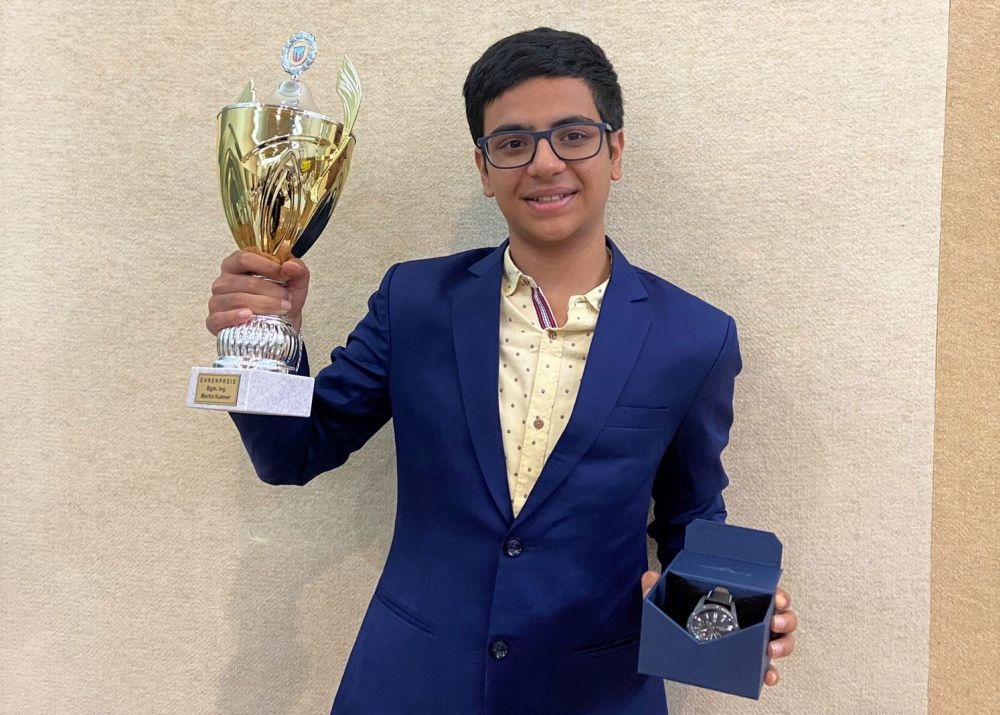 "I am super happy with my performance. Winning a tournament, being a champion is always so special and a very nice feeling. I am glad that I kept myself focused till the end and was able to perform well. I just want now to be focused, keep myself motivated for my upcoming tournaments. I just want to play and enjoy this beautiful game of 64 squares without thinking about results." - Raunak Sadhwani on winning the event.
Raunak celebrated his tournament victory by watching Farhan Akhtar's latest movie - Toofan. The multifaceted artist Farhan congratulated him in a tweet
Photo Gallery:
Final Standings
| | | | | | | | | | | | | | |
| --- | --- | --- | --- | --- | --- | --- | --- | --- | --- | --- | --- | --- | --- |
| Rk. | SNo | | Name | Typ | sex | FED | RtgI | RtgN | Club/City | Pts. | TB1 | TB2 | TB3 |
| 1 | 1 | GM | Sadhwani Raunak | U18 | | IND | 2555 | 2436 | | 8,5 | 52,0 | 47,0 | 2703 |
| 2 | 2 | GM | Saric Ante | | | CRO | 2539 | 2532 | Sv Asvoe St.Veit/Glan | 7,0 | 53,5 | 50,5 | 2513 |
| 3 | 27 | | Kristoferitsch Daniel | U18 | | AUT | 2212 | 2139 | Schachfreunde Graz | 7,0 | 52,0 | 48,0 | 2464 |
| 4 | 17 | FM | Peyrer Konstantin | U18 | | AUT | 2259 | 2257 | 1. Sk Ottakring | 6,5 | 50,5 | 46,0 | 2340 |
| 5 | 11 | CM | Bauer Sebastian | U18 | | AUT | 2292 | 2198 | Sv Hörsching | 6,5 | 50,0 | 46,0 | 2349 |
| 6 | 4 | GM | Womacka Mathias | | | GER | 2432 | 2442 | SV 1920 Hofheim | 6,5 | 48,5 | 45,5 | 2346 |
| 7 | 23 | | Schernthaner David | U18 | | AUT | 2225 | 2173 | Schachverein Wolfsberg | 6,5 | 48,5 | 44,5 | 2321 |
| 8 | 5 | IM | Halvax Georg | | | AUT | 2400 | 2374 | Schachclub Mpoe Maria Saal | 6,5 | 48,0 | 43,5 | 2325 |
| 9 | 20 | FM | Frank Emanuel | | | AUT | 2199 | 2242 | Esv Askoe Admira Villach | 6,5 | 43,5 | 40,5 | 2205 |
| 10 | 3 | GM | Rogic Davor DI. | | | CRO | 2471 | 2495 | Sv Asvoe St.Veit/Glan | 6,0 | 55,0 | 51,0 | 2399 |
| 11 | 22 | | Tschernatsch Johannes | U18 | | GER | 2195 | 2226 | | 6,0 | 52,0 | 49,0 | 2322 |
| 12 | 9 | IM | Danner Georg | S70 | | AUT | 2302 | 2294 | Sc Pinggau-Friedberg | 6,0 | 50,0 | 46,5 | 2320 |
| 13 | 19 | FM | Steindl Johannes | | | AUT | 2250 | 2241 | 1. Sk Ottakring | 6,0 | 50,0 | 45,5 | 2208 |
| 14 | 15 | FM | Sandhöfner Florian | | | AUT | 2281 | 2275 | Ask St. Valentin | 6,0 | 48,0 | 45,0 | 2247 |
| 15 | 63 | | Borrmann Laurenz | U18 | | AUT | 2035 | 1940 | Sc Donaustadt | 6,0 | 48,0 | 44,5 | 2276 |
| 16 | 38 | | Atzl Florian | | | AUT | 2150 | 2124 | 1. Sk Ottakring | 6,0 | 45,5 | 42,0 | 2238 |
| 17 | 36 | WFM | Rozman Monika | | w | SLO | 2151 | 2130 | Tomo Zupa Krajn | 6,0 | 44,0 | 40,5 | 2205 |
| 18 | 44 | | Kersic Matej | | | SLO | 2112 | 2113 | Sk Suetschach-Feistritz | 6,0 | 43,0 | 40,0 | 2184 |
| 19 | 86 | | Pilshofer Paul | U18 | | AUT | 1974 | 1916 | Sk Hietzing | 6,0 | 42,0 | 39,0 | 2247 |
| 20 | 32 | CM | Bauer Thomas | | | AUT | 2171 | 2175 | 1. Sk Ottakring | 6,0 | 42,0 | 39,0 | 2202 |
Links
---