The ingredients that helped Raunak Sadhwani become the 65th GM of India
Raunak Sadhwani became a GM at the age of 13 years, 9 months and 28 days on 19th of October 2019. Becoming a GM at such a tender age made him the ninth youngest GM in the history of chess! How did Raunak achieve this feat? What were the ingredients that came together to create GM Raunak Sadhwani? In this article we bring you Raunak's story towards the GM title. We also have quotes by his trainers, annotated wins of his encounters with Sjugirov, Motylev and Karjakin that helped him gain his third GM norm and 2500 Elo at the Grand Swiss 2019. After reading the article you will realize that a lot of ingredients had to be mixed in appropriate proportions for Raunak to reach where he is today. And as Vishy Anand rightly pointed out, "This is just the beginning!"
Nagpur's first GM - Raunak Sadhwani
The first time I witnessed Raunak Sadhwani in action was in January 2016 at the Mumbai IIFLW tournament. The boy was around 11 years old back then. A soft spoken and affectionate young kid, who would transform himself into a complete chess monster when sitting on the board!
For nearly three and a half years I witnessed Raunak's sparkling performances, reported about them, sometimes in awe! But I didn't meet the youngster in person. It was only at the Mumbai airport just a couple of months ago when we were going to the Kramnik Microsense India Chess training program that I saw Raunak. At this point he was an IM with two GM norms and a rating of 2479. Before boarding the flight, we had a few minutes left. So what did Raunak do? He challenged Praggnanandhaa to a few games of online chess!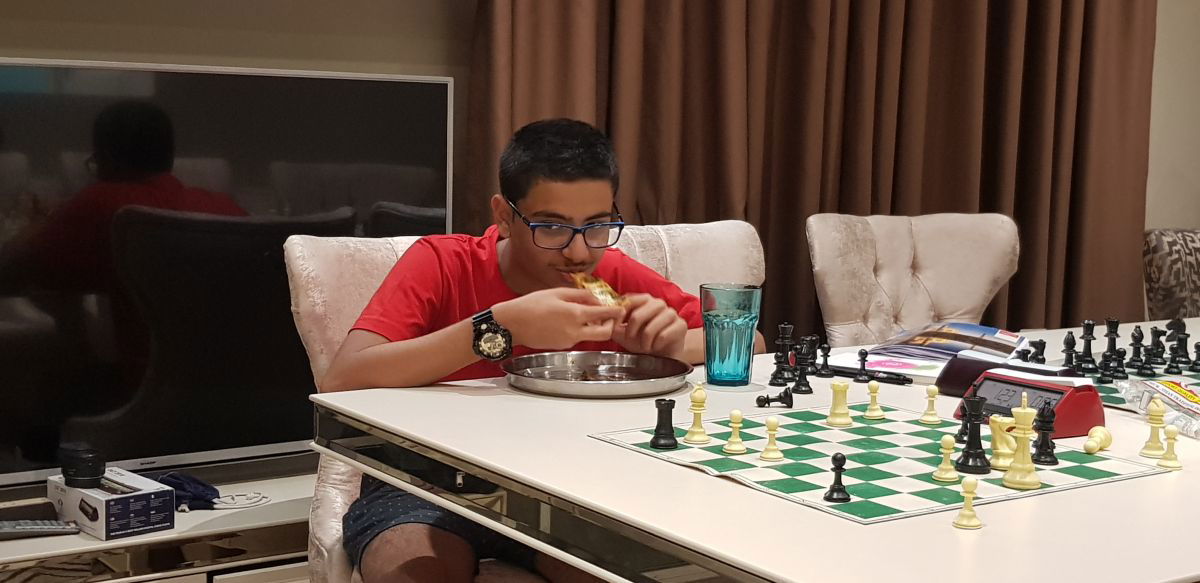 The thing to note was that they would often play 4 games, or 8 games, sometimes even 12, but the result hardly mattered. Once the game was over the pieces would rearranged and the next game would begin. It was one of those cases where they were playing chess, just because they enjoyed doing so and nothing else would trump this pleasure!
The Kramnik Microsense India Chess Program was held from the 15th to the 25th of August 2019. After 10 days of training with the 14th World Champion I was curious as to how Raunak would perform at his next event. He had around a month to work on his game, to digest all the new learnings he had received at the camp. He was diligent. And that led to the following result at the FIDE chess.com Grand Swiss 2019: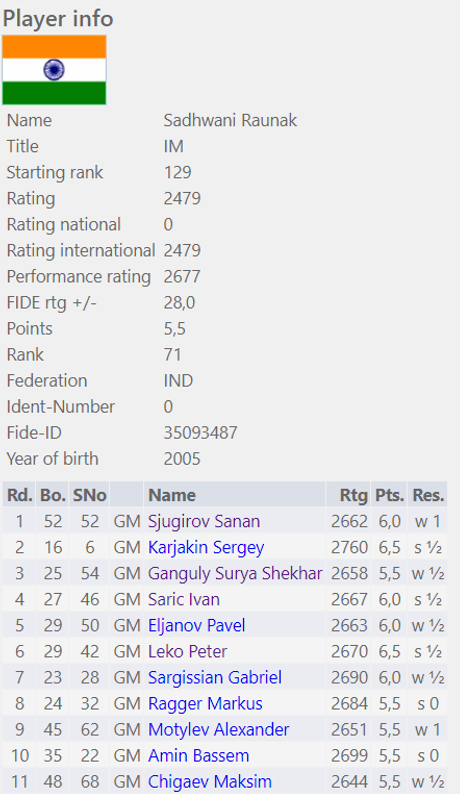 If you look closely at Raunak's performance, you will see that the lowest rated player he faced was Maksim Chigaev with an Elo of 2644. Against such an elite opposition, he scored two wins and seven draws, gaining 28 Elo points with a performance of 2677! That's simply mind boggling! Raunak achieved his final GM norm and crossed the rating barrier of 2500 to become India's 65th GM on 19th of October at the age of 13 years, 9 months and 28 days.
Raunak's IM norms:
Pardubice Open 2017
Gibraltar Masters 2018
Sharjah Masters 2018
Raunak's GM norms:
1. Aeroflot Open 2019
2. Porticcio Open 2019
3. FIDE chess.com Grand Swiss 2019
Speaking to ChessBase India about his achievement Raunak said, "It's a nice feeling to become a GM. I am happy that I achieved my short term goal to become a GM. My main goal is to break my own records and climb the ladder. Tough journey starts from here. For some time, it's a wonderful feeling but I know how much hard work is required from here and there is a lot that I need to improve!"
Did the camp with Kramnik help Raunak to improve? "I can say that Kramnik sir's camp was a life changing thing for me", says Raunak. "In a few days he taught so many practical things:
a. I started believing in myself. I was feeling psychologically very strong. He helped me to become fearless by showing his own games, sharing his experiences.
b. I became a resourceful player. In just about every situation I was finding resources and I never lost my heart in minus positions, defended well and was able to hold the game.
c. My endgame improved. He taught how to create practical problems for the opponent. During the game I was remembering his words and finding the moves which were difficult for my opponents to understand. Thanks a ton Kramnik sir , truly you are Legend!! Big Respect!"
Check out how being resourceful helped Raunak beat the strong Russian Sanan Sjugirov in round one of the Grand Swiss 2019:
Raunak adds, "I want to thank Microsense Managing Director Kailasanathan sir for his big heart and sponsoring this dream camp. Also a big thanks to Sagar sir and Amruta ma'am who organised everything so well. I would also like to thank Sagar sir for saving all the material that was taught by Kramnik sir. It was not an easy task. I revised before coming here and it improved my game quality."
Speaking to Prasad RS of Times of India, Kramnik mentioned, "I am proud of Raunak. His play has become much more solid and mature in just a couple of months after our session, and the speed of his improvement is very reassuring. He is masterful beyond years in positional play and defence. Facing such an opposition without a single defeat is quite exceptional for his age. I am sure Raunak has great prospects to become a top chess player. This tournament should give him a great push," Kramnik added.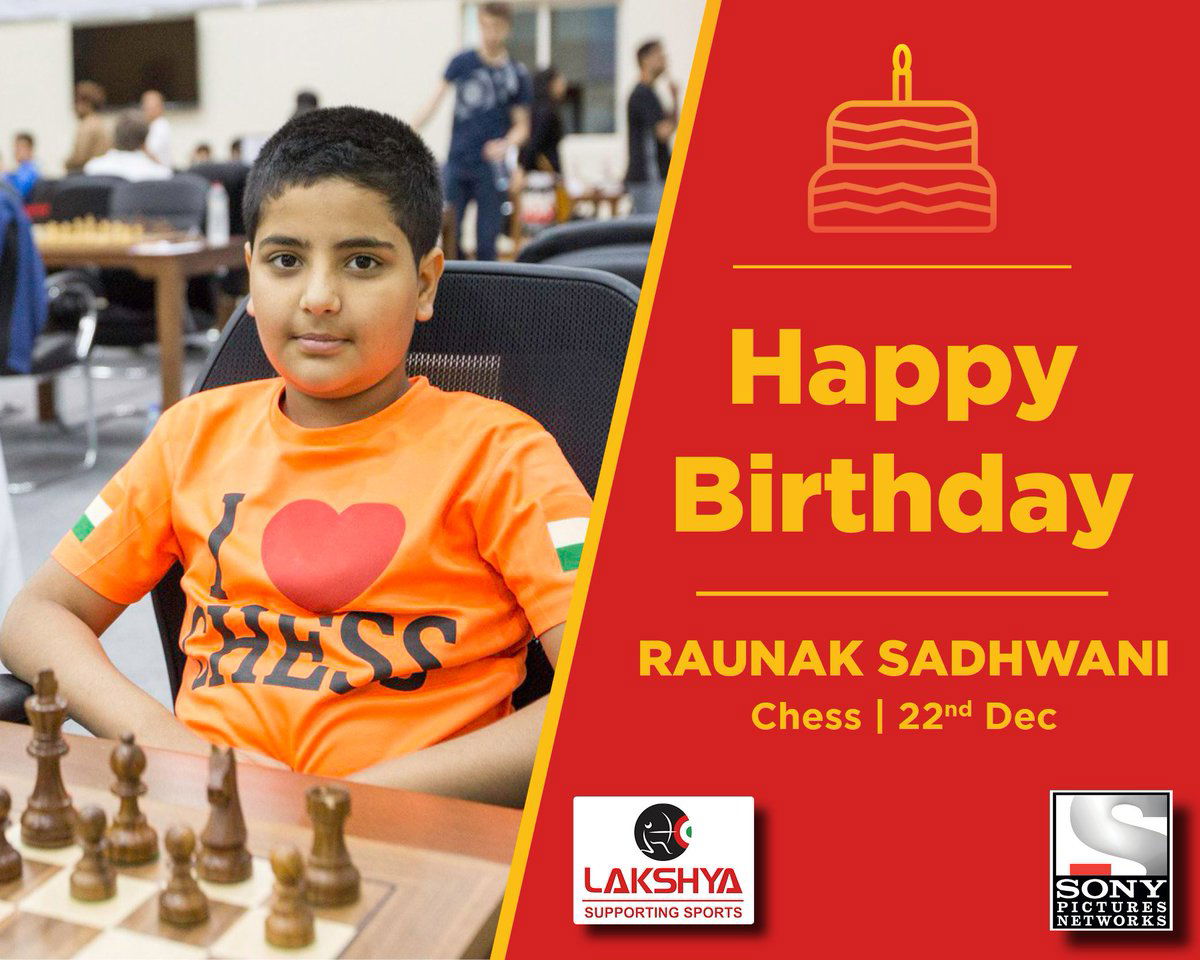 "I would like to thank Lakshya and Sony Pictures Networks for supporting me right from the beginning. Abhijit Kunte has been a big mentor to me. He constantly motivated me and also helped me to believe in my strength."
Most youngsters after achieving their GM title or norms, slow down in a tournament and lose the next rounds. Not for Raunak. He just needed to show up for his ninth round game against Alexander Motylev at the Grand Swiss 2019 to achieve his GM title. He didn't just show up, but managed to play some brilliant chess and win the game!
Coaches:
There have been several coaches who have helped Raunak reach the GM title. One of them is Zaven Andriasian.
Raunak has been working with Zaven since just ten months, but their work has already played a big role in Raunak's journey from IM to GM. "He has helped me in a short span of just 10 months to improve my opening knowledge, make my game stronger and taught me so many new ideas. We have a special bonding as a trainer and a coach." Raunak's mother, Heena adds, "Apart from preparation, Zaven watches Raunak's each and every game and comes to the conclusion of areas of improvement and works on that the very next day after the tournament."
Speaking to ChessBase India, Zaven said, "I and Raunak got to know each other in Italy, where we played a game in a tournament and I felt that he has very big potential, so I started to closely follow his games and I realized that my feelings were correct. After that I started to coach him. I enjoy coaching Raunak as he is very smart and he catches the point very fast and easy." What are Raunak's biggest qualities? "As student his good qualities are:
1. He is very hard working,
2. He has willingness to work on his weaknesses and as a result he achieved three GM norms and gained 100 Elo point in 10 months
3. His strongest sides as a player are calculation, dynamic play and he never fears to play new openings.
Does Zaven think Raunak would become one of the best players in the world? "I was sure that he would have become GM in one year. He did it earlier! In January I was sure that he will have 2600 Elo in two years, but his progress is faster and I am sure that in very near future he will be 2700+. Let him get his 2700+ and we will have another interview at that point!"
Swapnil, the founder of Chess Pathshala, hails from Amravati, which is around 150 kms away from Nagpur, where Raunak lives. He has been working with Raunak right since he was a very young boy. Raunak says, " I would like to thank Swapnil sir for improving my endgame technique. He helped me to improve my visualization of middlegame positions, so that I could go deeper." Swapnil is well-known as a Caro Kann expert. He taught Raunak the same system which has become one of the main openings in Raunak's repertoire. Bharat Sadhwani, Raunak's father adds, "Swapnil motivated Raunak a lot and always supported him during his tough times. Sometimes strict and sometimes loving. He is a mixture of both. Swapnil also handled us (parents) so well when Raunak was having a bad phase in his chess journey."
Speaking of Caro Kann, Raunak used the same opening to hold the mightly Sergey Karjakin:
Sergey Karjakin vs Raunak Sadhwani, Grand Swiss 2019, Round 2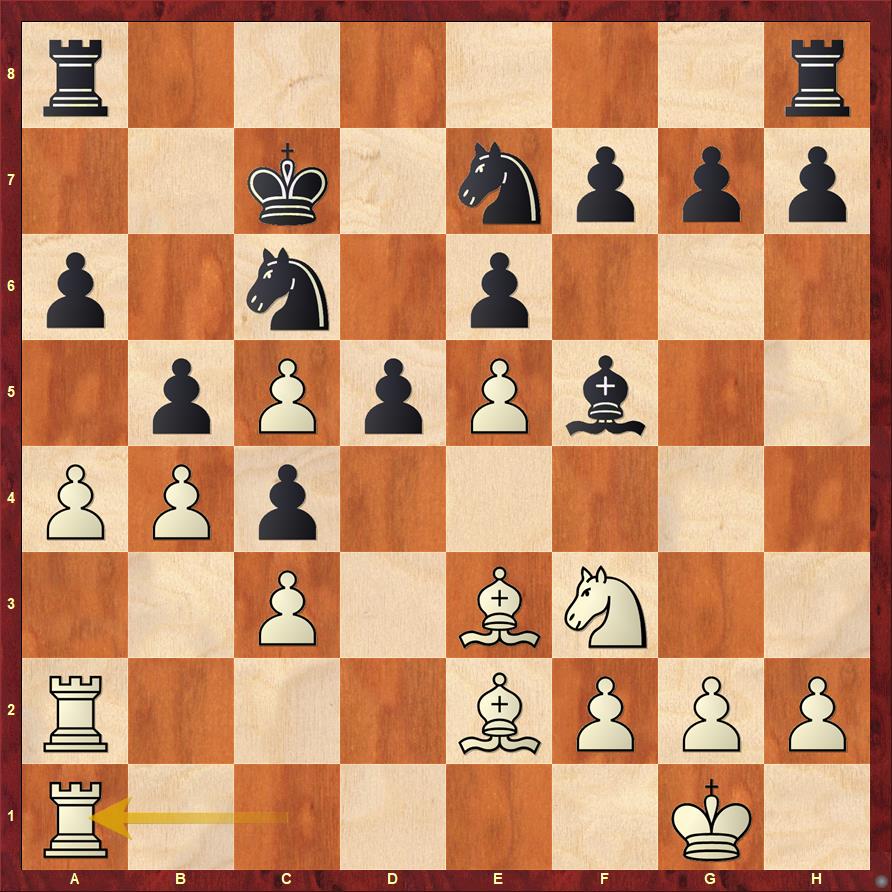 What does Swapnil think of Raunak as a player? "As a player an important quality is that he is usually confident about his decisions. He has a very good intuition and he trusts it a lot while taking decisions. This is the reason that he plays quite fast and confidently in most of the games. I feel this is an important quality that makes him a strong practical player. If you always have more time than your opponent on your clock then it's puts a psychological pressure on the opponent. My experience working with him was amazing as I learned a lot in the process as well. He is already ready to work even after a grueling session of chess training. Whatever work I gave him to complete, he used to complete it sincerely without fail. Such a sincerity is an important quality that the coach always wishes to have in his students. He is always willing to try new things and experiment with new openings, which helped him to broaden his chess knowledge. I feel blessed to be a part of his wonderful journey to the GM title."
Heena accompanies Raunak to each and every tournament that the young boy goes to. Heena's dedication towards her son's success caught the attention of none other than Vishy Anand. The five-time World Champion tweeted this after Raunak became a GM:
Congrats to Raunak Sadhwani ! He starts the new chessboard of GM's. Funnily, I once played him in a simul and mentioned that he had great talent. A few years later at #IOMchess he has me on the ropes. And I thought this kid is just something else!! (1/2)

— Viswanathan Anand (@vishy64theking) October 21, 2019
A big congrats to his mom . She watched him complete his norm with anxiety , love , excitement.. It brought back so many memories!! This is just the beginning!(2/2)

— Viswanathan Anand (@vishy64theking) October 21, 2019
Raunak will be felicitated by Vishy Anand on 31st of October 2019 in a function that has been organized by Microsense. For now we bring you the game from Isle of man 2018 which Anand describes in his tweet as the one where Raunak had him on the ropes! Annotations are by Raunak himself:
Here's the background of the above picture. It is well past midnight and Raunak's father Bharat is taking his son back to his room during Sunway Sitges 2017. They are staying far away from the venue and the logical thing to do was not to play the blitz event. But Raunak loves blitz and so his father rented a bicycle and waited until the event ended so that he could take his son back to the apartment! This picture shows the dedication of Raunak's parents towards his chess career.
From this article you can see that several ingredients had to come together in order for Raunak to become a GM at the age of 13 years, 9 months and 28 days. The major ones can be summed up as:
1. Raunak's love for the game of chess
2. Raunak's ability to work hard
3. Unconditional support by parents Heena and Bharat Sadhwani
4. Sponsors like Lakshya, Sony Pictures Network, Microsense coming in and funding him at the right moment
5. Coaches like Zaven Andriasian and Swapnil Dhopade giving him personal attention and making him competent
6. Coaching camp with Kramnik at the Kramnik Microsene India Chess Program which gave Raunak the edge that helped him believe in himself
We, at ChessBase India, wish Raunak the best in his journey towards 2600 and hope that he touches the 2700 mark soon!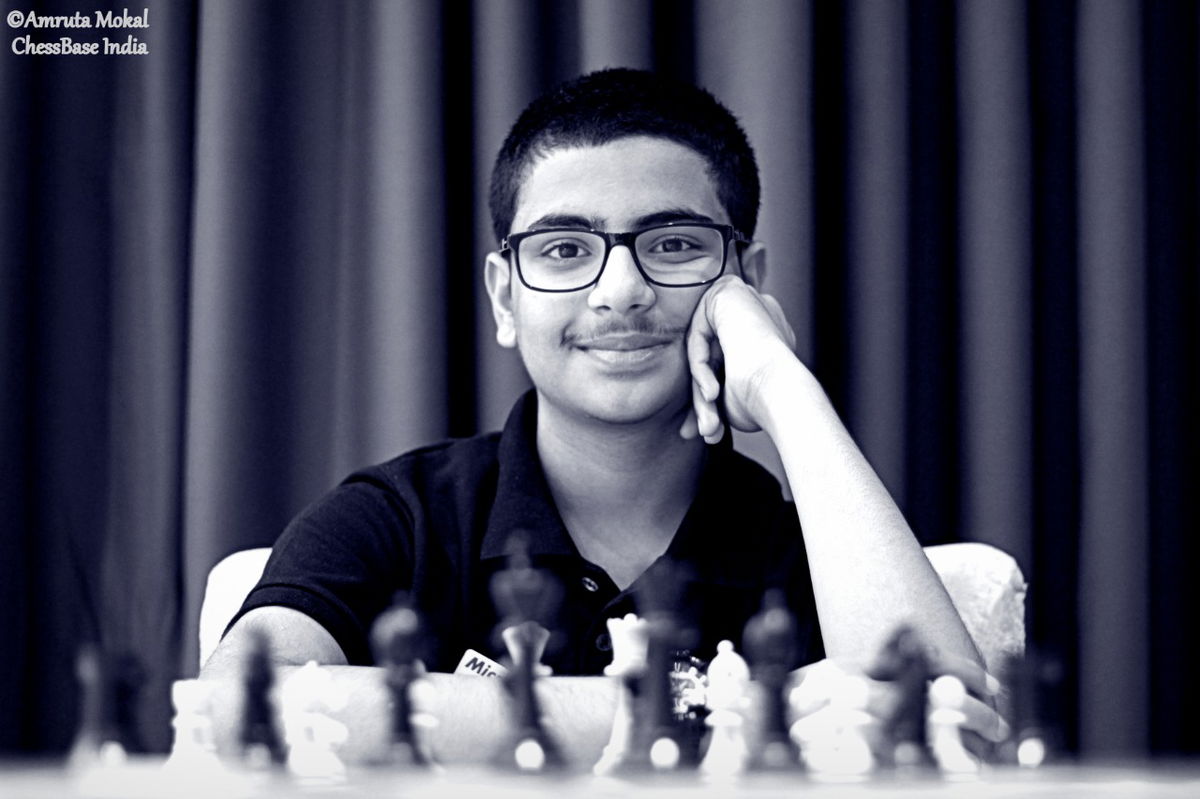 Previous articles on Raunak on ChessBase India:
Mature beyond his years - Raunak Sadhwani
Raunak Sadhwani conquers his "Fier"!
12-year-old Raunak Sadhwani just 22 Elo points away from becoming an IM
Raunak Sadhwani gives Vishy a major scare
Raunak Sadhwani scores his maiden GM norm at the Aeroflot Open
Breaking news! Raunak Sadhwani becomes India's 65th GM
Videos on Raunak:
---