Astounding Arjun Erigaisi finishes third in Lindores Abbey Blitz, now World no.31 in Blitz
Kirill Shevchenko (UKR) made a strong comeback after losing three games in-a-row including two against Fabiano Caruana (USA). The Ukrainian finished the event 14.0/18, a half point ahead of the competition to win Lindores Abbey Blitz in honor of Mikhail Tal's 85th birth anniversary. Both Caruana and Arjun Erigaisi scored 13.5/18. The former once again secured second position, just like in Grand Swiss 2021. The most spectacular performance was of Arjun's as he started the event with nine consecutive wins, including two wins over Aronian, Howell, Mamedov and Korobov. He beat Caruana once and drew the duel. Arjun gained a massive 107 Elo rating points to become World no.31 in Blitz. Photo: Mark Livshitz/FIDE
Kirill Shevchenko clinches the championship, Caruana finishes second
Goldmoney Asian Rapid is the tournament where the universe got themselves acquainted with the name Arjun Erigaisi. Lindores Abbey Blitz in honor of Mikhail Tal's 85th birth anniversary is the place where Arjun roared his name to the whole word which will ricochet for a very long time to come. Soon we will see Arjun battle at Tata Steel Chess India Rapid and Blitz 2021, starting from 17th November against the likes of Aronian, Shankland, Liem, Maghsoodloo, Vidit and Adhiban. He has definitely put them all on notice.
Round 3-4: Arjun - Aronian: 2-0
Arjun Erigaisi ended Levon Aronian's unbeaten streak this past summer at Goldmoney Asian Rapid, part of Meltwater Champions Chess Tour. So the young lad was definitely having the psychological edge.
Arjun - Aronian, Round 3
34...fxe2 35.Rxg5 Rf1+ is completely winning for Black. However, Black went 34...Qf6 35.Ng4 fxe2 36.Nxf6 and White has managed to completely turn things in his favor.
In the second game, Arjun converted his extra pawn advantage into a win quite nicely featuring a king walk in the queen ending.
Round 5-6: Howell - Arjun: 0-2
Arjun defeated the in-form David Howell (ENG) in the first game with ease after the latter blundered his queen in a volatile position.
In the second game, Arjun got a better position out of the opening, however, the position got almost gridlocked in a hurry. Then Arjun found a very nice practical break.
Arjun - Howell, Round 6
48.g4 makes absolute sense here. Not just because it is a blitz game, but that's the final break White has left in the position which can create all sorts of trouble for Black which is exactly what happened in the game. White won the game in another six moves.
Round 11-12: Arjun - Caruana: 1-1
After nine consecutive victories, Haik Martirosyan (ARM) halted Arjun's winning streak by drawing their tenth round game. That did not stop Arjun's momentum as he beat the World no.3 and the former World Championship Challenger, Fabiano Caruana in Round 11.
Arjun - Caruana, Round 11
Caruana made a rare mistake early in the middlegame 13...Bd7. It allowed White to use tactics to gain the upper hand 14.dxc5 Bxc5 15.Rxd7 Qxd7 16.Ng5 g6 17.Nxh7! f5 18.Nxf8. White not only gained a valuable pawn but also the bishop pair combined with the fact of exposed black king is a huge advantage. Arjun converted his advantage into a win comfortably, and he suffered his first loss of the event in the next game against Caruana.
Round 14-15: Arjun - Xiong: 1-1
Arjun bounced back well after suffering his second consecutive loss of the event, a 19-move loss against Jeffery Xiong (USA). He avoided a hat-trick of losses by beating Xiong in Round 15.
Arjun - Xiong, Round 15
Arjun found the tactical resource 15.Nxc6 Nxc6 16.e5 Rc8 17.exf6 Qxf6 18.Bxc6 Rxc6 19.d5 and it's over for Black. Arjun moved to 11.5/14.
Arjun lost the duel against the eventual champion of the tournament, Kirill Shevchenko (UKR). Although Arjun had a couple of good chances in the first game, the fatigue had set in, and he missed them both. The final duel was against Anton Korobov (UKR). Arjun won both of his games against him to finish third 13.5/18.
Arjun - Korobov, Round 18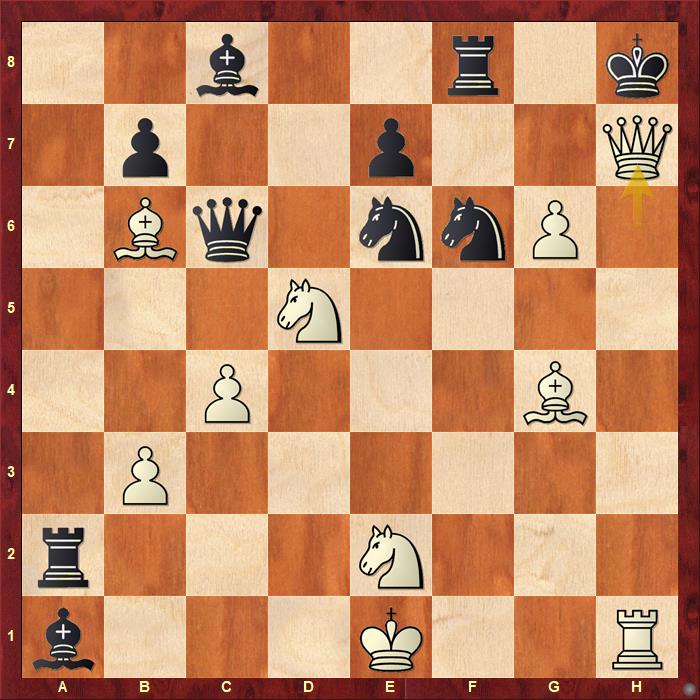 What a cute finish by Arjun Erigaisi !
The biggest appreciation one can get is when the maestro Vishy Anand himself congratulates you for your performance
Replay Arjun's games
Photo Gallery
Time Control
The time control for each round was: 3 minutes + 2 seconds increment in a best of two games duel.
Replay Round 1-18 games
Replay the live stream
Round 18 results
Final Standings
| | | | | | | | | | | | |
| --- | --- | --- | --- | --- | --- | --- | --- | --- | --- | --- | --- |
| Rk. | SNo | | | Name | sex | FED | Rtg | Pts. | TB1 | TB2 | TB3 |
| 1 | 58 | | GM | Shevchenko Kirill | | UKR | 2574 | 14,0 | 189,0 | 13 | 0,0 |
| 2 | 3 | | GM | Caruana Fabiano | | USA | 2765 | 13,5 | 209,0 | 10 | 0,0 |
| 3 | 39 | | GM | Erigaisi Arjun | | IND | 2616 | 13,5 | 206,0 | 13 | 0,0 |
| 4 | 25 | | GM | Martirosyan Haik M. | | ARM | 2656 | 12,5 | 194,0 | 11 | 0,0 |
| 5 | 4 | | GM | Navara David | | CZE | 2758 | 12,5 | 184,0 | 11 | 0,0 |
| 6 | 11 | | GM | Xiong Jeffery | | USA | 2699 | 12,0 | 198,0 | 8 | 0,0 |
| 7 | 5 | | GM | Dubov Daniil | | RUS | 2747 | 12,0 | 195,0 | 11 | 0,0 |
| 8 | 2 | | GM | Aronian Levon | | ARM | 2767 | 12,0 | 194,0 | 10 | 0,0 |
| 9 | 9 | | GM | Svidler Peter | | RUS | 2709 | 12,0 | 186,0 | 9 | 0,0 |
| 10 | 20 | | GM | Sevian Samuel | | USA | 2668 | 12,0 | 176,0 | 11 | 0,0 |
| 11 | 50 | | GM | Sargissian Gabriel | | ARM | 2596 | 12,0 | 172,0 | 10 | 0,0 |
| 12 | 65 | | GM | Petrosyan Manuel | | ARM | 2553 | 12,0 | 168,0 | 11 | 0,0 |
| 13 | 1 | | GM | Vachier-Lagrave Maxime | | FRA | 2838 | 12,0 | 166,0 | 11 | 0,0 |
| 14 | 8 | | GM | Fedoseev Vladimir | | RUS | 2716 | 12,0 | 161,0 | 11 | 0,0 |
| 15 | 29 | | GM | Gelfand Boris | | ISR | 2650 | 11,5 | 183,5 | 10 | 0,0 |
| 16 | 12 | | GM | Abdusattorov Nodirbek | | UZB | 2690 | 11,5 | 181,0 | 11 | 0,0 |
| 17 | 21 | | GM | Nihal Sarin | | IND | 2667 | 11,5 | 177,0 | 10 | 0,0 |
| 18 | 13 | | GM | Sarana Alexey | | RUS | 2689 | 11,5 | 168,0 | 10 | 0,0 |
| 19 | 51 | | GM | Esipenko Andrey | | RUS | 2592 | 11,5 | 160,0 | 9 | 0,0 |
| 20 | 7 | | GM | Korobov Anton | | UKR | 2718 | 11,0 | 201,0 | 7 | 0,0 |
---