Sumer Arsh wins the Arjun Erigaisi Death Match 2.0 scholarship of Rs.3,25,000
When the ChessBase India Originals Death Match 1.0 ended GM Anish Giri donated Rs.2,00,000 (a part of his prize money) as a scholarship for a talented and upcoming player. This was won by Ilamparthi AR. Keeping up with the tradition, the winner of Death Match 2.0 Arjun Erigaisi also donated his prize money. Arjun went a step ahead and donated his entire prize money of Rs.3,25,000. The Arjun Erigaisi Death Match 2.0 scholarship was won by Sumer Arsh Shaikh, a talented 14-year-old boy from Telangana. Sumer is the one who defeated Arjun and Gukesh in their tandem simul exhibition at the DreamHack 2022. Read on to know more about the youngster and this brilliant initiative by Arjun.
Arjun Erigaisi is one of the best chess players in the country and also in the world. He is tactically alert, positionally strong and also a fantastic calculator. But what many people may not know about him is that he is also a wonderful human being off the board as well. Even at the tender age of just 19 years, Arjun understands the concept of social responsibility and always does his bit for the community.
There are many more instances of Arjun contributing huge sums of money towards causes that make a difference. This is a habit which he has inculcated from his parents. While Arjun keeps scaling new heights on the chess board and spends majority of his time in preparation for top level tournaments, it is amazing to see how he still remains connected to helping others. After winning the ChessBase India Originals Death Match 2.0 against D. Gukesh, Arjun Erigaisi took home the winner's purse of Rs.3,00,000. He also was to receive an additional Rs.25,000 as a part of the tandem simul that he gave on the next day. So what did Arjun do with this entire amount of Rs.3,25,000? He decided to donate it to one talented chess player from India. Being from Telangana, Arjun and his team mentioned if we could find a player from his state it would be nice.
Telangana has many young talents, but it became quite clear on the next day itself as to who should receive the scholarship amount.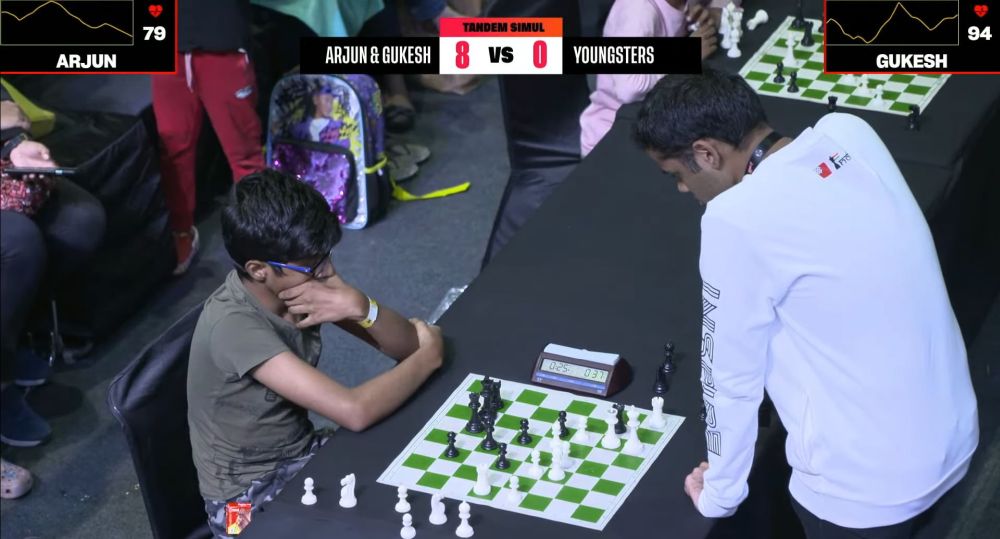 Sumer played free-flowing chess to beat the combination of two super GMs. Here's the game analyzed by the youngster himself:
When we mentioned about Sumer to Arjun and his team, they were happy with the selection and readily agreed to give him the scholarship.
Sumer is thoroughly dedicated to chess. Being a single parent, his mother Jareena, has found it extremely difficult to keep Sumer's ambitious chess career going. She is a Hindi teacher and her salary is not enough to sustain the expenses incurred in playing outside the country and training with GM level coaches. However, the mother-son duo are determined to make it big. "Sumer has the talent, he only needs help and guidance," says Jareena, Sumer's mother.
We spoke to Sumer's trainers. N. Ramaraju, who worked with the boy for a few years, mentions, "Sumer was my student from the last 3-4 years. He also stayed in my academy during that period. He is highly talented with quick calculation and tactical vision being his main strengths. If his financial issues can be solved, he can surely do well." Recently Sumer also began working with GM Debashis Das in group sessions. Speaking to ChessBase India, Debashis mentions, "He was the reason why I started group classes. Because he could not afford the fees of individual training. Sumer started chess late, but he is very hard working. I believe he will be a top player soon."
"My favourite player is Bobby Fischer," says Sumer. "I really like his style of play. I have read his book My 60 memorable games and it has helped me a lot." Sumer likes to read a lot of books and one of his favourites is Pump up your rating by Axel Smith. The boy's aim is to become an IM soon and then achieve his GM title. We asked Sumer if he could share a few of his best games with analysis and he did send them to us. All three of them are from the Dubai Open that happened in August-September 2022.
Sumer is thrilled to have won the Arjun Erigaisi Death Match 2.0 scholarship. "I am thankful to Arjun Erigaisi for his wonderful gesture. I will use the amount for my future tournaments, foreign trips, and coaching fee." It's amazing how Arjun is inspiring youngsters with his actions on and off the chess board!
PS: It must be mentioned that Gukesh also contributed the entire sum of Rs.2,00,000 that he won. However, he would not like to make it public. It was donated for medical purpose of a chess friend in need. India is proud of its chess gems!
---