Sumer Arsh stuns Gukesh and Arjun Erigaisi in a Tandem Simul at Dreamhack Hyderabad 2022
Simultaneous exhibition gives a good opportunity for the young talented players to show their mettle against the masters. The India no.2 and 4, GM D Gukesh and GM Arjun Erigaisi took on 20 players in a Tandem Simul at Dreamhack Hyderabad 2022. 13-year-old CM Shaik Sumer Arsh (2290) managed to score the sole win against the Grandmaster duo. Md. Bashiq Imrose (1724) provided staunch resistance to draw against two of the India's bests. The newly crowned National Under-7 Open champion, Nidhish Shyamal (1335) also played well. Six-year-old Divith Reddy Adulla (1136) also impressed the world-class GMs. One thing is for sure, all 20 players left with a memory of a lifetime and a wealth of experience. Photo: ChessBase India live stream
Bashiq, Nidhish and Divith impress
The Western Asian Youth and Junior Rapid and Blitz 2019 Under-12 Open Bronze medalist, 13-year-old CM Shaik Sumer Arsh became the sole player to beat GM D Gukesh and GM Arjun Erigaisi in a Tandem Simul. A tandem simul is a simultaneous exhibition where both masters alternatively make a move on each board, so that the masters mind get divided, and the relatively amateurs get a fair share of chance. The final score of the Simul was 18-2 in favor of Arjun and Gukesh where the GMs lost one, drew one and adjudged another as a draw.
Gukesh and Arjun Erigaisi - Sumer
CM Shaik Sumer Arsh (2190) became the only player out of the 20 players to beat the Simul masters, GM D Gukesh and GM Arjun Erigaisi. When the teenager was asked how he feels to beat two strong World Class GMs in a Tandem-Simul, he said, "Yeah I feel very happy." Arjun on Sumer and the game, "He played very well but I think I made a stupid blunder. I shouldn't have played Kf1. I should have probably gone Kd1 and maybe we were better. Kf1 was a huge blunder." Gukesh on the teenager, "At first I thought we were in a bit of trouble but then we kind of made some good decisions and stabilized. Then some blundered happened. He played extremely well."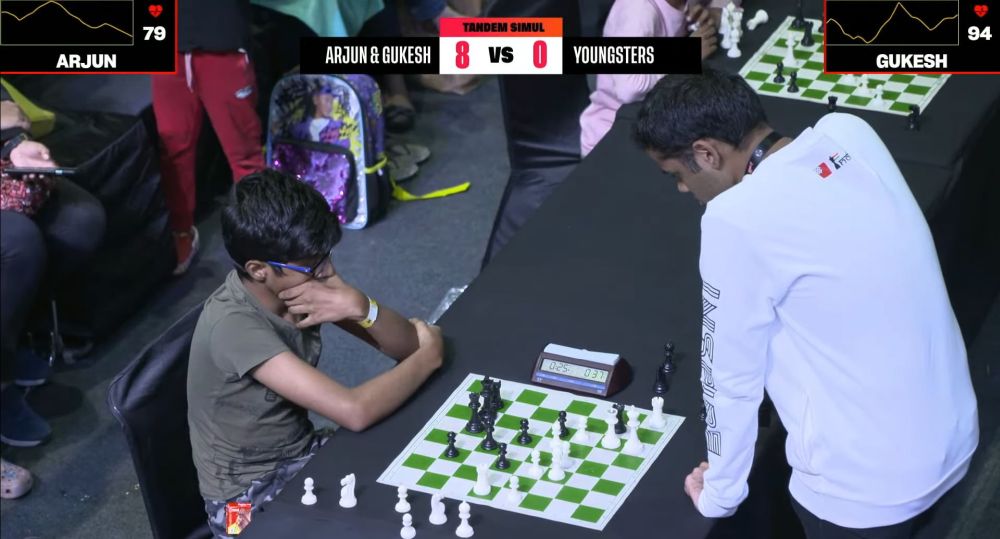 Gukesh and Arjun - Bashiq
14-year-old Md. Bashiq Imrose (1724) kept calm and managed his nerves quite well to hold GM D Gukesh and GM Arjun Erigaisi to a draw. He did not make a single mistake afterwards once he got the above position. Bashiq on playing two of India's best GMs, "Yeah it was very good but I was playing in heavy time pressure. So I was very worried... They were only playing against me and him (Dhruva Thota on adjacent board), so it was also very uncomfortable."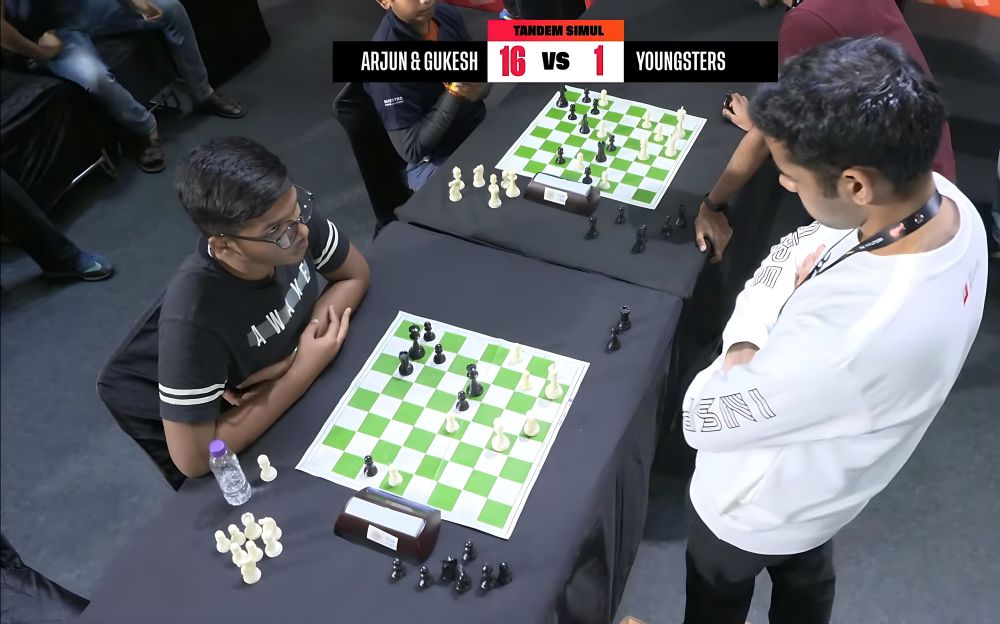 Gukesh and Arjun - Nidhish
The newly crowned National Under-7 Open champion, Nidhish Shyamal had to leave due to family emergency. However, later both Arjun and Gukesh decided that a draw is a fair result as the game could have had any one of the three results as a possibility.
Gukesh and Arjun - Divith
The Grandmaster duo D Gukesh and Arjun Erigaisi won the above position as it was certainly not easy to defend for a six-year-old Divith Reddy Adulla (1136) to defend. He certainly impressed Gukesh at a tender age as the youngest Grandmaster of India in history said, "This boy is playing like exceptional. I am shocked actually." Thus, it should not surprise anyone if Divith goes on to do amazing things in the future. He might have lost this game, but the result was immaterial as he gained an experience of a lifetime.
While it was the first Simul for many of the participants, it was also the first-ever Simul for GM Arjun Erigaisi. He had never attended a Simultaneous Exhibition both as an amateur or a master. In case, you are wondering, it was not the first time for GM D Gukesh. He had played both roles on separate occasions.
---