M R Lalit Babu and Abhimanyu Puranik win Chess @ Dreamhack Rapid and Blitz Open 2022
The biggest open gaming convention in India, Dreamhack Hyderabad hosted a Rapid and a Blitz Open chess tournament. GM M R Lalit Babu and GM Abhimanyu Puranik won the Rapid and Blitz event respectively. They earned ₹150000 and ₹40000 along with a trophy each respectively. The total prize fund was ₹1000000, ₹750000 for Rapid and ₹250000 for Blitz. Chess literally and figuratively was the center stage of Dreamhack Hyderabad 2022. Over 320 players including various GMs and IMs from all over the country gathered to be a part of this unique festival where the background music and noise was not a thing of a concern. It was something to embrace in the evolution of chess as a sport. Photo: Shahid Ahmed
Gala Celebration of Chess
The ancient sport in the modern times need to be marketed and promoted well for chess to grow both as a sport and esport. The archaic dress code, silent playing arenas at least for the Rapid and Blitz format of the game need a big change. The players are obviously ready to accept, it is only the rulemakers who need to understand that chess can easily garner audience, if only you think of a way to accommodate them. One does not need to scour the google to figure out, the 44th Chess Olympiad for the first time opened its door to the audience. It goes without saying that it was a successful move in an event which shattered many records and age old notions.
Abhimanyu - Lalit, Rapid Round 7
It was an interesting rook and minor piece endgame where White started was slightly better. However, a few inaccuracies later, Black ended up in a winning position after 20 more moves. White needed to keep his knight centralized at e5 as Black did not have any piece to displace it. 31.Rc6 Be8 32.Rd6 using the rook to capture the pawns. Despite having a bishop, it is not easy for Black to maximize it unless the knight gives up the control of light squares which is what happened in the game.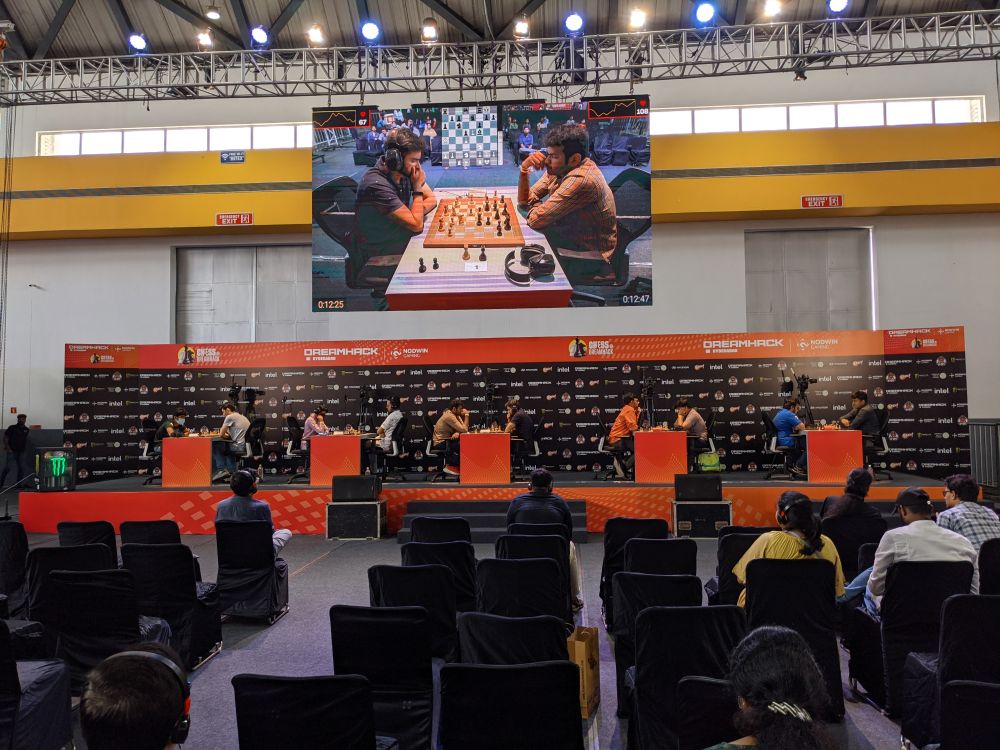 Abhimanyu - Muthaiah, Blitz Round 10
20.Bg5 turned things completely in White's favor. IM Muthaiah Al (2354) was able to stage a comeback and eventually he missed his opportunity. GM Abhimanyu Puranik (2520) won the game and the tournament too.
What made this event special?
Chess @ Dreamhack Rapid and Blitz Open tournaments were part of Dreamhack Hyderabad 2022. The idea was to give a platform for players of various strength to get a chance to battle against strong GMs and IMs. Chess being part of India's biggest gaming convention allowed the sport to be exhibited towards a new universe of gaming and esports. Some unique things which were used in these events are the following:
1. Livestream of giant screen and multitude of tv monitors: As shown above the top five boards were live streamed on a giant screen hanging above the live boards so that the players cannot see the evaluation and analysis. The commentary and analysis were done by IM Sagar Shah, Sagar Shah and FI Niklesh Kumar Jain.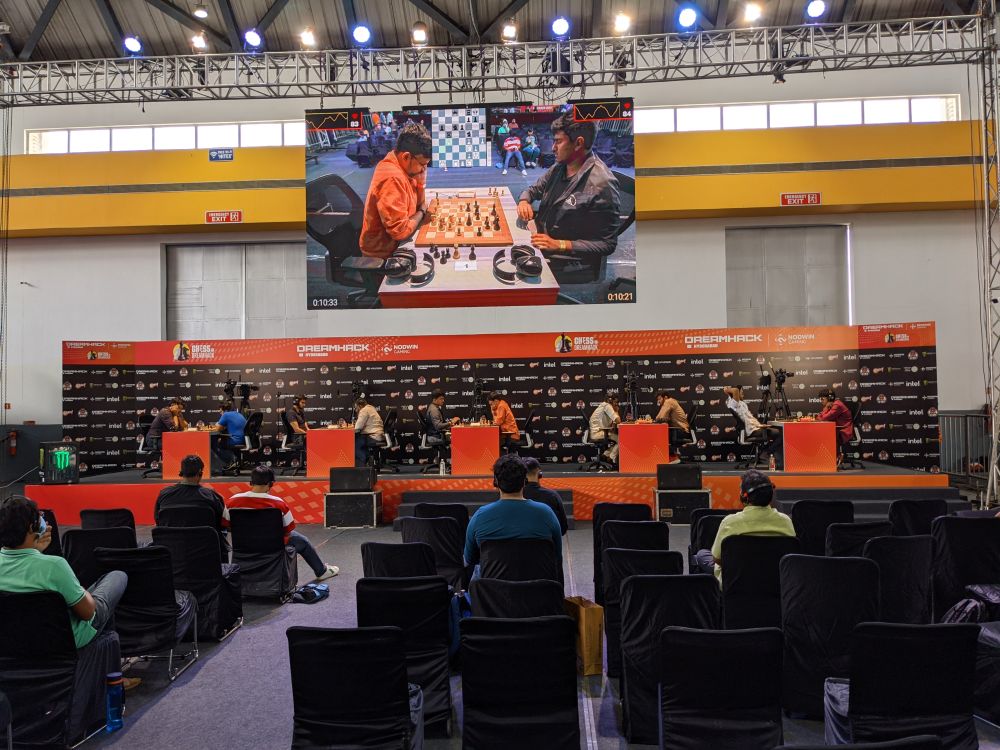 2. Jimmy camera: The usage of weighted jimmy camera is quite common in outdoor sports, movies and high budget tv/web-series. It is not even used in sitcoms. I do not remember seeing a jimmy camera being used in any chess tournament in recent times. It definitely added more to coverage as at all times over 150 games were played in each round in both Rapid and Blitz events.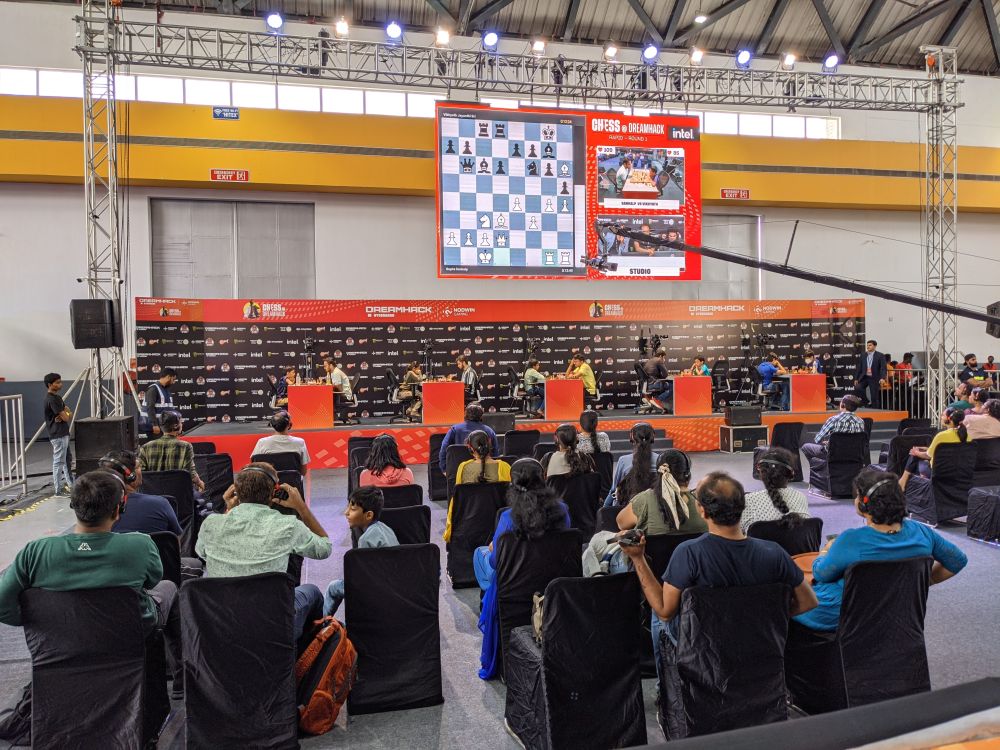 3. Heartbeat sensor: The usage of heartbeat sensor although not new was certainly unique to be used in an open event. It was used in Isle of Man few years ago and also at FIDE Grand Prix 2022. However, it was not continued regularly although it is needless to say that the tech has become more advanced and accessible in the past four years. It can also add a nice touch to the livestreams.
One thing is for certain, chess can generate a good revenue if you adapt to the modern situations and amenities. Make it more spectator friendly, allow live audience to spectate by buying tickets which means sponsors can invest more in advertisement and promotions. Everything is quite obvious, it's just the effort needs to be made in the right direction for chess to thrive like every other sport where players, organizers and officials are able to make a good living and make it enjoyable for all.
Photo Gallery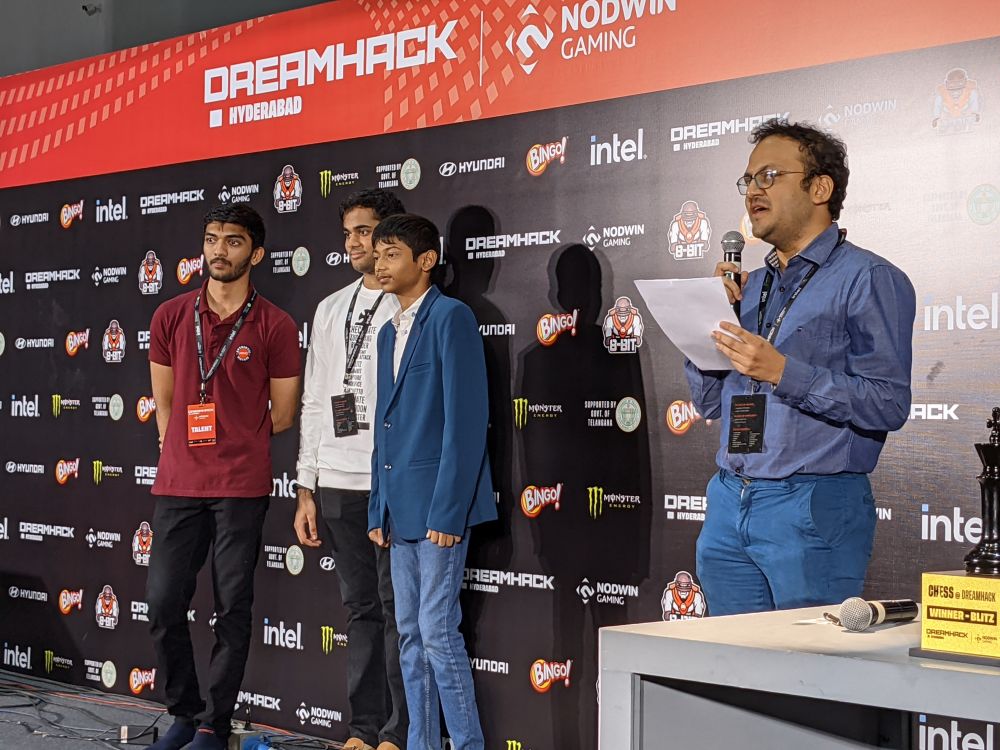 For more photos, please click here.
Video Gallery
More videos will be coming soon, stay tuned.
Replay Rapid games
Replay Blitz games
A total of 353 in Rapid and 320 players in Blitz including 7 GMs, 10 IMs and a WIM from various parts of the country and a player each from South Korea and USA took part in this three-day Rapid and Blitz Open. The Rapid and Blitz tournaments were organized by Nodwin Gaming, Samay Raina and ChessBase India at Dreamhack Hyderabad 2022, Hitex Exhibition Center in Hyderabad, Telangana from 4th to 6th Novmber 2022. The time control for the Rapid event was 15 minutes + 10 seconds increment, for the Blitz event, it was 3 minutes + 2 seconds increment.
Final Standings in Rapid
| | | | | | | | | | | | | | | |
| --- | --- | --- | --- | --- | --- | --- | --- | --- | --- | --- | --- | --- | --- | --- |
| Rk. | SNo | | | Name | Typ | sex | FED | Rtg | Pts. | TB1 | TB2 | TB3 | TB4 | TB5 |
| 1 | 2 | | GM | Lalit Babu M R | | | IND | 2550 | 8,5 | 54,5 | 58 | 54,25 | 0 | 8 |
| 2 | 1 | | GM | Harsha Bharathakoti | | | IND | 2574 | 8 | 51,5 | 56 | 48,50 | 0 | 8 |
| 3 | 10 | | IM | Prraneeth Vuppala | U15 | | IND | 2351 | 8 | 51 | 55,5 | 48,50 | 0 | 8 |
| 4 | 6 | | GM | Mitrabha Guha | | | IND | 2374 | 7,5 | 56,5 | 60 | 48,00 | 0 | 7 |
| 5 | 3 | | GM | Puranik Abhimanyu | | | IND | 2549 | 7,5 | 53,5 | 58 | 45,75 | 0 | 7 |
| 6 | 30 | | CM | Md Imran | U13 | | IND | 2147 | 7,5 | 51,5 | 55 | 44,50 | 0 | 6 |
| 7 | 43 | | | Aswath S | U15 | | IND | 2044 | 7,5 | 51,5 | 54,5 | 42,75 | 0 | 7 |
| 8 | 9 | | IM | Muthaiah Al | | | IND | 2354 | 7,5 | 50,5 | 54 | 41,75 | 0 | 7 |
| 9 | 11 | | IM | Krishna C R G | | | IND | 2341 | 7,5 | 44,5 | 47 | 38,25 | 0 | 7 |
| 10 | 5 | | GM | Sankalp Gupta | | | IND | 2402 | 7 | 52 | 57 | 43,25 | 0 | 6 |
| 11 | 15 | | IM | Krishnater Kushager | | | IND | 2310 | 7 | 51,5 | 54,5 | 38,00 | 0 | 7 |
| 12 | 24 | | | Aditya Varun Gampa | | | IND | 2179 | 7 | 51 | 55,5 | 40,00 | 0 | 7 |
| 13 | 8 | | IM | Ravi Teja S. | | | IND | 2358 | 7 | 49 | 51,5 | 36,50 | 0 | 7 |
| 14 | 4 | | GM | Narayanan Srinath | | | IND | 2518 | 7 | 48,5 | 51,5 | 38,50 | 0 | 7 |
| 15 | 28 | | | Bharat Kumar Reddy Poluri | | | IND | 2158 | 7 | 48,5 | 50,5 | 37,00 | 0 | 7 |
| 16 | 17 | | IM | Ajay Krishna S | | | IND | 2273 | 7 | 48,5 | 50,5 | 36,00 | 0 | 6 |
| 17 | 7 | | GM | Raja Rithvik R | | | IND | 2370 | 7 | 48 | 51 | 38,50 | 0 | 7 |
| 18 | 18 | | IM | Dushyant Sharma | | | IND | 2270 | 7 | 45 | 48 | 36,50 | 0 | 6 |
| 19 | 38 | | | Rohit S | U15 | | IND | 2081 | 7 | 44,5 | 48,5 | 37,50 | 0 | 7 |
| 20 | 39 | | | Chidvilash Sai Surapaneni | U15 | | IND | 2077 | 7 | 44 | 48 | 36,00 | 0 | 6 |
| 21 | 25 | | | Aakash Sharadchandra Dalvi | | | IND | 2164 | 6,5 | 50 | 54 | 35,75 | 0 | 6 |
| 22 | 27 | | | Varun V | | | IND | 2159 | 6,5 | 49,5 | 53,5 | 35,50 | 0 | 6 |
| 23 | 12 | | IM | Mohammad Nubairshah Shaikh | | | IND | 2339 | 6,5 | 48,5 | 49,5 | 30,75 | 0 | 6 |
| 24 | 16 | | IM | Sammed Jaykumar Shete | | | IND | 2308 | 6,5 | 48 | 52 | 34,25 | 0 | 6 |
| 25 | 13 | | CM | Kushagra Mohan | | | IND | 2333 | 6,5 | 48 | 49,5 | 32,00 | 0 | 6 |
Final standings in Blitz
| | | | | | | | | | | | | | | |
| --- | --- | --- | --- | --- | --- | --- | --- | --- | --- | --- | --- | --- | --- | --- |
| Rk. | SNo | | | Name | Typ | sex | FED | Rtg | Pts. | TB1 | TB2 | TB3 | TB4 | TB5 |
| 1 | 4 | | GM | Puranik Abhimanyu | | | IND | 2520 | 9 | 0 | 9 | 64 | 59,5 | 55,00 |
| 2 | 7 | | GM | Sankalp Gupta | | | IND | 2412 | 8,5 | 0 | 8 | 66 | 62 | 57,25 |
| 3 | 15 | | IM | Krishnater Kushager | | | IND | 2310 | 8,5 | 0 | 8 | 62 | 57,5 | 53,50 |
| 4 | 3 | | GM | Harsha Bharathakoti | | | IND | 2523 | 8,5 | 0 | 7 | 65,5 | 61 | 51,25 |
| 5 | 11 | | GM | Raja Rithvik R | | | IND | 2344 | 8 | 0 | 8 | 67 | 61,5 | 53,50 |
| 6 | 32 | | FM | Ram Aravind L N | | | IND | 2120 | 8 | 0 | 8 | 66,5 | 63 | 53,00 |
| 7 | 2 | | GM | Mitrabha Guha | | | IND | 2526 | 8 | 0 | 8 | 66 | 62,5 | 52,50 |
| 8 | 18 | | IM | Dushyant Sharma | | | IND | 2270 | 8 | 0 | 8 | 63 | 58 | 50,00 |
| 9 | 26 | | CM | Md Imran | U13 | | IND | 2179 | 8 | 0 | 8 | 62 | 57,5 | 51,00 |
| 10 | 42 | | | Chidvilash Sai Surapaneni | U15 | | IND | 2077 | 8 | 0 | 8 | 60 | 56,5 | 48,00 |
| 11 | 9 | | IM | Muthaiah Al | | | IND | 2354 | 8 | 0 | 7 | 68,5 | 64 | 49,25 |
| 12 | 5 | | GM | Narayanan Srinath | | | IND | 2459 | 8 | 0 | 7 | 68,5 | 64 | 48,75 |
| 13 | 1 | | GM | Lalit Babu M R | | | IND | 2551 | 8 | 0 | 7 | 68 | 62,5 | 55,25 |
| 14 | 14 | | WIM | Savitha Shri B | U15 | w | IND | 2311 | 8 | 0 | 7 | 67,5 | 63 | 49,00 |
| 15 | 6 | | IM | Ravi Teja S. | | | IND | 2434 | 8 | 0 | 7 | 66,5 | 62,5 | 52,00 |
| 16 | 8 | | IM | Krishna C R G | | | IND | 2380 | 8 | 0 | 7 | 62 | 57,5 | 44,50 |
| 17 | 10 | | IM | Prraneeth Vuppala | U15 | | IND | 2351 | 7,5 | 0 | 7 | 68 | 63,5 | 48,25 |
| 18 | 28 | | | Bharat Kumar Reddy Poluri | | | IND | 2163 | 7,5 | 0 | 7 | 66 | 61,5 | 48,75 |
| 19 | 33 | | CM | Amitpal Singh | | | IND | 2107 | 7,5 | 0 | 7 | 65,5 | 61 | 43,25 |
| 20 | 29 | | | Varun V | | | IND | 2159 | 7,5 | 0 | 7 | 65 | 60,5 | 41,25 |
| 21 | 12 | | IM | Mohammad Nubairshah Shaikh | | | IND | 2339 | 7,5 | 0 | 7 | 63 | 58,5 | 41,50 |
| 22 | 21 | | IM | Ajay Krishna S | | | IND | 2245 | 7,5 | 0 | 7 | 61,5 | 57 | 40,00 |
| 23 | 55 | | AGM | Vignesh B | | | IND | 1923 | 7,5 | 0 | 7 | 60,5 | 56 | 43,00 |
| 24 | 25 | | CM | Shaik Sumer Arsh | U15 | | IND | 2190 | 7,5 | 0 | 7 | 60 | 55,5 | 39,75 |
| 25 | 63 | | | Arun R U | | | IND | 1785 | 7 | 0 | 7 | 63,5 | 59 | 37,00 |
---