Sadhana App Sponsorship of Rs.4,50,000 to boost the careers of 3 young chess players
In order that the right talent in chess gets the right financial backing, Sadhana App has teamed up with the HelpChess Foundation to sponsor three big talents of Indian chess to the tune of Rs.4,50,000 (Rs.1,50,000 each) so that they can plan tournaments outside India. The aim of Sadhana App Sponsorship is to create new Grandmasters in the country and that is the reason why this project is named as "Mission Grandmaster!" Read the article to know who the players are, what Sadhana app is, why is it supporting these young talents to fulfil their dreams and which top Indian GM is supporting this initiative.
On a mission to create new GMs for India
One evening after the ChessBase India chess club had come to an end, I received a call from GM Vidit Gujrathi. Walking through the Phoenix Marketcity mall, I could sense excitement and urgency in his voice. He told me, "Sagar, there is a new app developed by Om Swami and his team. It's called the Sadhana App. The app has a marketing budget and they would like to use it for a good purpose. Do you have any ideas?"
I thought about it for a few moments. I had come to know about Om Swami through Vidit. The Blacklotus App, which Vidit is the brand ambassador of, is well-known in the chess world thanks to Vidit streaming hundreds of hours with it in the background. Back in 2020, I had checked the interface and had even written an article on the app. One thing I was aware of was the fact that when Vidit and Om Swami are involved, the end product would be of good quality and useful for people interested in meditation and spirituality.
"There are many chess players in need of funds," I said to Vidit. "Especially the talented youngsters, who are very close to becoming GMs. How about we start with a 'Mission Grandmaster' program where players who are very close to the GM title get support so that they are able to fulfil their dreams and India gets more Grandmasters." Vidit instantly liked this idea and promised that he would speak with the Sadhana App team. The India no.2 super GM, who is now rated 2723 and ranked no.23 in the world, at some point had struggled quite a lot to achieve his GM title. It had taken Vidit a good solid 3 years to achieve all of his norms and get the coveted title after he had already hit the 2500 Elo. If someone would have sponsored a few of his trips abroad, he would have saved precious time. "I know how hard it is to become a Grandmaster. The training is expensive and also, it's not easy to score norms by just playing in India." Over the next few days Vidit took out time from his busy schedule, drafted a proposal and sent it to the Sadhana App's team. The idea was to sponsor an international trip for these youngsters where they could play at least three tournaments and aim to achieve their titles. The Sadhana team loved the idea and agreed to sponsor three young talents in need of funds. The amount decided was Rs.1,50,000 per player, which is a total sponsorship of Rs.4,50,000.
The three future GMs of India
The three players who have been supported by the Sadhana App Sponsorship for Mission Grandmaster are:
1. IM Pranav V. (Elo 2481, 1 GM norm)
2. IM Aronyak Ghosh (Elo 2494, 0 GM norms)
3. WIM Priyanka K. (Elo 2134, 1 WGM norm)
All three of the above youngsters have no real support in terms of sponsors and are in need of funds to achieve their GM/WGM titles. Aronyak Ghosh and Pranav V. are two of the highest rated IMs in India. Pranav has played some amazing chess in the last year and has managed to pump up his rating by a couple of hundred points. Born in 2006, the Tamil Nadu youngster, needs 19 Elo points and 2 GM norms to become a full fledged GM. Aronyak Ghosh from West Bengal is born in 2003 and is just 6 Elo points shy of 2500 mark. The youngster needs all his three GM norms, but we would not be surprised if he rapidly achieves all of them. Shortage of funds has been a major reason why Aronyak has not been able to play international events and become a GM yet. Priyanka K's story of pursuing chess amidst all the difficulties that she has faced has been inspiring. Her highest rating has been 2218. This talented girl needs two more norms and 166 Elo points to become a WGM. After her excellent performance at the Chess Super League, Vidit was extremely impressed with her determination and will to succeed. The India no.2 personally recommended Priyanka's name for the Sadhana App Sponsorship.
Interview with the three talents
ChessBase India (CBI): How does it feel to win the Sadhana Sponsorship of Rs.150,000?
Pranav V. (PV): I feel really very happy to know about the grant of Sadhana Sponsorship for Rs.150,000 to me. It will make a big difference in planning my training and tournaments.
Aronyak Ghosh (AG): I feel very happy to receive this sponsorship (first time in my career from the chess field). This sponsorship will definitely help me a great deal to achieve my goals.
Priyanka K (PK): I'm extremely happy to have won the Mission Grandmaster Sponsorship from Sadhana App. Firstly, my sincere gratitude to Sadhana App and to everyone behind this mission for this wonderful opportunity. This sponsorship is really really huge for me. Coming from a very humble background, playing serious chess has always been something extraordinary for me and my family. This would be a very big support for me to go to next level and to reach higher goals.
CBI: How do you plan on utilizing the funds?
PV: I will be using it for purpose of tournaments. We are planning to play tournaments in Hungary and Serbia.
AG: I wish to participate in the Catalan Circuit. [Editor: Aronyak has already booked his tickets and will be playing multiple tournaments in Spain in the months of June and July!]
PK: I plan on to play few tournaments in Europe and increase my rating and complete my WGM title requirements. I have one WGM norm and one IM norm. I usually don't get to play a lot in Europe due to my financial background. And to be frank, there are more stories of me cancelling the tournament plans in the last minute due to lack of funds than me having played them. With this sponsorship, I'm really grateful that I can play the tournaments without any worries or financial pressure which has always been something that bothers me.
CBI: One of the persons instrumental in making this happen is Vidit Gujrathi. What are your thoughts about it.
PV: I have played a lot of games with him online and he is a great player. I do follow him.
AG: He is an extremely strong player. I aspire to be like him and try my level best to reach his levels. BTW the April Fool's Joke was a great one.
PK: To be really really honest, I was super thrilled and surprised to know that Vidit bhaiya had recommended me for the sponsorship. I'm a huge huge fan of him and I have been inspired a lot from his games so this means really so much to me. In fact I still remember, when I got to know that Vidit bhaiya was one of the main persons to make this happen, I kept reconfirming for like 3 times if it's really him who recommended me :) That's how big it really is for me. A big big thank you to him for making this happen! And special mention to CSL which made players like me come into limelight to the top players and people!
CBI: Have you checked the Sadhana App. What did you like about it?
PV: Graphics are like real and performing pooja and yagna is what I liked the most.
AG: To be honest I am not really into meditation and stuff but maybe I should get into it. From watching Vidit's performance I must say I have become a little bit enthusiast (anything to reach his levels :)
PK: Personally I feel Sadhana App is a wonderful initiative. In this generation of fast paced lives in which all of us are constantly running towards something, it's becoming very rare to see people taking out time to look back at our Vedas, rituals or even worshiping idols. This app is a great solution for all of this and I feel it's essential for the current generation. And of course for chess players, this is very much needed as it ensures the calmness one needs!
CBI: What is your short term and long term aim in chess?
PV: For the next six to eight months I plan to play a lot of chess tournaments to be able to complete my GM Title requirements. The long term aim I can think at this moment is to qualify for the World Championship Cycle and fight for the highest title in the sport.
AG: My short term goal is to become a GM. Long term I would have to say reach 2650.
PK: My short term goal is to become a WGM and an IM at the earliest. I have been missing the norms by a whisker or so for quite sometime and so now aiming to make it happen soon! My long term goal is to become a Grandmaster, but now am mostly concentrating on improving my game, and I believe things will automatically fall into place if I improve the quality!
CBI: What are the financial hardships you have faced in your chess career till date?
PV: We do not participate in many good international tournaments due to our need for financial support. Even playing tournaments within India take quite a bit of expenses as we have to spend on travel, accommodation and other logistics. I am blessed to have a coach (Mr.Visweswaran Kameswaran) who supports us in all aspects.
AG: All my career I have never received any type of sponsorship and thus it was very difficult for my parents to support my career and I am eternally grateful to them. It only seems that chess is a very low cost sport but in reality it is the exact opposite. I was not able to afford the training required so I had to self-train myself from 2300 levels. But ok, enough about my hardships, it's time to achieve my goals.
PK: My journey in chess has been a rollercoaster ride and one main reason for this was the financial crisis we faced. As I had mentioned, coming from a humble background, all that was possible was leading a very normal ordinary life. But to fulfill big dreams, one has to go through extraordinary stuff in life (be it good or bad) and so did me and my family. To play professional chess, one has to go through a lot of expenses - be it coaching or playing tournaments. If either of it is lacking due to the financial hardships, it surely affects the game a lot. Sometimes it is lack of coaching and sometimes it is lack of funds to play tournaments, and we have been facing this ever since the beginning of my career. But now things have also worsened for me and my family as my grandmother, who was the pillar of our family passed away recently due to Covid and it's been quite a tough time both mentally and financially. But isn't that how life is! Despite the struggles and challenges life keeps throwing at us, all that matters is how strong we are and the never give up attitude! All of this genuinely motivates me to give my best and come back real strong.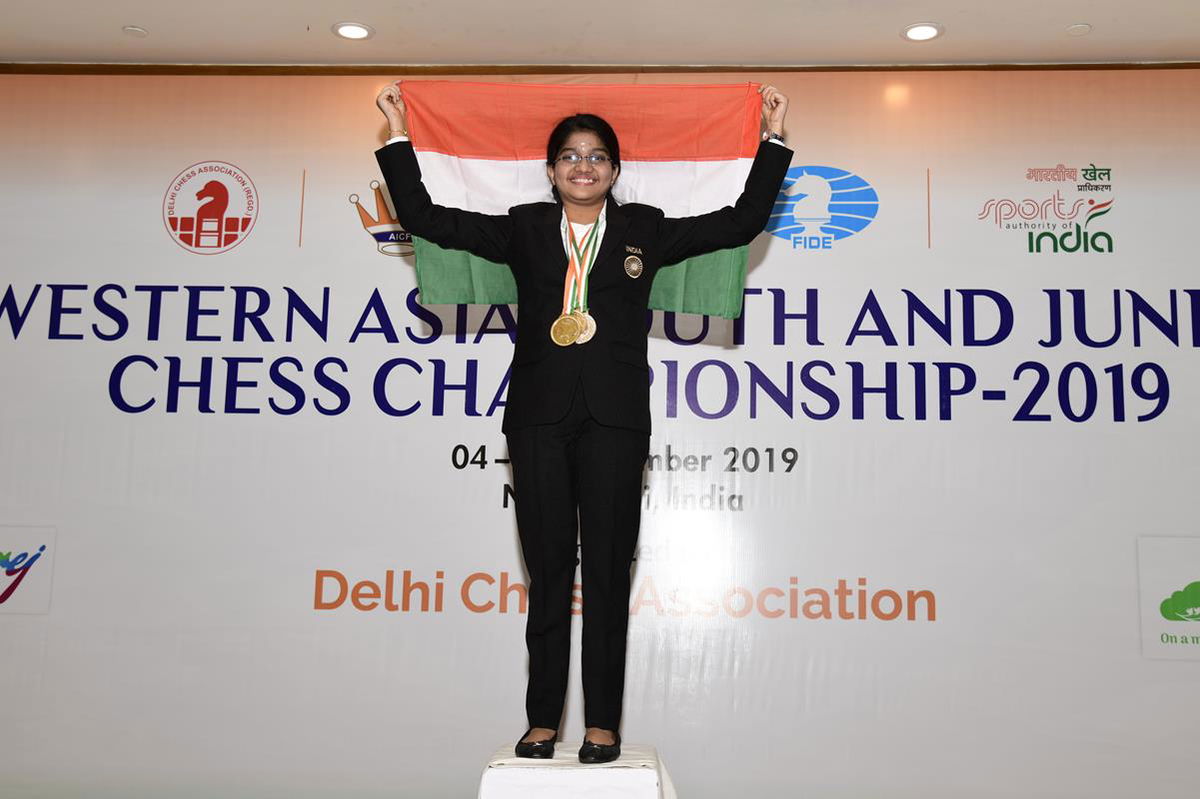 Sadhana App merchandise for the players
When the players will fight it out in tournaments outside the country, they will be wearing the merchandise of Sadhana App. The merch has been specially designed by Vidit Gujrathi and his team for all the three youngsters.
Get to know more about the Sadhana App
The Sadhana App was launched recently in March 2022 and has quickly climbed the rating charts to find its spot as one of the fastest growing spiritual apps in the world. You can download it from their website and it is available for both Android and iOS. What is the Sadhana app all about? We asked the their team by sending in some questions and this is what they had to say:
ChessBase India (CBI): Tell us about the Sadhana App. What is it about?
Team Sadhana App (TSA): The Sadhana App has been created to revive the glory of the Vedas of India and make its wisdom accessible to anyone with a smartphone, absolutely free of cost. It the most unique and powerful Vedic app in the world right now, already having touched more than One lakh lives in under eight weeks, with thousands of users signing up every day from across the world. Based on more than three decades of Om Swamiji's own Sadhana experience and extensive knowledge of the Vedas, the stunning world of the Sadhana App is a virtual recreation of the mystical land of Siddhāshrama, hidden deep in the Himalayas, mentioned in many scriptures.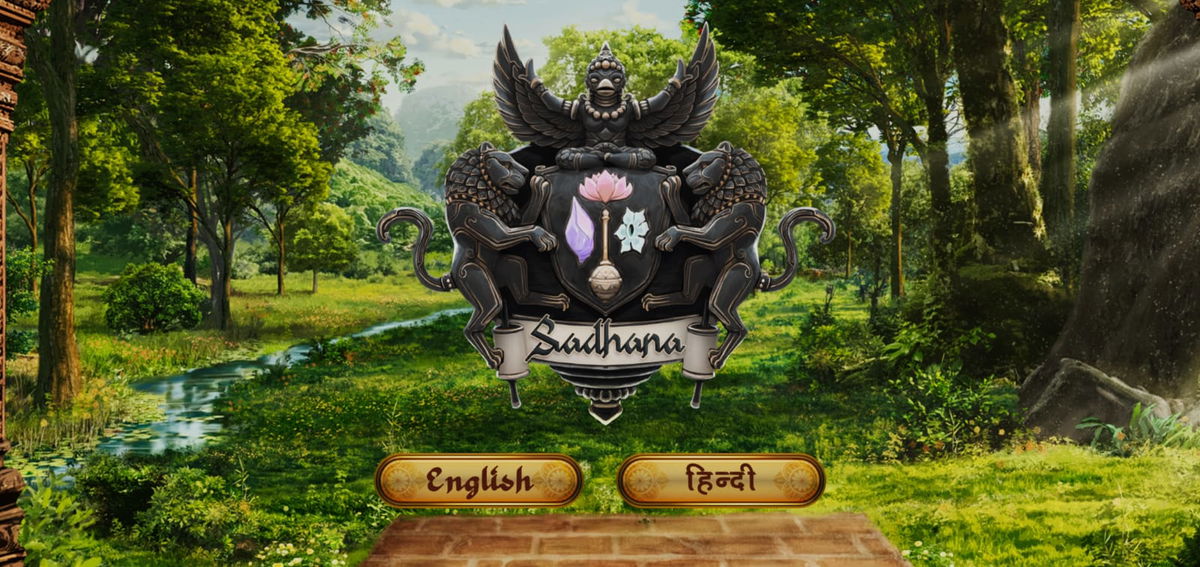 The user is taken on a beautiful journey when they enter the app, through ancient temples of India, where they can choose to practice five powerful guided worship rituals like anointing deities, nitya puja, chanting mantras (japa), sacred sadhanas and performing yagyas or fire offerings, in an immersive 3D/2D environment, and deeply connect with the divine powers within, the pure Vedic way.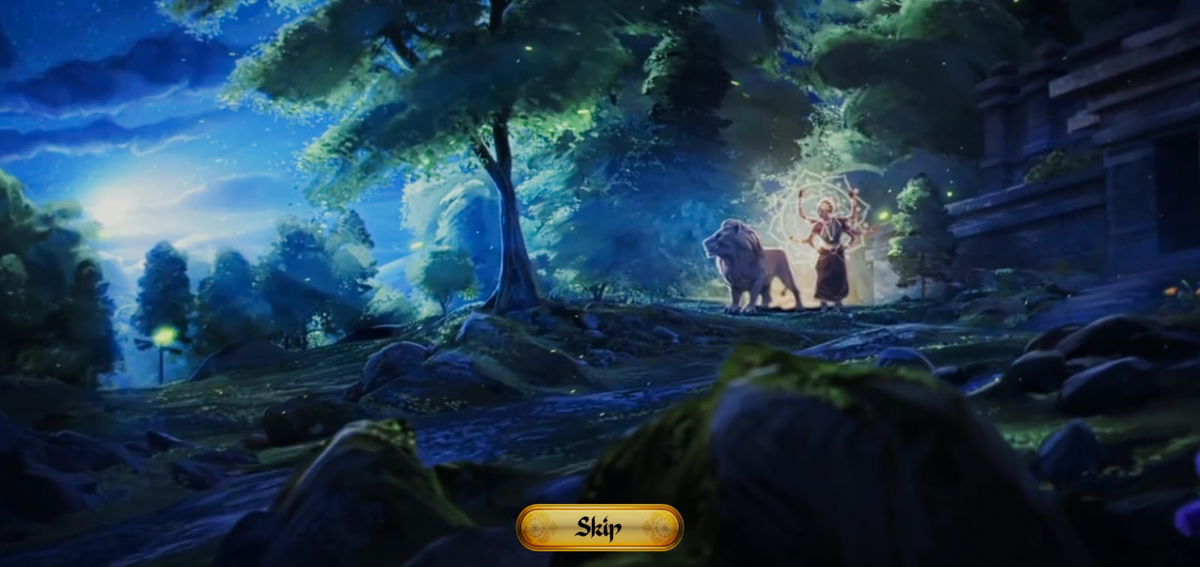 CBI: Why is using Sadhana App useful?
TSA: Just for a moment think about what happens to a fresh, fragrant jasmine or rose flower once it's been plucked off its bush and it gets disconnected from its roots. Just a few hours later, there remains no freshness, no fragrance, and the vibrant colours fade and petals wilt. It's a fast-track journey towards decay. This is exactly what happens to a person when they lose their connection to their divine roots. The spirit decays inside, making one feel lost and unfulfilled. To that effect, it becomes essential to connect to the divine source every day, even if just for a few minutes and doing so through the worship rituals on the Sadhana app, is an incredibly uplifting and enjoyable way to discover your inner joy.
CBI: Can this app be useful for chess players?
TSA: Yes, absolutely, without a doubt. Finding an anchor in life of dharma, through the Vedic way of life is not only useful, but a necessity for anyone looking to live a successful, happy life. Sadhana is about establishing oneself in a disciplined practice and building a strong spiritual foundation over time, freeing oneself from all mental obstacles and limiting belief systems. One starts to align with the rhythm of the Universe and finds within themselves a pristine clarity of mind, focus and creativity, enabling you to Master both; the game of chess and the game of life with ease! And as they say, the proof is in the pudding.
Chess GM Vidit Gujarathi says, "Earlier if I wanted to do any Sadhana or worship God or my Guru, I didn't know how to do it. The scriptures always felt intimidating. I love that with the Sadhana app, it has made it very easy to get access to Vedic wisdom. With just a few clicks, I can perform all the steps of ancient Sadhanas, Japa (chanting) and Yajnas. I can perform all of them in an immersive way within the app itself! Most importantly, I feel Sadhana App has brought me much to closer to Bhagwan…"
CBI: Why did you decide to help these three young chess players?
TSA: First and foremost because we truly believe in their talent, hard work and immense potential. The youth is the future of this world and being able to support an individual on their journey to discover their truest passion and reach its summit, is not much different than connecting one to their path of spiritual discovery and discovering the highest level of consiousness. It's the same thing. In this case, chess is their Sadhana! Mastering a craft, a skill of any kind takes great discipline, perseverance and commitment, along with the right training, luck and support system. Also, it's no secret that chess is a game very close to our hearts. Swamiji has played chess all his life and he mastered it early on in his life. He even penned down an international award-winning fiction, best seller on the subject called 'The Last Gambit", the translation of which won the prestigious Chronos Prize for Literature, in France in 2019 .
CBI: Recently GM Vidit Gujrathi, India no.2, visited the ashram. How was your experience interacting with him and what do you feel are his special qualities?
TSA: Vidit is an exceptional human being with a brilliant heart and the first quality of many that comes to mind is his humility and simplicity. One can learn a lot from observing somebody like him who is hard working, disciplined and kind-hearted. Anyone with that kind of balance, clarity and focus in life, is bound to get the attention of nature as a worthy recipient of divine grace.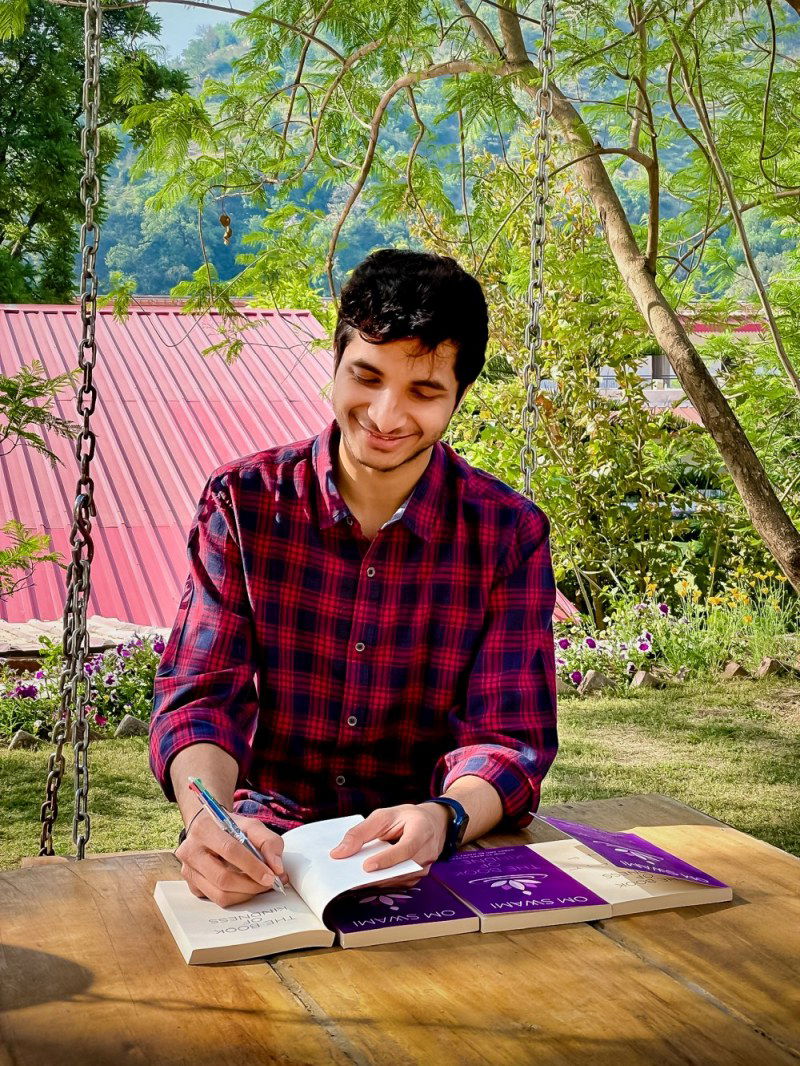 Important links:
Work done by HelpChess Foundation
---