HelpChess Foundation supports Indian chess players to the tune of Rs.26 lakh in 2022-23
In the year 2022-23, HelpChess Foundation worked around the clock to support Indian chess players. We supported close to 20 players from all across the country and helped them in various ways - tournament expenses, laptops, coaching fees etc. The total amount spent was Rs.25,97,626 (US$31,705). In this article we give a detailed breakdown of all the initiatives, scholarships, sponsorships that were undertaken by HelpChess. At the same time, we have a fund of close to Rs.15 lakh with which we would like to support talents in the year 2023-24. If you are a serious chess player, who is lacking funds, you can fill Google Form given in the article.
The work done by HelpChess Foundation in 2022-23
The HelpChess Foundation was brought into existence in order to help the Indian chess players who come from a financially modest background. One of the biggest reasons why talents quit chess is an inability to manage the funds required for an ambitious chess career. There are costs related to playing tournaments which include travel, accommodation, food etc. and there are costs related to training which can run into several lakhs of rupees if you are working with a well-known trainer. When the HelpChess Foundation was launched back in 2018, we started out small. We had a couple of scholarships and we offered them to some of the most deserving young talents of Indian chess. As time went by more and more people began to trust our initiatives and our scope of support expanded. On 22nd September 2022, International Chess Day, we launched the website specially dedicated to HelpChess. One of the things we absolutely wanted to ensure was high level of transparency when it came to the funds we collected. Hence, each and every penny that we collected was accounted for. Getting the 80G registration which resulted in tax benefits for our donors and getting a CSR no. was a step in the right direction. Below we want to discuss with you about the funds we collected and how they were utilized for the financial year 2022-23.
The King's Gambit Scholarship of Rs.1,20,000
Sadhana App Scholarship of Rs.4,50,0000
The Sadhana Sponsorship was instituted by Sadhana App along with the support of GM Vidit Gujrathi. The idea was the support three young talents who were close to achieving their GM titles. And hence, mission Grandmaster was the name of the initiative. The scholarship helped these youngsters to plan their events outside India. Each of them received an amount of Rs.1,50,000, the total coming to Rs.4,50,000. Pranav V became a GM by achieving his final GM norm at the Limpidea Cup and becoming India's 75th GM. Aronyak Ghosh managed to score his 1st GM norm and also cross the Elo of 2500. Priyanka K. played in Armenia to move towards her WGM title.
Pursue Your Chess Scholarship 4th edition of Rs.1,25,000
This is the longest standing scholarship at HelpChess. Pursue Your Chess reached its 4th edition. The amount of Rs.1,25,000 has been split between two players. IM Kushagra Mohan received Rs.1,00,000 for his journey towards becoming a GM and Shriraj Bhosale from Kolhapur received Rs.25,000 which he can use to train with a strong chess coach. While you read this Kushagra is in Europe already pursuing his GM title, while Shriraj just finished the Delhi GM Open gaining some rating points.
Mystic Wealth Scholarship of Rs.1,50,000
Manish Dhawan, the Founder Partner of Mystic Wealth, a SEBI registered Investment advisory, decided to support Indian chess by instituting the Mystic Wealth Scholarship of Rs.1,50,000 for a talent in need of funds. WIM Arpita Mukherjee from West Bengal has been given this support so that she can move towards her WGM title.
Pragg CCT Scholarship of Rs.2,07,530
At the Champions Chess Tour (CCT) 2022, in one of the events Praggnanandhaa was taking part. The organizers wanted us to do some work of promoting their app. We suggested that whatever funds were being offered if we could use it to make a "Pragg CCT scholarship", it would greatly help a young talent. That's how the Pragg CCT scholarship came into existence. 11-year-old Ethan Vaz, a young talent of Indian chess, was identified as the winner of it. Getting the scholarship does offer financial support to Ethan, but also speaking with Pragg over a zoom call was quite inspiring for the youngster. He recently finished 6th at the Delhi GM Open 2023 in a field that was studded with grandmasters and International Masters.
Anish Giri Death Match scholarship of Rs.2,00,000
When Anish Giri won the ChessBase India Originals Death Match against Vidit Gujrathi, he decided that from his prize fund of Rs.5,00,000, he would donate Rs.2,00,000 to the HelpChess Foundation. We instituted the Anish Giri Death Match scholarship and it went to the young talent of Indian chess Ilamparthi. The boy had just become the world under-14 champion when we announced this scholarship. Ilamparthi went on to become an IM in few months. The Anish Giri death Match scholarship was invaluable as Ilamparthi used Rs.1,50,000 for training with GM Shyam Sundar. In February 2023, Pravaha Foundation decided to support Ilamparthi. Guess what did Ilamparthi do? The young boy and his family decided to make sure that the remaining Rs.50,000 goes to another talent so that they can progress in their career!
Anish Giri's ripples of kindness are being felt by more than one Indian talent!
Arjun Erigaisi Death Match Scholarship of Rs.3,25,000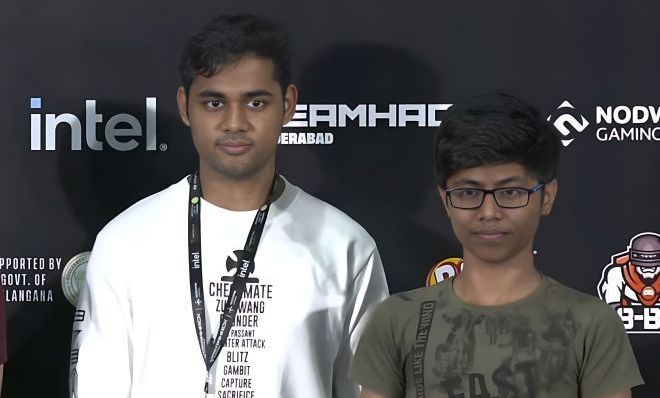 When Arjun Erigaisi won the ChessBase India Originals Death Match 2.0 against Gukesh, he won a total prize amount of Rs.3,25,000. The moment he won the amount, he decided to donate it to HelpChess Foundation to help a chess talent in need. While Arjun and his team were fine with any youngster across the country in need of funds, we decided to find a talent from his state of Telangana. Sumer Arsh Shaikh was a natural selection for this. The boy had beaten Arjun and Gukesh in the tandem simul after their death match and the boy is extremely talented. Thanks to the scholarship, Sumer is now working on a regular basis with GM Debashis Das and will also use the funds for his chess tournaments.
The Suhani Shah Scholarship of Rs.1,00,000
When Susha's Squad won the COB Gang War they pledged an amount to the HelpChess Foundation. When Suhani Shah, the captain of the team received her amount she contributed Rs.1,00,000 to the HelpChess Foundation. This was used to support the young talent Md. Imran with a laptop of Rs.83,000
Dharmen Shah Scholarship of Rs.1,50,000
Dharmen Shah and Jayshree Shah are my (Sagar's) parents. Ever since I was a young kid I would see them giving back to the society. They continue to do so now in multiple ways. One of them is via HelpChess to help the chess community. My father decided to institute a scholarship of Rs.1,00,000. When we launched the website, he added another Rs.50,000 to it. This amount has been used for Pranav V. to get a laptop and some of his other expenses.
Vivek Gupta Laptop scholarship of Rs.81,638
We received a call from Vivek Gupta, a follower of ChessBase India, with an intention to support a young talent with a laptop. We got to know that Shreya Hipparagi, a very talented girl from Maharashtra, was facing a lot of issues with her laptop. With the amount contributed by Vivek, Shreya received a new laptop that helps her to make progress in her chess career.
Shrenik Lad Scholarship of Rs.50,000
Shrenik Lad and Purva Gaggar live in the US. They wanted to contribute Rs.50,000 to a talented youngster. They decided to support 13-year-old Mayank Chakraborty, the current under-17 national champion, for his training camp with GM Swayams Mishra.
Jesons Industries Limited Sponsorship of Rs.7,50,000
Special thanks
Total amount spent in the year 2022-23
The total amount that HelpChess spent for chess players in the year 2022-23 has been Rs.25,97,626
Talents who were supported by HelpChess Foundation in 2022-23
1. Shahil Dey
2. Ilamparthi
3. Mounika Akshaya
4. Aronyak Ghosh
5. Mayank Chakraborty
6. Arpita Mukherjee
7. Pranav V.
8. Sarayu Velpula
9. Marimuthu
10. K. Priyanka
11. Md. Imran
12. Mrittika Mallick
13. Shreya Hiparaggi
14. Aditya Mittal
15. Kushagra Mohan
16. Jubin Jimmy
17. Sumer Arsh
18. Ethan Vaz
Believers of Indian chess
The following are the Believers who have contributed to HelpChess either via direct bank transfer or through the HelpChess website. We call the people who contribute on the HelpChess website as Believers and Big Believers (above Rs.50,000), because we feel that they believe in our vision and in the potential of Indian chess!
Total funds - Rs.8,73,603
YouTube memberships
ChessBase India has a vibrant YouTube channel with a lot of people who become members each month. The entire amount is used to support Indian chess and chess players. We maintain a record for the members of each month and this amount has been utilized in the past to support one chess player each month. This is how we supported the players in 2021-22 via the YouTube memberships.
Details of players supported in 2021-22
| | |
| --- | --- |
| YT membership- April -Savitha Shri | 34588 |
| YT membership- May - Karthik Venkata Krishna | 54931 |
| YT membership- June - Pranav | 77383 |
| YT membership- July - Ilamparthy | 119799 |
| YT membership- August - Sanjay | 85648 |
| YT membership- September - Marimuthu K | 68907 |
| YT membership- October - Pranesh | 62194 |
| YT membership- November - Shreya Hipparagi | 60625 |
| YT membership- December- Daakshin Arun | 49105 |
| YT membership - January- Sarayu Velapula | 55853 |
| YT membership - February-Mrittika Mallick | 55026 |
| YT membership - March- Shravaanica | 53365 |
For the year 2022-23 this amount has been carefully kept to be utilized. We realized that while we did support individuals each month, sometimes their needs are higher than the amount collected in a month. And hence we have decided to pool in the entire amount.
| | |
| --- | --- |
| 3. YT membership 2022-23 | |
| YT membership- April | 55014 |
| YT membership- May | 55741 |
| YT membership- June | 58574 |
| YT membership- July | 61069 |
| YT membership- August | 64282 |
| YT membership- September | 61596 |
| YT membership- October | 57884 |
| YT membership- November | 59690 |
| YT membership- December | 56186 |
| YT membership- January | 57147 |
| YT membership- February | 52894 |
| YT membership- March | 53283 |
| Total | 693359 |
HelpChess currently has a total of Rs.15,66,962 (donations by Believers + YouTube memberships). This amount will be utilized to support chess players.
Apply for the funds
One of the most important things that we do at HelpChess is to ensure that the money is carefully utilized and that players are able to make the best use of these funds. Hence, we would like to carefully select the players who receive the support. If you are a chess player in need of funds then please fill in the form given below. We will review your application and then accordingly contact you and support you in your chess journey. Please make sure you fill the form carefully and truthfully.
Support the Initiative
If you would like to support Indian chess players, please contribute via our HelpChess website. If you would like to institute a scholarship or sponsor an amount please do write to us at chessbaseindia@gmail.com. HelpChess is an 80G registered Charitable Trust. Here are some details so that you can be sure that you are putting in your money in the right place.
PAN number: AACTH4426K
12A Registration - AACTH4426KE20215 dated 23/09/2021
80G No - AACTH4426KF20213
CSR No. CSR00016763
---