Ethan Vaz gets the CCT Pragg Scholarship!
The CCT Pragg Scholarship of Rs.2,07,530 goes to 11-year-old Ethan Vaz. In this article, we share how this entire scholarship was conceptualized. Ethan also had a conversation between the man who made this scholarship possible - Rameshbabu Praggnanandhaa! We also asked some questions to Ethan's father Edwin Vaz about what this scholarship means to them. Ethan is one of the biggest talents in Indian chess. Speaking with Pragg was an inspiring moment for the youngster. We want to take this moment to thank Pragg for his amazing play and our dear Janta (viewers) for their incessant support to the game of chess! Ethan will use this funds for his training and tournaments and this is sure to help him.
11-year-old Ethan Vaz receives the CCT Pragg Scholarship
It all began at the FTX Crypto Cup 2022, which was part of the Meltwater Champions Chess Tour. Praggnanandhaa played beautifully in Miami, where it was an online in-person event. Pragg finished as the runner-up. On the last day, he even beat Magnus Carlsen in their individual encounter. The 4-game match was drawn 2-2 at first, and then Pragg beat him in the tiebreaks. He finished 2nd by a narrow margin in the tournament!
Together with the help of the Champions Chess Tour and Praggnanandhaa we organized a fund that would go to a talented youngster of Indian chess for his chess growth.
We tried to think about it, who would this talent be. After discussing with Pragg, we narrowed down on a young talent who's doing exceedingly well. When Praggnanandhaa was in Mumbai to give the Julius Baer Simultaneous Exhibition, we talked and decided to give the Scholarship to Ethan Vaz. Ethan is a very young talent, an 11-year-old boy who has a huge number of achievements to his credit.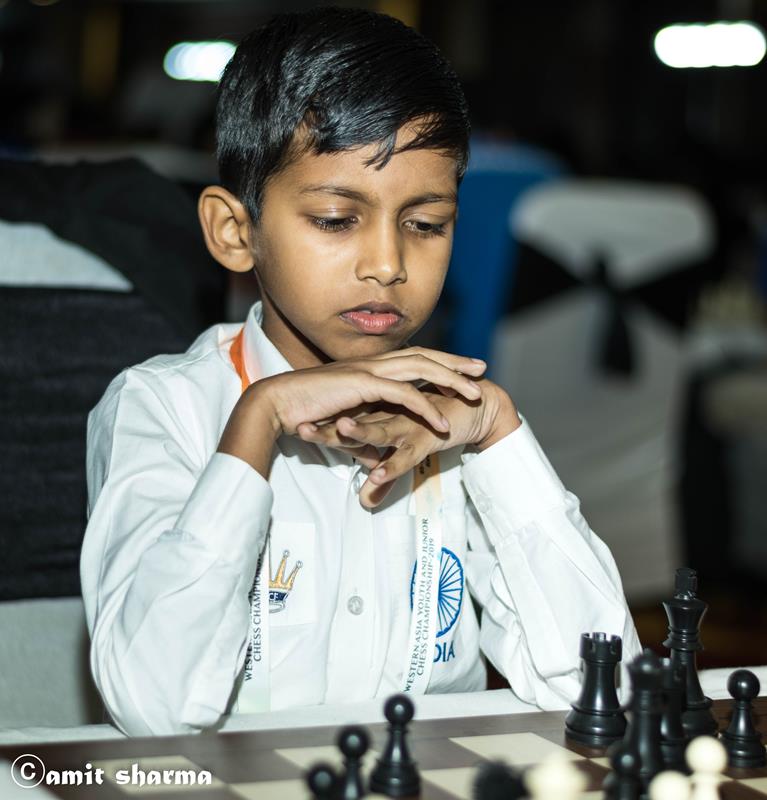 He has recently played at the World Cadets Championship, and pumped up his rating by 174 points. He's just 11 years old. In the International Problem Solving Contest, Ethan won the Silver medal in the Under-10 Category. The list of Ethan's achievements are numerous and extensive! Here are some of them listed in Ethan's website:
Grandmaster Rameshbabu Praggnanandhaa had actually come to ChessBase India CEO Sagar Shah's house, as he was giving the Julius Baer Simultaneous Exhibition in Mumbai!
Via Video call, Ethan and Praggnanandhaa had a short conversation. Check it out below:
In conversation: Rameshbabu Praggnanandhaa and Ethan Vaz
Sagar Shah (SS): Hi Ethan, do you recognize who is sitting next to me?
Ethan Vaz (EV): Yes I do, he's Praggnanandhaa!
Rameshbabu Praggnanandhaa (RP): Hi! How are you?
EV: Hello Pragg, I'm good, how about you?

RP: I'm doing great!
EV: I would like to ask you, how did you prepare for your game against Magnus?
RP: First of all, you should not think that you're playing Magnus. In general, you should not respect your opponent too much. Just play your best, and that's the important thing. When playing against Magnus, mentally you have to be very strong. Preparation I think comes second. But otherwise, as a normal professional, it's looking at openings and just preparing what would come likely on the board.
EV: Great! Do you have any tips for me? I'm playing the Asian Youth Championships this month.
RP: Oh nice! Just prepare well, work hard, and don't take too much pressure. Just have fun, and just give your best, don't think about the result. That's the important thing!
EV: Thank you for the scholarship!
RP: Yeah thanks, it's basically because of Sagar!
SS: No no, a lot of people have come together - Champions Chess Tour, chess24, Play Magnus, Pragg. It's very nice, but you don't worry about all that Ethan. Prepare well, and whenever you have any questions you can send it to me and I can ask to Pragg, if he's free from tournaments he can answer them. Pragg, any final words? He will play Asian, he's also planning to play National Championship Open, not under-12 or something.
RP: It's very good to play such tournaments, it's a very good experience. You shouldn't worry about the result, just have fun and give your best. You'll learn a lot from those games!
SS: One more thing about him is that - he always plays the Sicilian Alapin. He has these Sidelines that he plays a lot, do you think that at some point he should start playing main lines? When is the right time according to you to play?
RP: Till I became GM, I didn't really focus on openings. I was mainly focusing on my middle game and in-game skill. Just look at the top level games, and no need to check with the engine or something. Just looking at their games and following it is just enough. You can try just try main lines if you like them.
EV: Got it, thank you for your advice!
SS: You were watching games of top level players every, no?
RP: Yeah, I would follow games of top level everyday. If someone plays the repertoire that I was using, then I'll try to follow it. I was not using engines - I will just follow their games and learn the ideas in those openings, try to build an understanding.
SS: Ethan, do you follow top level games?
EV: Yes, I see them sometimes.
SS: Okay. You can follow regularly now whatever is happening - for example, right now European Club Cup is happening. Since Pragg has come here, he has followed all the games. He tells me Arjun drew, Vidit is better, etc. Ethan also keeps playing late in the night, yesterday his father messaged me that at 12 o'clock he finished training session with GM Swayams Mishra.
You also play late in the night, yes?
EV: Yes I do!
RP: It's good that you're trying that, continue doing that!
EV: Thank you!
SS: Okay Ethan, good luck and someday you will maybe play with Pragg! Keep improving and all the best.
RP:Good luck for the Asian and Nationals!
EV: It's a great honor!
RP: Yeah thanks, bye!
We asked Ethan's father, Mr. Edwin Vaz some questions about winning the CCT Pragg Scholarship! Read on below:
The Ethan Vaz Interview
How does it feel to win the CCT Pragg Scholarship?
It's a great honour for Ethan to have been awarded the prestigious CCT Pragg Scholarship. We would like to take this opportunity to thank ChessBase India, GM Praggnanandhaa, Champions Chess Tour, Chess24, Play Magnus Team, HelpChess Foundation, and everyone who had been instrumental in making this Scholarship possible. We are extremely grateful to everyone who was involved in the decision making process to find Ethan worthy of the scholarship. Thank you so very much!
How would this amount be utilized for Ethan's chess improvement?
We would like to utilize the scholarship amount for imparting Grandmaster coaching to Ethan. Advanced coaching will surely help Ethan to improve the level of his game, and we are very excited about it.
How was it for Ethan to meet Praggnanandhaa?
Ethan was clearly excited and overwhelmed. It's indeed very special to be awarded a scholarship in Pragg's name and then to get the opportunity to have a conversation with him and get advice on how to defeat Magnus! As Sagar rightly mentioned in his video, it was very inspiring for Ethan. Surely, it's a moment that Ethan is going to cherish always, and a moment that all of us would love to revisit over the years, time and again, as Ethan makes progress in his chess journey.
How did Ethan begin playing chess, and could you tell us a bit about his chess journey?
Ethan was introduced to chess when he was 6 years old, when his mother Linda brought home a chess set. As the proverb goes, in the land of the blind, the one-eyed man is king. And so it was that I (Ethan's dad, Edwin) was the strongest player amongst all of us who knew nothing but the bare basics of the game. But things soon changed after we introduced Ethan and his brother Edrick to chess coaching as an extracurricular activity. I never won a game against them thereafter, and, like they say, the rest is history.
With just 8 months of coaching, Ethan made it to the prize list in his very first appearance at the Nationals (Under-7 Open), which is when we realized he has great potential. From then on, there was no looking back. Ethan went on to win awards at almost every tournament that he has participated in, ever since.
What are some of his best achievements?
Ethan's most memorable performances were during the COVID-19 Pandemic, in 2021, where he made the best use of the opportunities to participate in the international events as they were held online. Ethan had a wonderful run, starting with a podium finish at the Nationals, qualifying for the World Cup in Under-10 as well as Under-12 categories at the World Cup Selections, winning the Silver Medal for India at the World Cup Finals tournament, and getting invited for the prestigious World Cup Super Finals knockout tournament where too he reached the finals and won the Silver Medal for India. Rated just 1384 Elo, it was a dream run for Ethan as he got the better of opponents rated as high as 2100+ Elo along the way.
When OTB Tournaments resumed in 2022, we felt a deep sense of moral responsibility to give Ethan the exposure that we had been denying him over the years owing to the need for a huge (and unaffordable) financial budget. 10-year old Ethan started off well by leapfrogging his FIDE Rating by a mammoth 384 Elo points while representing Goa at the Sub-Junior (Under-16 Nationals) and Junior (Under-20) Nationals, and even finished Joint 2nd at the Sub-Junior (Under-16) Nationals. He went on to win the Bronze Medal at the Under-12 National, raising hopes of being sponsored for the overseas championships. Unfortunately, it came as a disappointment when it was announced that only the National Gold Medalist would be sponsored by SAI for the Western Asia Chess Championships in Maldives, an event where Ethan had won a Gold and Silver in 2019 when the event was held in Delhi, and double Gold when it was organized by Sri Lanka online during the pandemic. So, we skipped the event with a heavy heart despite knowing that Ethan was a medal contender. While our search for sponsors was still on, we decided to take a leap of faith to take Ethan for the World Cadets Chess Championship, where SAI had sponsored Ethan's share of expenses to a large extent. Ethan performed exceedingly well, even defeating FMs, but fell short of a draw in the last round, thereby missing the Silver. Meanwhile, he won the Silver at the World Chess Solving Championship, and also got a nod from Geno Foundation for sponsoring the World event as well as the upcoming Asian Youth Chess Championships in Bali, Indonesia.
It was just what we needed, and Ethan delivered by clinching 6 medals (3 Gold, 2 Silver & 1 Bronze) at the Asian Youth Chess Championships, including the Individual as well as Team Gold in the Classical format. There was no looking back, and it was but natural to enroll Ethan for the Commonwealth Chess Championships in Sri Lanka, where, once again, Geno pitched in with an increase in the sponsorship amount, and Ethan delivered right back with another Gold Medal for India.
From proving himself at online tournaments, to maintaining his dream run at over-the-board events in the subsequent year, Ethan's entire performance over the last two years has been nothing short of extraordinary. The events just unfolded in front of us, and the required help and support came in at the right moments, one step at a time, absolutely miraculously.
Can Ethan attach his favorite game that he has played here with some annotations?
Here's a game annotated by Ethan, of his encounter with Lukas Dotzer of Austria (Elo 2245) in the 8th round of World Cadets Chess Championship 2022, in Batumi, Georgia. Ethan (Elo 1885) was playing with Black pieces.
Could you tell us a bit about your financial hardships as a chess parent? Also tell us a bit about your professional background and why sustaining an ambitious chess career is not an easy task.
Ethan's mother and I are both Computer Engineers and software professionals. We quit our lucrative careers in an attempt to start out on our own, but Ethan's chess activities took off faster than our start-up. Realizing that Ethan's younger years are crucial to his success, we took the tough decision to put business on the back burner and dedicate a few years to give him priority.
Ethan was extraordinarily talented right from the word go. Looking at the cost of participation in tournaments, however, we soon realized that talent without sufficient financial backing is like fish running out of water. We had been trying for CSR Sponsorship to fund Ethan's journey for a few years, but without any luck. So, we used to not take him for overseas events even though we were confident that Ethan could make it count at those championships. We dug deep into our savings to give him exposure at National level tournaments, but there came a time where we saw that it was just not going to be sustainable.
Some of our close friends who were aware of the challenges we were facing pushed us to go for crowd-funding, which was when we launched a crowd-funding initiative on Ethan's website. If the crowd-funding initiative works well, it will go a long way in helping Ethan become a Grandmaster.
What are Ethan's aims in the future?
Ethan wants to become one of the youngest chess grandmasters in the world. It is also his endeavour to continue winning medals for the country and, with God's grace, maybe even become the World Champion.
Ethan Vaz on ChessBase India
Important links
---