Aradhya Garg dominates Nurtr DCA Open Rapid Rating
Third seeded Aradhya Garg of Delhi scored an unbeaten 8.5/9 to win Nurtr DCA Open Rapid Rating 2019. He finished a full point ahead of the pack of nine other players who finished at 7.5/9. Athul Krishna S and Harshit Pawar also scored 7.5/9 each and they were placed second and third respectively according to their tie-break scores. Total 374 players participated from all over the country including a player from Nepal and a ten-year-old kid from Turkey. The tournament was jointly organized by Delhi Chess Association and Nurtr. Entry fee was only ₹500. Total Cash Prize ₹101000 was distributed among the prize winners. Photo: IA Kaviraj Sawant
Aradhya's awesome unbeaten run
Delhi State Blitz 2019 runner-up Aradhya Garg wins his first tournament of the year by scoring an unbeaten 8.5/9 and gaining 13 Elo rating points in the process.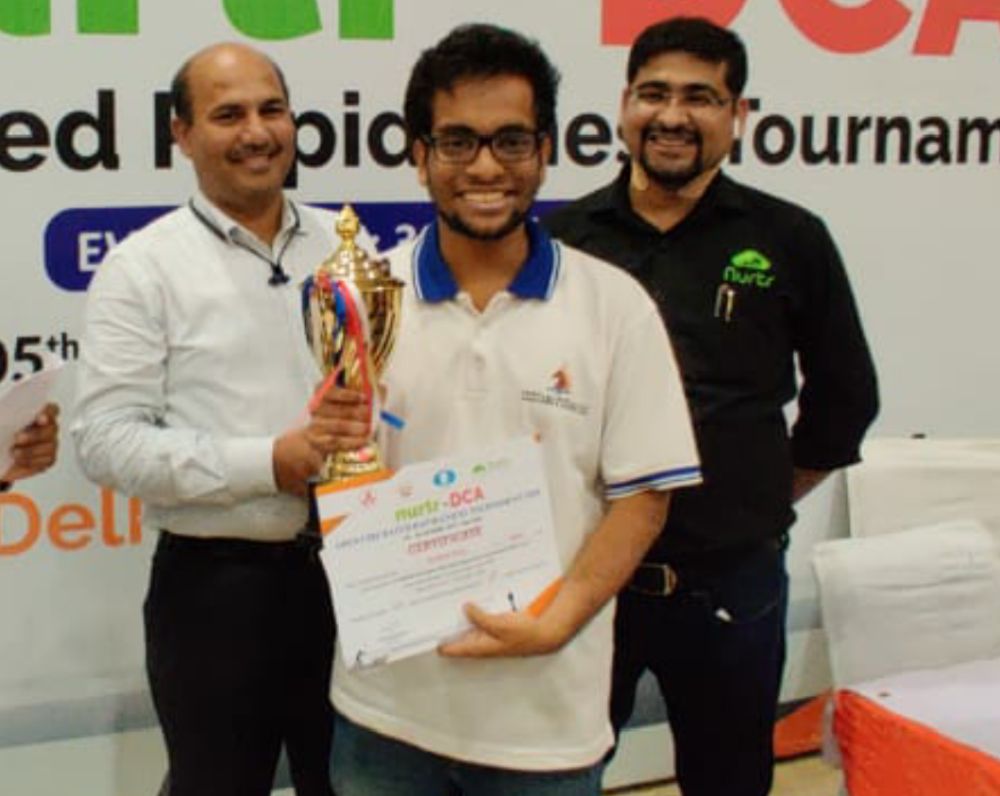 The prizes were distributed by Parth Narang of Nurtr and Ajeet Kumar Verma, Secretary of Delhi Chess Association.
The tournament witnessed a total participation of 374 players from all over the country along with a player from Nepal and a ten-year-old kid from Turkey. The event was jointly organized by Delhi Chess Association and Nurtr on 5th and 6th October 2019 at Arya Samaj Bhawan, New Delhi.
Final Standings
| | | | | | | | | | | | | |
| --- | --- | --- | --- | --- | --- | --- | --- | --- | --- | --- | --- | --- |
| Rk. | SNo | | | Name | FED | Rtg | Pts. | TB1 | TB2 | TB3 | TB4 | TB5 |
| 1 | 3 | | | Aradhya Garg | IND | 2015 | 8,5 | 0,0 | 49,0 | 54,0 | 51,00 | 8 |
| 2 | 5 | | | Athul Krishna S | IND | 1892 | 7,5 | 0,0 | 53,5 | 58,5 | 46,75 | 7 |
| 3 | 22 | | AFM | Pawar Harshit | IND | 1679 | 7,5 | 0,0 | 52,0 | 56,5 | 46,50 | 6 |
| 4 | 30 | | | Aaditya Dhingra | IND | 1622 | 7,5 | 0,0 | 51,5 | 54,5 | 44,00 | 6 |
| 5 | 28 | | | Bhandari Jitendra Singh | IND | 1636 | 7,5 | 0,0 | 50,0 | 54,0 | 43,25 | 7 |
| 6 | 16 | | | Yatin Kumar | IND | 1713 | 7,5 | 0,0 | 48,0 | 51,0 | 41,75 | 7 |
| 7 | 49 | | | Vikas Saini | IND | 1454 | 7,5 | 0,0 | 47,5 | 50,0 | 39,25 | 7 |
| 8 | 31 | | | Rohan Gupta | IND | 1610 | 7,5 | 0,0 | 47,0 | 51,0 | 41,25 | 6 |
| 9 | 21 | | | Aansh Gupta | IND | 1682 | 7,5 | 0,0 | 47,0 | 50,0 | 41,00 | 7 |
| 10 | 14 | | | Vibhor Sharma | IND | 1730 | 7,0 | 0,0 | 52,5 | 57,0 | 42,00 | 7 |
| 11 | 4 | | | Mraduhas Tripathi | IND | 1899 | 7,0 | 0,0 | 52,0 | 56,5 | 42,25 | 6 |
| 12 | 20 | | | Gursimar Singh Arneja | IND | 1684 | 7,0 | 0,0 | 50,5 | 54,5 | 39,50 | 7 |
| 13 | 8 | | | Herschelle Gupta | IND | 1818 | 7,0 | 0,0 | 50,0 | 54,0 | 39,50 | 7 |
| 14 | 15 | | | Samarth Mittal | IND | 1713 | 7,0 | 0,0 | 50,0 | 54,0 | 39,50 | 6 |
| 15 | 7 | | AIM | Baig Akram | IND | 1831 | 7,0 | 0,0 | 49,5 | 51,5 | 37,50 | 7 |
| 16 | 9 | | | Gautam Santosh | NEP | 1799 | 7,0 | 0,0 | 49,0 | 53,0 | 37,50 | 7 |
| 17 | 34 | | | Daaevik Wadhawan | IND | 1579 | 7,0 | 0,0 | 48,5 | 52,5 | 38,25 | 6 |
| 18 | 13 | | | Adarsh Tripathi | IND | 1747 | 7,0 | 0,0 | 48,0 | 52,5 | 38,50 | 7 |
| 19 | 10 | | | Sanchit Anand | IND | 1771 | 7,0 | 0,0 | 47,5 | 51,0 | 38,00 | 7 |
| 20 | 137 | | | Satya Narayan | IND | 1141 | 7,0 | 0,0 | 45,0 | 49,5 | 37,50 | 7 |
---