Superbet R&B 2022 Day 3: Vishy Anand wins the Rapid with a round to spare
Vishy Anand won the Rapid event of Superbet Rapid and Blitz 2022 with a round to spare. His last round loss against Richard Rapport did not have an effect on it. Currently, Anand has a full point lead heading into the Blitz event. The maestro started the day with a win over IM David Gavrilescu (ROU), then he drew with Fabiano Caruana (USA) before suffering his first loss of the event. Anand is at 14.0/18, Rapport 13.0/18 and Duda 12.0/18. A total of 18 rounds of Blitz will be played today and tomorrow, nine rounds each per day. Blitz Round 1 starts today at 2 p.m. local time (5:30 p.m. IST). Photo: Lennart Ootes/Grand Chess Tour
Anand dominates the Rapid, has a full point lead heading into Blitz
Last year in July, Anand had a fantastic comeback at the Croatia Rapid and Blitz Grand Chess Tour event. If the brilliant performance in the Rapid is a sign of things to come, we can certainly expect a strong finish in the Blitz too.
Round 7: Gavrilescu - Anand: 0-2
Romanian teenager, IM David Gavrilescu opted for the Scotch Game against Anand.
White's positional inaccuracy 18.b3 created an opportunity for Black. 18...c4 is an excellent move which turns things completely in Black's favor. White eventually resigned in another seven moves when it was no longer possible to save the knight.
Round 9: Rapport - Anand: 2-0
Vishy Anand suffered his first loss of the event against Richard Rapport.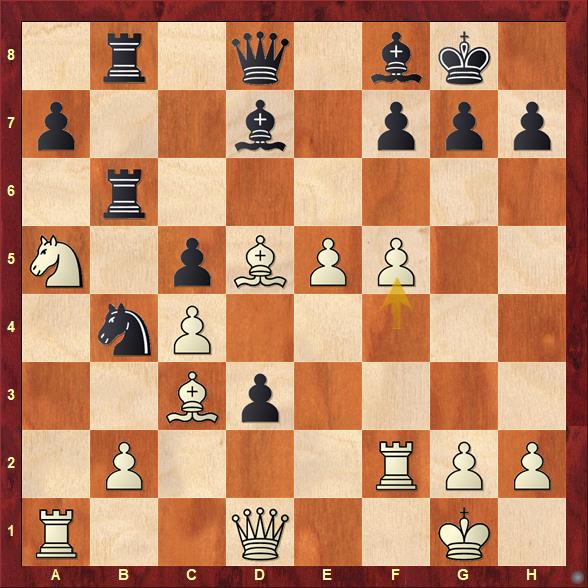 The ever creative Rapport created some trouble for Black in the middlegame. It is clear that White's position is far better. 25.f5 Nxd5 26.exd5 Bb5 27.Qf3 c4 28.Kh1 f6 29.exf6 Rxf6 30.Nc6 Bxc6 31.dxc6 and White still has a significant advantage. Anand eventually almost managed to get back in the game, a blunder in the final moments cost him the point. Since he had already won the Rapid event in the previous round, this loss did not affect the leaderboard.
Photo Gallery
Replay the live stream
Prize
The total prize fund is US$ 175000 with the first prize being US$ 40000.
Scoring
Rapid: Win - 2 points, Draw - 1 point and Loss - 0.
Blitz: Win - 1 point, Draw - 0.5 point and Loss - 0.
Replay Round 7-9 games
Standings after Rapid Round 9
Links
---