Fantastic Firouzja clinches Grand Chess Tour and Sinquefield Cup 2022
19-year-old Alireza Firouzja delivered a remarkable performance at Saint Louis. After winning the Saint Louis Rapid and Blitz 2022, on 30th August, twelve days later, he won the Grand Chess Tour 2022 season and Sinquefield Cup too. The World no.4 won the entire tour before the Playoffs. In the Playoff he defeated Ian Nepomniachtchi 1.5-0.5, after the latter missed a good winning opportunity against Hans Niemann in the final round. He was quite upset at himself for missing it. That certainly does not take anything away from the sensational performance by Firouzja who has two out of the five GCT events of this season, more than anyone else. Photo: Grand Chess Tour
The World no.4 wins it all in Saint Louis
"Yeah it's a really amazing feeling. When I came to Saint Louis, I was in almost last place in the GCT standings. I played very bad in Romania but okay I played decent in Croatia. In general I am happy with how things went. I could have improved my result maybe a bit more for instance my game against Ian but okay he played brilliantly, I cannot be very sad about that... I am really happy that I could play at my best here... It's really amazing whenever I walk around the club. Everything is very high class in this area and the club is just amazing. It's really a privilege to be here." - Firouzja after winning the Grand Chess Tour 2022, before the Playoffs. He also added, "...The Grand Chess Tour is the toughest tour in the history of chess I think. To win it, is an amazing feeling and I cannot be more happy."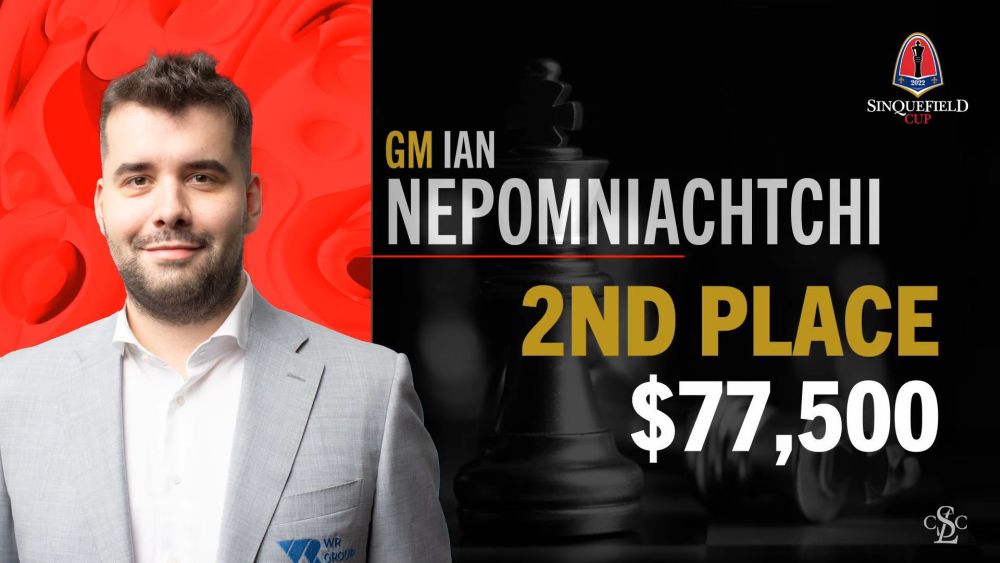 Nepomniachtchi - Niemann: 0.5-0.5
Ian Nepomniachtchi was quite upset himself for not seizing his opportunity to grab a simple pawn in the double rook and minor piece endgame against Hans Niemann.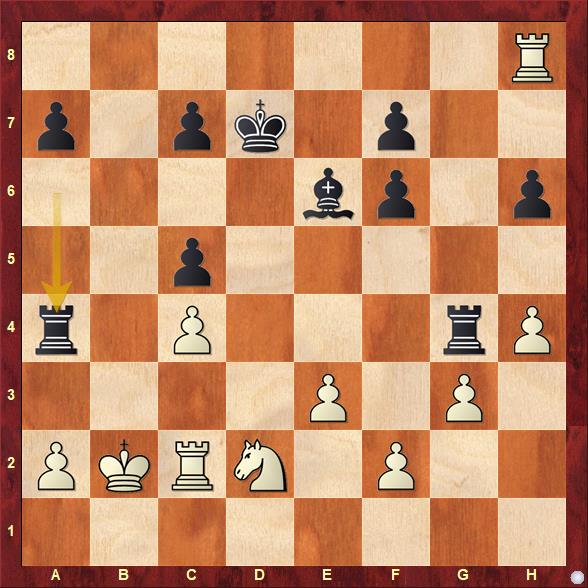 37.Rxh6 is the simplest way to win for White. Black cannot take on c4 as White will exchange both rook and knight at that square and then grab the f6-pawn. If 37...Ke7 is played first 38.Rh8 threatening to attack the lose pawns on the queenside and roll the h-pawn down the board. Nepomniachtchi regretted this badly in a post-game interview. The game continued 37.a3 f5 38.Rc3 Ke7 39.Rb8 Ra6 and the game ended in a draw by perpetual check.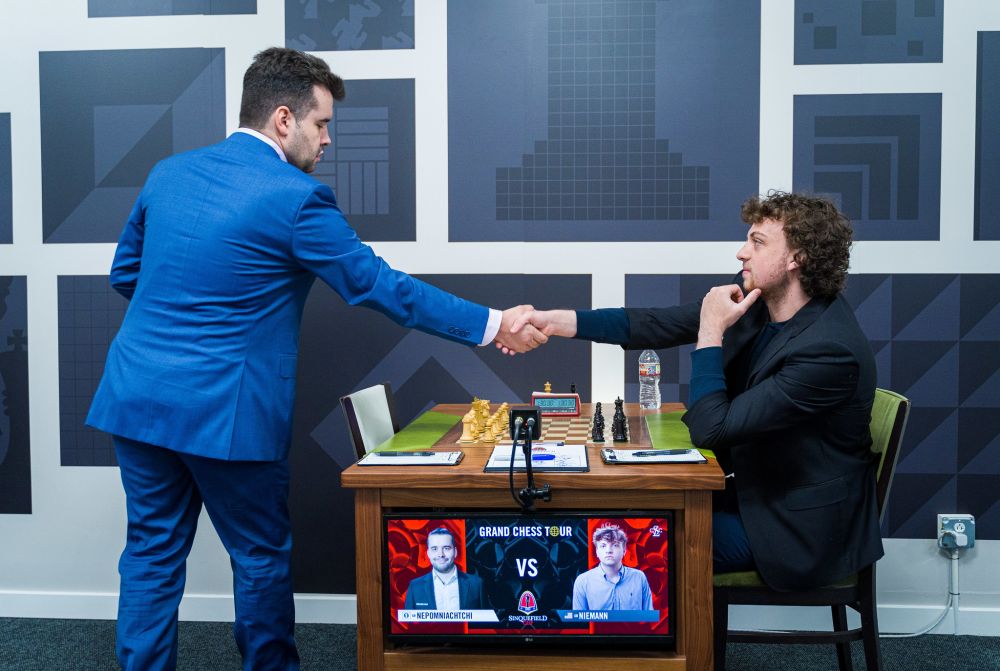 Firouzja - Nepomniachtchi, TB2
The first Playoff game ended in a draw. In the second game, Nepomniachtchi made a simple tactical mistake, 16...Qe7?? 17.e5+- and it was over. 17...Qxe5 does not work due to 18.Bf4 and White gaining the knight anyway. The world championship challenger clearly could not shake off the feeling of missing a winning the final round of the event, affected his play in the crucial tie-break. With this win, 19-year-old Alireza Firouzja won the Sinquefield Cup and Grand Chess Tour 2022.
Firouzja tweeted after winning Grand Chess Tour 2022
His watch on the throne became long ago. The claim solidified when he won the Grand Swiss 2021 last year. Now the question begins who will be sitting on the throne whom he would want to dethrone eventually when his time comes.
Replay the live stream
Prize
The total prize fund is US$ 350000 with the first prize being US$ 100000.
Replay Round 9 and Playoff games
Final standings
Grand Chess Tour 2022 standings
Links
---