Sinquefield Cup 2022 R4: Caruana scores, Carlsen withdraws
The fourth round of Sinquefield Cup 2022 had something unprecedented. The world champion announced his withdrawal from the tournament via a tweet. It surprised everyone as Carlsen did not reveal the reason. He also added a cryptic clip of Jose Mourinho who is known to be a successful football coach. He is seen to be said, "I prefer really not to speak. If I speak, I am in trouble." There are a lot of rumors and theories circling around the web. Whatever reason is behind the world no.1's withdrawal, it is his prerogative to speak about it, if and when he wants to. Fabiano Caruana scored the sole victory of the round against Maxime Vachier-Lagrave. Round 5 starts today at 1 p.m. local time, 11:30 p.m. IST. Photo: Lennart Ootes/Grand Chess Tour
So in sole lead
Magnus Carlsen is not known to lose his Classical games. It is a common knowledge that he has never forfeited a tournament in his career so far. His opponent Shakhriyar Mamedyarov was unaware of his withdrawal. The announcement which was made via a tweet from Magnus Carlsen's account was at 11:30 p.m. IST which is when the round starts. So there was no way for him to know. He got a walk over as per the tournament rules. However, Carlsen's game results will not be counted towards the final standings according to the tournament regulations, as he has not played 50% of his games.
Caruana - Vachier-Lagrave: 1-0
Fabiano Caruana and Maxime Vachier-Lagrave arrived at a queen ending after 37 moves.
The position is relatively easier to play as White than Black. The reasons are obvious - White has an extra pawn, his kingside pawns are better placed and Black's king is in a precarious situation. Of course Black will not get checkmated anytime soon, however he is unable to take a2 or h4-pawn due to Qe8# threat. 38.Kc2 Qc4+ 39.Kd2 Qb4+ it is incredibly difficult for Black to defend. Caruana eventually gained another pawn and won the game.
Niemann - Firouzja: 0.5-0.5
Hans Niemann surprised Alireza Firouzja when he offered his knight as a sacrifice for a not-so-definite attack on the kingside.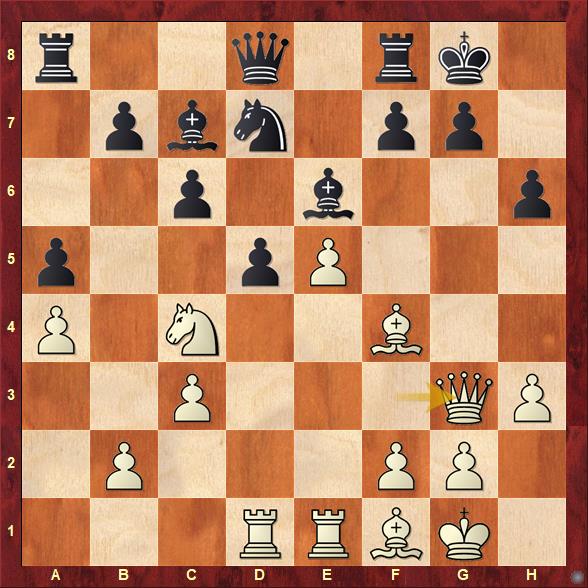 19...dxc4 20.Bxh6 g6 21.Bg5 f6 is what the computer suggests to be balanced. Firouzja trusted his opponent about the piece sacrifice and decided against taking it. He went for the relatively safer choice 19...Kh8. There were a few predicaments where Black could have pushed a bit for more, however, Firouzja felt that his opponent is in good form and 19.Qg3 is what made him want to take a draw instead.
What transpired yesterday
A tweet from Magnus Carlsen's twitter account announced his withdrawal from the Sinquefield Cup 2022 at 11:30 p.m. IST, the beginning of the round
Grand Chess Tour confirmed it in half an hour
Then an Official statement was released by Grand Chess Tour
Saint Louis, MO (September 5, 2022) - On Monday, September 5, 2022, Magnus Carlsen, the reigning world chess champion and Grand Chess Tour wildcard player, elected to withdraw from the Sinquefield Cup, currently being held at the Saint Louis Chess Club in Saint Louis, MO through September 12, 2022.
"A player's decision to withdraw from a tournament is a personal decision, and we respect Magnus' choice, '' said Tony Rich, Executive Director of Saint Louis Chess Club. "We look forward to hosting Magnus at a future event in Saint Louis."
Rich continued: "The Sinquefield Cup, as do all Grand Chess Tour events, feature the best chess players across the globe. We look forward to crowning a champion at the conclusion of this year's tournament."
The Sinquefield Cup is one of the longest running and most prestigious international chess tournaments to be held in the United States and features a $350,000 total prize fund. It also serves as the final leg of the Grand Chess Tour, a circuit of international events featuring the world's best chess players.
Replay the live stream
Prize
The total prize fund is US$ 350000 with the first prize being US$ 100000.
Replay Round 4 games
Round 4 results
Standings after Round 4
Links
---