Superbet R&B 2022 Day 4: Vishy Anand continues his great momentum
Vishy Anand continues his fantastic form in the Blitz event of Superbet Rapid and Blitz 2022. He started the day with a defiant win over Jan-Krzysztof Duda, scored 5.0/9 to take his score to 19.0/27. Duda is trailing by 1.5 points at second place 17.5/27. He is followed by Fabiano Caruana and Levon Aronian at 17.0/27 each. Caruana scored a massive 8.0/9 to reduce the gap between him and Anand. The only two draws were against Duda and Aronian. The only two-time FIDE World Cup winner in history, also remained undefeated in the Blitz event so far. Round 10 starts today at 2 p.m. local time (5:30 p.m. IST). Photo: Lennart Ootes/Grand Chess Tour
Fabiano Caruana scores 8.0/9
Vishy Anand is playing fantastic at Superbet Rapid and Blitz 2022. There is no doubt about that. However, one cannot overlook Caruana's fantastic 8.0/9 performance on the first day of Blitz. Duda, Caruana and Aronian are poised to make an interesting finish.
Round 1: Anand - Duda: 1-0
Vishy Anand started the day with a great display of attack against Jan-Krzysztof Duda.
30...Kh8 invited trouble 31.hxg5 hxg5 32.Rh2 Rxh2 33.Kxh2 Qb7 and now 34.Nxf6! crashes through Black's kingside.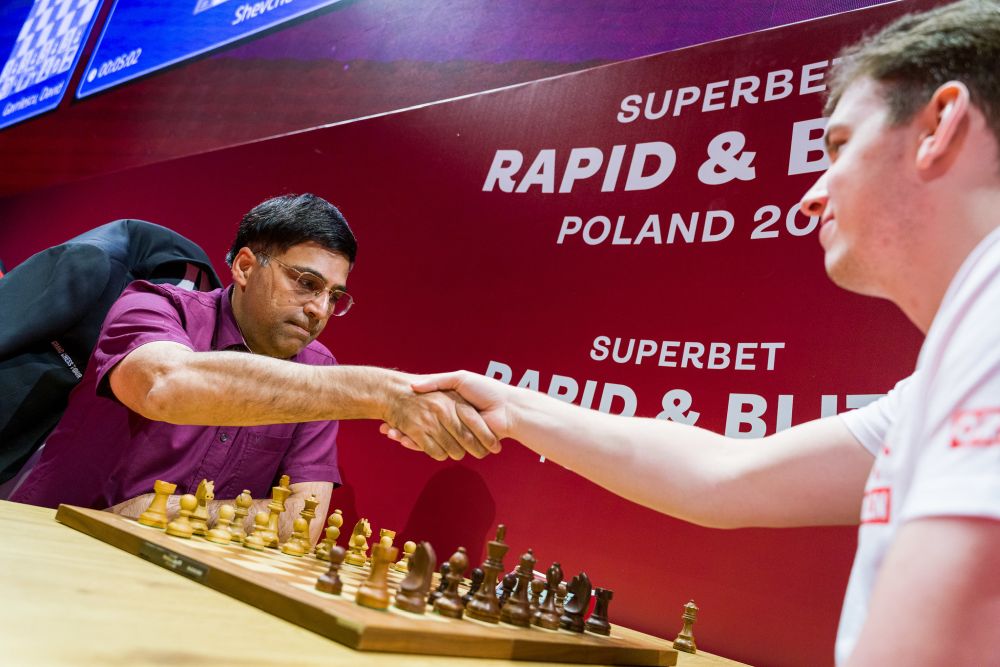 Round 3: Anand - Gavrilescu: 0-1
Anand suffered his first loss of the day against Romanian teenager, IM David Gavrilescu (2367).
25.Qd4 is a mistake. Find out why.
Round 4: Shevchenko - Anand: 0-1
19-year-old Kirill Shevchenko (UKR, 2624) is a very strong player. He arrived at a junction where a critical decision needed to be made.
Should White exchange the knights here or not? The game continued 22.Nf3 R5e7 23.Rhg1 Nd6 allowing Black to rearrange his pieces and neutralize any possibility of attack on the kingside.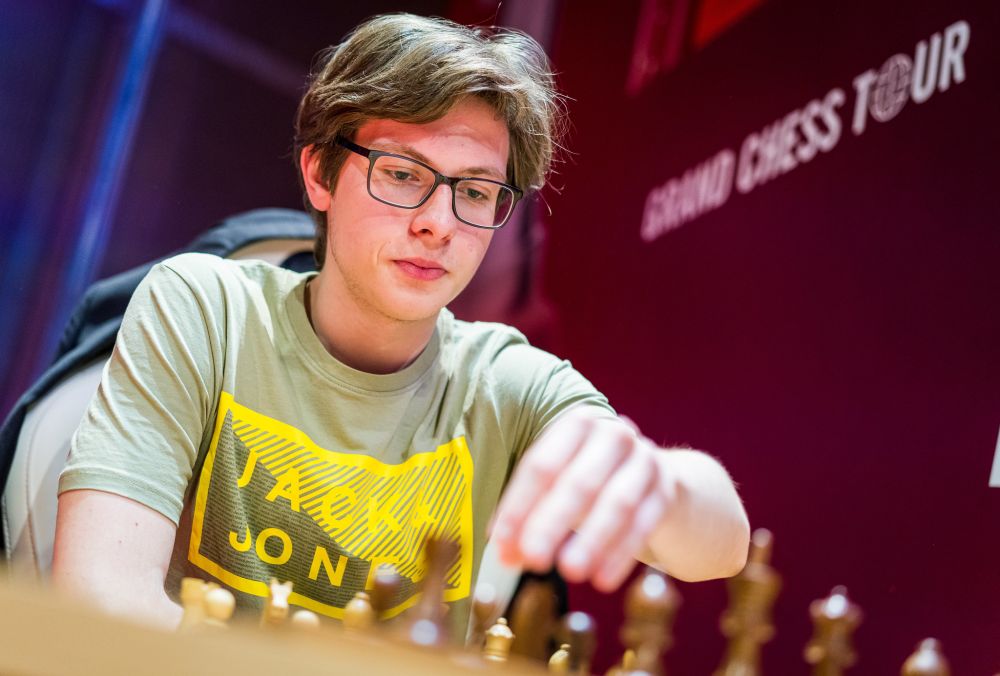 Round 6: Anand - So: 1-0
Anand defeated Wesley So (USA) again. This time in a Blitz game.
Black could have fought a bit longer if the rook was placed correctly. Try to find out why 35...Ra3 is a mistake.
Round 7: Caruana - Anand: 1-0
Fabiano Caruana (USA) had a complex and exciting endgame against Anand.
It goes without saying that it is certainly not easy to determine the best continuation, especially when it's a blitz game. 34...Nc3 35.Rb6+ Kd5 36.c6 Kc4 37.Rd7 Nd5 38.Rbb7 Re8 39.c7 g4 40.Be1? now Black needed to play 40...Bxc7 to get back in the game. Instead, 40...Nc3?? was played and the fleeting opportunity was gone. White went on to win the game.
Round 8: Anand - Rapport: 0.5-0.5
At one point, Vishy Anand was completely winning in the endgame against Hungary no.1 and current world no.8, Richard Rapport.
Find out the correct plan for White after 42...Kb6.
Photo Gallery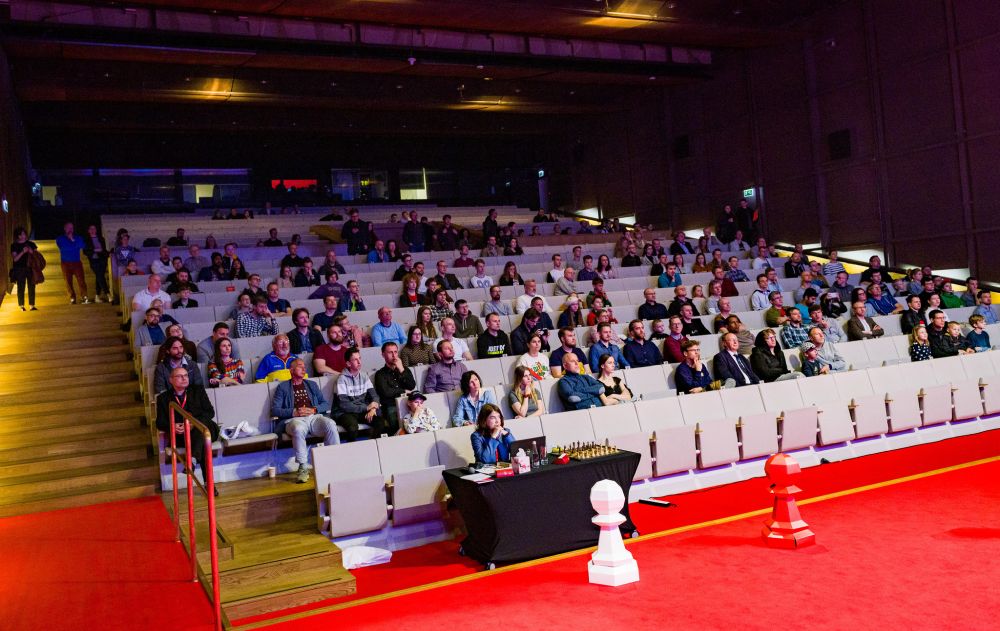 Replay the live stream
Prize
The total prize fund is US$ 175000 with the first prize being US$ 40000.
Scoring
Rapid: Win - 2 points, Draw - 1 point and Loss - 0.
Blitz: Win - 1 point, Draw - 0.5 point and Loss - 0.
Replay Blitz Round 1-9 games
Standings after Blitz Round 9
Links
---