Can Firouzja win Sinquefield Cup and Grand Chess Tour 2022?
Alireza Firouzja swerved Wesley So big time in the penultimate round of Sinquefield Cup 2022. The World no.4 swindled the reigning Fischer Random world champion from a completely lost position after the latter was unable to make the most out of his decisive advantage. The win helped the Frenchman to become one step closer to winning the tournament and the 2022 season of Grand Chess Tour. He will face his fellow compatriot, the reigning World Blitz champion, Maxime Vachier-Lagrave in the final round. The only person who can catch up with him is, Ian Nepomniachtchi who will be up against Hans Niemann. Final Round 9 starts today at 1 p.m. local time, 11:30 p.m. IST. Photo: Lennart Ootes/Grand Chess Tour
Nepomniachtchi also in the title fray
Alireza Firouzja, Ian Nepomniachtchi and Fabiano Caruana - all three of them are at 4.5 points each. However, Caruana has played all eight games of his and he has a Bye in the final round. Thus, mathematically either of the remaining can two surpass him. In the unlikely event of both Firouzja and Nepomniachtchi losing their respective games, Playoffs will be played tomorrow Monday 12th September at the usual time.
Niemann - Caruana: 0-1
Hans Niemann decided to give up an exchange which certainly did him no good against Fabiano Caruana.
25.Ra1 would have solved the dilemma of defending the b2-bishop as well as prevent the invasion of the rook via a-file. 25...Rxa1 26.Bxa1 would have been fine. Instead. 25.Rb1 provoked Nd2 26.Bc3 Nxf1+ 27.Bxf1 Ra2+ and the long march towards victory began for Black.
Aronian - Nepomniachtchi: 0-1
Levon Aronian chose to play actively by giving up two pawns against Ian Nepomniachtchi. However, it did not affect the outcome of the game.
19.Bc1 would have held on to the d4-pawn a bit longer. White understandably decided to go for active play 19.Ng3 Bxf3 20.Qxf3 Bxg3 21.hxg3 Qxd4 22.Bxa5 Qxb2 23.Re2 Naxc5. Although later White managed to equalize but his adventurous against tilted things in his opponent's favor.
Firouzja - So: 1-0
Alireza Firouzja made an incredible save and seized his opportunity later against Wesley So.
So who has an impeccable knowledge of the Italian opening, made a thematic sacrifice 17...Bxh3. It seemed like White is on the brink of defeat. 18.Nd3 Qg6? Black should have played Rad8 which was also possible in the previous move. 19.Nh4 Qg5 20.Nxc5 Qxh4 21.gxh3 Qg5+ 22.Qg4 Qxc5 23.c4 Rab8 24.e5 g6?? 25.Ba3+- Queen is now shut out from accessing the kingside and Black's position started falling apart. 25...Qb6 26.e6 and it's over.
So was playing beautiful chess till he stopped. That's the beauty of the sport, things can change very quickly at the drop of a hat when humans are duking it out on the 64 squares.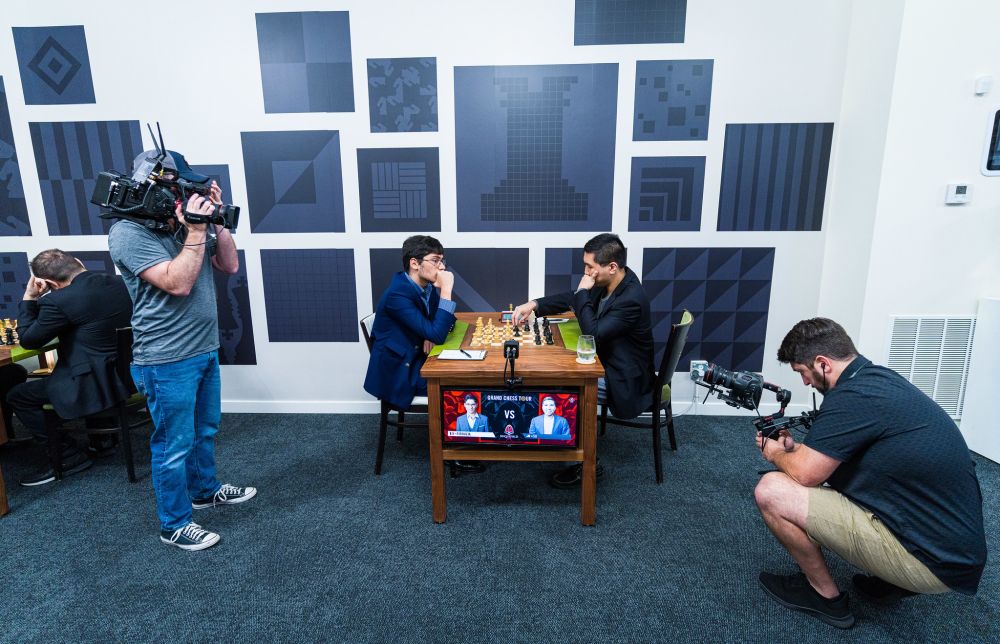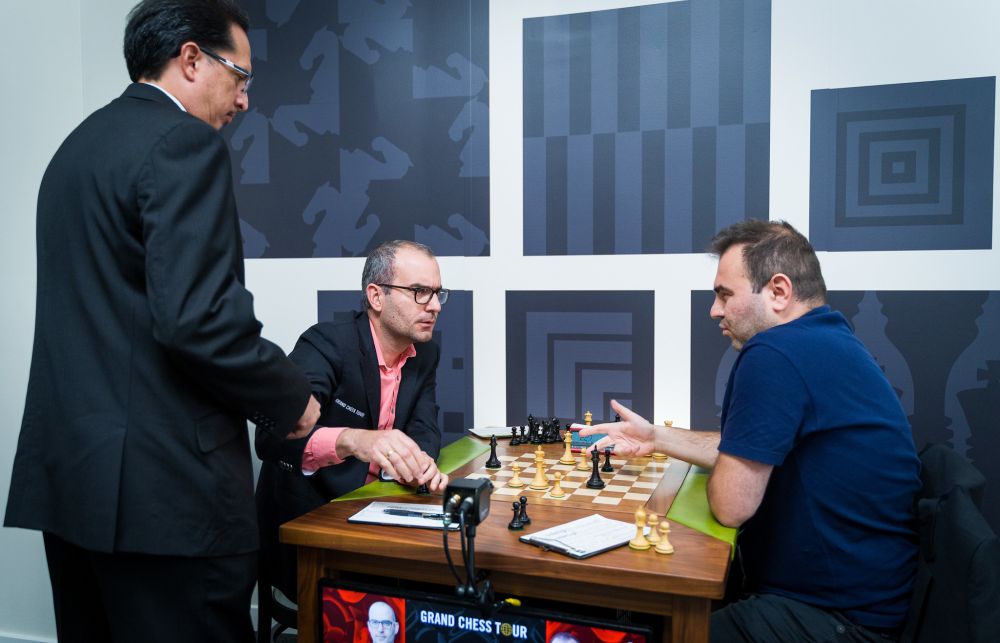 Official statement of Chief Arbiter of Sinquefield Cup 2022 - IA Christopher Bird
Replay the live stream
Prize
The total prize fund is US$ 350000 with the first prize being US$ 100000.
Replay Round 7-8 games
Round 8 results
Standings after Round 8
Links
---